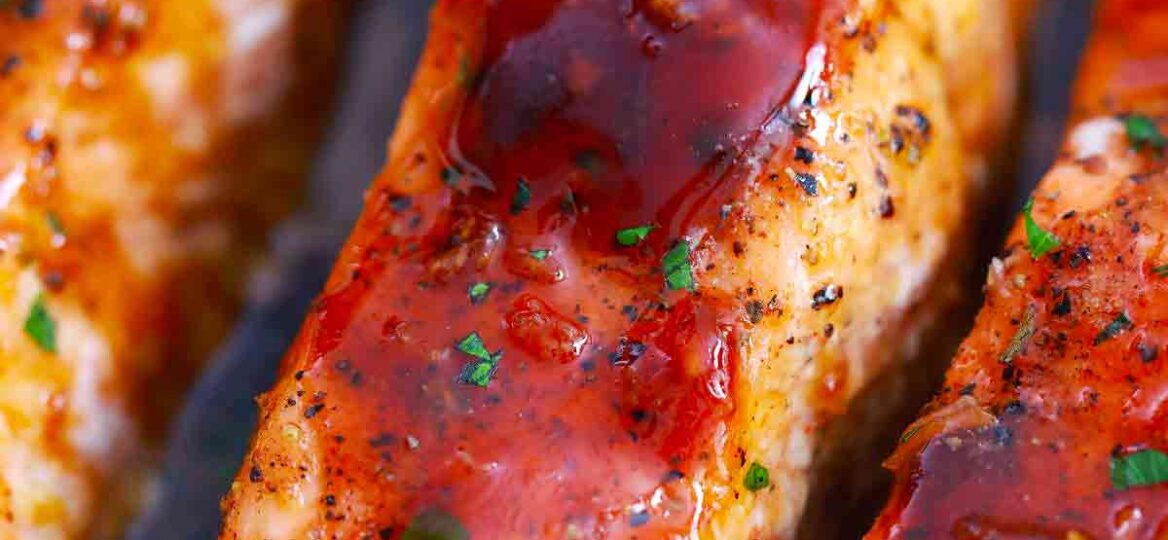 Honey Garlic Salmon Recipe [Video]
Honey Garlic Salmon is a healthy and simple dish made with salmon fillets in a flavorful buttery sauce. The sauce is made with butter, oil, garlic, brown sugar, honey, soy sauce, rice vinegar, chili sauce, and lemon.
This entrée is excellent to make for dinner or a family get-together where everyone will be begging for your recipe. Alternatively, you can use this Garlic Brown Sugar Glazed Salmon recipe for a bit of a different flavor. Another way to prepare this healthy and delicious fish is by making Maple Soy Grilled Salmon. Or make it even easier and the Mediterranean with this Mediterranean Salmon Foil Packets recipe.
Honey Garlic Grilled Salmon
Salmon is a healthy fish low in saturated fat, high in protein, and boasts a variety of other vitamins like B12, omega 3 fatty acid, and potassium. This recipe gives the salmon a baked-in burst of flavors from all-natural ingredients to keep it healthy as well as scrumptious.
The combination of garlic, honey, and brown sugar adds so much flavor to your meal, your family will be asking for seconds before they finish their firsts. Add this Teriyaki sauce to the dish for an Asian twist.
The recipe is easy and most of the work is just preparing the sauce. So, if you do that in advance, you can make this dish in just 20 minutes. All you need is salmon fillets and a few seasonings. And for the sauce, you need butter, oil, garlic, brown sugar, honey, soy sauce, rice vinegar, chili sauce, and lemon.
Ingredients needed:
For the exact measurements, check the recipe card below. Here is what you will need for the salmon:
Salmon fillets: Fresh or frozen.
Smoked paprika: Regular paprika is okay too.
Blackening seasoning: This is important.
Seasonings: Salt, pepper, garlic powder, and onion powder are what we used.
What you need for the sauce:
Butter: You can also use margarine.
Olive oil: Virgin or extra-virgin oil is best.
Garlic cloves: Mince them yourself or use minced garlic.
Brown sugar: We used regular brown sugar, but light brown sugar is fine too.
Honey: Store-bought or make your own from scratch.
Soy sauce: Once again, you can make your own or buy from the store.
Rice vinegar: White or apple cider vinegar is also acceptable.
Chili sauce: Store-bought or homemade are both fine.
Lemon juice: Freshly squeezed or premade.
How to make honey garlic salmon from scratch?
Get the oven ready: First, move the rack to the middle position and then preheat the broiler.

Mix the seasoning: Then, combine onion powder, garlic powder, blackening season, paprika, salt, and pepper.

Season the salmon: After patting it dry, season the salmon on each side with the seasoning.
Make the sauce: Next, add the butter and oil to a large oven-safe skillet like a cast-iron skillet on medium-high heat. After the butter melts, add the lemon juice, honey, vinegar, chili sauce, soy sauce, water, brown sugar, and garlic. Heat it for about one minute.
Add the salmon: After that, place the salmon skin-side down in the pan and cook salmon for three minutes, basting it frequently with the sauce.

Broil: Then, place the entire skillet into the oven and broil it for five to six minutes. You will know it is done when it is caramelized, and the fish is flaky.
Recipe variations:
Try lime instead: Add lime instead of or in addition to the lemon juice.
Add some heat: Alternatively, sprinkle some cayenne pepper or add jalapenos to the sauce for a spicy kick.
Make it fruity: Besides lemon juice, add other fruity flavors like orange juice, cherry juice, or vanilla extract.

Sweeten it up: In addition, you may want to add more sweetness with some maple syrup or granulated sugar.
How to serve:
Serve the fish fresh out of the broiler with garnishes of mint or parsley. Here are a few of our other favorite ideas:
Serve it on top of a bed of chipotle cilantro lime rice.
Make up some extra sauce as a condiment for the family to add as they like.

This salmon meal would also go great with this creamy pea salad.

Rather than serve as a fillet, try serving it as a flaky salad topper.
Also, salmon goes well with air fryer-baked sweet potatoes.
Serve along with a glass of white or red wine.
Flake the salmon and spread it on this keto bread.
More Fish Recipes:
Frequently asked questions
What is the difference between wild and farmed salmon?
Wild salmon is a lot healthier than farmed although it may be harder to come by. It is loaded with vitamin D, B12, fatty acids, iodine, selenium, and it even prevents inflammation. Farmed salmon has less than half of the vitamins and minerals and is typically fed grain and corn rather than their typical diet.
Can I freeze cooked salmon?
Freezing cooked salmon is not recommended because the texture is not right. When frozen and thawed out, you will likely find your fish has a tough and rubbery texture. However, you can store it in the refrigerator for up to three days if you wrap it tightly in plastic wrap.
Cooking tips:
Make sure the fish is thawed out before cooking if you are using frozen.
For even more flavor, try this mouthwatering salmon sauce.

Use kosher salt on the skin to prevent it from sticking.

For a paleo diet, use tamari sauce or liquid aminos instead of soy sauce.

Try this recipe with other seafood like trout, bass, or cod.
Honey Garlic Salmon Recipe
Ingredients
Salmon:
1/2

teaspoon

smoked paprika

or regular paprika

1/4

teaspoon

blackening seasoning

6

6 oz each

salmon fillets

1/2

tsp

kosher salt

1/2

teaspoon

black pepper

1/2

teaspoon

garlic powder

1

⁄4 teaspoon onion powder
Honey Garlic Sauce:
4

tablespoons

unsalted butter

1

tablespoon

olive oil

8

cloves

garlic

minced

2

tablespoons

brown sugar

1/2

cup

honey

2

tablespoons

water

4

tablespoons

soy sauce

1

teaspoon

rice vinegar

1

tablespoon

chili sauce

2

tablespoons

lemon juice
Instructions
Season the fish:
Pat dry salmon fillets with paper towels.

In a small bowl combine salt, pepper, paprika, blackening seasoning, garlic, and onion powder.

Gently rub the seasoning into the fillets. Set aside.

Adjust the oven rack to the middle position, and then preheat the broiler.
Make the Honey Garlic Sauce::
In the meantime, place a large skillet over medium-high heat.

Add the butter and oil, and once the butter is melted, add garlic, brown sugar, water, soy sauce, chili sauce, vinegar, honey, and lemon juice. Stir and cook 30 seconds, or until sauce is heated through.
Cook the Salmon:
Add the salmon pieces to the skillet into the sauce, skin side down if the fish has the skin, and cook 3-5 minutes.

Make sure to baste it frequently with the sauce from the pan. This means you have to spoon it over the top of the salmon.
Broil:
Transfer the pan into the oven and broil for another for 5 minutes, basting with the sauce a few times. Broil until the fillets are caramelized and cooked to desired doneness.
Serve:
Garnish with chopped parsley or green onions and serve.
Deliciousness to your inbox
Enjoy weekly hand picked recipes and recommendations