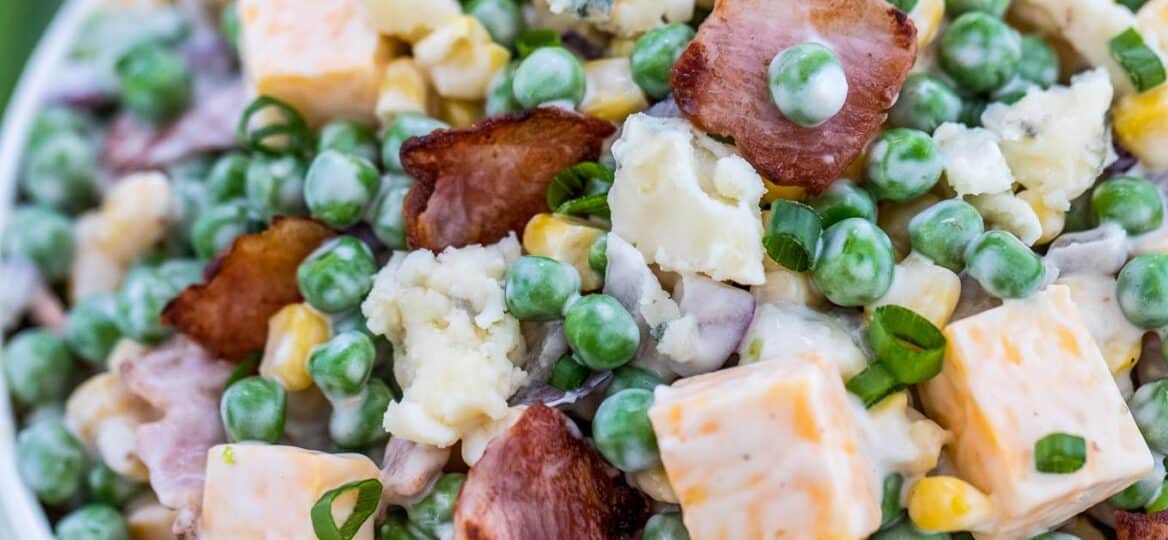 Best Pea Salad Recipe [video]
Pea Salad is a classic side dish with a sweet and savory taste that has a creamy and crunchy texture. It is perfect for getaways, potlucks, or parties, and ready in just ten minutes!
This salad is refreshing just like the Creamy Grape Salad. It pairs well with other savory dishes like Chicken Katsu with Tonkatsu Sauce, Garlic Brown Sugar Lamb Ribs, and Instant Pot Barbecue Chicken.
Homemade Bacon Pea Salad
Pea salad is made of thawed frozen peas with a creamy and cheesy dressing and finished off with crispy bacon bits. With pre-cooked bacon bits, you can make this recipe in less than 5 minutes, as you just have to combine and mix the ingredients together.
This is a great salad to enjoy during spring or summer time. The peas pop as you chew on them, and the bacon bits add crunchiness to it. Not to mention, bacon and cheese are a match made in heaven.
The ingredients are also easy to find, which makes this dish satisfying, and budget-friendly to make.
How to make sweet pea salad?
Thaw frozen sweet peas and sweet corn. Put them in a sizable bowl. Mix in the onions, garlic, bacon bits, cheddar cheese, and about 2/3 of the blue cheese.
In a separate bowl, combine the ingredients for the dressing: mayonnaise, sour cream, salt, and pepper. Add the dressing to the salad and toss. Refrigerate for about 2 to 4 hours to chill and to let all the flavors sit and absorb before serving.
Garnish with remaining blue cheese, green onions, and bacon bits. Also, watch the video tutorial attached and see how simple this dish is to make!
Can you make pea salad in advance?
Absolutely! Not only making it ahead is convenient, but it will even be tastier. Therefore, you can prepare in advance and store it in the refrigerator for up to 3 days in advance.
Remember, to always chill this dish before serving, so allow an additional 1 to 2 hours for this.
How to make pea salad with eggs?
Eggs go well with this dish, essentially, with the bacon and cheese. Just chop some hardboiled eggs and mix them with the rest of the salad. To find out how to perfectly cook hard-boiled eggs in the Instant Pot, click on this link.
How to make English pea salad?
To make an English pea salad, just follow the recipe mentioned above. English pea is another term for sweet pea, which is the exact type of pea mentioned in this recipe.
How to make pea salad with frozen peas?
Using frozen peas in this recipe is the benchmark. Just thaw them out prior to making the salad. Then, drain the water prior to assembly.
It might take some extra time to thaw them, so plan accordingly. Also, you could transfer the peas from the freezer to the refrigerator the night before, and have them ready in the morning.
Another alternative would be to use canned ones. However, the texture might be different from what you are used to. Canned peas might be mushier so we always try to use fresh or thawed frozen ones.
How many calories are there in a pea salad?
The calories in this dish will vary based on ingredients and quantity used, and it can range somewhere between 300 to 500 kcal. The main contributor to this is fat coming from the mayonnaise and cheese. To reduce the calories, you can use fat-free mayonnaise and less cheese.
How to make pea salad with mayonnaise?
The simplest pea salad recipe is to just combine peas, onion, hardboiled eggs, salt, pepper, and mayonnaise. Basically, you cannot leave out the mayonnaise.
For a creamier salad, add more mayo. But, if you are watching your calorie intake, opt for a lighter, less-fat version of mayonnaise.
How to store bacon pea salad?
You can simply put everything in an airtight container and store it in the refrigerator for up to 3 days.
More salad recipes:
Recipe Tips
If you run out of bacon bits, just cook some bacon until nice and crispy. Then, simply crush it and add it to the mixture.
Instead of sour cream, you may use vinegar or lemon juice to add some acid to the mix.
This recipe is extremely versatile. So, you can add just about anything that suits your taste like chicken or ham, even bell peppers.