The Best Cheesy Potatoes Recipe [video]
Cheesy Potatoes are a classic dish that is popular for holiday dinners, or to bring to a potluck! Cheese fans will love this casserole in all its cheesy goodness!
This is best served alongside other holiday favorites like Glazed Smoked Ham, Oven-Roasted Turkey Breasts, and Lemon Garlic Roast Chicken.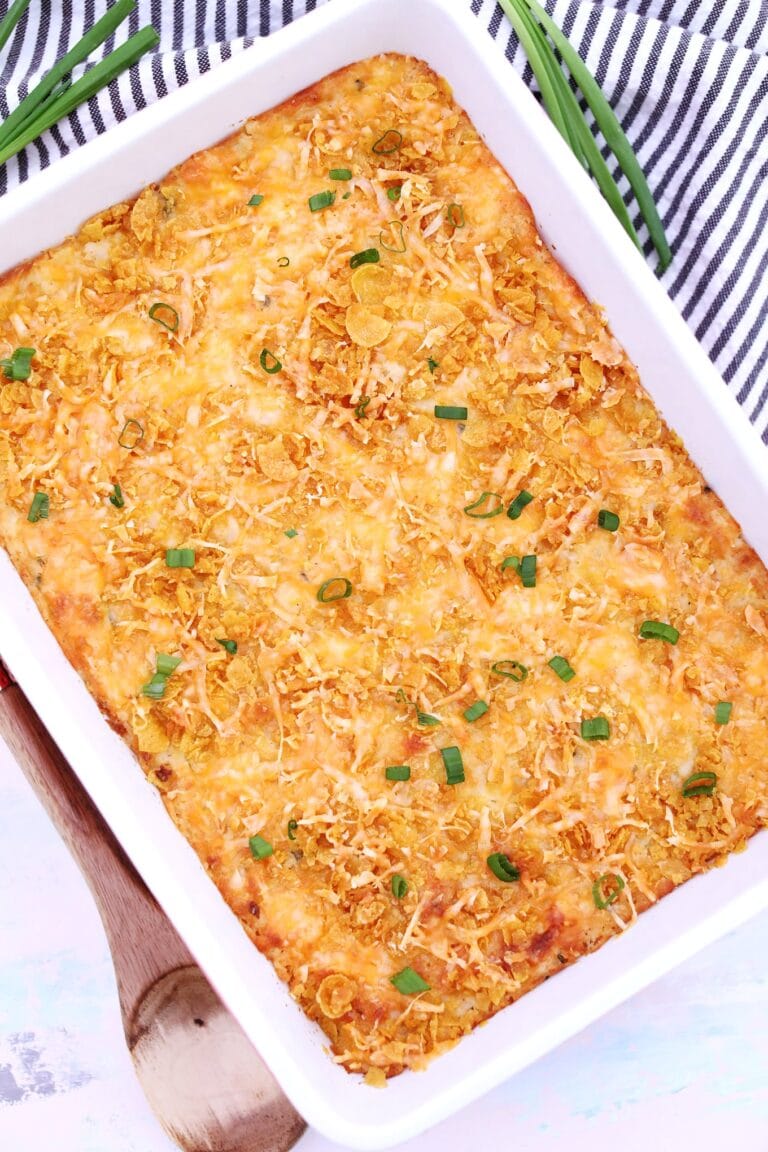 Cheesy Potato Casserole
Cheesy Potatoes are always our family's favorite side dish. With the recipe handed down to generations, it only proves how delicious and comforting this dish is! With just an hour to spare, you are well on your way to a nostalgic treat.
This potato dish is a nice alternative to chips and fries which are deep-fried and high in fat. It is very versatile which makes it a good side dish to meaty entrees. This tastes like the best potato dish where creaminess combined with cheesiness, makes for one amazing recipe!
This dish is also sometimes referred to as Funeral Potatoes, which is pretty much the same thing. All in all, this is the perfect side dish to serve with meat or fish entrees. Also, it is hearty, well-seasoned, and easy to prepare. You can even make it in advance and serve it the next day with all flavors and texture intact!
While the obvious ingredient is potatoes we add lots of cheddar cheese, sour cream, butter, soup, and green onions to finish out this easy dish.
What do you need to make Cheesy Potatoes?
The basic ingredients to make this dish are:
Cheese: The cheese that we found to work the best here is cheddar cheese (sharp, or extra-sharp). It produces the best sauce with the most flavor. However, feel free to use other cheeses that you have on hand. Swiss or provolone will work also.
Potatoes: Any kind will work here. Just ensure to wash and properly clean them prior to cooking.
Sour Cream, Butter and Cheese Cream: These ingredients are what makes this dish creamy and the ultimate comfort food!
Seasoning: I love using garlic and onion powder, along with salt and pepper.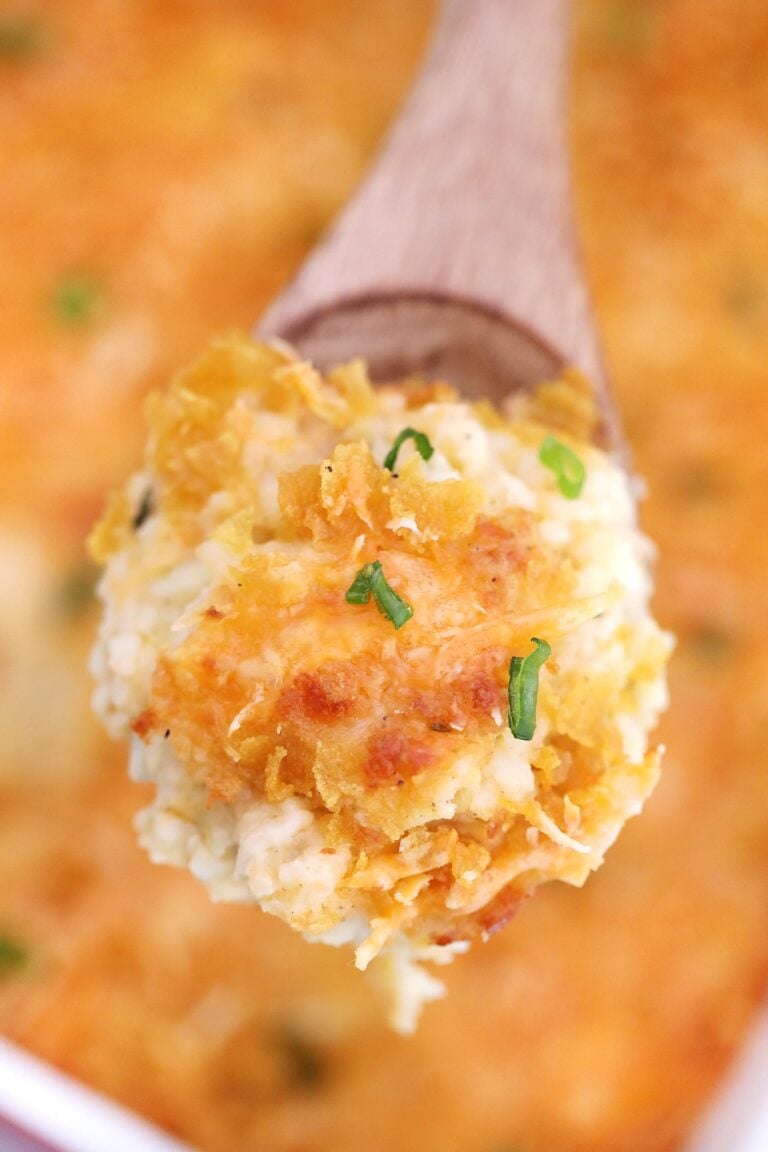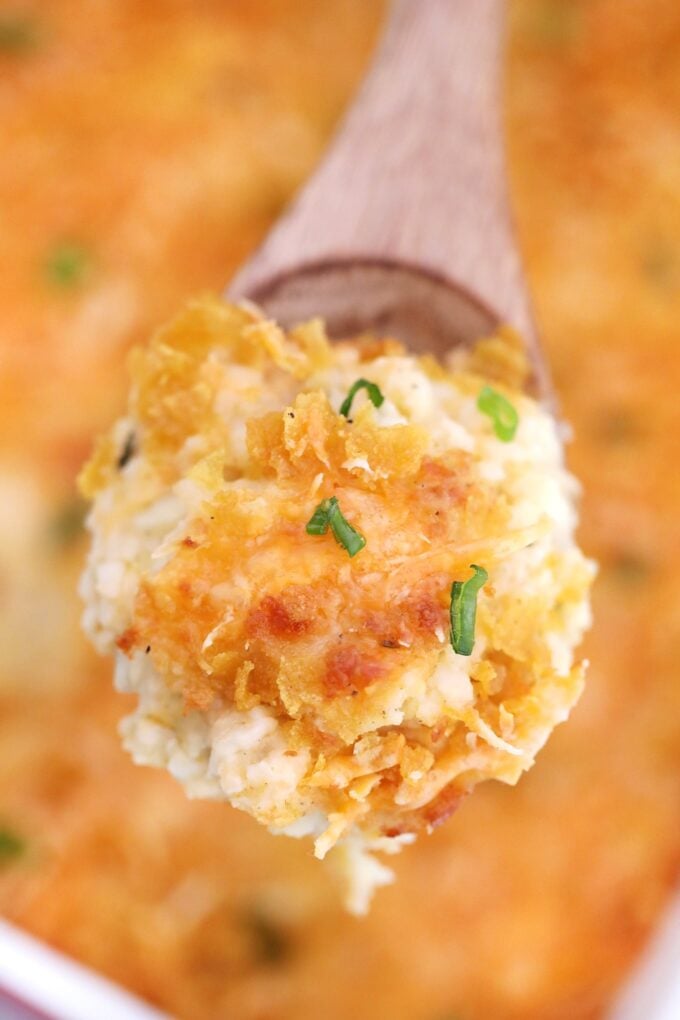 How to make cheesy potatoes with real potatoes?
A lot of recipes out there call for a canned cream soup and frozen hash browns for the ingredients. But, with our recipe, you will be making this casserole from scratch and with fresh ingredients. Also, watch the short video recipe tutorial attached.
First, prepare the Russet potatoes. Scrub off the dirt from the surface and if they are large ones, cut them in half.
Transfer them in a large pot and put in enough water to boil them in over high heat. Lower the heat and continue low boiling for about 12 to 15 minutes. Drain and set aside to let them cool to a manageable temperature.
Preheat the oven to 350˚F while preparing the rest of the ingredients. Also, butter the 13×9 inch baking dish that you will use.
The partially boiled spuds can now be peeled using a small paring knife.
Then, shred the spuds using a food processor. Once done, put the shredded ones in a large bowl.
Next, prepare the cream mixture in a separate bowl by combining and stirring sour cream, cream cheese, onion powder, garlic powder, salt, pepper, and melted butter until smooth.
Add cheddar cheese to the cream mixture as well as to the shredded spuds with some green onions.
Incorporate all ingredients into a large bowl and then, spread evenly in the baking dish.
Also, for the toppings, mix cornflakes with melted butter and sprinkle evenly. And, add more cheddar on top.
You can now put it in the oven to cook.
How long to bake cheesy potatoes?
Bake for about 45 to 50 minutes, with the dish all bubbly and brown at the sides.
TO MAKE it LIGHTER:
Use light sour cream and cream cheese
Also, use less cheese or go with a lighter version
Same goes for butter
How to make cheesy potatoes in the crockpot?
If you want to free up the oven to cook other dishes, you can use the crockpot.
Simply put in the crockpot all the ingredients as you would if you were to bake the dish except the toppings of course. Cook the dish for 4 to 5 hours on LOW, or 2 to 3 hours on HIGH.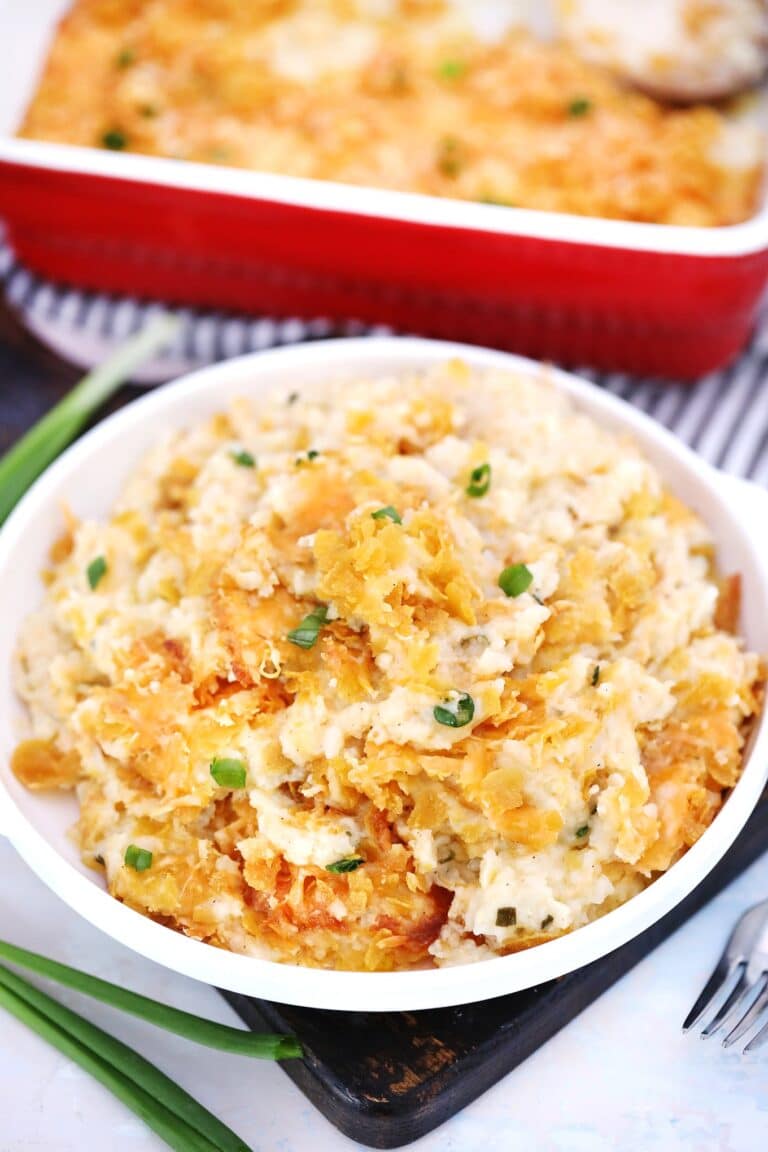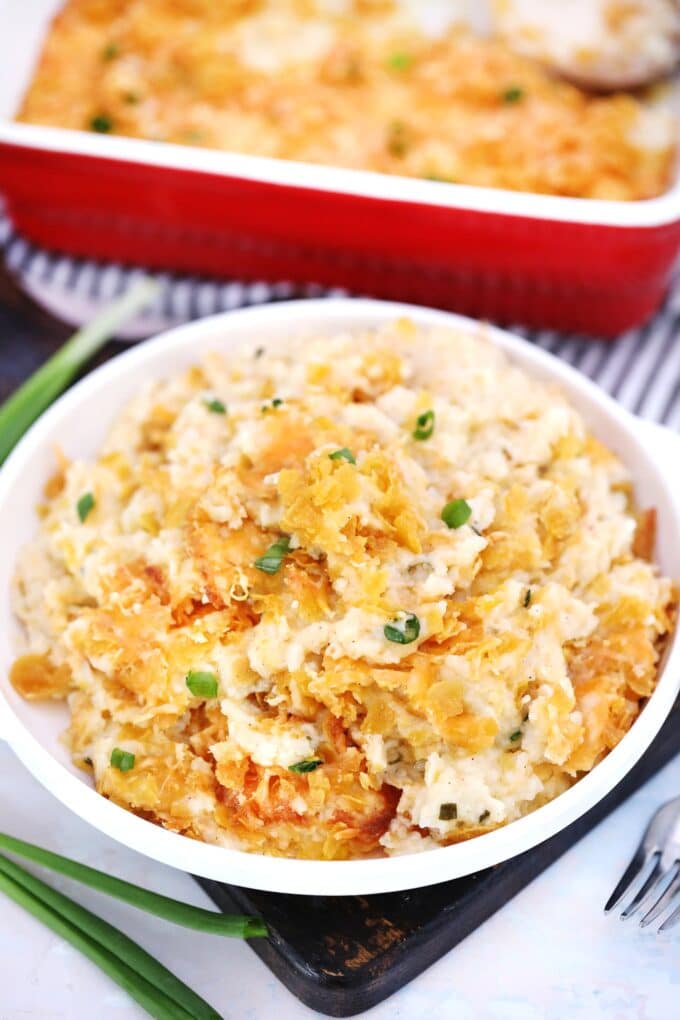 How to make cheesy scalloped potatoes from scratch?
The main difference is the cut of the spuds. For these cheesy scalloped potatoes, the spuds are thinly sliced. You can get our recipe here.
How many calories are in cheesy potatoes?
One cup of this casserole can give you about 520 calories, 295 of which come from fat.
What to serve with it?
This casserole makes for a complete meal by serving it with a light salad, like our arugula strawberry salad. Also, spuds go well with ham, bacon, fish, and beef. So, any dish that gives so much flavor can be balanced with this casserole.
Can you make cheesy potatoes in advance?
Absolutely. You can refrigerate it or freeze it but without the toppings. It is best to put the toppings when you reheat it. When assembled, simply cover and refrigerate for 2-3 days before baking.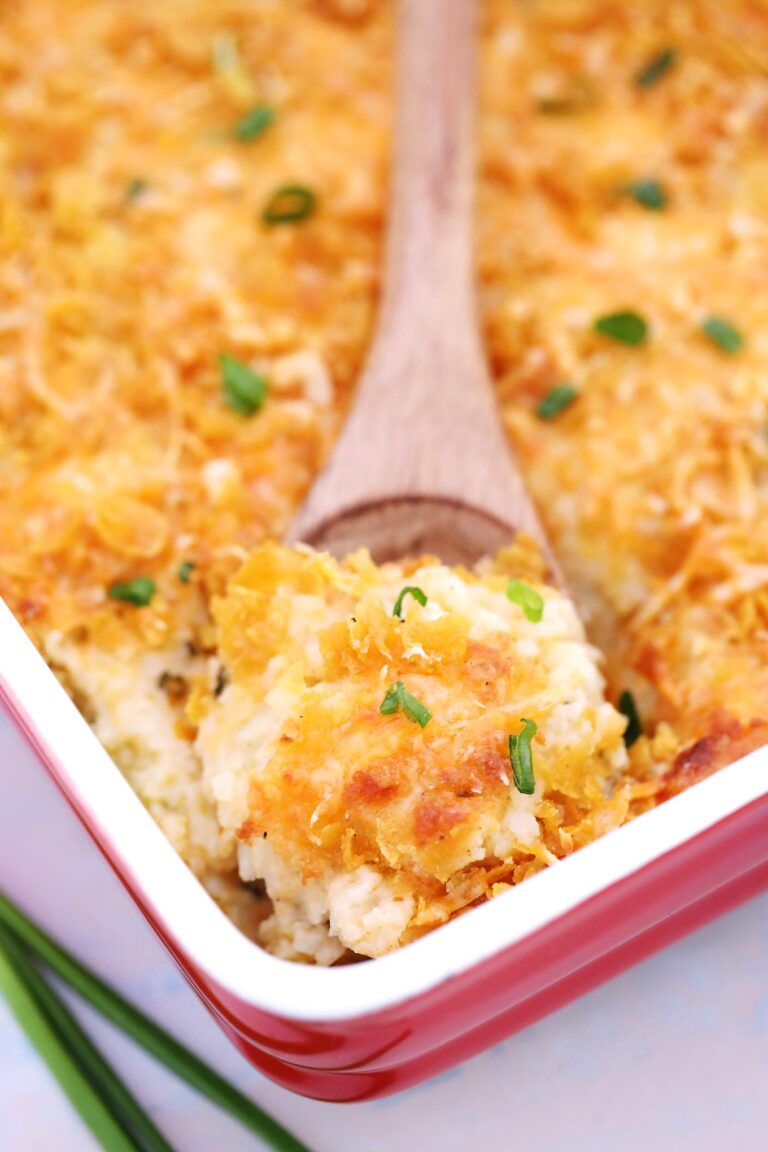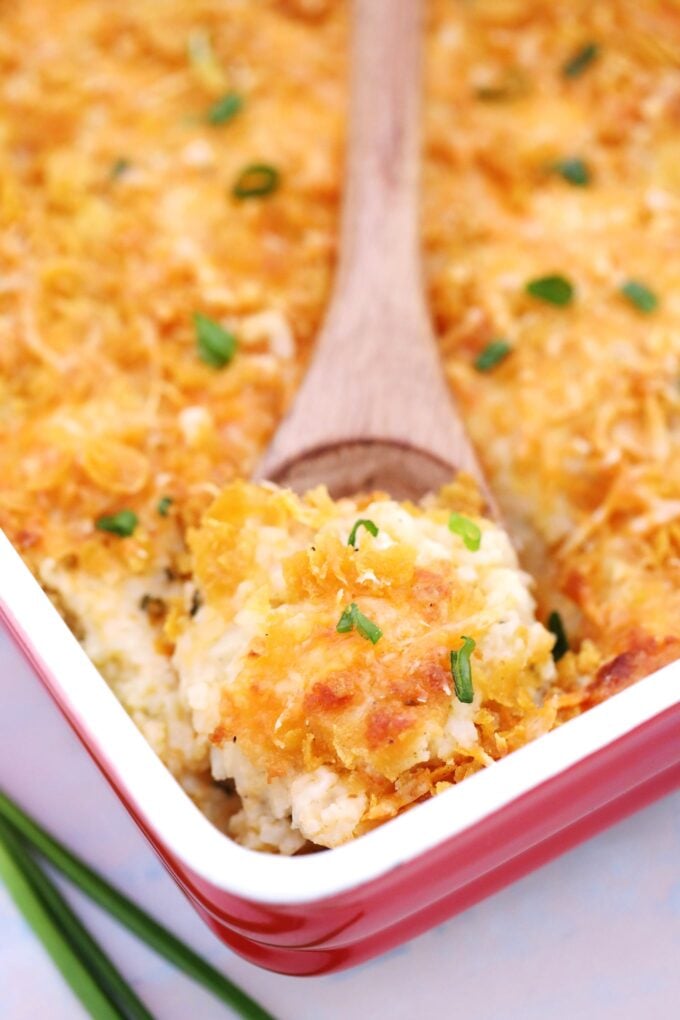 How to store this dish?
Once it is properly cooled, secure the casserole with a cover and refrigerate for 3 to 5 days. Also, you can freeze it. Typically, frozen food can keep up to 3 months as long as properly stored.
How to reheat it?
Simply pop it in the oven again, preheated at 350˚F, for about 200 minutes, or until completely warm and bubbly.
Other Favorite Potato Side dishes:
Recipe Tips
You can make a sublayer of ham for a nice surprise and make this casserole a full meal.
Also, if you will have some leftover spuds, turn them into Hash Browns.
For a spicier kick, simply add some jalapenos.
You can make it with condensed cream of mushroom soup as well.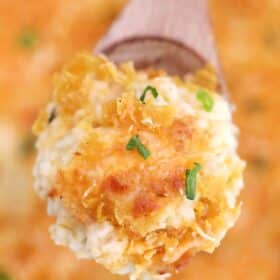 Cheesy Potatoes Recipe
Cheesy Potatoes are a classic dish that is popular for holiday dinners, or to bring to a potluck! Cheese fans will love this casserole in all its cheesy goodness!
Save
Share
Print
Pin
Rate
Ingredients
3

pounds

russet potatoes

(washed and scrubbed)

8

tablespoons

butter

(melted)

1

teaspoon

garlic powder

1

teaspoon

onion powder

1

teaspoon

salt

1/2

teaspoon

pepper

1/4

cup

green onions

(chopped)

1

cup

sour cream

8

ounces

cream cheese

8

ounces

cheddar cheese

(grated)
Topping:
2

cups

corn flakes

(crushed)

4

tablespoons

butter

(melted)

1

cup

cheddar cheese

(grated)
Instructions
Cut potatoes in half crosswise and place in a large pot. Add water to cover the potatoes and bring to boil over high heat. Reduce heat to medium, and boil for about 12-15 minutes, until just tender, the potatoes don't NEED to be fully cooked. Drain and set aside until cool enough to handle.

Preheat oven to 350 degrees F.

Lightly grease a 13 x 9-inch baking dish. Set aside.

Peel the potatoes and shred or grate. Transfer to a large bowl.

In a medium bowl combine sour cream, cream cheese, onion powder, garlic powder, salt, pepper, and melted butter, stir until smooth.

Add cheese and stir to combine.

Add cheese mixture to the shredded potatoes, add green onions. Stir well to combine.

Transfer mixture to the prepared baking dish into an even layer.

Topping:

In a medium bowl combine crushed corn flakes and butter, and sprinkle on top of the potatoes. Sprinkle the remaining cheddar cheese.

Bake 45-50 minutes until bubbly with lightly browned edges. Serve warm.
Nutrition
Calories:
483
kcal
|
Carbohydrates:
42
g
|
Protein:
18
g
|
Fat:
27
g
|
Saturated Fat:
9
g
|
Cholesterol:
34
mg
|
Sodium:
962
mg
|
Potassium:
899
mg
|
Fiber:
2
g
|
Sugar:
3
g
|
Vitamin A:
1245
IU
|
Vitamin C:
12
mg
|
Calcium:
289
mg
|
Iron:
3.8
mg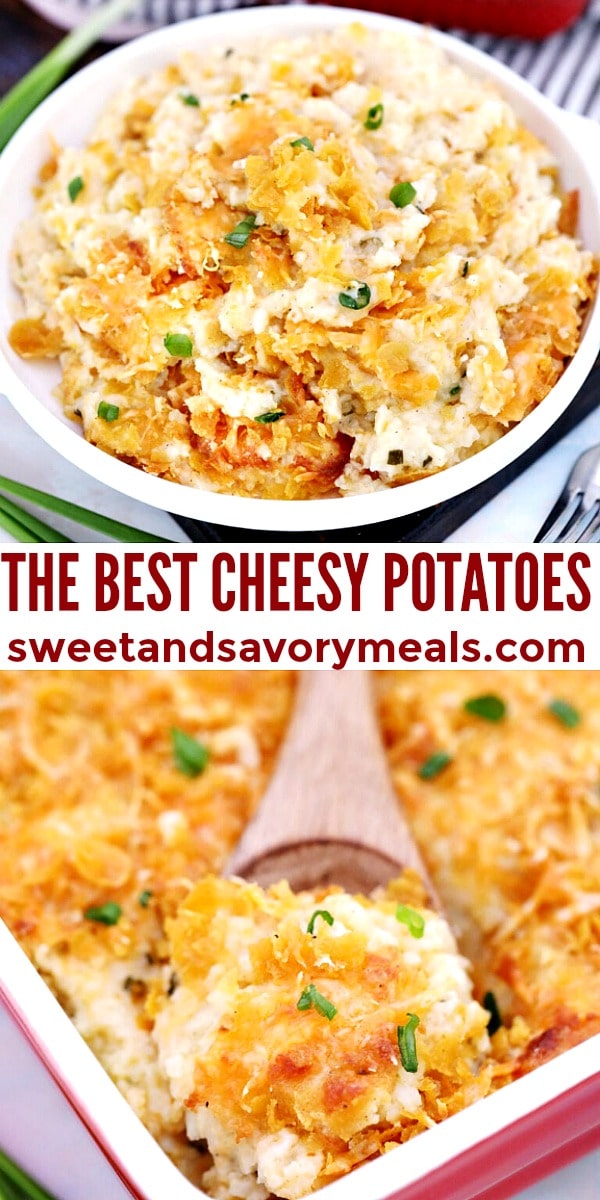 More recipes you might love