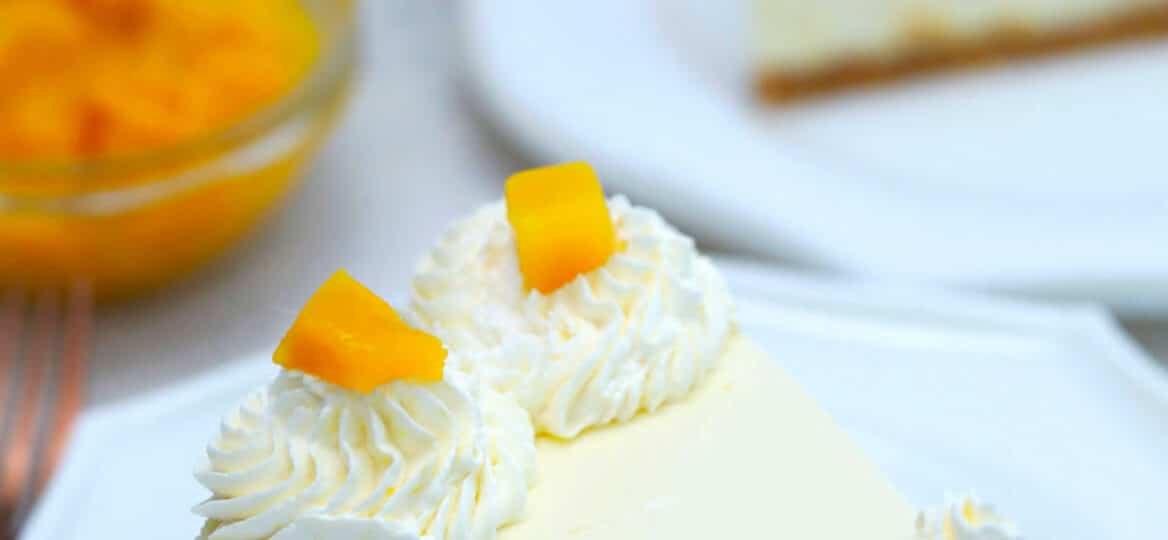 No Bake Mango Cheesecake [Video]
No Bake Mango Cheesecake is delicate, creamy, luscious, and no baking required! Top it with sweet mangoes for a delicious summery dessert.
Got some leftover cream cheese? I love using this tangy, creamy ingredient in my desserts! Make a batch of these delicious Cinnamon Cream Cheese Cookies, or treat yourself to this amazing Cherry Cream Cheese Coffee Cake.
Mango Cheesecake Recipe
I'll admit it— cheesecakes are my weakness. It's impossible to resist that buttery crust and the rich, creamy baked cheesecake. I love how customizable it is too! Top with chocolate, fruits, fold in some Oreos, chocolate chips, or whatever else I'm in the mood for. It's absolute dessert heaven.
However, there are days when I just don't want to face a hot oven just to get my cheesecake fix. The solution? A no-bake version!
It's insanely creamy thanks to the two kinds of cheese I use. Instead of the dense texture of the baked version, this one is more mousse-like, with a serious hit of sweet, mango goodness which I fold right into the batter. Finally, I pile it high with whipped cream for pure cheesecake bliss. Best of all, no baking involved!
What do you need to make NBMC?
This recipe has three components. I highly suggest keeping the ingredients on hand. I guarantee this will be a highly-requested dessert in your house!
Crust
Sugar
Crushed graham crackers
Butter
Filling
Gelatin
Vanilla

Mango chunks
Water
Cream cheese
Mascarpone
Sugar
Whipping cream
Whipped Cream
White granulated sugar
Whipping cream
How to make No Bake Mango Cheesecake
Make the crust:
Combine sugar, biscuit crumbs, and melted butter. Press into a pan and chill.
Bloom the gelatin:
Sprinkle gelatin on cold water. Whisk, and microwave. Whisk again until you have a gelatin mixture.
Prepare the filling:
Process mango chunks until smooth.
Mix the sugar and two kinds of cheese. Set aside.
Whip the cream, sugar, and vanilla until you get stiff peaks.
Fold into cheese mixture.
Add the pureed mangoes to the gelatin. Combine with cheesecake batter. Gently fold in the rest of the mangoes.
Spread on top of the crust.
Chill for several hours to overnight.
Make the whipped cream:
Whip the cream and sugar together.
Serve:
Pipe the whipped cream on the cheesecake.
Top with chunks of mango.
Slice and enjoy it!
What cream cheese brand is best to use?
It depends on what's available in your area. Keep in mind that different brands also have different tastes and textures. Some are tangier, while others are on the sweet and creamy side.
Can I use frozen mangoes?
Sure, but note that they can become watery as they reach room temperature. So I recommend letting them defrost first, then straining out any excess liquid before adding them to the filling.
How to bloom gelatin?
It's really easy! Just sprinkle the gelatin into any liquid (in this recipe, it's cold water). Let it sit for a few minutes, heat it up to dissolve the gelatin, and get it ready for your recipe.
Can you make it ahead?
Absolutely. You can prepare the components ahead, then assemble it on, chill, and then you'll serve it. You can also freeze the entire cheesecake.
How to freeze a no-bake cheesecake?
Freeze it by itself after it was chilled and sliced, or in the pan.
Use plastic wrap and foil. Keep for up to three months.
More delicious cheesecake recipes:
Recipe Tips:
To make sure it's fully set, chill it overnight.
Fold all components gently so that the filling doesn't deflate.
For the cream cheese, use full-fat to avoid a runny texture.
Chill the bowl you'll be using for whipping.