No Bake Mango Cheesecake [Video]
No Bake Mango Cheesecake is delicate, creamy, luscious, and no baking required! Top it with sweet mangoes for a delicious summery dessert.
Got some leftover cream cheese? I love using this tangy, creamy ingredient in my desserts! Make a batch of these delicious Cinnamon Cream Cheese Cookies, or treat yourself to this amazing Cherry Cream Cheese Coffee Cake.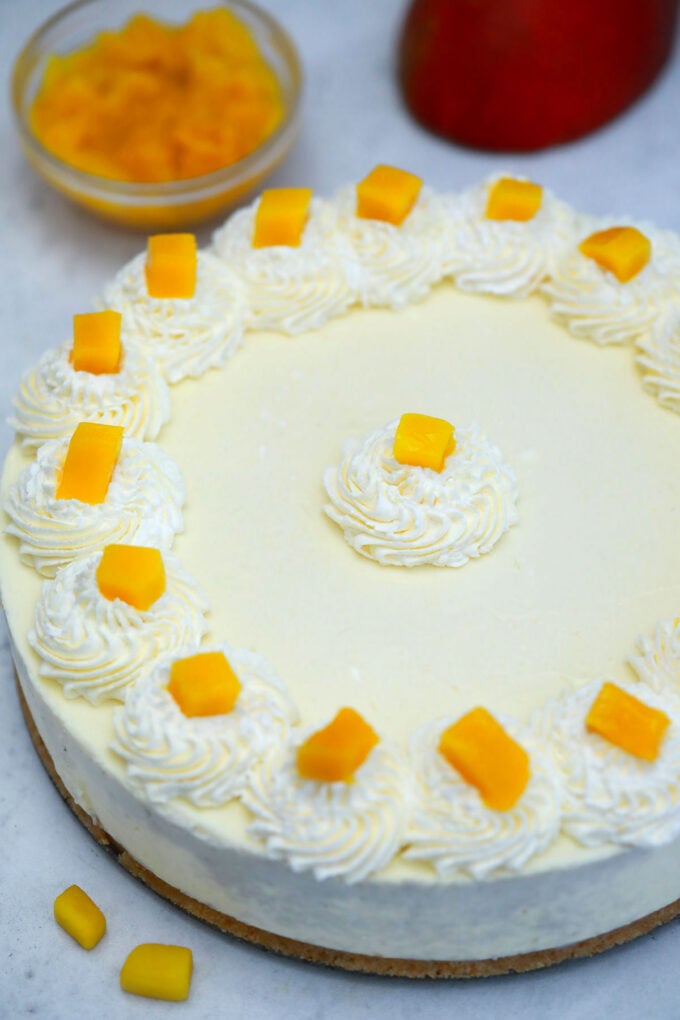 Mango Cheesecake Recipe
I'll admit it— cheesecakes are my weakness. It's impossible to resist that buttery crust and the rich, creamy baked cheesecake. I love how customizable it is too! Top with chocolate, fruits, fold in some Oreos, chocolate chips, or whatever else I'm in the mood for. It's absolute dessert heaven.
However, there are days when I just don't want to face a hot oven just to get my cheesecake fix. The solution? A no-bake version!
It's insanely creamy thanks to the two kinds of cheese I use. Instead of the dense texture of the baked version, this one is more mousse-like, with a serious hit of sweet, mango goodness which I fold right into the batter. Finally, I pile it high with whipped cream for pure cheesecake bliss. Best of all, no baking involved!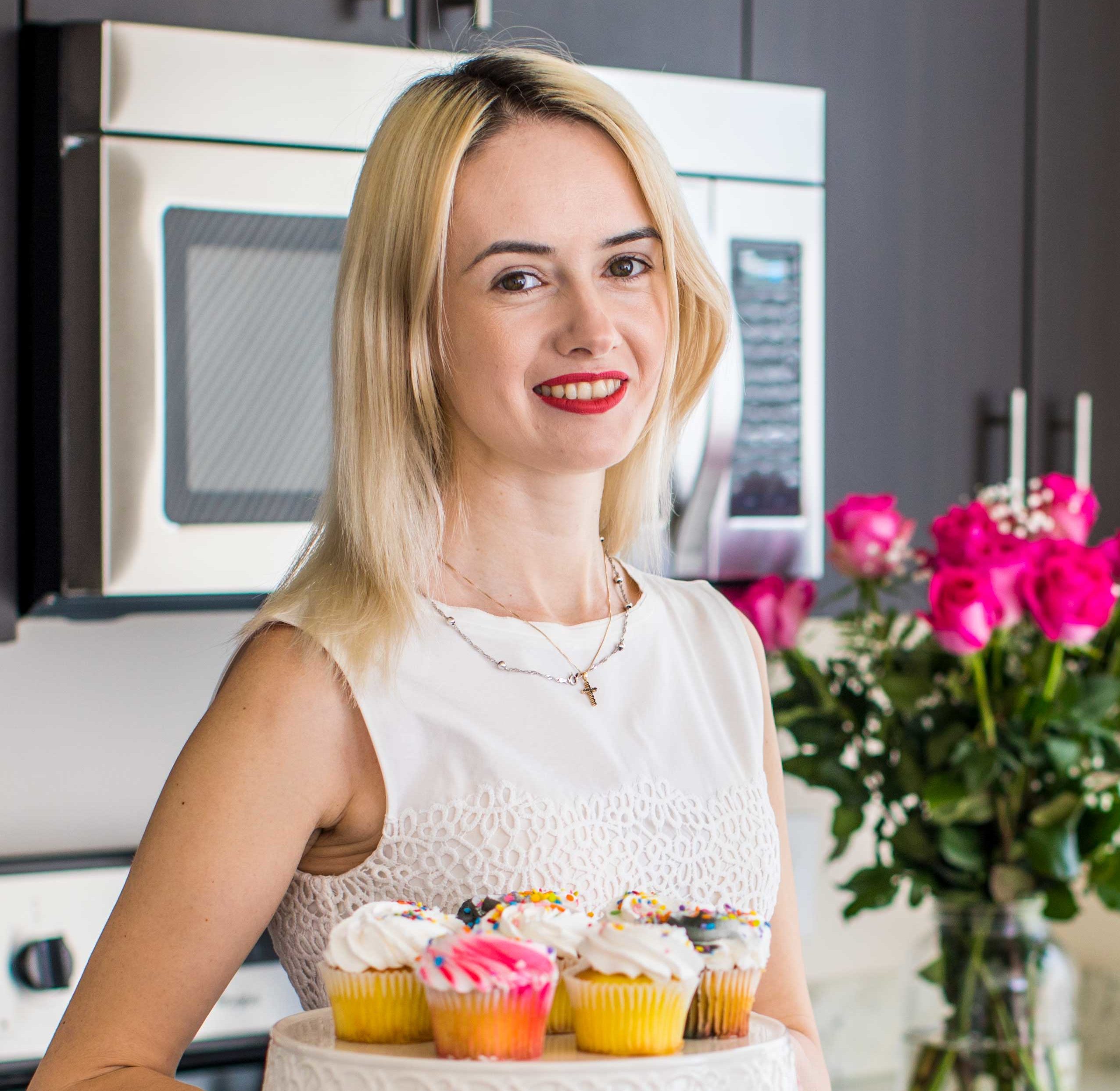 Follow us on Pinterest for more delicious recipes!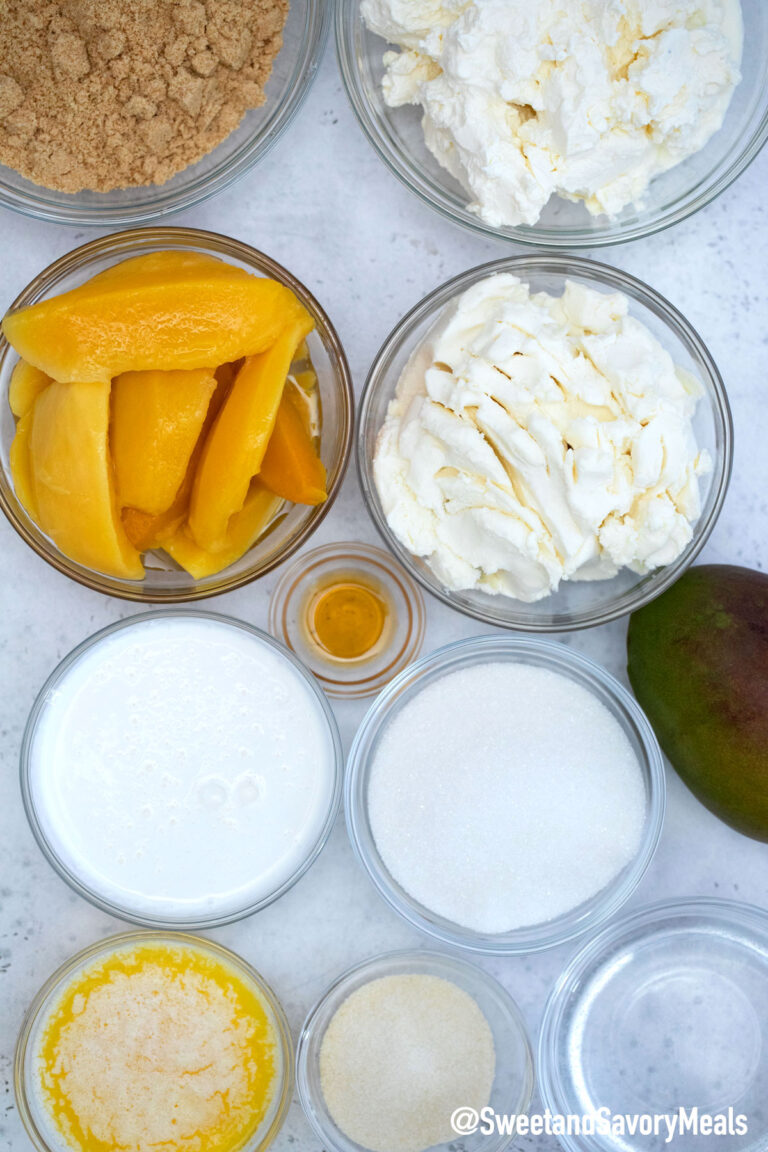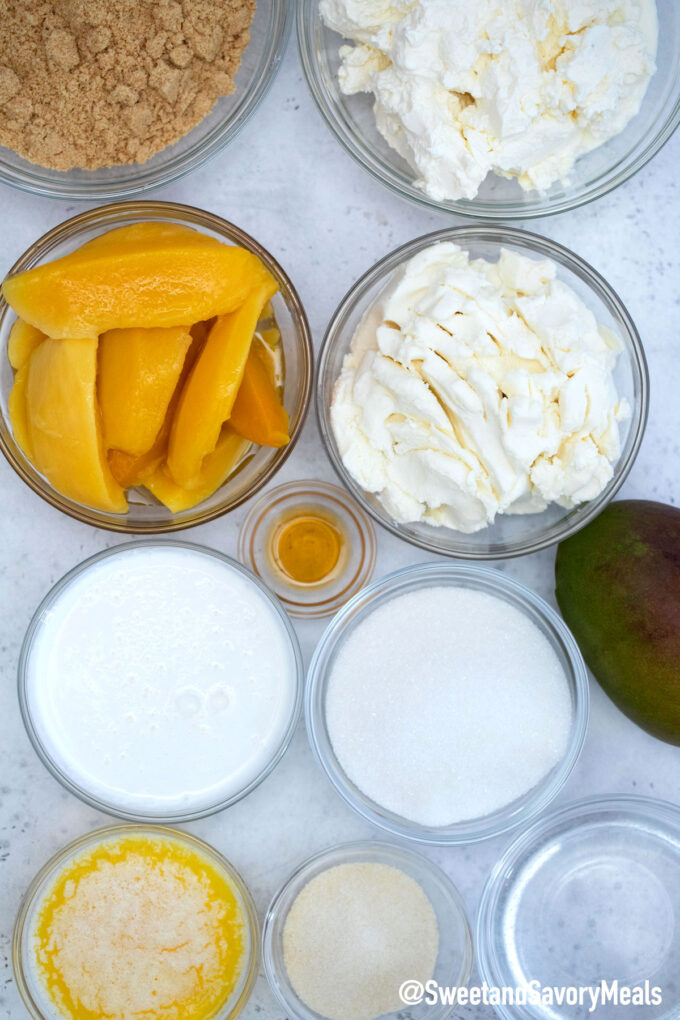 What do you need to make NBMC?
This recipe has three components. I highly suggest keeping the ingredients on hand. I guarantee this will be a highly-requested dessert in your house!
Crust
Sugar
Crushed graham crackers
Butter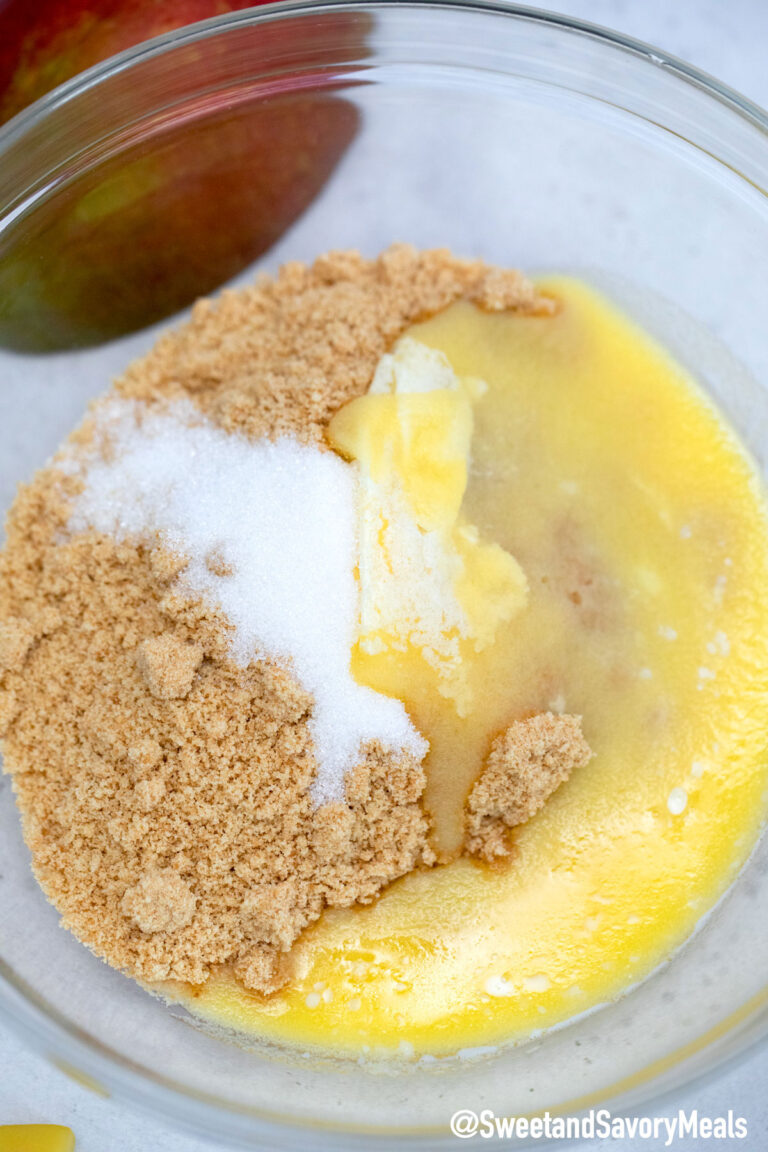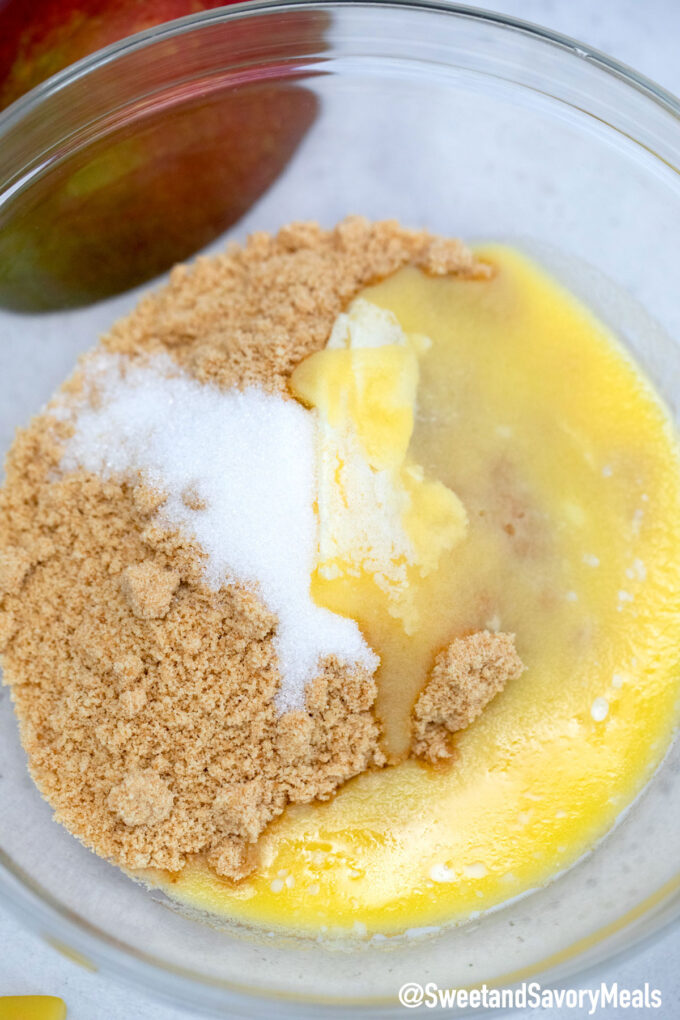 Filling
Gelatin
Vanilla

Mango chunks
Water
Cream cheese
Mascarpone
Sugar
Whipping cream
Whipped Cream
White granulated sugar
Whipping cream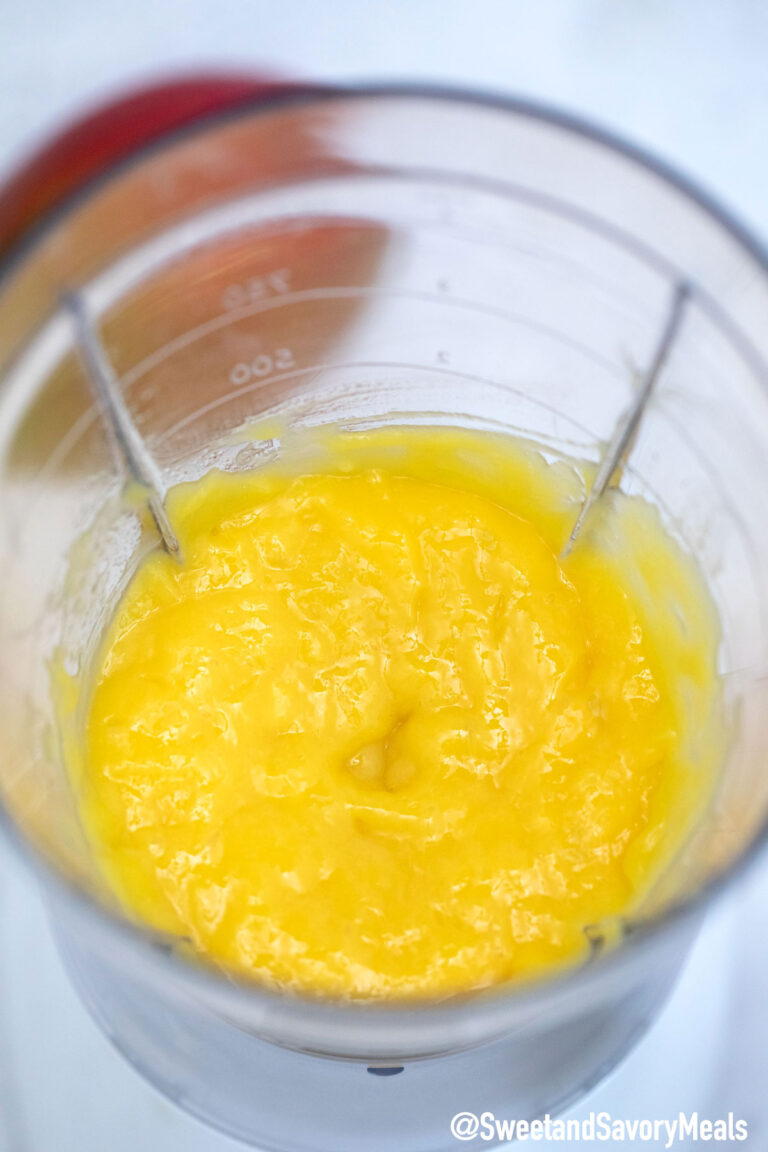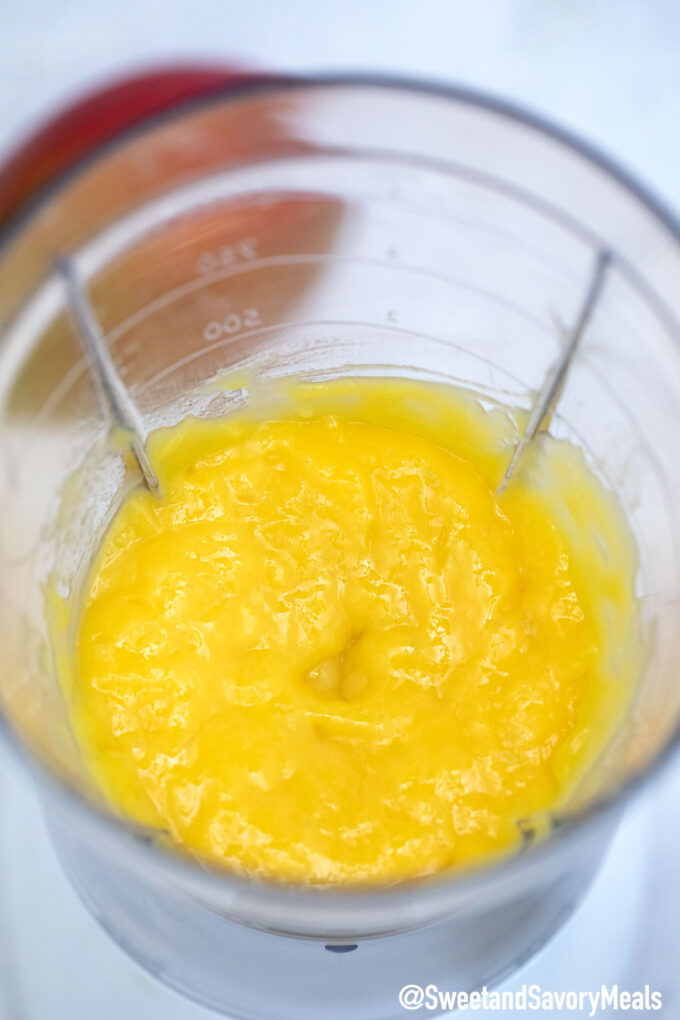 How to make No Bake Mango Cheesecake
Make the crust:
Combine sugar, biscuit crumbs, and melted butter. Press into a pan and chill.
Bloom the gelatin:
Sprinkle gelatin on cold water. Whisk, and microwave. Whisk again until you have a gelatin mixture.
Prepare the filling:
Process mango chunks until smooth.
Mix the sugar and two kinds of cheese. Set aside.
Whip the cream, sugar, and vanilla until you get stiff peaks.
Fold into cheese mixture.
Add the pureed mangoes to the gelatin. Combine with cheesecake batter. Gently fold in the rest of the mangoes.
Spread on top of the crust.
Chill for several hours to overnight.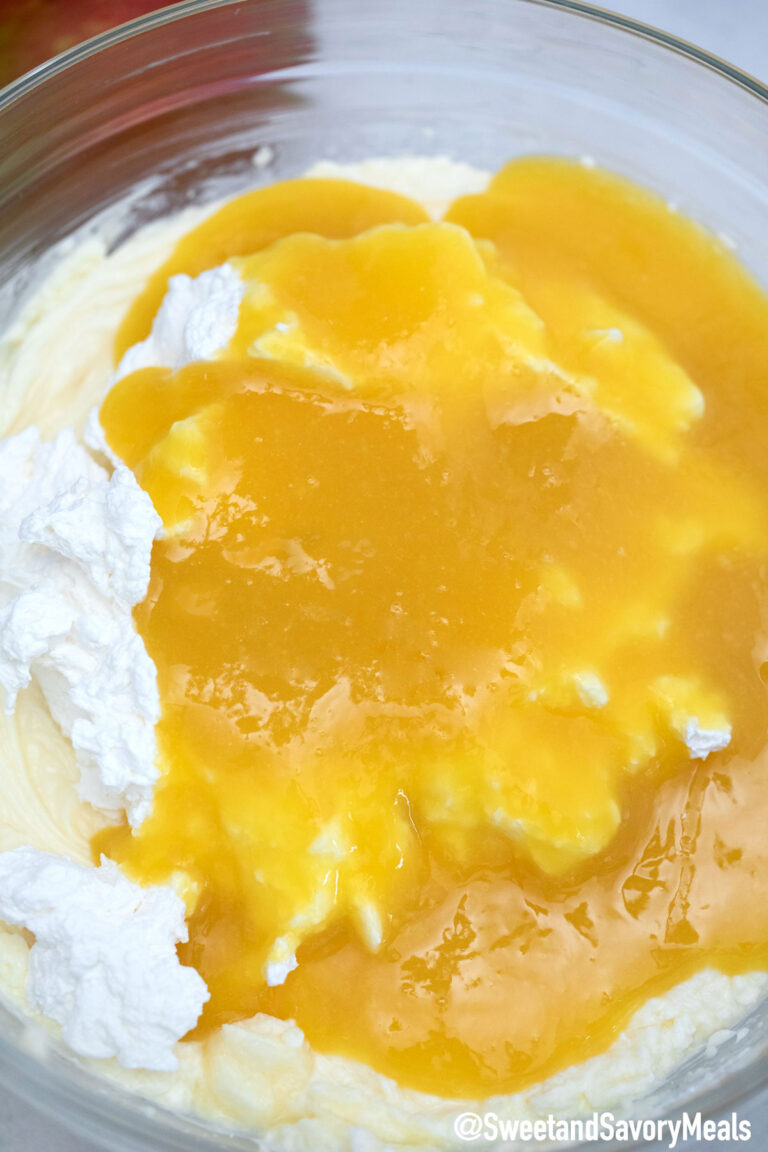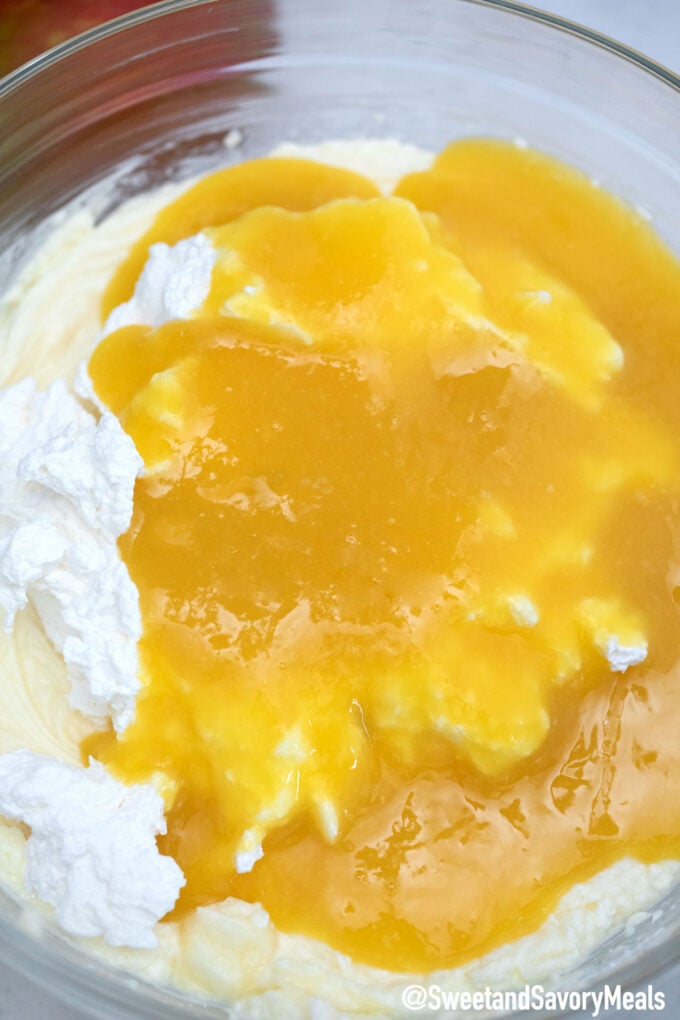 Make the whipped cream:
Whip the cream and sugar together.
Serve:
Pipe the whipped cream on the cheesecake.
Top with chunks of mango.
Slice and enjoy it!
What cream cheese brand is best to use?
It depends on what's available in your area. Keep in mind that different brands also have different tastes and textures. Some are tangier, while others are on the sweet and creamy side.
I find this cream cheese comparison guide from The Kitchn really useful when selecting brands.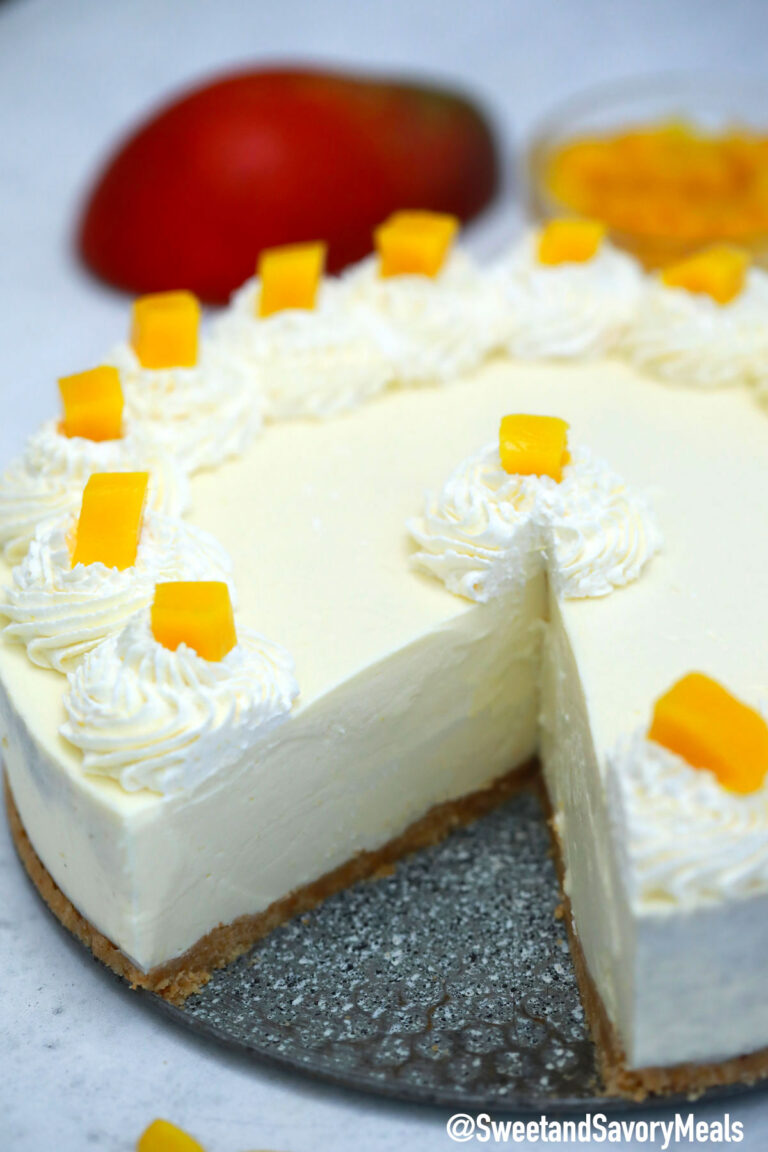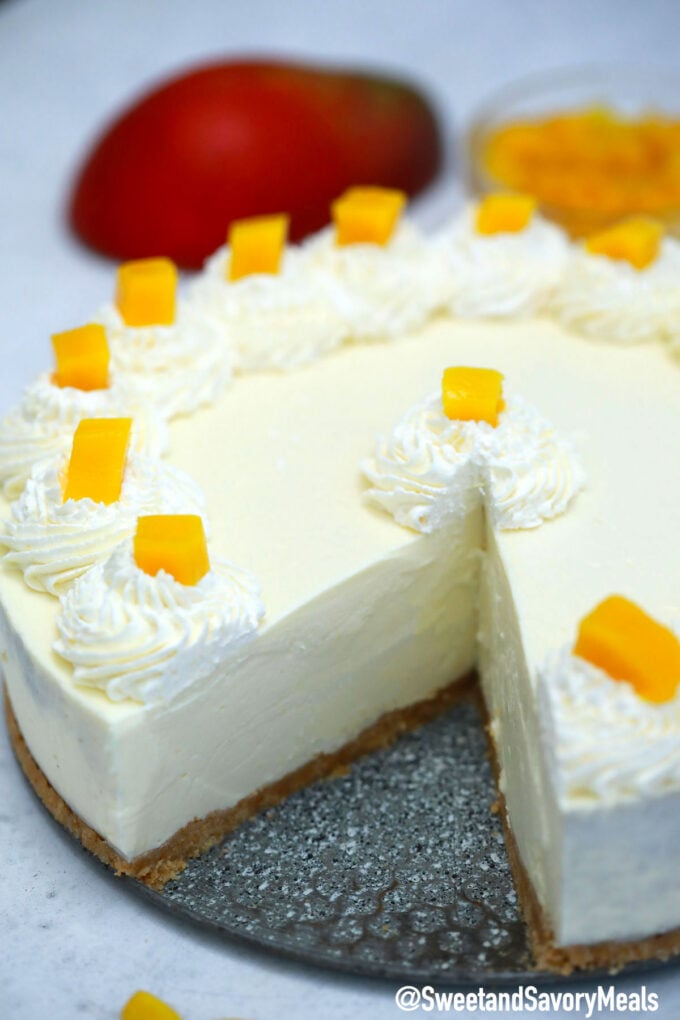 Can I use frozen mangoes?
Sure, but note that they can become watery as they reach room temperature. So I recommend letting them defrost first, then straining out any excess liquid before adding them to the filling.
How to bloom gelatin?
It's really easy! Just sprinkle the gelatin into any liquid (in this recipe, it's cold water). Let it sit for a few minutes, heat it up to dissolve the gelatin, and get it ready for your recipe.
Can you make it ahead?
Absolutely. You can prepare the components ahead, then assemble it on, chill, and then you'll serve it. You can also freeze the entire cheesecake.
How to freeze a no-bake cheesecake?
Freeze it by itself after it was chilled and sliced, or in the pan.
Use plastic wrap and foil. Keep for up to three months.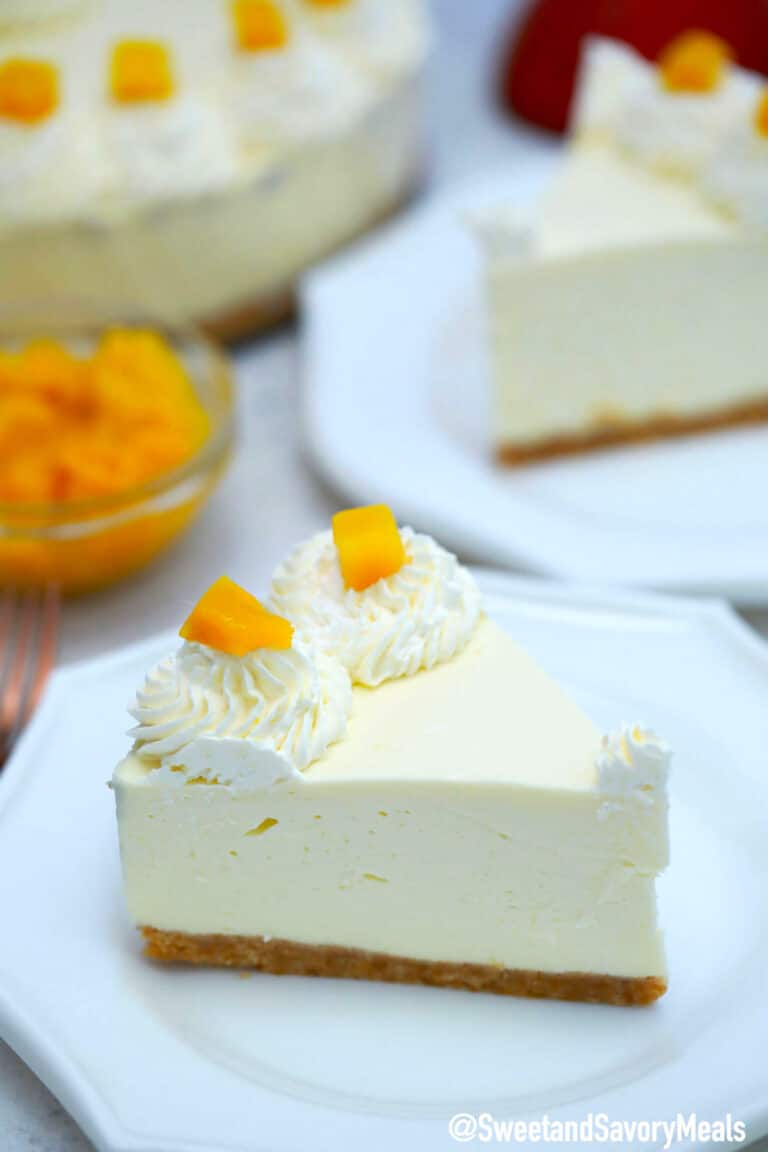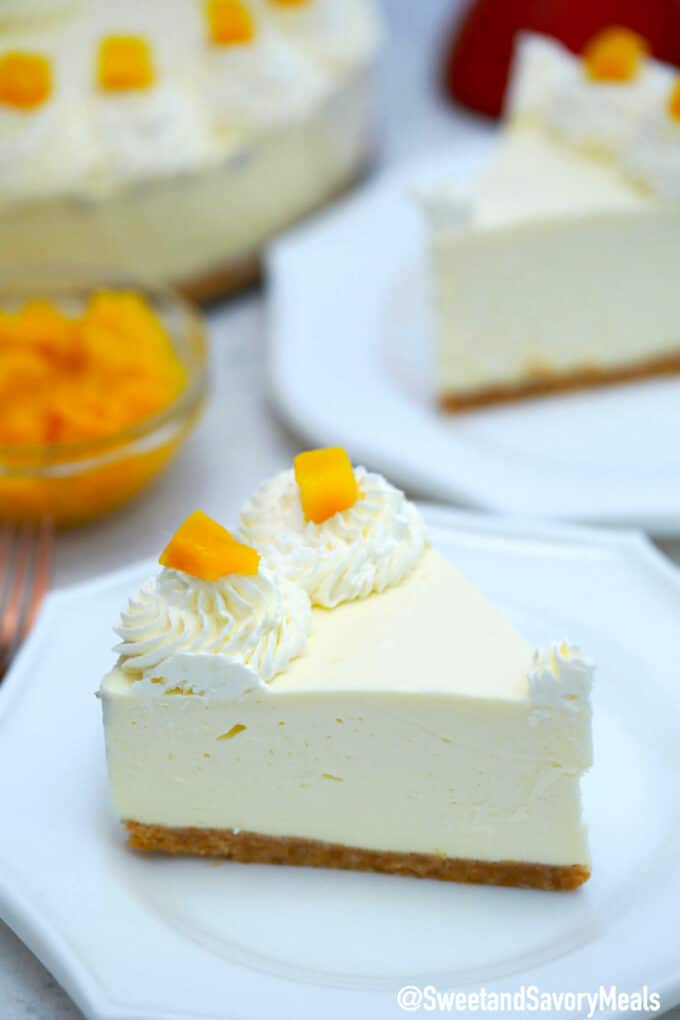 More delicious cheesecake recipes:
Recipe Tips:
To make sure it's fully set, chill it overnight.
Fold all components gently so that the filling doesn't deflate.
For the cream cheese, use full-fat to avoid a runny texture.
Chill the bowl you'll be using for whipping.
Save Recipe
Author: Catalina Castravet
Serves: 10 slices
Prep time:

30

minutes
Total time:

6

hrs

30

mins
Ingredients
Crust:
2 cups graham cracker crumbs
2 tablespoons white granulated sugar
1 stick unsalted butter (melted)
Cheesecake Filling:
4 envelopes unflavored gelatin (7 grams per envelope)
2/3 cup water (cold)
4 cups mango chunks (either fresh or canned)
24 oz cream cheese (room temperature)
8 oz mascarpone cheese (room temperature)
1 ½ cups white granulated sugar
1/2 cup heavy whipping cream (cold)
1 teaspoon vanilla extract
Whipped Cream:
1 cup heavy whipping cream (cold)
3 tablespoons white granulated sugar
Instructions
Crust:
Add Graham crumbs and sugar to a medium bowl and mix with melted butter until fully combined.
Press the mixture onto the bottom and sides of a springform pan or a 9x13 inches cake pan. Use a measuring cup to press the mixture, it makes the process very easy. Refrigerate for 20-30 minutes.
Gelatin Mixture:
Add 1 cup of cold water to a small bowl, sprinkle the gelatin on top. Let it bloom for 1-2 minutes. Whisk to combine, microwave for 30 seconds and whisk until fully combined and a gelatin mixture is formed. Set aside.
Cheesecake Filling:
Add 2 cups of mango chunks to a food processor and process until smooth. Set aside.
In a large bowl, using an electric hand mixer or stand mixer, mix together cream cheese, mascarpone cheese, sugar on medium-low speed until combined. Stop once to scrape the sides and bottom of the bowl. Do not mix at high speed or overmix, as the mascarpone cheese can begin to separate.
In a chilled mixing bowl, add the cold heavy whipping cream and vanilla extract. Whip on high speed until stiff peaks form. Manually, using a spatula, fold the whipped cream into the mascarpone cream cheese mixture.
Add the mango puree to the gelatin mixture, mix.
Add the gelatin mixture to the cheesecake batter and mix to combine.
Fold in with a spatula the remaining 2 cups of mango chunks.
Spread the cheesecake filling evenly on top of the crust.
Set the cheesecake in the refrigerator to chill and firm, 6 hours or better, overnight.
Whipped Cream:
Add the cold heavy whipping cream and sugar to a large mixing bowl. Whip on high speed until stiff peaks form. Add whipped cream to a piping bag fitted with a large star tip and pipe cream on top of the cheesecake.
When ready to serve, carefully remove the cheesecake from the springform pan.
Decorate with mango chunks. Always serve chilled.
Slice and serve!
Store in the fridge for up to 4 days.
Calories: 506 Carbohydrates: 66 Protein: 10 Fat: 23 Saturated Fat: 13 Cholesterol: 61 Sodium: 460 Potassium: 362 Fiber: 2 Sugar: 55 Vitamin A: 1477 Vitamin C: 24 Calcium: 197 Iron: 1
Save Recipe
More recipes you might love