Spice Cake Recipe [video]
Spice Cake is not your ordinary sweet dessert! It is dense, moist, and full of autumn and winter flavors that both adults and kids will love. Learn how to easily make this cake by watching the short video tutorial below.
If you are looking for a pastry that is one of a kind, then, this is it! It has intense flavors in one tasty pastry. Owe it to the mixture of spices that it contains. If you like this, then, you can also try my recipe for Sweet Potato Pie Cupcakes, Classic Pumpkin Pie, and Pumpkin Bread. You will surely love them!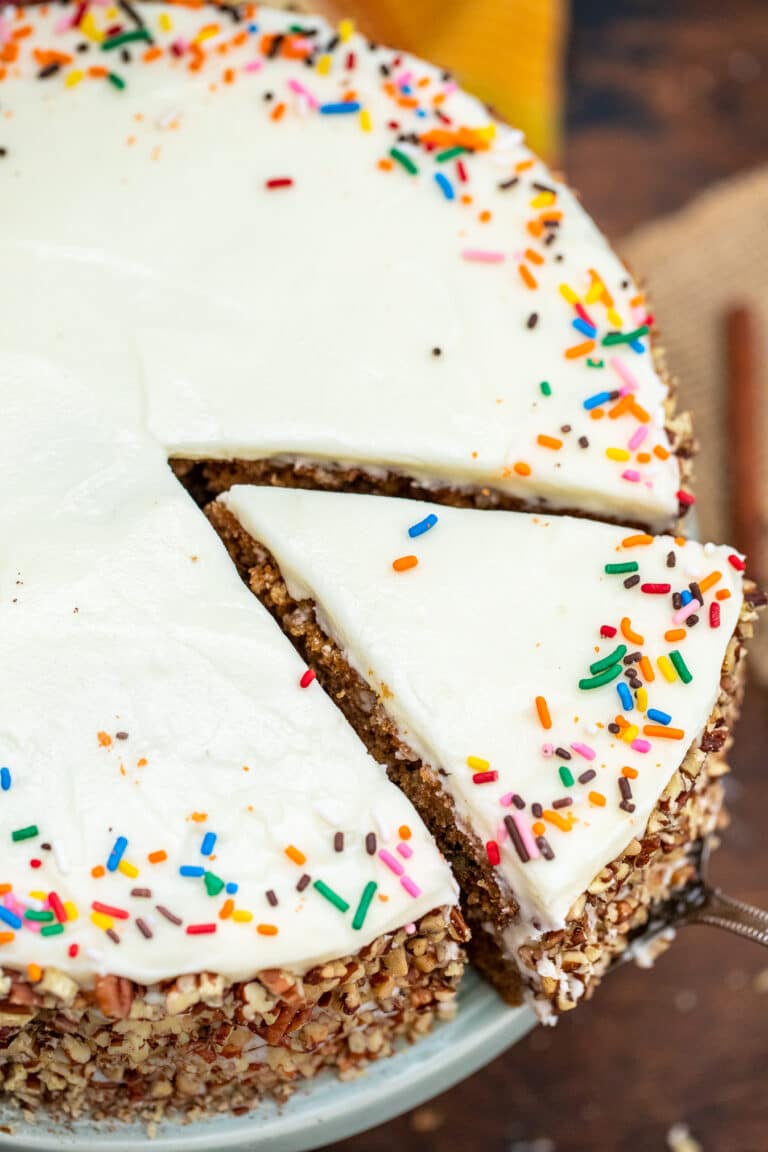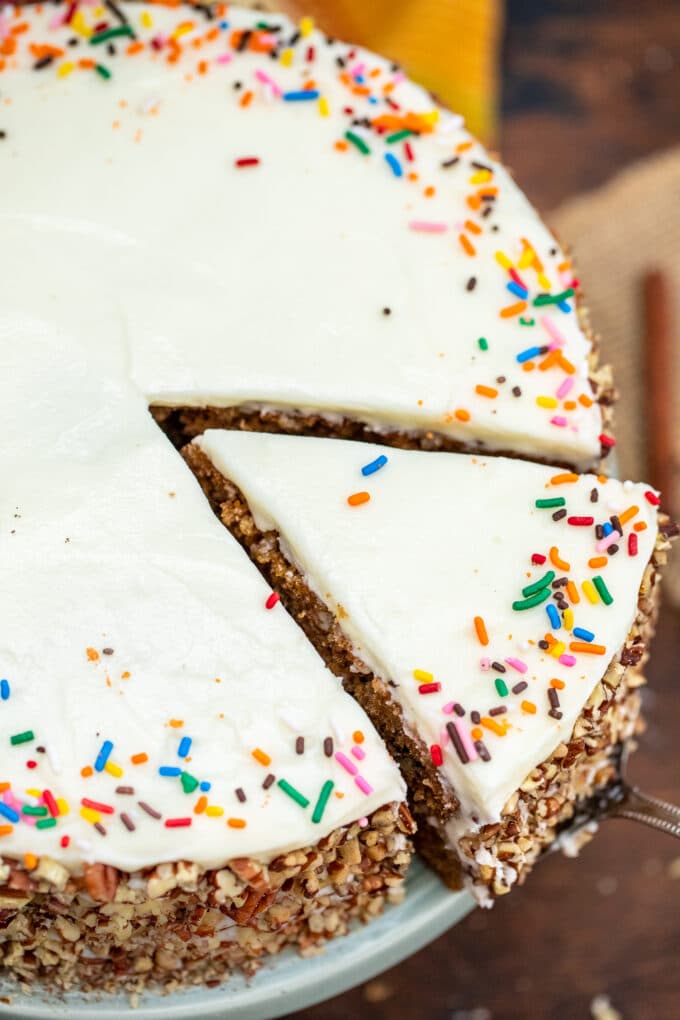 Spice Cake Recipe
Spice Cake reminds me of the taste of gingerbread with the texture of a banana cake. Like gingerbread, it has a rich flavor profile brought by cinnamon, ginger, nutmeg, allspice, and cloves.
All of these contribute to a unique pastry that is also moist and dense! Also, pecans and raisins are added for crunch and chewiness.
What I like about it is that you can make a sheet cake out this recipe, top it with a layer of cream cheese frosting, and it is done! Nothing fancy is required and yet it is absolutely delightful!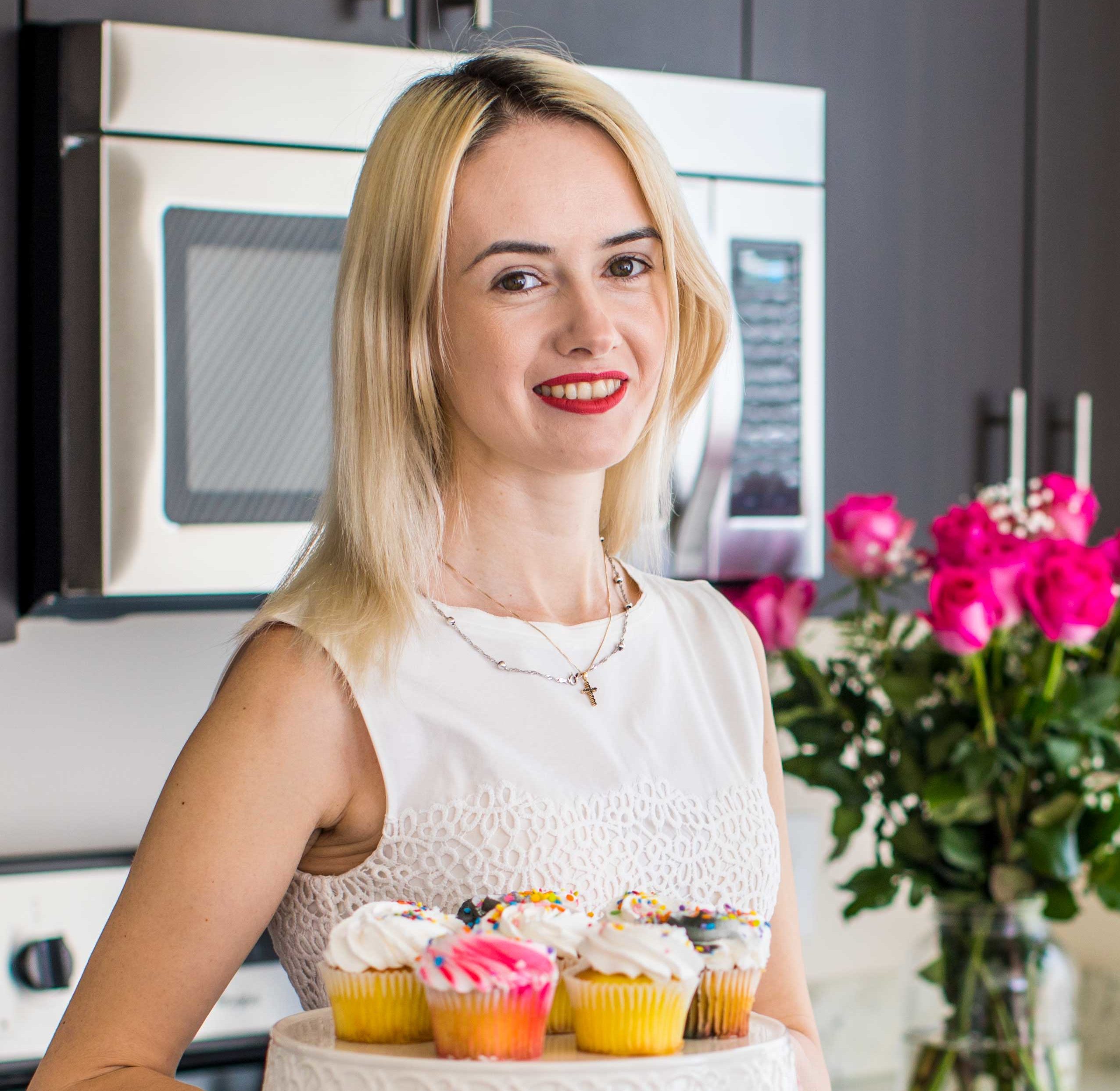 Follow us on Pinterest for more delicious recipes!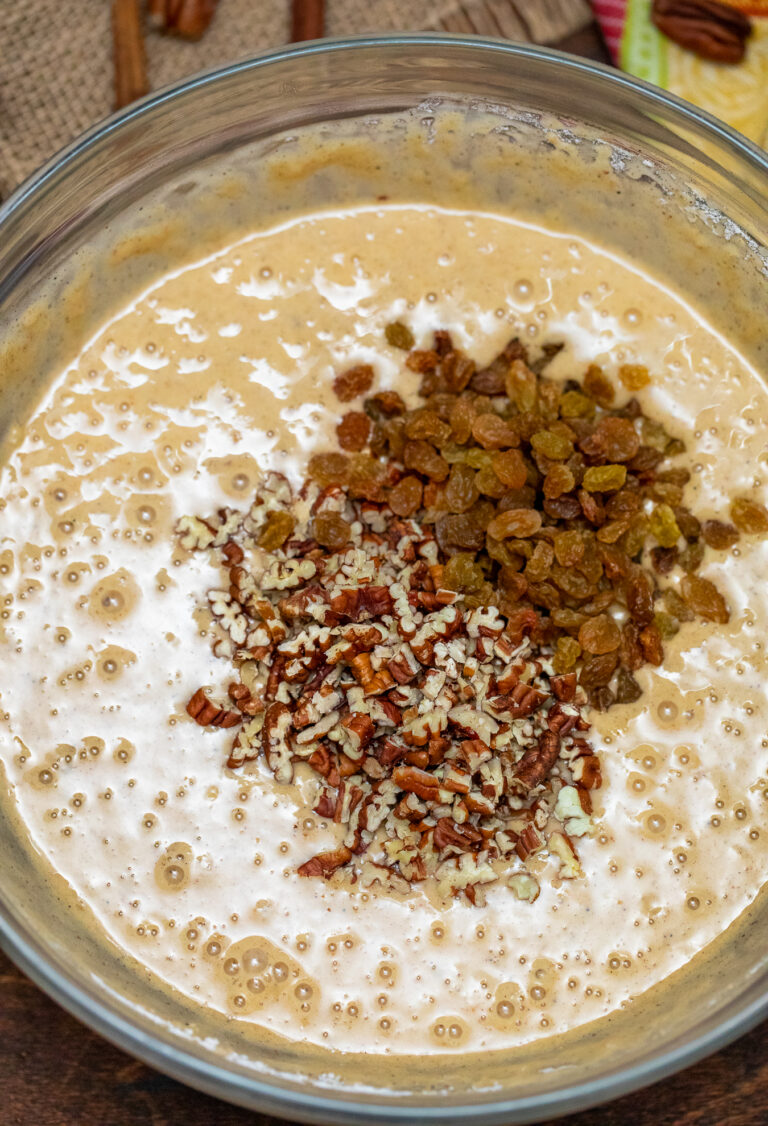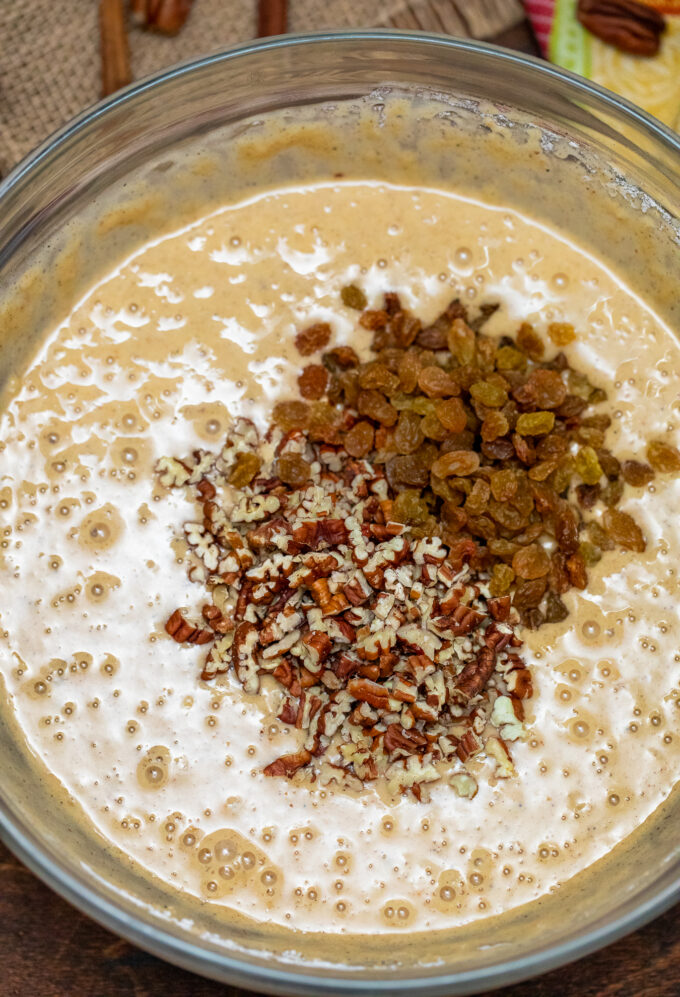 But, of course, you can make it into layers and decorate all over it with frosting, just like what is included in this recipe.
This is a nice pastry to serve at afternoon tea parties or a simple get-together. It is not as sweet as other desserts, so, it is something new for the palate that your guests will surely love.
What is Spice Cake?
It is a traditional cake that is full of spices, typically with fall flavors. It is said that it has been around since the 19th century and still is regarded today as a favorite among families.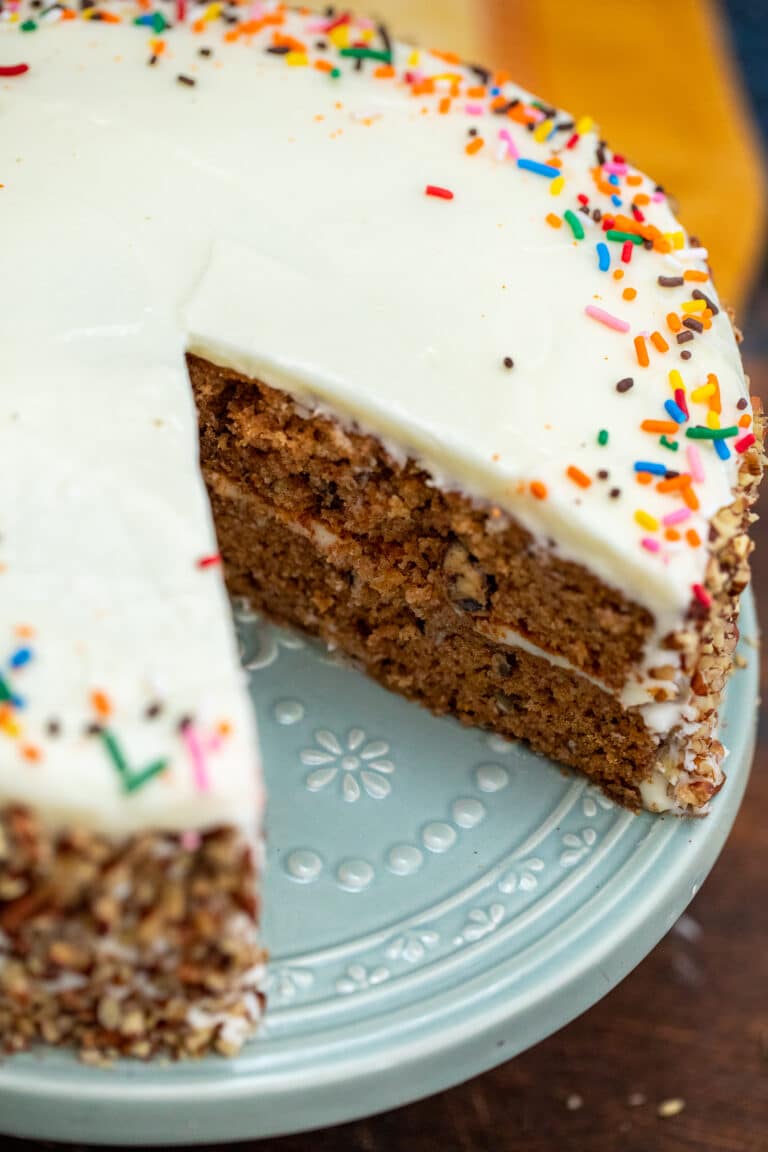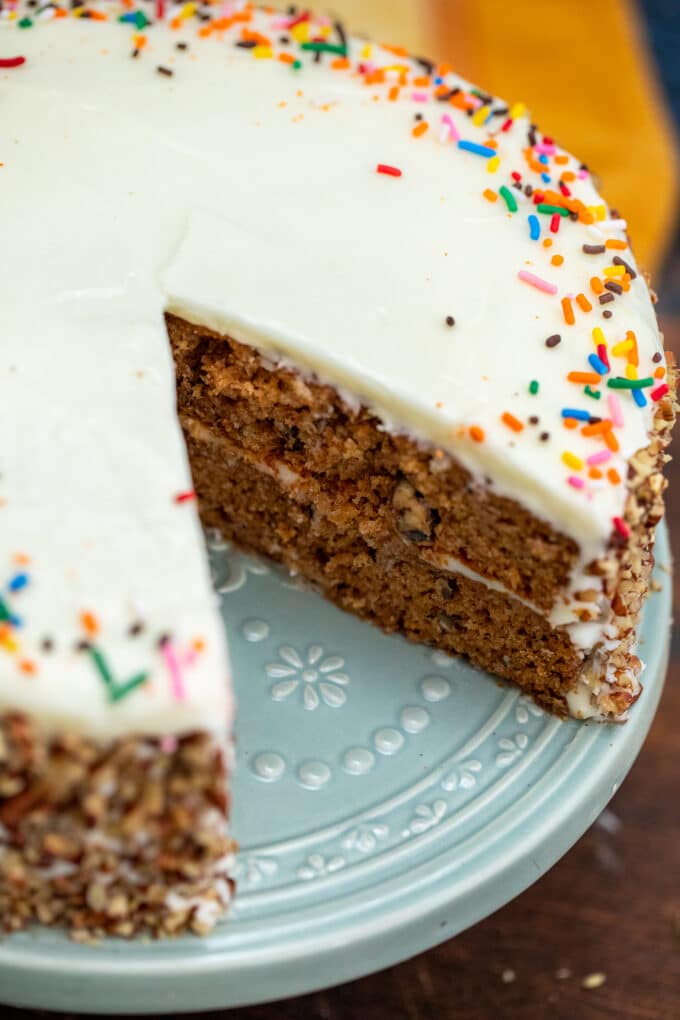 How to make Spice Cake:
Prepare for baking: Preheat the oven. Also, grease the baking pans with a non-stick spray and sprinkle a thin layer of flour and then, set aside.
Prep the dry mixture: Mix the dry ingredients, except for the sugar, with the spices in a bowl.
Prep the wet mixture: Using a mixer, whisk together brown sugar, maple syrup, and the rest of the wet ingredients.
Combine: Add the dry mixture into the wet mixture in batches, adding buttermilk in between. Also, add in the raisins and pecans.
Bake: Pour the resulting mixture into two pans, dividing evenly. Bake for about 28 to 32 minutes until each pan passes the toothpick test.
Cool: Allow each layer to cool in the pan for up to 10 minutes, then, remove each layer from the pan to cool completely on a wire rack.
Frost: Make the frosting by creaming butter and cheese together, then, add in the rest of the ingredients. Then, use the resulting mixture to coat the layers. You can also put chopped pecans on top of the frosting.
Serve: Slice and serve at room temperature.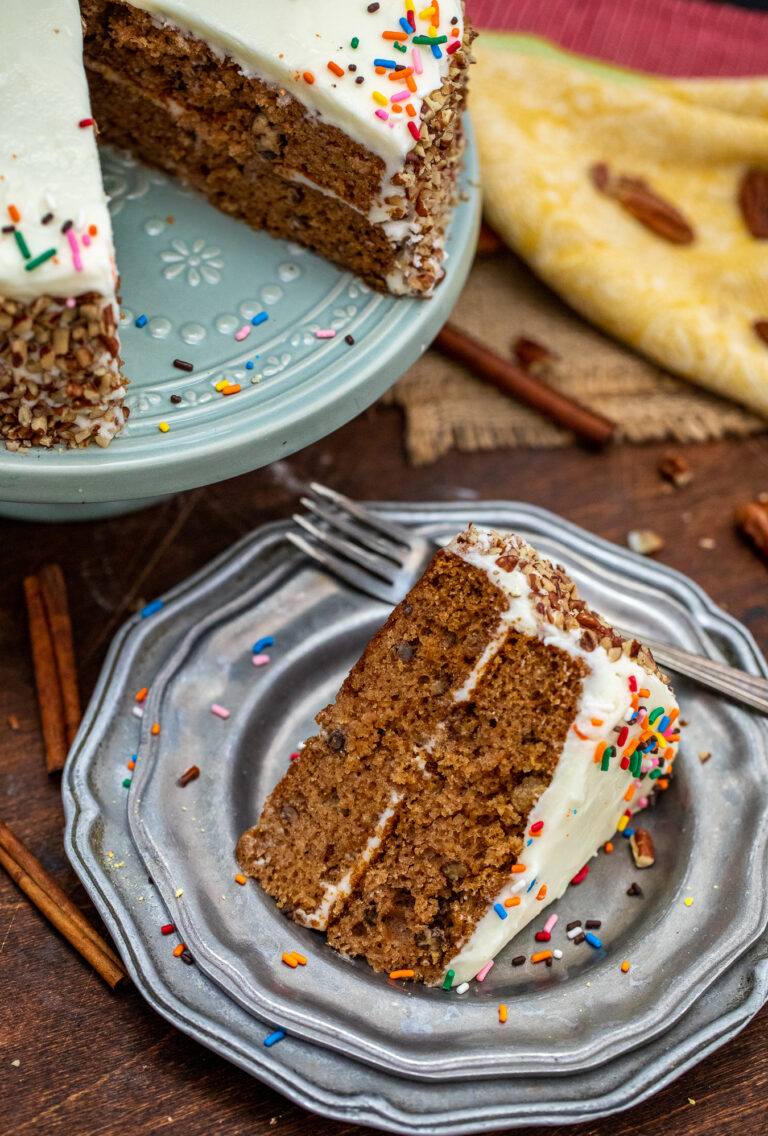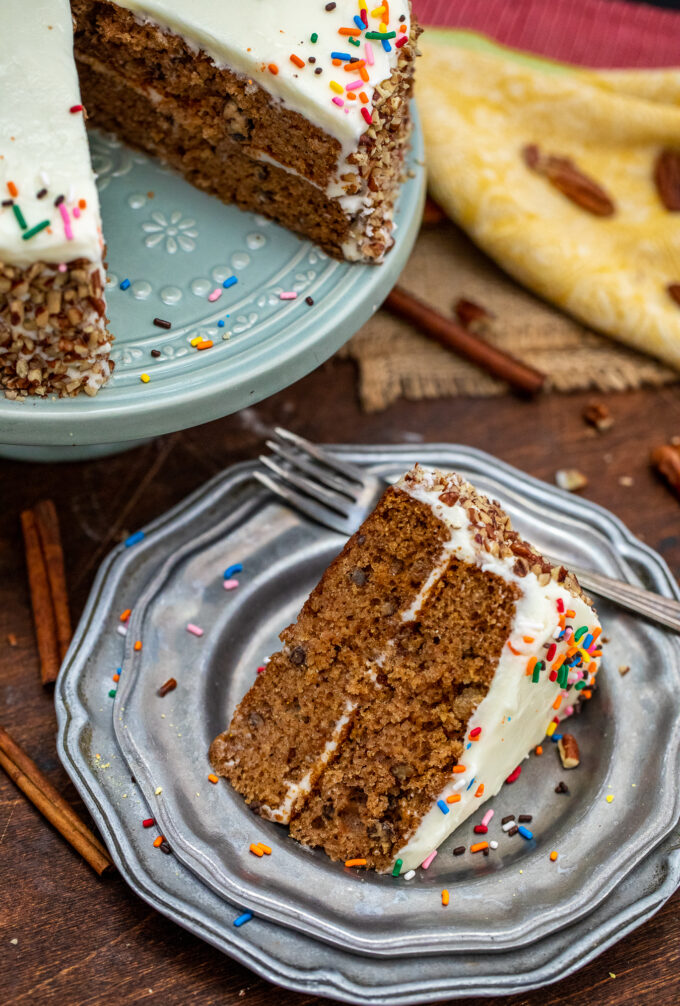 Can I add more spices?
The recipe is extremely versatile as you can add or leave out some if you like. If you want it to be more kid-friendly, then, you can lessen the spices but if you want a more intense flavor, feel free to add.
Can I make Spice Cake in advance?
Yes! It is even tastier the next day and can stay at room temperature for up to two days. covered loosely with foil or a wrap. You can even make the topping or layers separately in advance, then, assemble later when ready to serve.
Need to store it? You can simply put the whole thing in an airtight container then, refrigerate for 7 days.
How to freeze it:
To further lengthen the shelf life, wrap it in foil and place in a freezer bag. It will stay good for 4 to 6 months.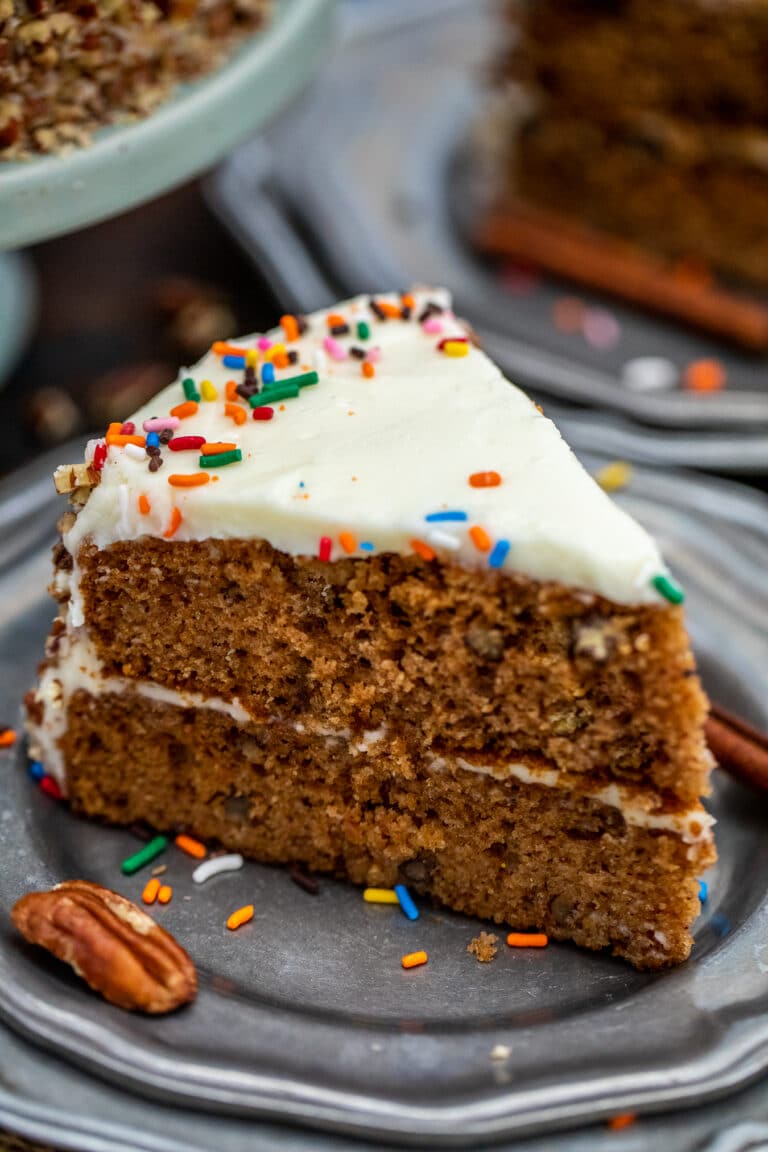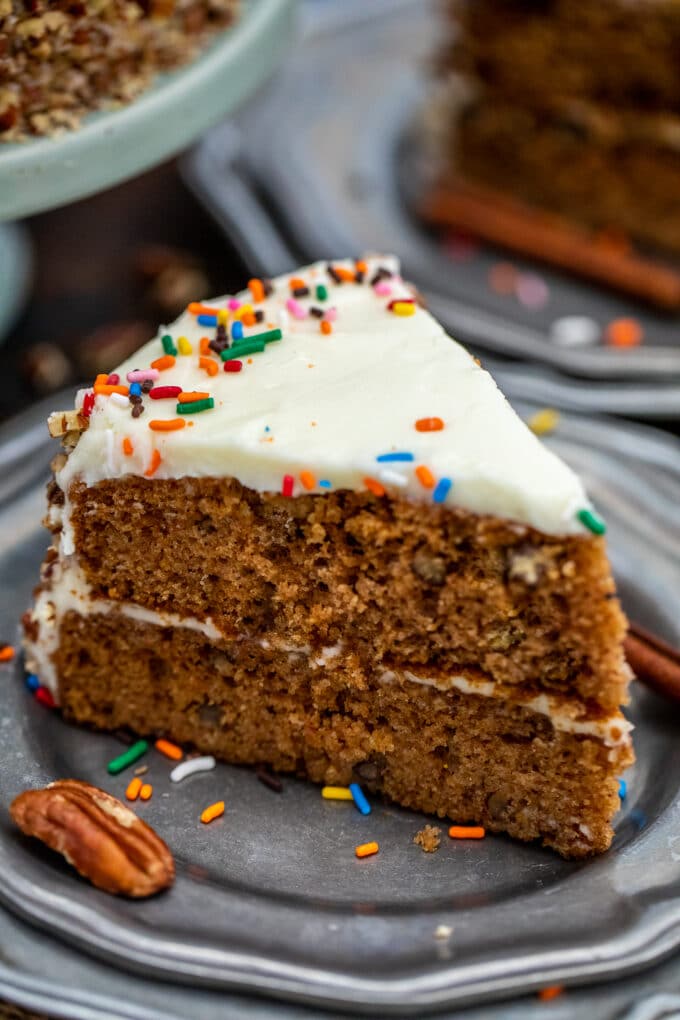 Recipe Tips:
Save Recipe
Spice Cake Recipe
Spice Cake is not your ordinary sweet dessert! It is dense, moist, and full of autumn and winter flavors that both adults and kids will love.
Author: Catalina Castravet
Serves: 12 slices
Prep time:

1

hour
Cook time:

30

minutes
Total time:

5

hrs

30

mins
Ingredients
Cake:
Cream Cheese Frosting
Instructions
Cake:
Frosting:
Nutrition information
Calories: 629 Carbohydrates: 93 Protein: 7 Fat: 27 Saturated Fat: 16 Cholesterol: 92 Sodium: 443 Potassium: 334 Fiber: 2 Sugar: 70 Vitamin A: 546 Vitamin C: 1 Calcium: 157 Iron: 2
Save Recipe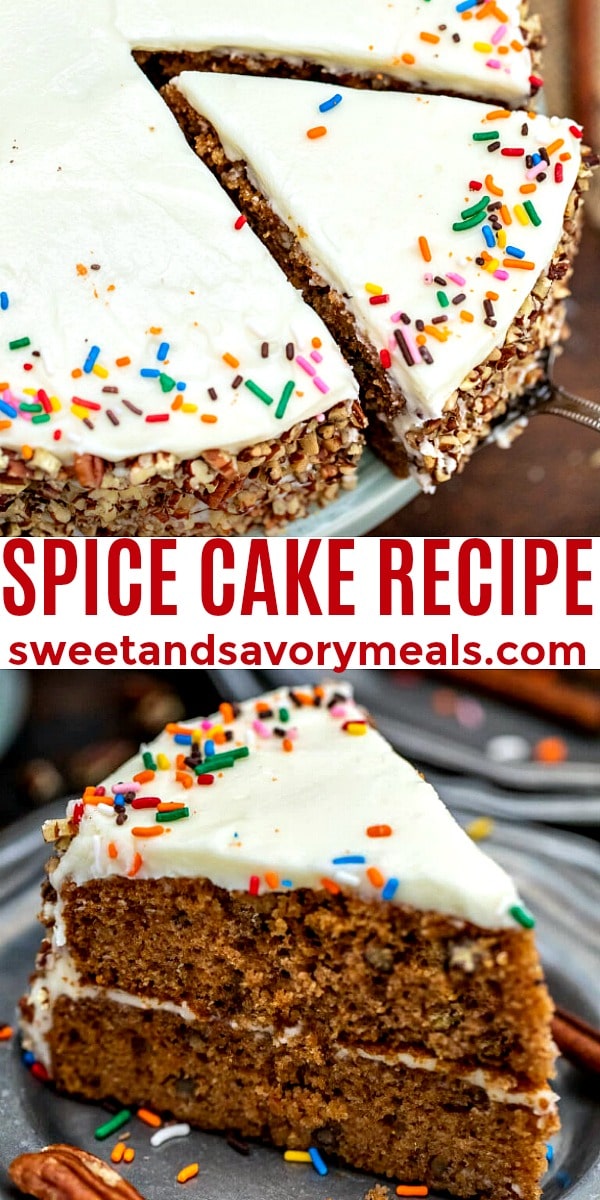 More recipes you might love
Categories: