Sweet Potato Pie Cupcakes [Video]
Sweet Potato Pie Cupcakes are the perfect seasonal dessert for fall parties and Thanksgiving! The cupcakes are moist and full of fall flavors and spices! Watch the video tutorial instructions below and see how easy this is!
If you are like me into Thanksgiving mode already, then, you probably are shopping around for recipes like Pumpkin Pie Creme Brulee, Cranberry Orange Bread, and Brown Sugar Roasted Carrots. Then, check out this recipe as well!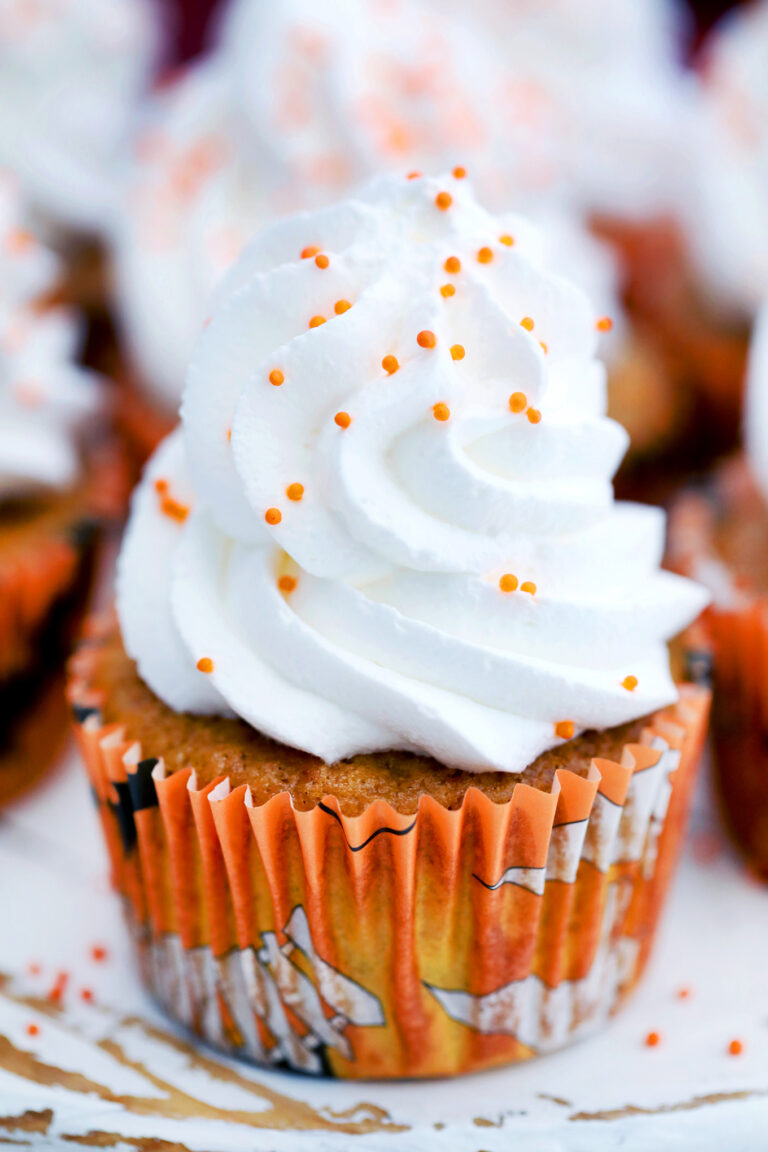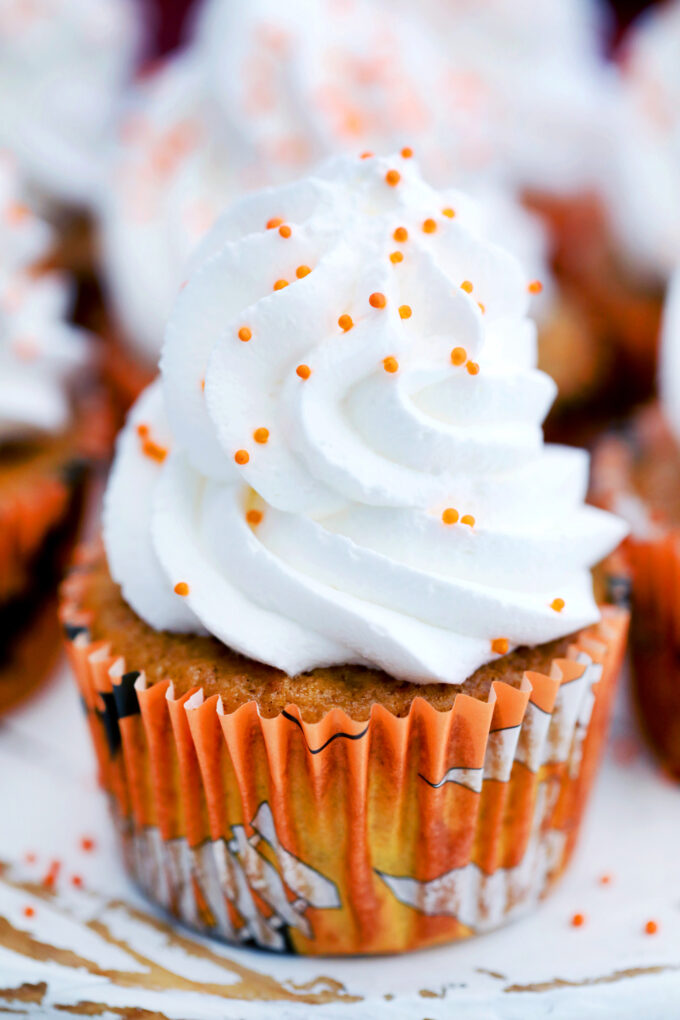 Sweet Potato Pie Cupcakes
You can always go with a Classic Sweet Potato Pie, or you can make something different, like these cupcakes. They are already in individual servings when made, so that makes this recipe perfect for parties.
You will no longer need to slice and portion a big cake or pie, rather, just line them up on a tray and you are all good.
The fall season is near and sweet potato recipes like this are getting more and more common. That is for a good reason! Just like pumpkin, this starchy veggie has everything needed for a good fall dish – delicious and earthy!
The aromas from baking alone will make you drool.
And in just a few minutes of baking, you will be rewarded with little decadent desserts that are so moist you would want to keep them all for yourself!
What does Sweet Potato Pie Cupcakes taste like?
When you taste it, it is slightly sweet as the vegetable is naturally sweet as it is with a hint of woody flavors. And the pumpkin spice adds the seasonal flair that this dish exudes.
Each bite is silky and the whipped cream topping also adds to the creaminess and richness of this dish.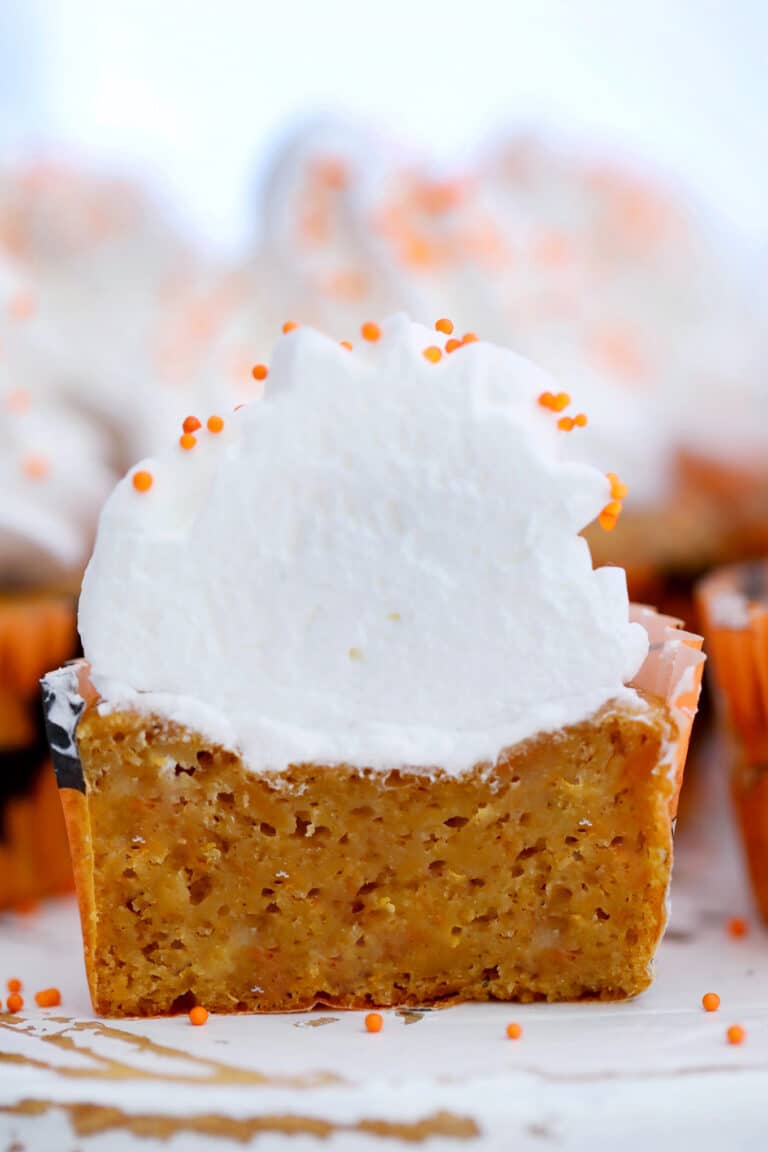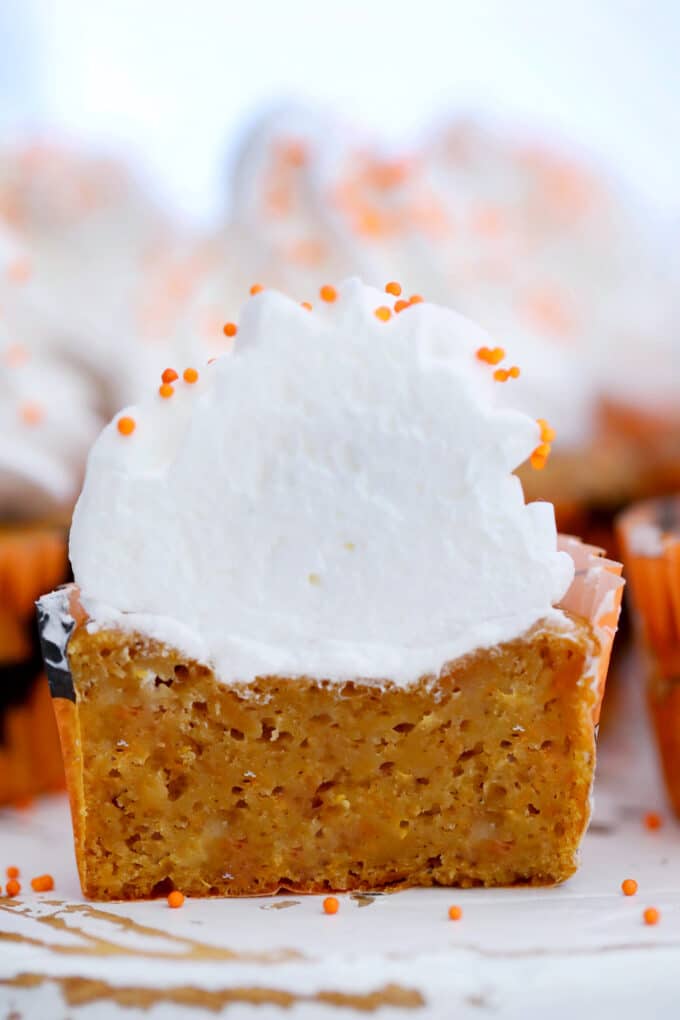 Are sweet potatoes healthy?
Yes, they are, considered a superfood that gives you a lot of nutrients, especially, vitamin A. It has carbohydrates, fiber, and a good amount of anthocyanins which are antioxidants that fight cancer.
With all the nutrients that it has, this spud has fewer calories compared to its white counterpart. These nutrients are concentrated in the skin and the layer right beneath it. So, in most recipes, if you can keep the skin, keep it.
But it all depends on how you cook it and what ingredients you add to it, too. Deep-fried spuds would be less healthful than the baked version, minus the extra butter.
How do you make Sweet Potato Pie Cupcakes?
Prepare the oven: Preheat it to 350 degrees Fahrenheit. Get your muffin pan and line it with cupcake liners.
Prepare the batter: Mix the wet ingredients with the sugars in a bowl. In another bowl, combine the dry ingredients. Then, combine this dry mixture with the wet mixture. Mix until fully incorporated.
Bake: Scoop out the batter and put in the liners arranged in the muffin pan. Make sure to fill only 1/3 of the volume of the tin. Then, bake for about 20 minutes.
Cool: Let the pan cool at room temperature for about half an hour. Then, refrigerate for another 30 minutes.
Serve: Top with whipped cream and sprinkle with pumpkin pie spice. Then, serve!
Can you make it gluten-free?
Yes! Simply substitute the all-purpose flour with a 1:1 type of gluten-free flour.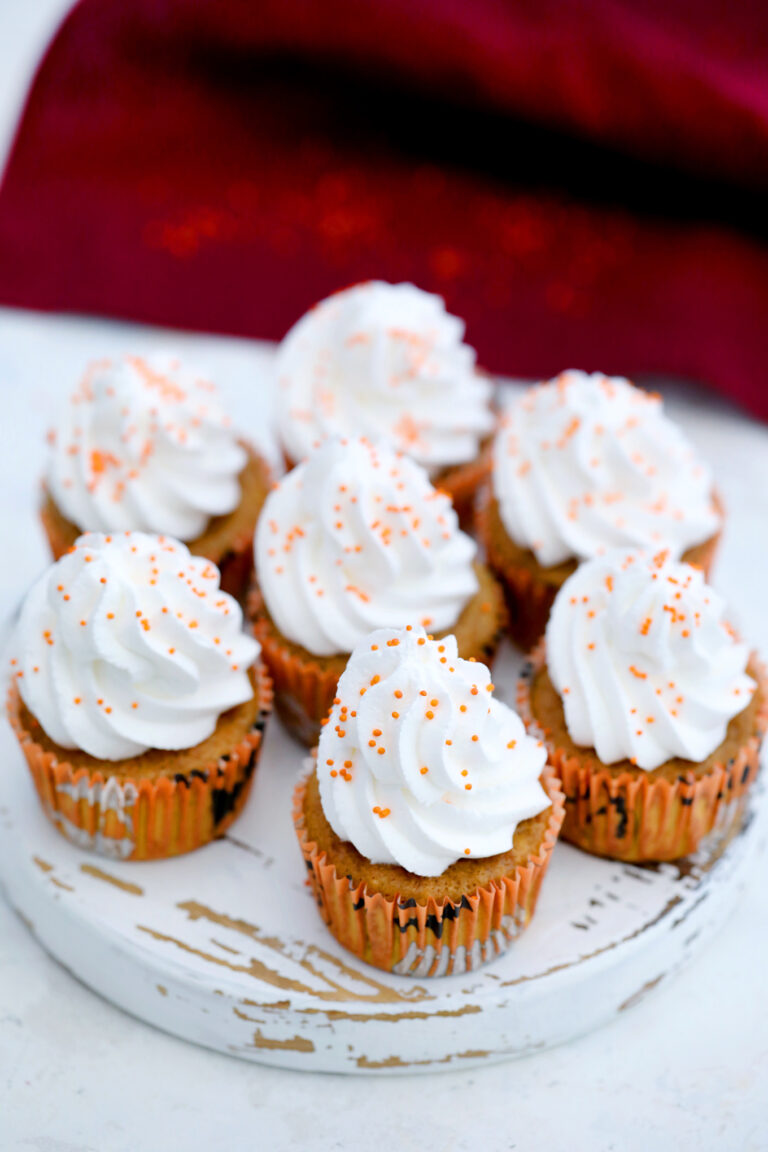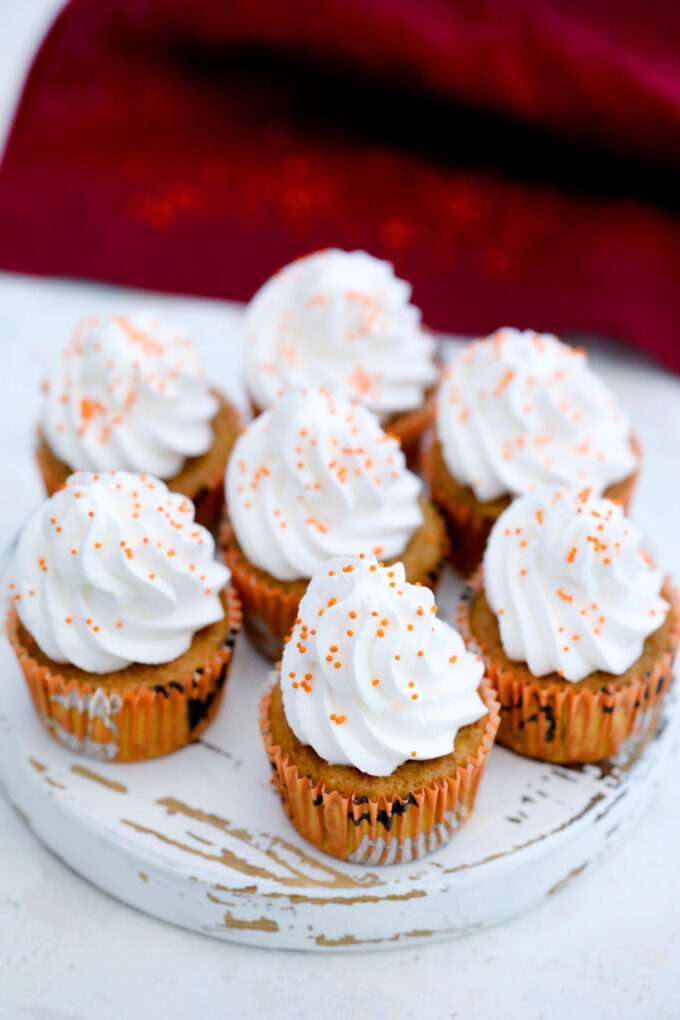 Are Sweet Potato Pie Cupcakes better cold or hot?
Either way, this dessert will taste good, I guarantee that. But there is no right or wrong answer to this because it depends on your personal preference.
Since you will not be cutting this further as you would in a whole regular pie, then, it is not required for you to let this cool and set.
But personally, especially that you will be putting whipped cream on top, then, I would recommend to chill this dessert and serve it cold.
How to Store leftovers?
Refrigerate: Let it cool completely and refrigerate, covered loosely with plastic. It can keep for up to 4 days.
Freeze: Put them in a pan and flash-freeze for about 30 minutes. Then, place them in a single layer inside a freeze-proof container or freezer bag. Keep them frozen for one to three months. Thaw overnight before serving.
Recipe Tips:
Freezing cupcakes is possible even with the frosting but it is still better to freeze them unfrosted and then, put a fresh topping once thawed.
You can find the recipe for the full pie in this post.
You can top the cupcakes with cream cheese frosting for a tart balance, and add some pecans for crunch.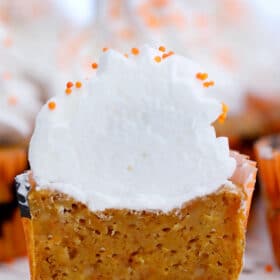 Sweet Potato Pie Cupcakes
Sweet Potato Pie Cupcakes are the perfect seasonal dessert for fall parties and Thanksgiving! The cupcakes are moist and full of fall flavors and spices!
Save
Share
Print
Pin
Rate
Ingredients
2

cups

sweet potato puree

(or a 15oz can)

1/2

cup

granulated sugar

1/3

cup

brown sugar

2

large eggs

1

teaspoon

vanilla extract

3/4

cup

milk

2/3

cup

all-purpose flour

1/2

teaspoon

cinnamon

1/2

teaspoon

nutmeg

1/4

teaspoon

kosher salt

1/4

teaspoon

baking soda

1/4

teaspoon

baking powder
Instructions
Preheat oven to 350 degrees F and line a muffin pan with cupcake liners. Spray them lightly with baking spray, otherwise, the cupcakes will stick to the liner.

In a large bowl, combine sweet potato puree, white and brown sugar, eggs, vanilla extract, and milk. Beat on medium speed until smooth.

In another medium bowl combine flour, cinnamon, nutmeg, salt, baking soda, and baking powder and stir to combine.

Add flour mixture into the pumpkin mixture and mix just until combined.

Scoop the batter into the prepared muffin pan, filling each muffin tin about 1/3 of the way.

Bake for about 20-25 minutes, until cupcakes are set.

Let cool in the muffin pan for about 30 minutes, after which transfer to a serving plate and chill in the refrigerator for one hour before serving.

Top with whipped cream right before serving.
Nutrition
Calories:
142
kcal
|
Carbohydrates:
30
g
|
Protein:
3
g
|
Fat:
2
g
|
Saturated Fat:
1
g
|
Cholesterol:
29
mg
|
Sodium:
107
mg
|
Potassium:
285
mg
|
Fiber:
2
g
|
Sugar:
18
g
|
Vitamin A:
9046
IU
|
Vitamin C:
9
mg
|
Calcium:
56
mg
|
Iron:
1
mg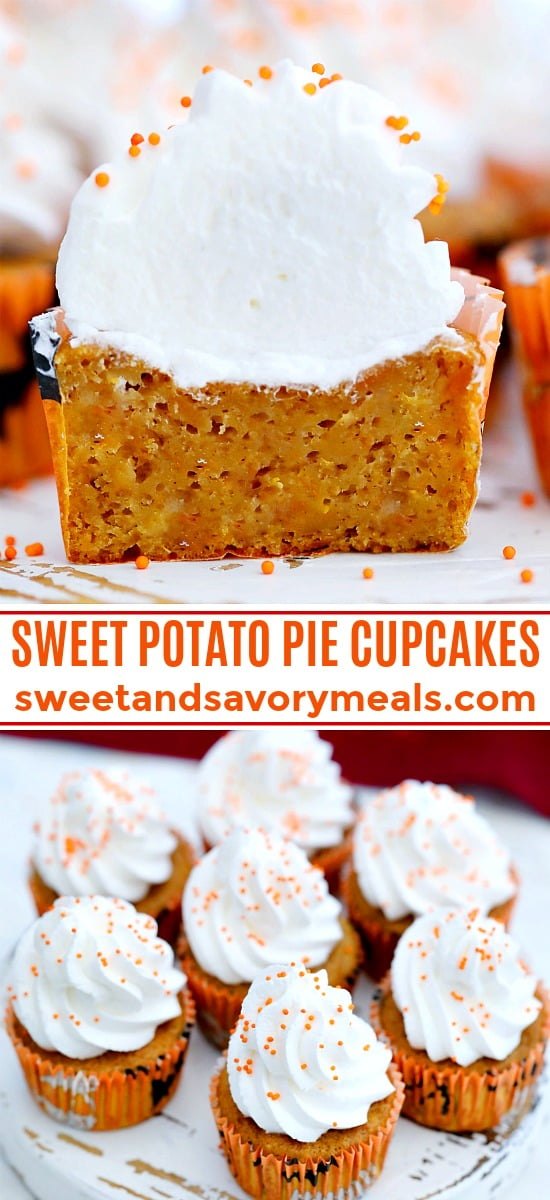 More recipes you might love