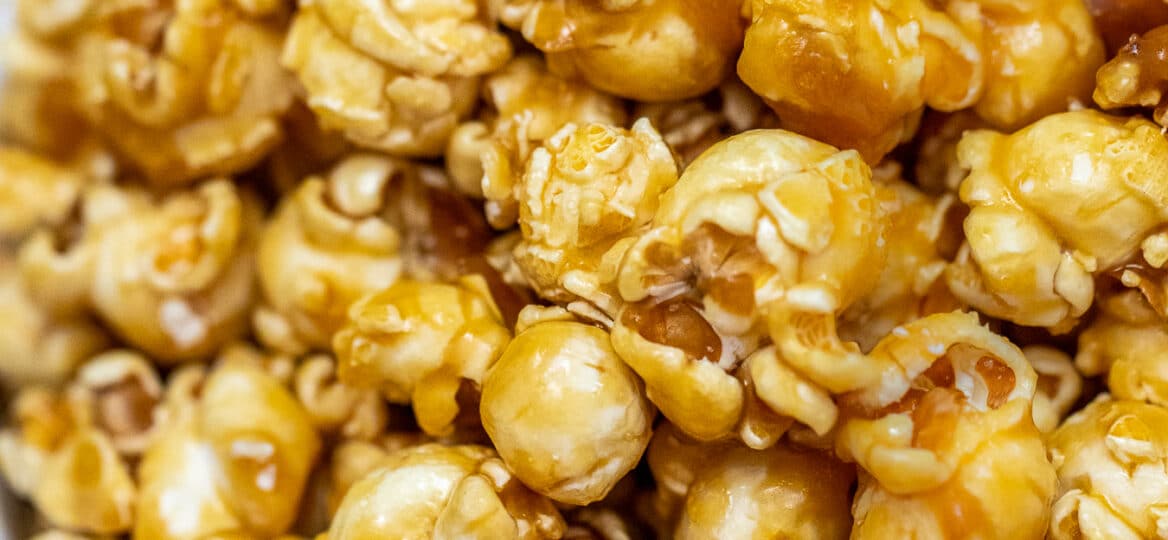 Homemade Caramel Popcorn Recipe [Video]
Caramel Popcorn is sweet with just the right balance of crunch and chewiness! Prepare a huge batch of this favorite snack for your next movie night!
Last weekend, we hosted a movie night and this snack was a hit among family and friends! Let me share this easy recipe with you and try it along with other recipes like the Buckeye Brownie Cookies, Oven Roasted Sweet Potato Fries, and Bacon Cheddar Ranch Pinwheels.
Homemade Caramel Popcorn Recipe
This Caramel Popcorn recipe is so easy that I make it anytime I want, movie night or not! You will only need a few ingredients and an hour of baking time to prepare this delightful snack. It is like eating two of my most favorite things in one snack.
Caramel is one of my favorite flavors and I find the stickiness appealing. I love using it as a topping on almost anything. Also, its smooth and sticky texture is a great balance for this crunchy snack.
Popcorn, on the other hand, is always a favorite by many and has always been a go-to snack by moviegoers. The bite-sized pieces and the wide range of flavor options make it an ideal food item for the audience. And it is so easy to prepare out of kernels.
I like serving this at parties, game day, and large gathering. It can be easily served in bowls or small bags. Also, it is easy to offer to guests, especially kids! Try it now and see for yourself what I mean.
What do you need to make Caramel Popcorn:
Popcorn: For this recipe, you must be able to precook the kernels to allow them to pop.
Salt, butter, and vanilla: These ingredients add flavors that complement that sweetness.
Dark brown sugar and corn syrup: These act as the sweeteners.
Baking soda: It reacts with the caramel making it more spreadable.
How to Make Caramel Popcorn:
Prepare the oven: Preheat it to 250 degrees F (95 degrees C).
Make the caramel: Heat the saucepan and melt the butter in it. Stir in the sweeteners and salt. Allow the mixture to boil while stirring continuously, and then, let it boil for 4 minutes more without stirring. Remove from heat and add the rest of the sauce ingredients.
Bake: Coat the popcorn with the sauce and distribute it in a single layer on a large shallow baking dish. Bake for 15 minutes then, stir. Repeat until the total baking time reaches an hour.
Serve: Let the final product cool down, then, break huge pieces into smaller and manageable ones.
Is Caramel Popcorn healthy?
Yes, it is healthy in terms of calories and fat but not so much in terms of sugar or carbs. Popcorn basically is cooked grains, so it is high in fiber which will make you feel fuller for longer.
The only thing that adds calories is flavoring. But comparing the caramel with butter and cheddar, it yields the lowest calorie count but the highest carbs, too. Both the butter and cheddar yield higher fat content.
How do you make Caramel Popcorn crunchy?
Bake it for a longer period or cook the sauce longer. But, both options result in a tendency to become harder. This is also true for the sauce. The longer that you cook it, the thicker it becomes and the more difficult it is to spread.
Why does it get grainy?
The main reason for this is the crystallization of the brown sugar sucrose molecules. To prevent this, one way is to add corn syrup or an acid.
Recipe Tips:
Feel free to watch the short recipe video tutorial attached above.
To keep it fresh, make sure to keep it in an airtight container.
Also, if it has gone stale, bake it again at 250 degrees Fahrenheit until it crisps up again.
Use a non-stick skillet and silicon spatula for easy clean-up.