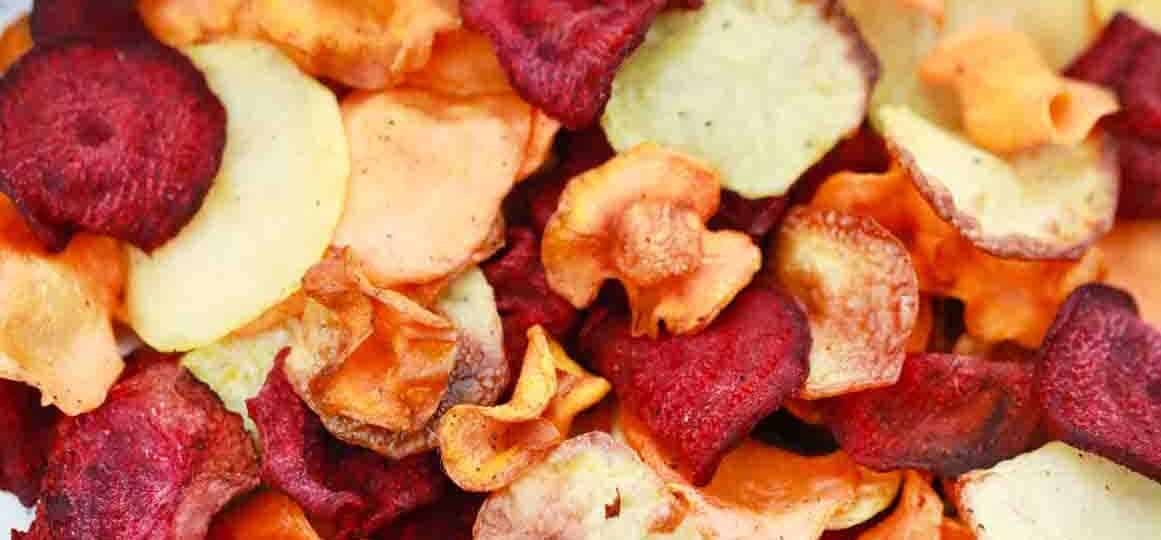 Air Fryer Veggie Chips Recipe
Air Fryer Veggie Chips are crispy and delicious, and a healthier alternative to regular potato chips with more flavor and crunch. All you need are four vegetables and some seasoning and you will have some delicious homemade chips that are perfectly crispy. This gluten-free and vegan snack is perfect for those trying to eat healthier but needs something crunchy to chew on.
If you are looking for other snack cuisine recipes you can make, try our Air Fryer Carrot Fries seasoned with garlic powder, cinnamon, and brown sugar or this recipe for Air Fryer Sweet Potato Fries seasoned with paprika and garlic.
Some say the potato chip was invented by George Crum in 1853 while he was cooking at Moon Lake Lodge in New York. He did this because one of the customers complained that the fries were too thick.
Historians say it was an English man named Will Kitchiner in 1817. Kitchiner's recipe was published in The Cook's Oracle recipe book as potatoes fried in slices.
Crisp homemade chips are so fast and easy to make and taste much better than store-bought veggie chips. You can use your favorite veggies, but root vegetables work best. Instead of veggies, you can also use fruit or pasta. In fact, you could even try this unique recipe for air-fried gnocchi.
If your family liked this recipe, they will probably love these healthy cabbage steaks made with Old Bay seasoning and smoked paprika. Another delicious recipe is these stuffed potato skins made with bacon, pepper jack cheese, and sour cream.
For a different kind of snack, our Air Fryer Pasta Chips are tasty and crunchy and made with any kind of pasta you like. Also, these crispy artichokes are incredible coated in panko and flavored with lemon juice.
Ingredients needed:
For our crispy veggie chips recipe, gather these basic ingredients. Scroll down to our recipe card for complete instructions and measurements.
Golden beet: Scrubbed thoroughly.
Red beet: Scrubbed thoroughly.
Purple potato: Scrubbed thoroughly.
Sweet potato: Scrubbed thoroughly.
Olive oil
Kosher salt

Freshly ground black pepper
How to make Air fryer veggie chips from scratch?
Preheat air fryer: First, preheat your air fryer to 320 degrees F.

Slice and clean: Then, slice both potatoes about 1/16th inch thick with a mandoline. Put them in a medium bowl and run under cold water until the water runs clear. You want to make sure you get all the white starch off.

Dry and toss: Next, dry the chips well with paper towels and then dry the bowl as well and return them to the bowl. Mix with one tablespoon of the oil and half of the seasoning until they are all evenly coated.

Place the potato chips: After, place all the slices in the air fryer basket like shingles. It is okay for them to be placed in two layers, but a single layer is best.
Cook: Now, air fry for 20 to 25 minutes or until crispy and golden brown around the edges, tossing the basket frequently. Remove those that are already crisp as you go.

Slice the beets: In the meantime, slice the beets of the same thickness as the potato chips with a mandoline. Mix with the rest of the oil and seasoning.

Cook the beets: Once the potatoes are done, lay the sliced vegetables in the basket the same way and cook for about 30 minutes, frequently flipping until they are all crispy with golden edges. Remove them as they get done.

Mix and serve: Finally, mix the potato and beet chips in a large bowl, seasoning with more seasoning as needed. Serve immediately.
How to make veggie chips in the oven?
Preheat the oven: First, preheat the oven to 325 degrees F and prep a large baking pan with oil, non-stick cooking spray, or parchment paper.

Cut and rinse: Then, thinly slice the potatoes about 1/16th inch thick and put them in a bowl. Wash under cold running water until all of the starchy whiteness is gone and the water is clear.

Dry and season: After, dry the chips to remove excess liquid and put them in a mixing bowl. Toss with half of the seasoning and oil and place on the prepared baking sheet.

Slice and season the beets: Next, slice the beets the same way and put them in the bowl. Toss with the rest of the seasoning and oil before placing them on the same baking sheet with the potato chips.

Cook: Put the baking sheet on the middle oven rack in the oven for about 30 to 40 minutes, flipping every five minutes, until they are crispy and golden brown around the edges.

Serve: Last, toss them together with seasonings in a large bowl and serve.
Recipe variations:
Different potatoes: Feel free to use other potatoes like russets instead of sweet potatoes.

More veggies: You can use any starchy vegetables to make these homemade vegetable chips. Try zucchini or carrots sliced longways.
Another seasoning: You can try other seasonings like smoked paprika, chili powder, ginger, garlic powder, or onion powder as well.

A different oil: Instead of olive, you can use avocado, vegetable, or whatever kind you like best.

Something sweet: If sweet potato chips are not sweet enough for you, use fruit instead. Thinly sliced apples and pears work great with this recipe.

Extra flavors: Try using Italian seasoning or dry ranch dressing for extra flavor.

More ideas: Take some hints from the manufacturers. Try some of the flavor variations on the supermarket shelves like barbecue (use barbecue seasoning), spicy (use red pepper flakes), and sour cream and onion (use onion powder and buttermilk powder).
How to serve:
Serve these tasty air fryer chips with your favorite dips like ranch salad dressing or barbecue sauce. You can even use ketchup. No need to tell the kids that these are healthy food. They will just know they are delicious.
Sprinkle some parmesan, romano, or another dry cheese for more flavor.
Use leftovers to crumble and add to soup or salad. Our pear salad would be great topped with some crumbled crispy crisps.
The kids will love the sweet potato chips tossed with brown sugar and cinnamon.

Serve these at your next barbecue or picnic with hot dogs or burgers. Our recipe for air fryer hot dogs is perfect for this idea.
Top these with your favorite fresh herbs and spices like oregano, rosemary, cumin, or thyme.
These also go great with sandwiches. Try our recipe for homemade corned beef sandwiches.

You can also use leftovers to top a casserole or bowl of chili.
Frequently asked questions
Is air frying chips better than store-bought chips?
Yes, using air fryers to make chips means there is less oil and fat because regular ones are deep-fried. In fact, you can make them completely oil-free if you want to. They will still be crispy, but you will probably have to add more salt and pepper at the end.
The oil is what keeps the seasoning from falling off the chips. But these are so good, that you do not even need the seasoning either.
Why are my air fryer chips soggy?
There are several reasons for soggy chips. First, you may not have gotten rid of all the excess moisture. Be sure to dry your veggies well before cooking. Also, some potatoes and vegetables have more moisture than others such as new potatoes.
Overcrowding or layering is another reason for chips that will not get crispy.
What are the best potatoes for veggie chips?
The best kind of potatoes for making homemade veggie chips are those that are not full of moisture. We recommend russets, golden, or Yukon potatoes. Some of the others are Sebago, King Edward, Maris Piper, Spunta, and Burbank. Red potatoes have too much starch and new potatoes are too moist.
What are the nutrition facts in this recipe?
These low-fat, gluten-free, and vegan healthy chips are full of flavor but low in everything else. Each serving has 105 calories, 2 grams of sugar, 7 grams of carbohydrates, 8 grams of fat with 1 gram of saturated fat, and 1,300 milligrams of sodium.
You also get 1 gram of protein, 6 milligrams of vitamin C, 5 grams of fiber, and over 16,000 units of vitamin A.
How to store leftovers:
Store: You can store your leftover air fryer veggie chips in an airtight container or gallon-size zip baggie at room temperature. If you put them in the fridge, you can keep them for up to five days.

Freeze: These delicious chips can also be frozen and kept for up to three months.

Thaw: Remember to put your frozen veggie chips in the fridge to thaw overnight before serving.
Reheat: To reheat, spread them on a paper towel and cook for 30 seconds.
More air fryer recipes:
Cooking tips:
If you do not have a mandoline, you can use a slicer or a sharp knife.

Cook in small batches in a single layer to make them cook faster.

Make sure the oil you use is high smoke like avocado, canola, olive, or grapeseed oil.
Keep an eye on them and remove them as they are done so they do not burn.

Remember, the thinner the better when making crisps.
An easy way to season your veggie chips is to put them in a paper bag with the seasoning and shake vigorously.
Air Fryer Veggie Chips
Ingredients
1

sweet potato

peeled

1

large carrot

peeled

1

red beet

peeled

1

golden beet

peeled

2

tablespoons

olive oil

Kosher salt

to taste

Ground black pepper

to taste

1

teaspoon

smoked paprika

optional
Instructions
Thinly slice all the veggies on a mandoline, about 1/16 inch thick rounds. Start with the potatoes and add the slices to a medium bowl.

Add the other sliced veggies to a large bowl.

Run the potatoes under cold water until the water runs clear. Drain the water and dry very well the potato slices between paper towels.

Add the dry potatoes to a dry bowl and toss with 1 tablespoon of the oil, salt, pepper, and paprika, and toss until evenly coated.

Preheat the air fryer to 320 degrees F. Add the potato slices to the bottom of the basket in about two layers. If needed cook in batches.

Air fry for 20-25 minutes, or until the potatoes are golden around the edges and crisp, toss. them every 5 minutes with tongs for even cooking. Remove any slices that are done cooking and continue air frying the remaining pieces.

Mix the remaining veggies with 1 tablespoon oil, salt, pepper, and paprika, and toss until evenly coated.

Cook in batches just like you did with the potatoes.

Combine the air-fried chips in a large bowl, season with more salt if needed, and toss to combine.

Serve immediately or store in an airtight container for up to 2 days.
Deliciousness to your inbox
Enjoy weekly hand picked recipes and recommendations