Slow Cooker Tomato Soup is a comforting and hearty dish that is perfect any time of the year! Prepare it hassle-free using the crockpot, bonus points, your house will smell amazing!
This is just one of the numerous easy recipes that we have using the crockpot! Check out these crockpot recipes and indulge yourself with equally delicious dishes like the Mashed Sweet Potatoes, Baked Apples, and Crack Chicken!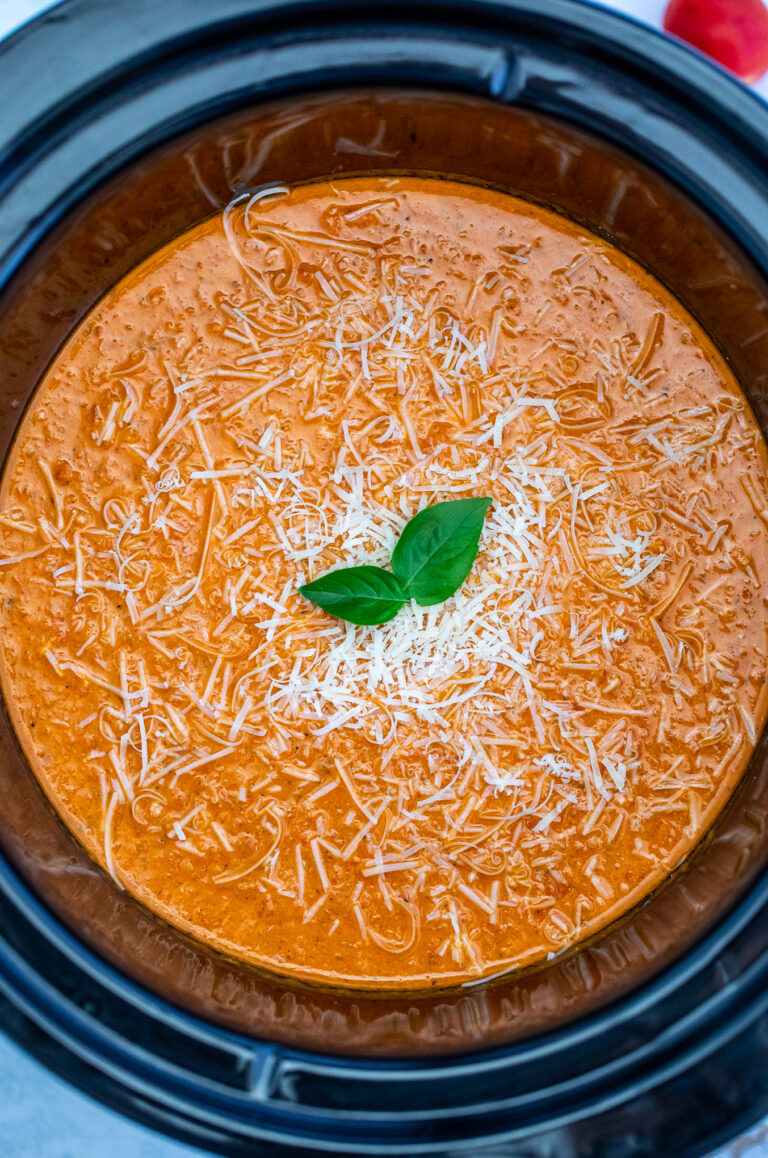 Homemade Crockpot Tomato Soup Recipe
Creamy Crockpot Tomato Soup is a good recipe for when you want a comforting appetizer or main course with minimal effort! And yes, it is so easy that you can make it hands-off with your crockpot.
The main ingredient, the tomatoes, are so popular and versatile, and a great blanket for different flavors. Other ways we enjoy this veggie, is by adding it to a salad or slice it thinly and top your favorite pizza with it. Or, you can even add in eggs to make a frittata or add eggs to it to make shakshuka!
With colder weather approaching, we crave some much-needed soup and a melty grilled cheese sandwich to go with it. Try this easy recipe and I know that your family will love it as much as ours does!
Is Tomato Soup Healthy?
Yes! Tomatoes are packed with vitamins and minerals that are good for the eyes, heart, and skin. The antioxidants that can be found in it can also help prevent cancer, diabetes, and high blood pressure.
While eating them raw as in salads is already beneficial, cooking it will not exactly be detrimental. In this recipe, since they are cooked it makes them a better source of lycopene, a phytochemical that can be absorbed by our body.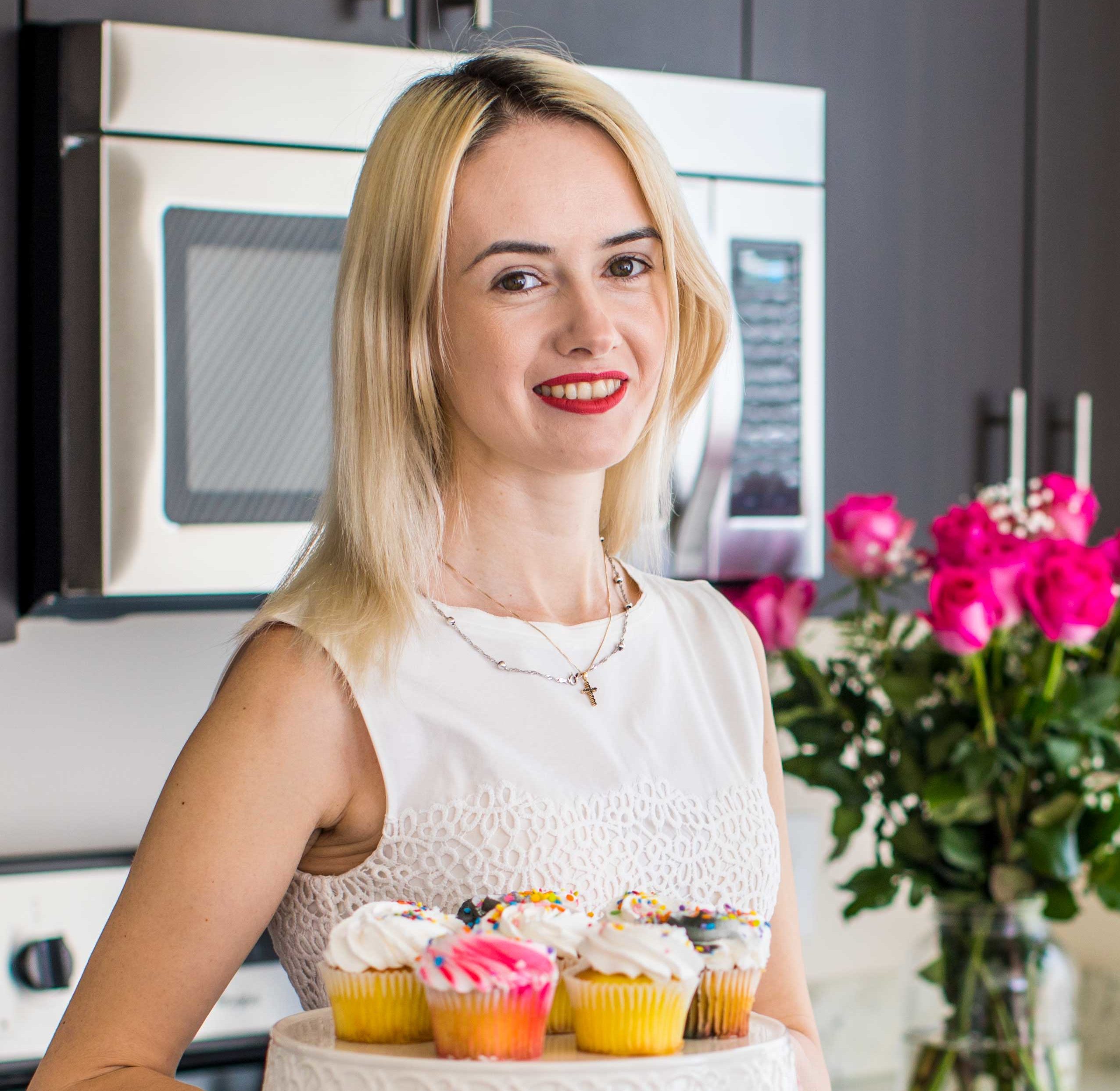 Follow us on Pinterest for more delicious recipes!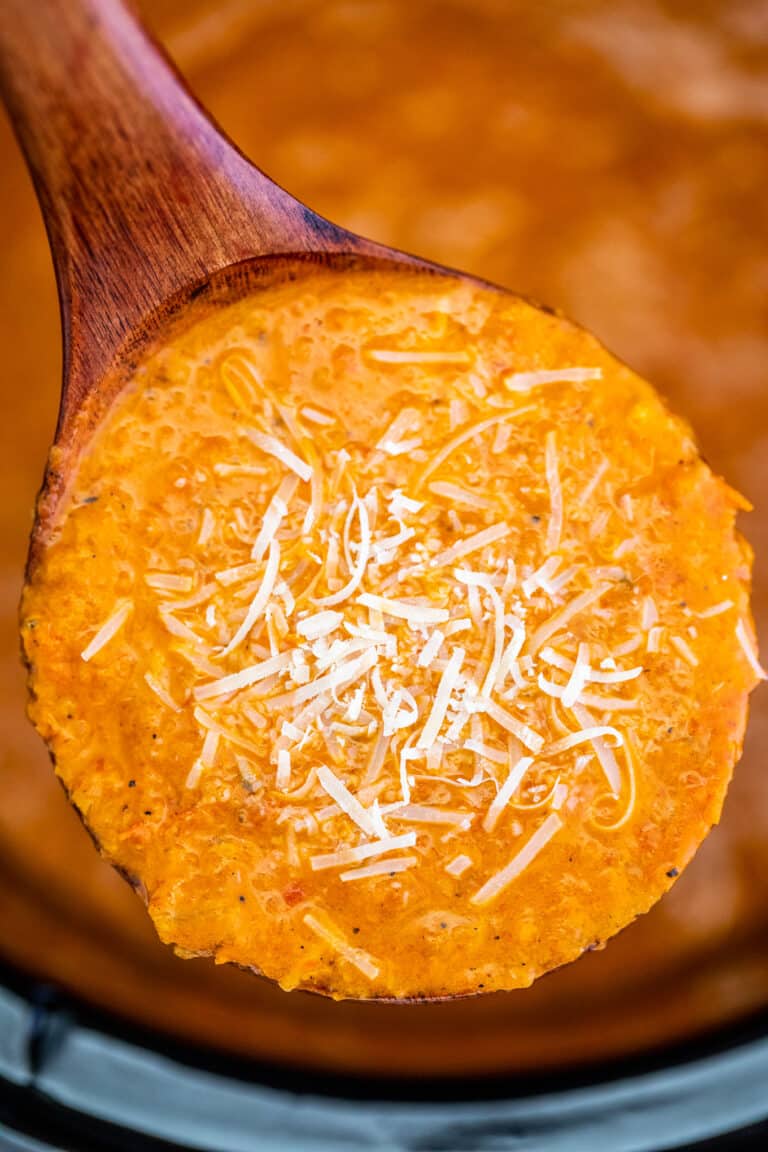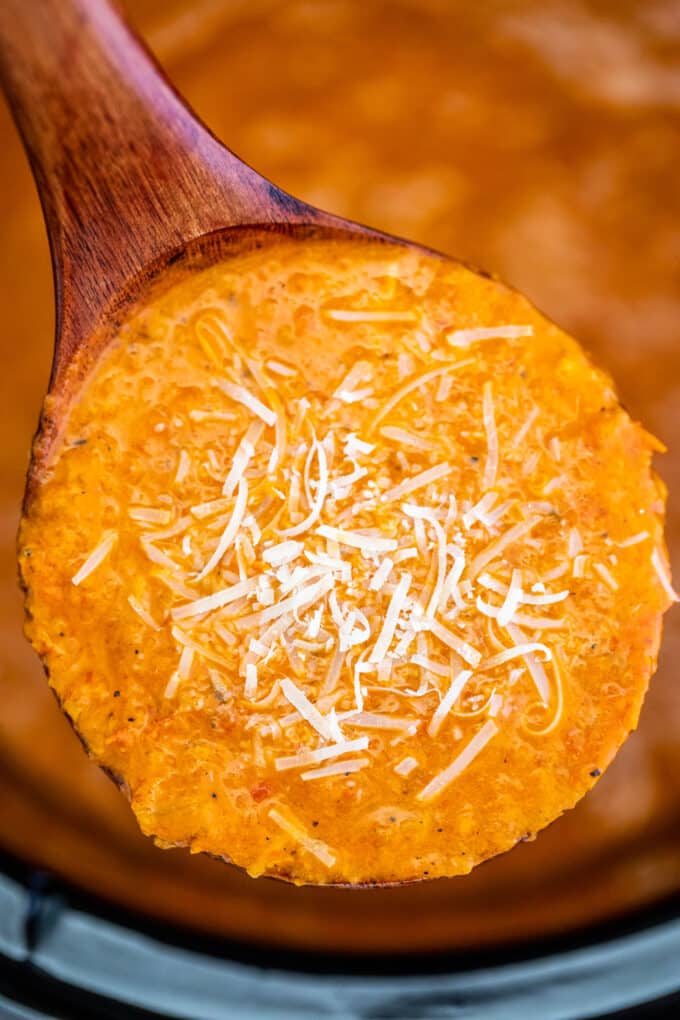 What do you need to make Slow Cooker Tomato Soup?
Once you got your crockpot ready, then, it is time to prep the ingredients! For this recipe, you will need these basic ingredients:
fresh tomatoes
onion
garlic powder
onion powder
dried basil leaves
salt (you may use kosher)
ground black pepper
cream
vegetable stock
olive oil
You may also other herbs like dried oregano or thyme, and other vegetables like celery, red bell pepper, and carrots. You can also use fresh garlic and onions rather than using the form if you like.
How do you make Slow Cooker Tomato Soup?
Roast: Preheat the oven at 425 degrees and then, put in the tomatoes and the garlic drizzled with olive oil. Take them out once you observe charring. This step adds another dimension of flavor. Another option is to sauté the tomatoes.
Cook: Put everything in the crockpot except for the cream. If you will use a low setting, it will take 6 hours to finish. Otherwise, it will only take 3 hours on a high setting. During the last few minutes, stir in the cream.
Puree: Once done, blend it until everything is smooth. Put it back in the crockpot to keep it warm.
Serve: Garnish with some croutons and serve!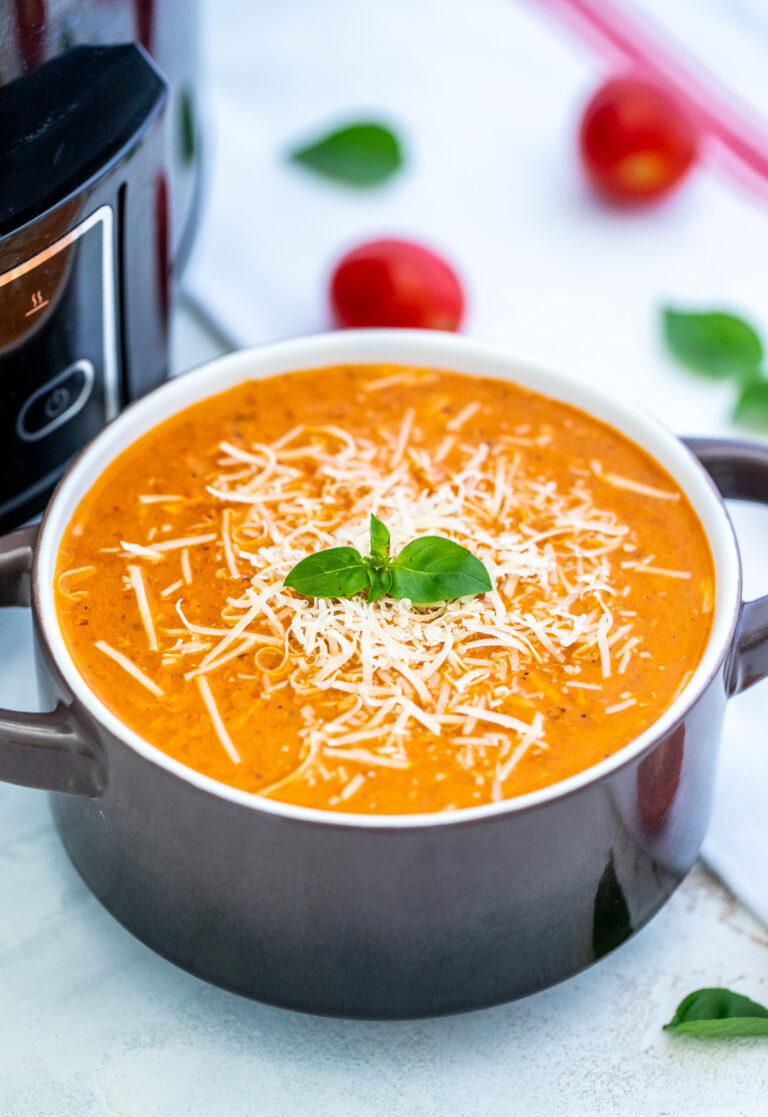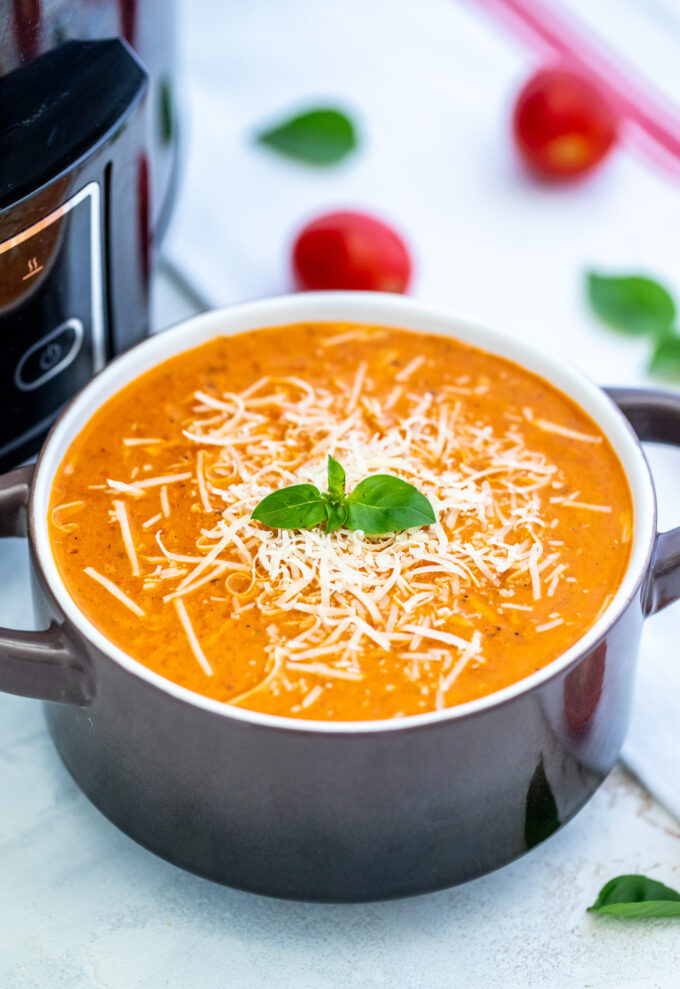 How do you make tomato soup creamy?
You can add the cream just like what we did in this recipe. Any kind of cream may it be heavy, half and half, or light will do.
How to Store leftovers?
Refrigerate: Let it cool completely and transfer to airtight containers. Refrigerate it for up to 3 or 5 days.
Freeze: If you plan to freeze it for later, do not add the cream just yet. To freeze, let it cool completely and transfer to freezer bags. Squeeze out air and seal. It will keep for up to 3 or 4 months.
To reheat: Thaw and reheat on the stovetop. Stir in the cream towards the end.
Recipe Tips:
If you like it spicy, add in red chili pepper flakes.
You can add dairy but make sure to do it towards the end of the cooking to prevent it from curdling.
Serve it with French bread!
Save Recipe
Slow Cooker Tomato Soup
Slow Cooker Tomato Soup is a comforting and hearty dish that is perfect any time of the year! Made with garlic roasted tomatoes to enhance the flavors!
Author: Catalina Castravet
Serves: 6 servings
Prep time:

30

minutes
Cook time:

6

hours
Total time:

6

hrs

30

mins
Ingredients
Garlic Roasted Tomatoes:
Soup:
Garnish:
Nutrition information
Calories: 197 Carbohydrates: 20 Protein: 8 Fat: 11 Saturated Fat: 3 Cholesterol: 11 Sodium: 1005 Potassium: 754 Fiber: 3 Sugar: 13 Vitamin A: 2339 Vitamin C: 81 Calcium: 186 Iron: 2
Save Recipe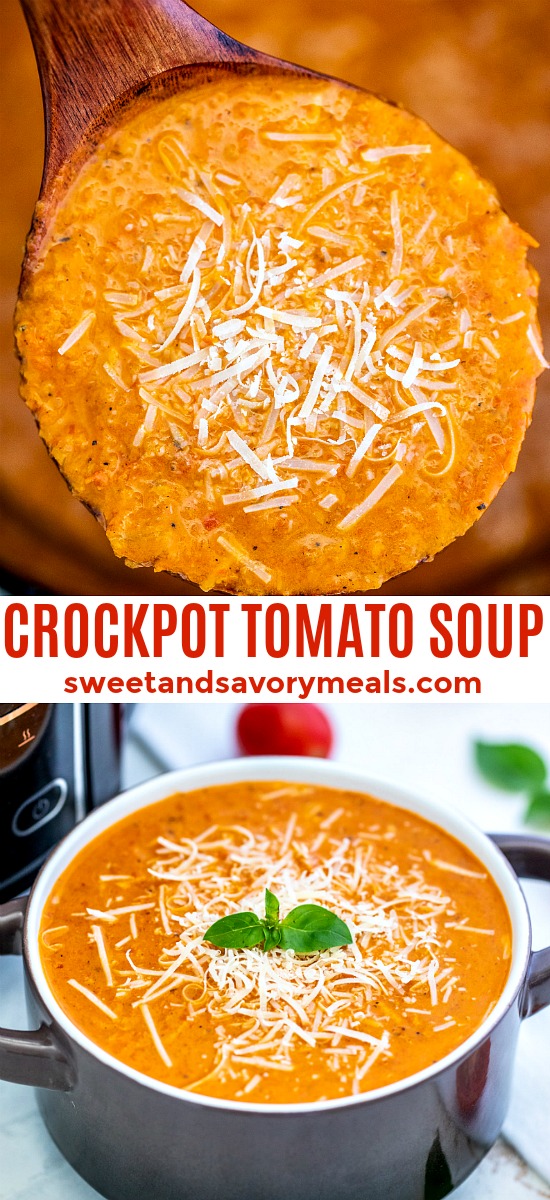 More recipes you might love
Categories: