Slow Cooker Baked Apples Recipe
Slow Cooker Baked Apples is an easy and convenient recipe using the crockpot. It yields an enjoyable and healthy dessert primarily made with stuffed apples!
This dish is best served after a sumptuous meal of savory dishes like the cube steak, blackened chicken, and spinach dip stuffed pork chops.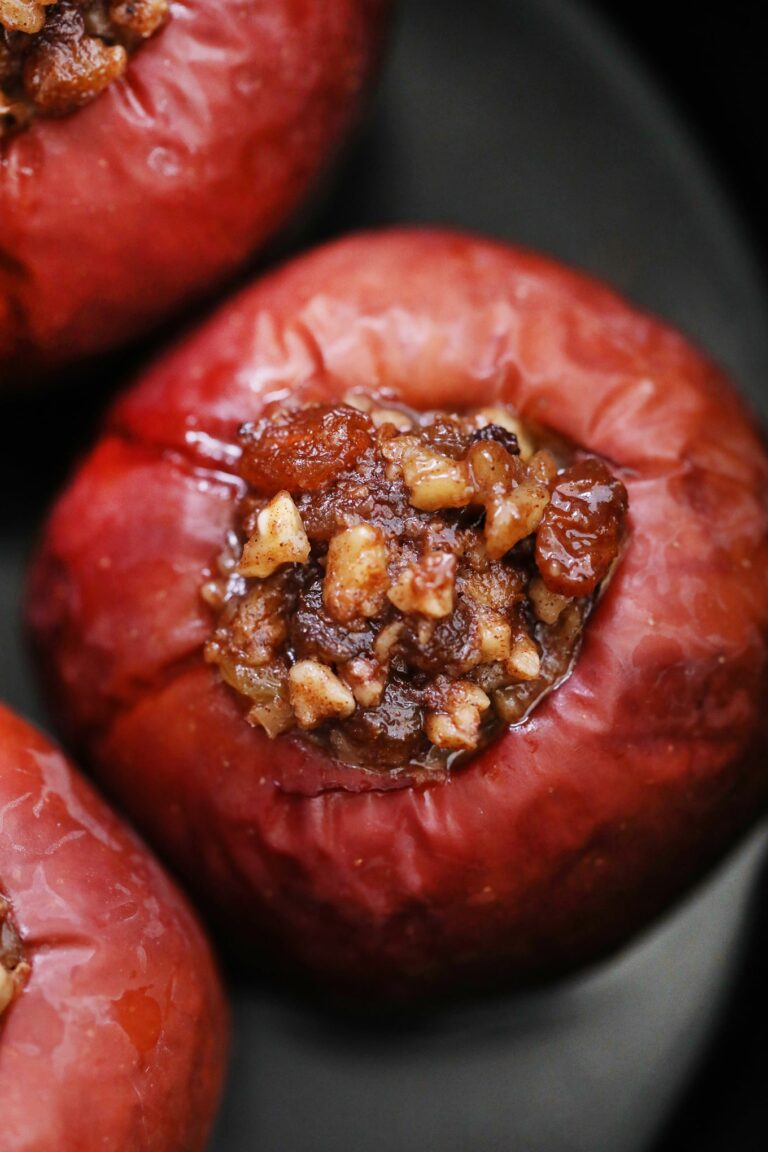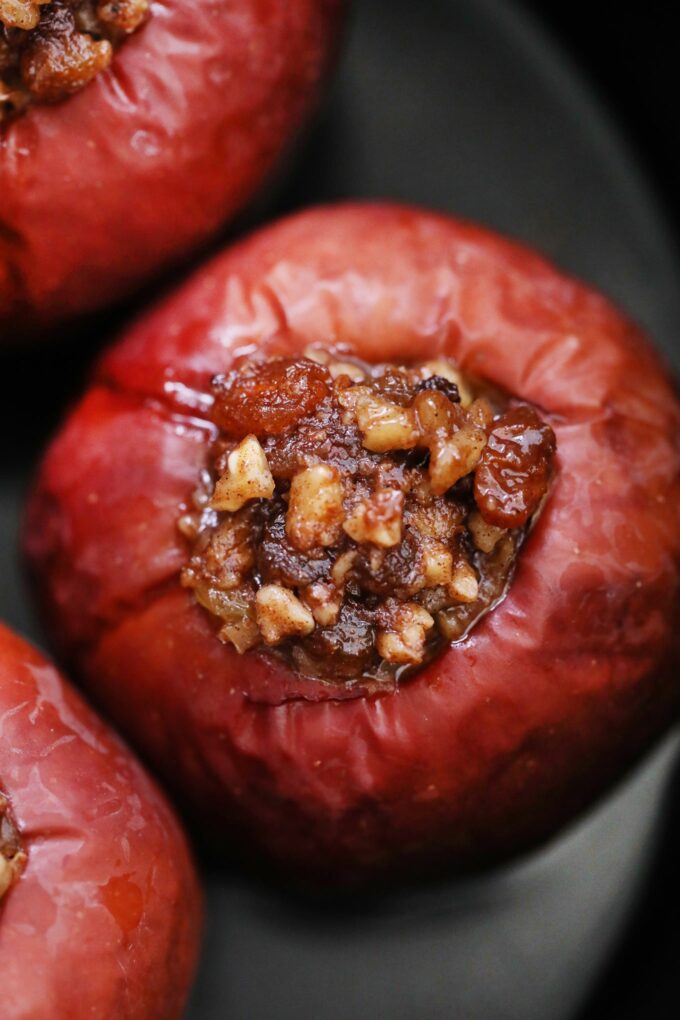 Crockpot Baked Apples
Slow Cooker Baked Apples is a no-fuss recipe using only a few ingredients. With the use of the crockpot, you can simply pop in the prepared apples and totally forget about them for hours! At the end of the day, be surprised with a delectable assembly of flavors enhancing the fruit's natural flavor and texture.
The fruits are filled with a mixture of sweetness and crunchiness that makes this dish exciting. The sourness of the fruit is balanced quite nicely, especially with the added caramel sauce.
Apples can be bought all-year-round which makes this dish enjoyable at any time of the year. All it takes is a handful of the fruits, spices, nuts, and raisins for the stuffing, and a working crockpot to make this gluten-free, and vegan-friendly dish!
Are apples healthy? What are the health benefits?
Yes, they are! They have high fiber and water content that makes them ideal snacks for those wanting to stay healthy or to lose some weight. They are high in vitamin C and antioxidants that are good for your overall health.
It is important to note that the skin has lots of the nutrients that this fruit has, so eat the whole fruit – skin, juice, and flesh – to get all the benefits.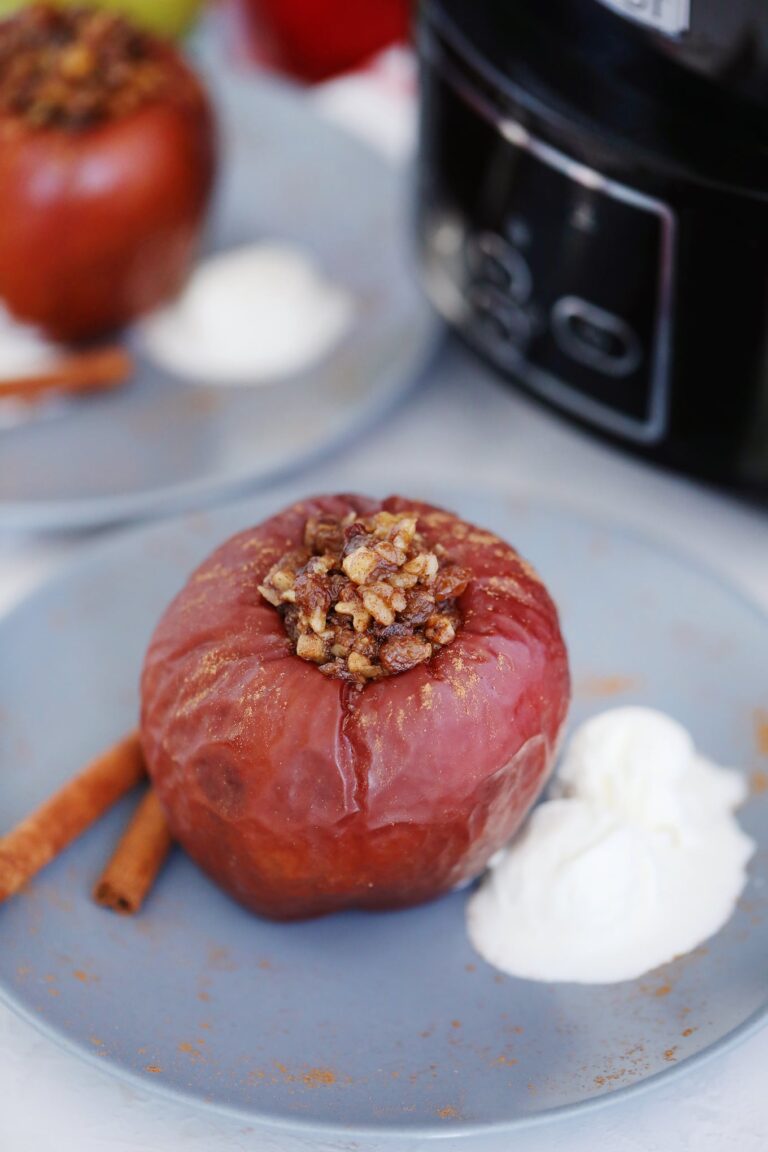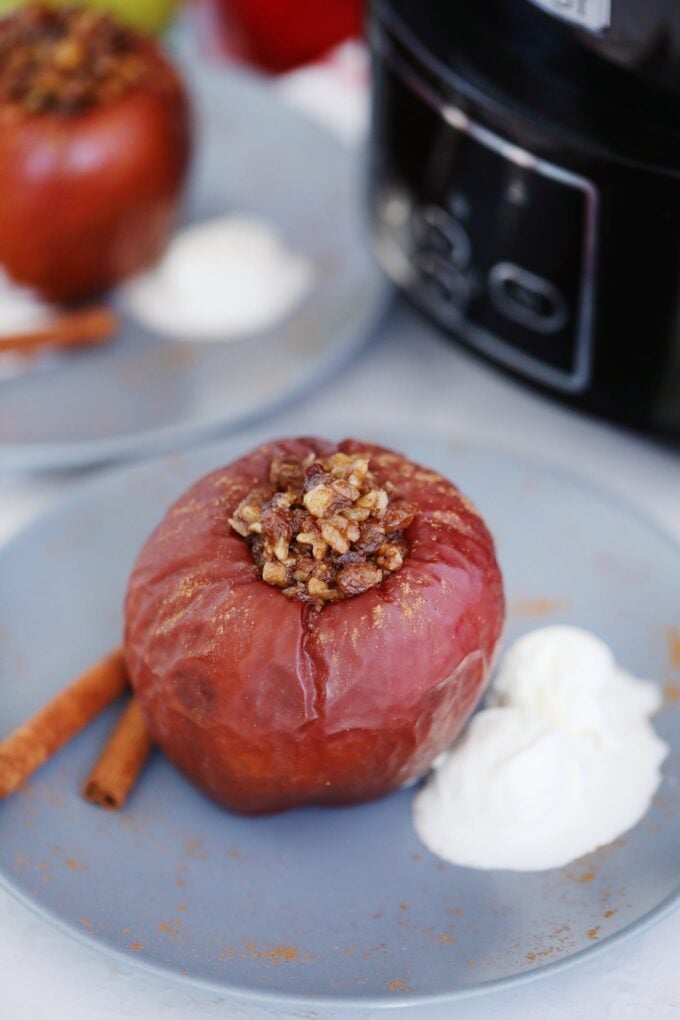 What type of apples are best used to make Baked Apples?
There is no hard rule as to what type will work best for this recipe. But, we need something that will hold its shape while cooking. Hence, you can choose from Braeburn, Honey Crisp, Fuji, Golden Delicious, and Ida Red.
Also, if you prefer something kind of sour, go for the Granny Smith which will balance out the sweet filling and sauce.
What do you stuff Baked Apples with?
Usually, we stuff with a mixture of nuts, brown sugar, and cinnamon. But for this specific recipe, we will include raisins! Be creative and explore more filling options as the list of possibilities is endless.
How do you make slow cooker baked apples?
First, core the fruits using a corer or a paring knife. Do not cut all the way through.
Next is to make the filling by simply combining the raisins and the nuts.
Put the filling inside the fruit.
Arrange the fruits in the crockpot.
Make the sauce by letting a mixture of salt, brown sugar, nutmeg, and cinnamon simmer for about 5 minutes. Mix this regularly until it thickens.
Then, pour the mixture over the fruits in the crockpot and begin the slow cooking.
Cook this for 2 to 4 hours on LOW. Longer if the fruits are bigger. Or, cook them on HIGH for about 1 to 1.5 hours.
How to prevent Slow Cooker Baked Apples from turning too mushy?
The answer is to not overcook the dish. If the cooking process is too long, then, expect that the flesh becomes mushy. Therefore, ensure to check on them periodically, especially after the 2-hour mark.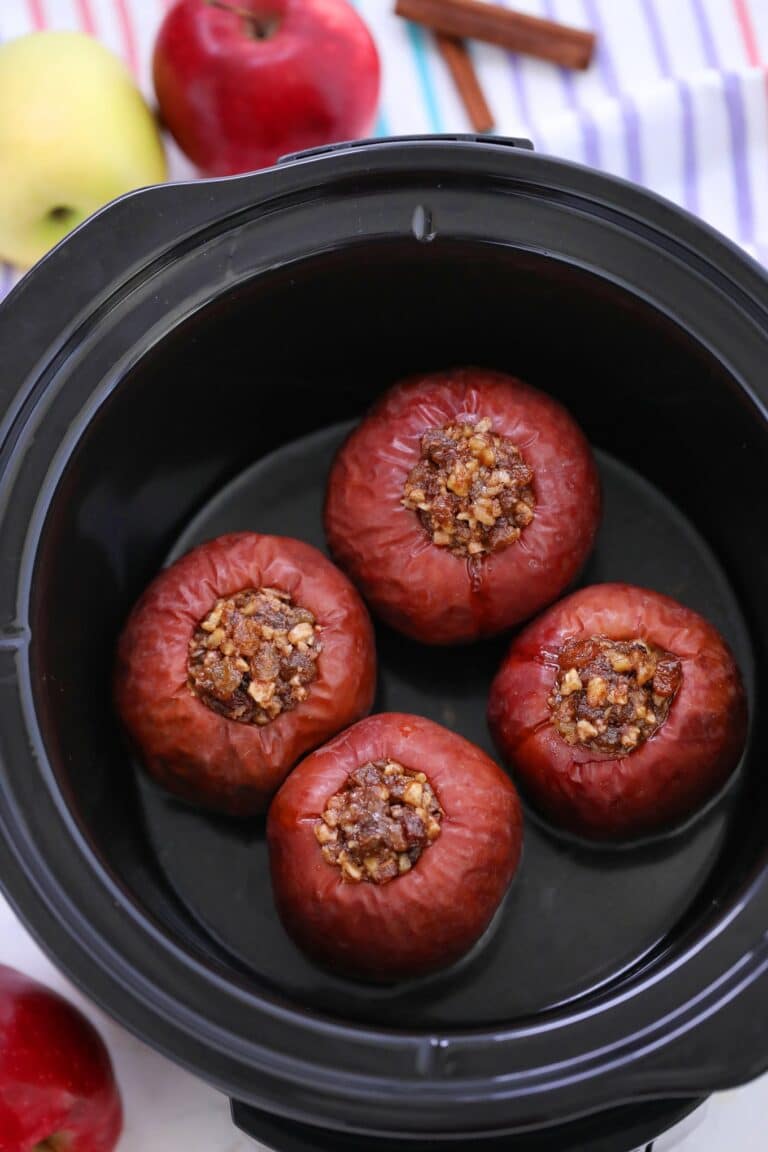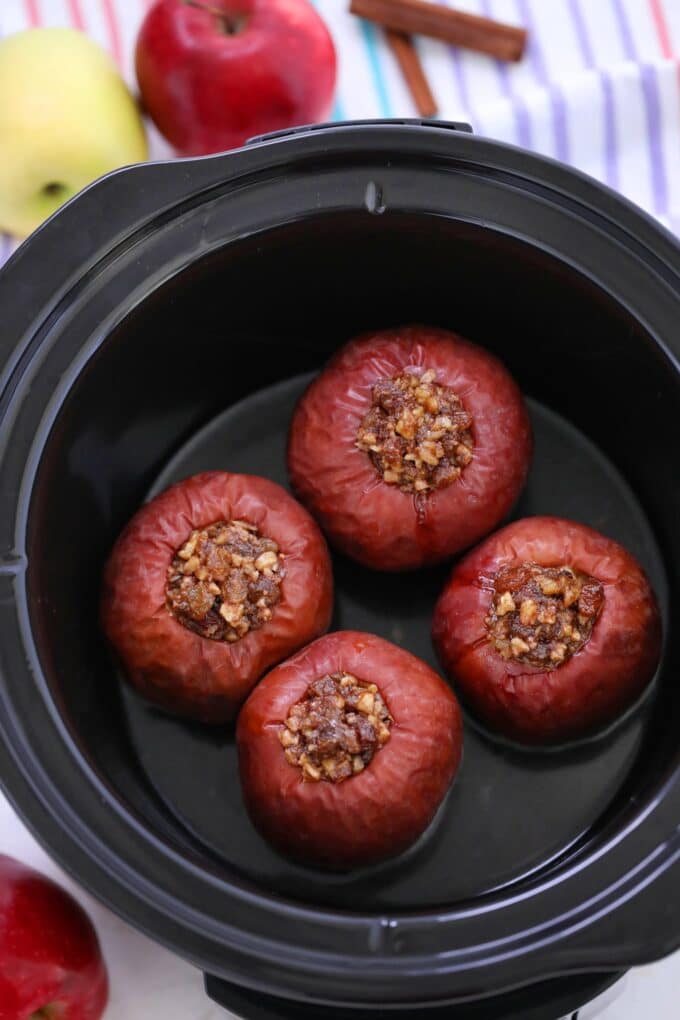 Are Slow Cooker Baked Apples gluten-free?
Since there is no wheat or anything that originated from it in the ingredients, then, this can be gluten-free. But be careful in buying the nuts as some brands caution that their packaging might contain wheat.
Can you make this recipe in the pressure cooker?
You can make this recipe a faster way by using the Instant Pot or any pressure cooker. Check out the pressure cooker version of this recipe at this link.
How to serve them?
You can eat this dish as a breakfast item, or as snacks, or as a delicious and healthy dessert. For extra flavor, let them cool down to a manageable temperature, and then drizzle over some caramel or chocolate. Also, you can serve them with your favorite garnish like a scoop of vanilla ice cream.
How to store them?
Store each fruit in individual containers and put them in the fridge for not more than one week. If you want to reheat, simply put them in the microwave and heat for about two minutes.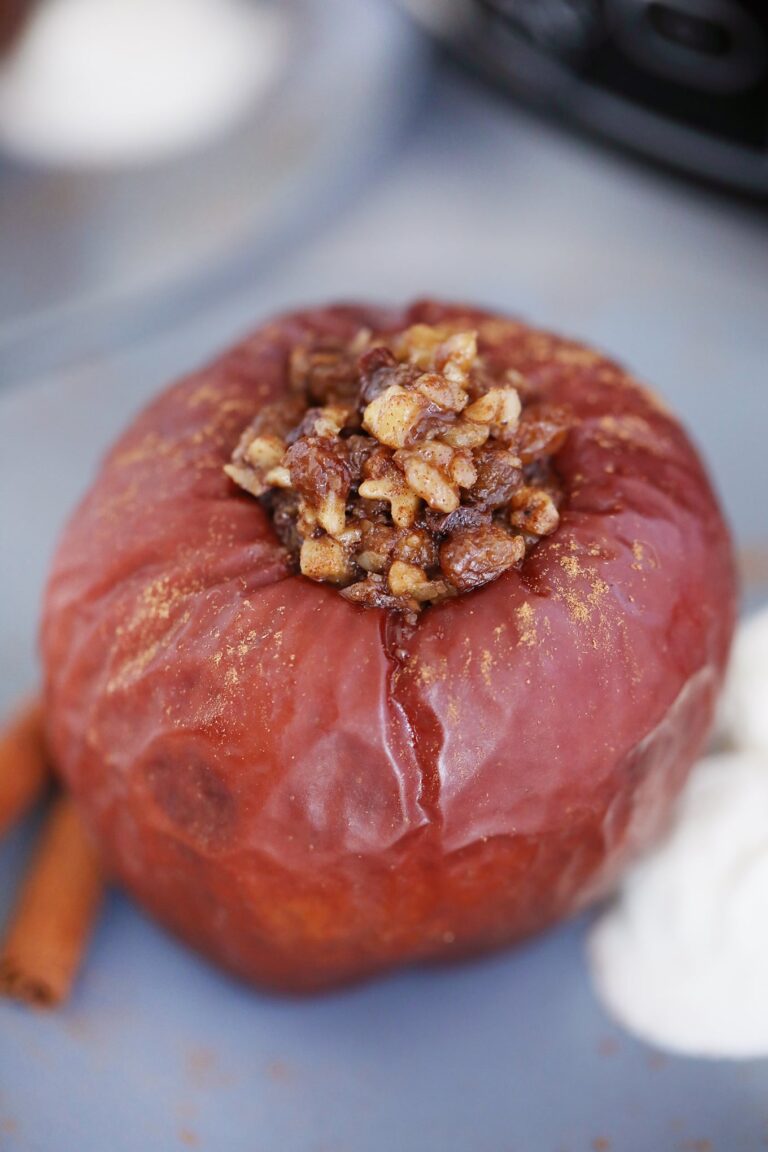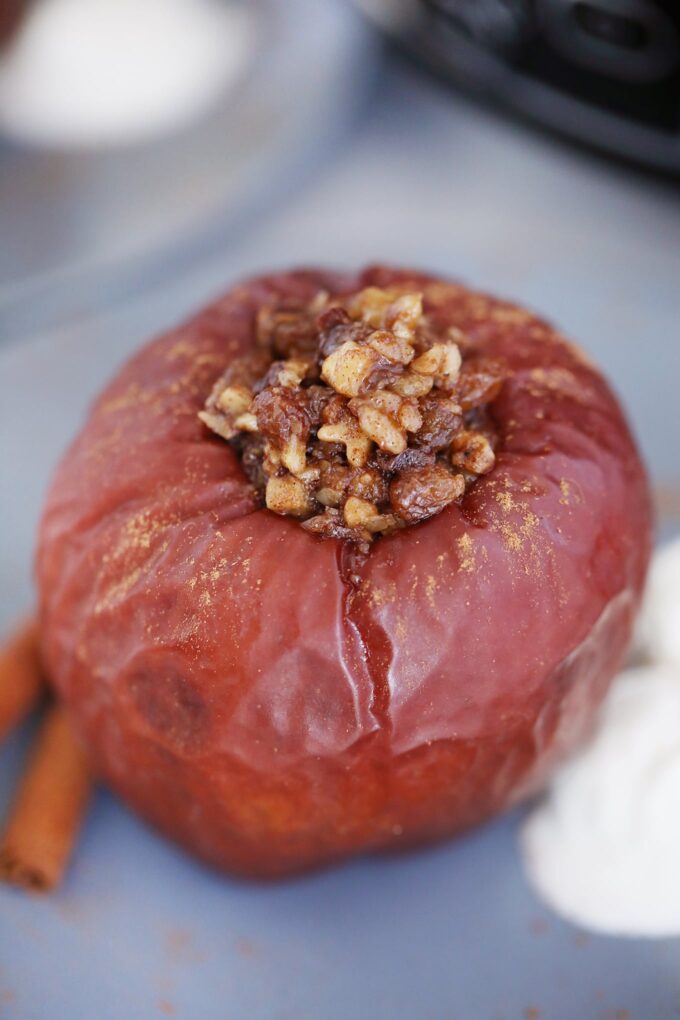 Can you freeze crockpot baked apples?
Yes. In individual containers, or wrapped with a sturdy foil, they can be stored at zero degrees Fahrenheit for up to two months.
More apple recipes:
Recipe Tips
Buy and use only the freshest apples by checking for the firmness when you press against the skin and the absence of bruising.
In removing the core, a melon baller can also be used instead of a paring knife.
Substitute other kinds of nuts like walnuts to pecan. Alternatively, you can even put oats in the filling.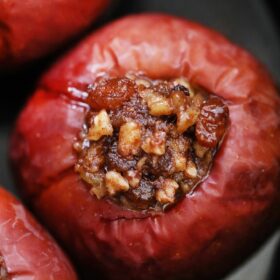 Slow Cooker Baked Apples Recipe
Slow Cooker Baked Apples is an easy and convenient recipe using the crockpot. It yields an enjoyable and healthy dessert primarily made with stuffed apples!
Save
Share
Print
Pin
Rate
Ingredients
6

medium apples

1

cup

water

3

tablespoons

honey
Stuffing:
1/2

cup

unsalted butter softened

1

teaspoon

vanilla

1/2

teaspoon

nutmeg

1

tablespoon

cinnamon

4

tablespoons

brown sugar

1/2

cup

walnuts chopped

1/2

cup

raisins
Instructions
Mix one cup of water with 3 tablespoons of honey and pour the mixture into the crockpot.

Wash well and core the apples, careful to leave the bottom intact. Make a well, that will hold the filling, by scooping some of the flesh.

In a small now mix together all the filling ingredients. Fill the apples with the mixture, distributing evenly between the 6 apples.

Arrange the apples in the slow cooker.

Cover and cook on LOW for 2-4 hours or on HIGH for 1 ½ - 2 hours, or until the apples are soft enough to serve.

Once done transfer the apples to a plate and top with vanilla ice cream before serving.
Nutrition
Calories:
366
kcal
|
Carbohydrates:
45
g
|
Protein:
2
g
|
Fat:
22
g
|
Saturated Fat:
10
g
|
Cholesterol:
40
mg
|
Sodium:
12
mg
|
Potassium:
348
mg
|
Fiber:
6
g
|
Sugar:
27
g
|
Vitamin A:
570
IU
|
Vitamin C:
9
mg
|
Calcium:
48
mg
|
Iron:
1
mg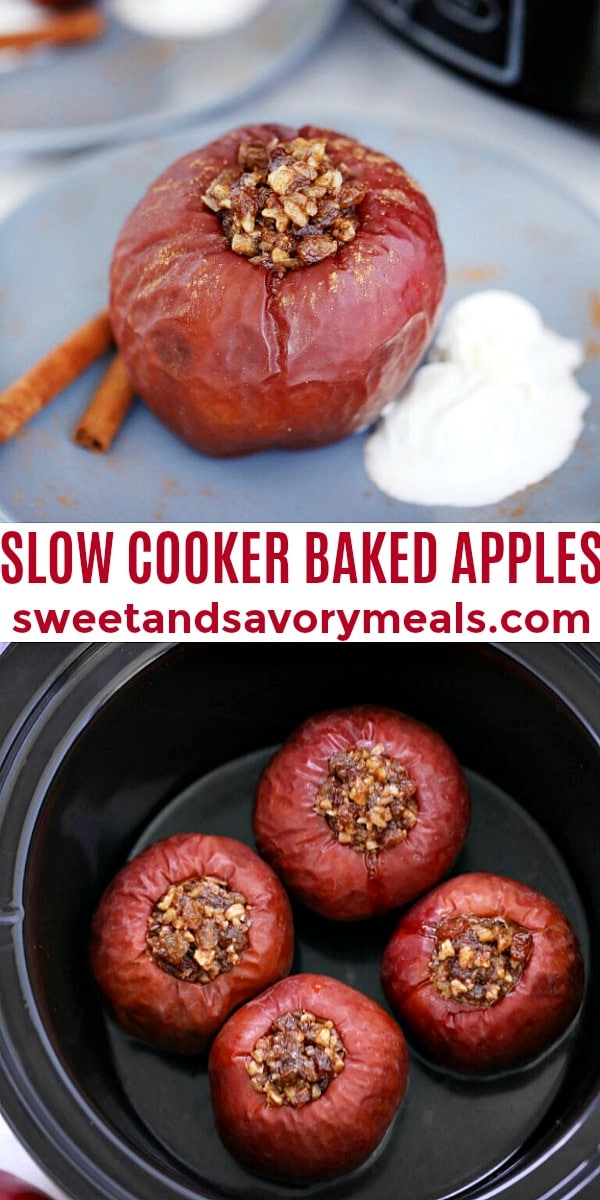 More recipes you might love