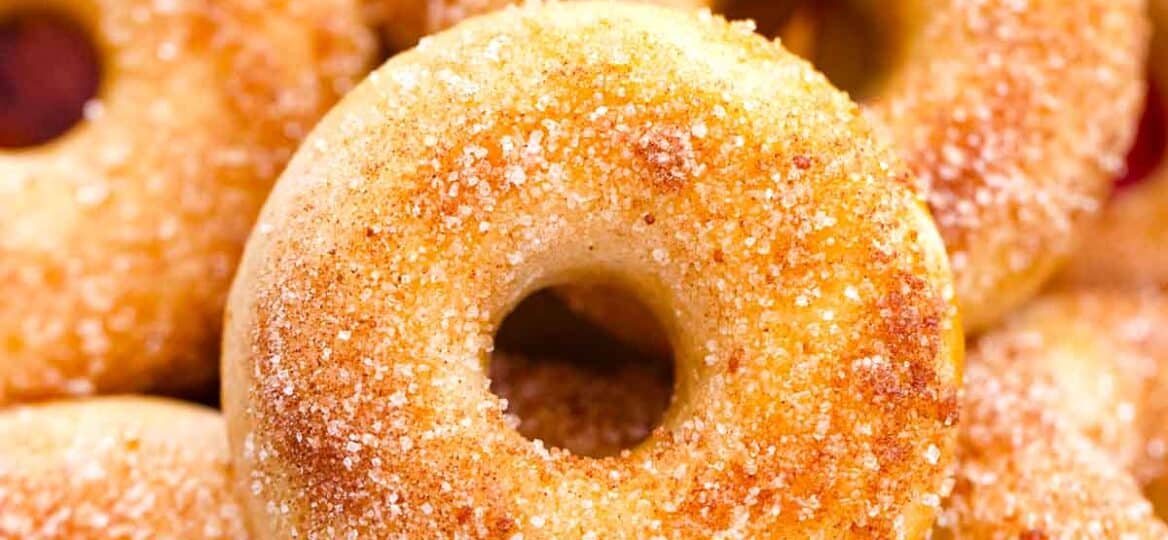 Baked Apple Cider Donuts Recipe
Apple Cider Donuts are baked cake donuts with a distinct apple cider flavor and the most delicious cinnamon sugar mixture on top. These delicious donuts are perfect for breakfast, a snack, or even a dessert. Baked donuts are so much healthier than fried so you will not feel as guilty when eating them or serving them to the kids.
The first donut was made in 1847 by a 16-year-old young man aboard a ship. Gregory, who was later Captain Hanson Gregory. He was trying to save ingredients and feed a large group of sailors, so he left the middle of the "pancake" out to make more. However, it was Dutch immigrants living in New York who first made donut holes in the 1600s. They were called oil cakes.
For this homemade apple cider donuts recipe, you just need a handful of ingredients including flour, apple cider, vanilla, butter, sugar, egg, milk, cinnamon, and nutmeg. This recipe will give you a cake donut like you have never had before. They are like apple cakes with a cinnamon sugar mixture topping. The crispy outside makes them even more delicious.
Ingredients needed:
To make this baked apple cider donuts recipe, gather the ingredients listed here. Then, when you are ready to begin, find our handy recipe card at the bottom of the page for instructions and exact measurements.
Cake flour: I used King Arthur flour.
Apple cider
Vanilla extract
Unsalted butter: Melted.
White granulated sugar
Large egg
Brown sugar
Milk
Nutmeg
Ground cinnamon
Baking powder: Baking soda is not the same.
Salt
Topping:
White granulated sugar
Ground cinnamon
Melted butter
How to make apple cider donuts from scratch?
Preheat oven and prep pan: First, preheat your oven to 375 degrees and grease a donut pan with non-stick spray.
Reduce apple cider: Then, bring the apple cider to a boil in a small saucepan over high heat. Let it boil for one minute before reducing to medium heat.
Apple cider reduction: Now, let the cider simmer until it is reduced to about one-half cup, about 10 to 15 minutes. It will start to get darker in color and thicker. When it is done, make sure you measure out exactly half a cup because that is all you need. Let the reduced cider cool completely before continuing to the next step.
Whisk the dry ingredients: Next, whisk the nutmeg, cinnamon, flour, salt, and baking powder in a large bowl and set it aside.
Whisk the wet ingredients: In a medium bowl, whisk together the reduced apple cider, vanilla extract, milk, butter, brown sugar, egg, and white sugar.
Combine the wet and dry ingredients: After, pour the wet ingredients into the bowl with the flour mixture and stir just until combined. Do not over-stir.
Fill the pan: Immediately, pour the batter into a zipper baggie and cut off about one-half inch from one of the bottom corners. Squeeze the batter into the donut cavities until each one is about halfway full.
Bake the donuts: Now, bake your donuts for 8 to 10 minutes or until they are evenly golden brown. They are ready when a toothpick inserted into the center of the donut comes out clean. Then, place them on a cooling rack.
Coat and serve baked donuts (baked doughnuts): Last, mix the sugar and cinnamon in a small bowl and roll warm donuts in the melted butter to coat before dipping them in the cinnamon-sugar mixture. Shake and let cool to serve.
Recipe variations:
Donut holes: Instead of apple cider donuts, you can make donut holes (doughnut holes). These are really great if you have little kids that cannot (or should not) eat a whole donut. Just use a mini muffin pan.
Mini donuts: Alternatively, you could use mini donut pans to make smaller donuts.
Fried donuts: If you would rather have fried donuts, heat vegetable oil or canola oil in a Dutch oven until it reaches 370 degrees F. Squeeze batter into the oil and let them fry until golden brown on both sides, flipping after one minute.
Different sugars: You could also use coconut sugar or powdered sugar instead of regular granulated sugar for the topping.
Apple butter: Add a quarter cup of apple butter to your batter for an even more incredibly delicious apple flavor.
Apple extract: Apple cider can be hard to find at certain times of the year. If all you have is apple juice, add a teaspoon of apple extract for more flavor.
Cut out your donuts: Another way to shape your donuts is to flatten the dough on a lightly floured surface and cut them with a donut cutter. You can bake them on a cookie sheet lined with parchment paper.
How to serve:
Whether you are serving these delicious donuts for breakfast, a snack, or even a homemade dessert, they can be altered to fit your needs or mood. Here are some fun ideas you can try or share some of your own ideas in the comments section.
Add rainbow sprinkles to your sugar topping for a more festive look. Kids love this!
All donuts go great with a cup of coffee. They would be perfect with our Starbucks Pumpkin Spice Latte Copycat recipe.
Another way to enjoy these apple cider donuts is to serve them with a glass of ice-cold milk.
For a cute dessert, add a scoop of ice cream in the middle. You can use one of our recipes like this creamy strawberry ice cream with chocolate chunks in it.
These yummy apple cider donuts also pair well with applesauce on the side.
Instead of a scoop of ice cream, use a dollop of this rich homemade whipped cream.
Since everything tastes better with chocolate, drizzle some chocolate sauce on top and let it set before serving.
Frequently asked questions
Why is my batter runny?
The runny batter is usually the result of adding too much wet ingredients or not enough dry ingredients. You may have used too much apple cider. Make sure you measure out a one-half cup. Do not eyeball it. Try adding a little bit more flour to make your batter thicker.
What can I use instead of a donut pan?
Try using a muffin pan or a silicone mold. If you do not have one of those, you can form donut shapes from aluminum foil and oil them really well. Place them on a baking sheet and let them cook on that. However, they may stick if they are not completely oiled. Skip the foil and just use the baggie to make circles on a baking sheet covered with parchment paper.
What is the difference between apple cider and apple juice?
Apple cider is fresh, unpasteurized, and unfiltered while apple juice is pasteurized and filtered. Apple cider tastes more like the apple while apple juice has added sugar and water to make it sweeter. However, it can be difficult to find apple cider unless it is autumn. Apple cider may also have some pulp in it, which makes it even more intense in flavor.
Why should you reduce the cider?
The reason for reducing the cider in this apple cider donut recipe is to get a concentrated apple flavor. If you are in a big hurry, you can try making it without reduced apple cider, but it will not have as much apple taste. Try it both ways and tell us what you think in the comments section.
What are the nutrition facts in this recipe?
Here are the estimated nutrition facts for this recipe. For each donut, you get 178 calories, 30 carbohydrates, 6 grams of fat, 3 grams saturated fat, 1 gram trans fat, 22 mg cholesterol, 176 mg sodium, and 19 grams sugar. On the other hand, you will also get 1 mg iron, 2 grams of protein, 104 mg potassium, 44 mg of calcium, 1 mg fiber, 2 mg vitamin C, and 176 units of vitamin A.
More fall recipes to try:
How to store leftovers:
Store: To store, refrigerate leftover apple cider donuts in an airtight container such as a gallon-size zipper bag or a bowl with a lid. They will stay fresh for about five days.
Freeze: If you are not able to finish your leftovers in a few days, wrap them individually in plastic wrap and then place them in a freezer bag to freeze for up to four months.
Thaw: For the best flavor and texture, thaw donuts in the fridge overnight.
Recipe tips:
Use a nonstick spray with flour in it for baked goods for a better result.
If you can find concentrated apple cider in the store, get that and you can use less and have a more intense apple flavor.
Make sure you use cooled cider when mixing the wet ingredients, so it does not make the milk curdle.
Looking for more delicious recipes? We have lots of them on our food blog and we post new ones every day.
Don't have a cooling rack? Lay the finished donuts on a paper towel-lined plate instead.
Instead of cinnamon sugar, you can use apple pie spice. It is basically the same thing with added ginger, nutmeg, and allspice.
Use fresh apple cider for this recipe for the best results.
You could use apple juice instead of boiled cider, but it will not have as much flavor.
Baked Apple Cider Donuts
Ingredients
Donuts:
1 1/2

cups

apple cider

not apple cider vinegar

2

cups

cake flour

2

teaspoons

baking powder

2

teaspoon

cinnamon

1

teaspoons

salt

1/4

teaspoon

nutmeg

1/2

cup

milk

1/2

cup

brown sugar

1/4

cup

granulated sugar

1

large egg

room temperature

3

tablespoons

unsalted butter

melted

1

teaspoon

vanilla extract
Topping:
1/2

cup

granulated sugar

3

teaspoons

cinnamon

1/8

teaspoon

nutmeg

6

tablespoons

unsalted butter

melted
Instructions
First, in a small saucepan, over high heat, bring the apple cider up to a boil. Boil it for about a minute, then reduce the heat to medium-low and simmer until reduced to 1/2 cup; this will take about 15-20 minutes.

The cider will thicken a little bit and it will get slightly deeper in color. After that, let the cider cool completely before using it.

Preheat the oven to 375 degrees F.

Grease a donut pan with non-stick cooking spray and set it aside.

Next, in a large bowl whisk together the flour, baking powder, cinnamon, salt, and nutmeg, and set it aside.

In another bowl, whisk together the 1/2 cup reduced apple cider, milk, brown sugar, white sugar, egg, butter, and vanilla extract.

After that, add the flour mixture to the wet ingredients and stir just until combined.

Transfer the batter to a large zip-top bag. Cut off about 1/2 inch off one of the bottom corners and pipe the batter into the prepared donut pan, so each hole is about 1/2 full.

Bake for 8-10 minutes until they are cooked through. You can stick a toothpick into the center of the donut, and if it comes out clean, they are done. Place the donuts onto a cooling rack.
Topping:
In a medium mixing bowl, combine the sugar, cinnamon, and nutmeg.

Brush the donuts on both sides with the melted butter.

Roll them into the cinnamon mixture, so all sides are covered. Repeat this with each donut. Serve and enjoy!
Deliciousness to your inbox
Enjoy weekly hand picked recipes and recommendations