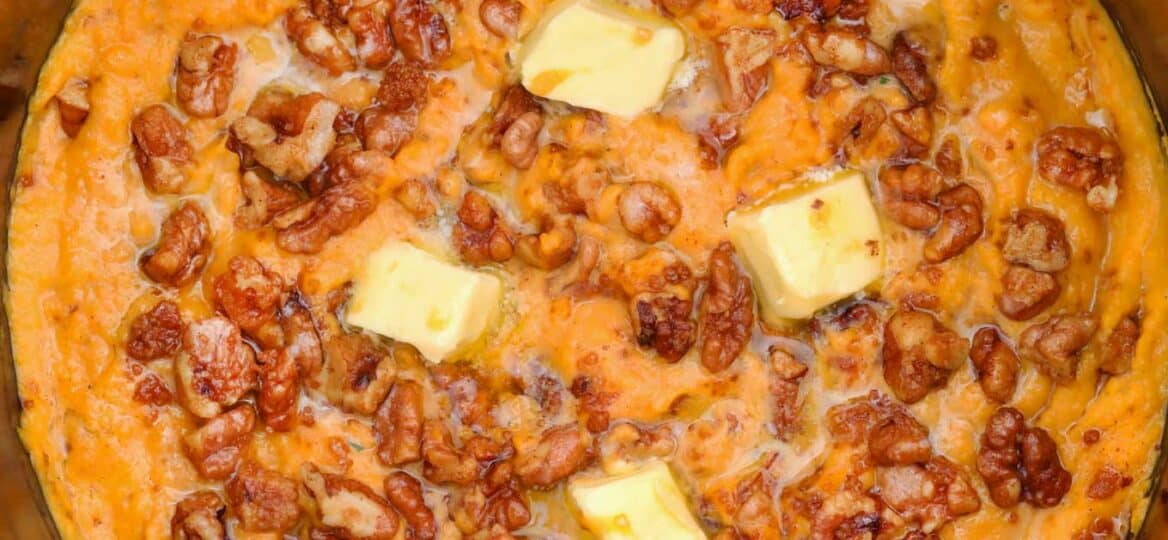 Slow Cooker Mashed Sweet Potatoes [Video]
Slow Cooker Mashed Sweet Potatoes is the perfect buttery side dish for all your savory entrees! It is flavorful made with cinnamon and nutmeg, a must part of your Thanksgiving spread!
I love making easy, one-pot dishes during the holiday season. To be honest, you can make the entire holiday dinner in the crockpot. Take, for example, this Slow Cooker Pineapple Ham, Crockpot Scalloped Potatoes, or Crockpot Green Bean Casserole.
This Slow Cooker Mashed Sweet Potatoes recipe is creamy and the perfect side dish to go with a turkey dinner on Thanksgiving day. It is an easy recipe, where the creamy sweet potatoes are slowly cooked to perfection over a longer period of time. The spuds are naturally sweet, but this recipe will just amplify those qualities.
Also, I like to capitalize on its natural sweetness, by adding a bit of ground cinnamon and nutmeg. This makes this delicious recipe divine!
It is something you can make without so much effort but yielding very good results. I suggest that you prepare this one first before preparing the rest of your meal. Simply cover and let the crockpot do the work for you!
That is one advantage of using the slow cooker in cooking this side dish! It helps free up the rest of your kitchen by using the crockpot for this. Also, it is very convenient one-pot side dish, and you can keep it warm in the same pot!
Are sweet potatoes healthy?
Yes! This does not mean that the regular ones are not, although there have been debates and controversy surrounding this. While this is not entirely true, this is what is – sweet potatoes have fewer calories than regular ones.
This vegetable supports healthy vision with its vitamin A content, vitamin C, good digestion with its fiber content, and prevention of free radicals with its antioxidants.
Aside from having no cholesterol and 86 kcal per 100 grams, this superfood has:
20.12 grams of carbohydrates
3 grams of fiber
337 grams of potassium
11 micrograms of folate
14187 IU of vitamin A
This is according to the USDA's Nutrient Database. Click on the link to see the rest of the nutrition facts.
Key ingredients:
This recipe has two sets of ingredients, one for the sweet mashed potatoes, and the other one for the toppings. Here are the lists:
Mashed Sweet Potatoes
sweet potatoes cut into 2-inch cubes
water
butter
brown sugar
heavy cream
salt
cinnamon
nutmeg
Cinnamon Sugar Walnut Topping
butter
brown sugar
ground cinnamon
unsalted butter
walnuts
How do you make Slow Cooker Sweet Mashed Potatoes?
Cook in the crockpot: First, put the spuds in the crockpot together with butter and brown sugar. Then, cover and cook till fork tender.
Mash: Then, simply add the rest of the ingredients. Get your potato masher or electric mixer to mash everything together.
Make the topping: In a skillet over medium heat, melt the butter and add in the rest of the toppings ingredients.
Serve: Add the toppings on top and serve the dish warm in a large bowl.
Possible variations:
Regular potatoes: Swap the sweet spuds with white potatoes, and make this classic slow cooker mashed potatoes. Another great side dish on the holiday table.
Coconut milk or almond milk: For a healthier version, replace the heavy cream with almond milk or coconut milk. Also, use vegan butter.
Orange juice or cranberry juicy: Add half a cup of orange juice.
Cream cheese: To make it extra rich and creamy, add a bit of cream cheese to the mixture.
Stove top: You can also make it on the stovetop.
Instant Pot: For a quick alternative, swap the crock pot with an electric pressure cooker. This Instant pot mashed sweet potatoes are always a huge hit.
How long do you cook sweet potatoes?
For this recipe, set your crock pot on HIGH and cook for only 2 to 3 hours, or on LOW and cook twice as long.
How do you make savory mashed sweet potatoes?
This root vegetable is highly versatile. You can cook it multiple ways and season it multiple ways, too. And this means that it can either be sweet or savory.
If you want to simply balance the original sweetness of this vegetable, then, follow the same recipe. But substitute the sweet ingredients with your favorite herbs, pepper, garlic, and sour cream.
As for the herbs, try rosemary, coriander, and oregano. Also, feel free to add chili powder, cayenne, and paprika. It's your call!
Favorite toppings to add to mashed sweet potatoes:
Mini marshmallows: They are festive and just a perfect addition to them.
Brown sugar: For extra sweetness, add more brown sugar on top.
Nuts: Such as pecans, walnuts, etc.
Pure maple syrup
Corn flakes
How to store it?
This dish freezes well and it can be done in advance. You can make a stash in your freezer and just reheat it for a quick lunch or dinner side dish.
Refrigerator: This will last for 3 to 5 days in the fridge, stored in an airtight container.
Freezer: Before freezing, remember to add a little amount of lemon juice to preserve the color. Transfer it into freezer bags, remove any trapped air, and freeze for 10 to 12 months.
To reheat: Thaw it first in the fridge. Then, add some cream or milk with or without additional butter, then, microwave for about 5 minutes. This is the easiest way although it can be reheated on the stove as well.
More sweet potato recipes:
Recipe Tips:
Feel free to substitute the sugars in this recipe for maple syrup, coconut sugar, or raw honey.
Want it light and fluffy? Then, use a potato ricer! It gets rid of the big chunks and lumps.
In addition, you need to remove the skin of the spuds. Not removing the skin will give it texture, which is another option, too, if you want more fiber and less preparation.
You can mix in a few russet potatoes if you want it fluffier without changing the overall flavor or color.
Also, to make it lighter, substitute the heavy cream with whole milk or reduced-fat milk.