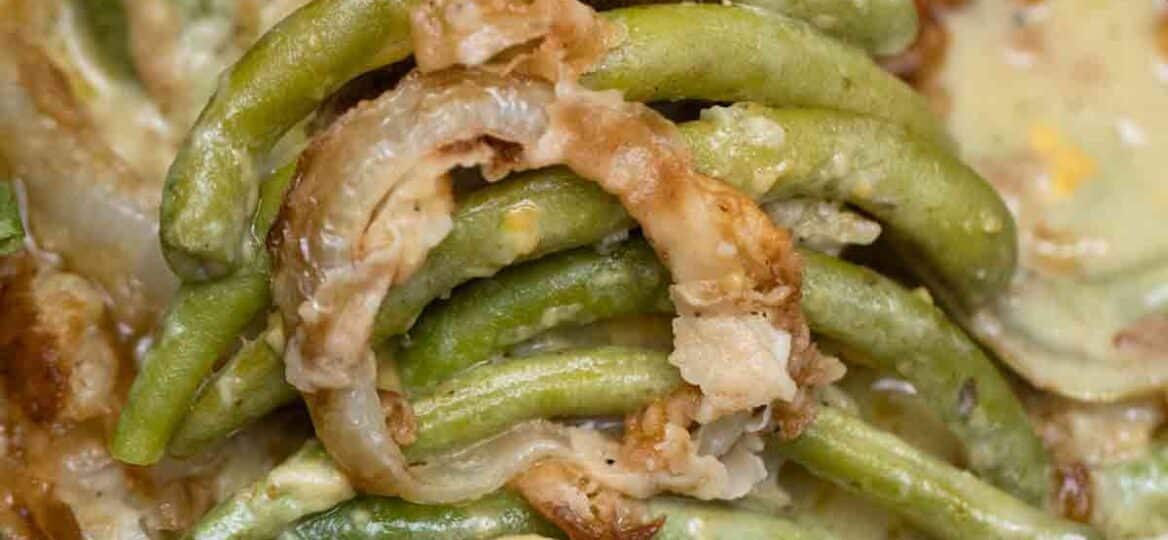 Crockpot Green Bean Casserole
Crockpot Green Bean Casserole is seriously the EASIEST method to prepare this holiday classic! Tender vegetables are smothered in a rich sauce and loaded with crispy tangles of fried onions. Delicious and easy enough for busy holidays and regular meals!
I love creating stress-free recipes that are fast but loaded with flavor. Got too much to do, but still want a great meal? My Pesto Chicken Kabobs, IP Orange Chicken, Skilletand Pork Chops are ready in just 30 minutes!
Crockpot Green Bean Casserole is a classic for Thanksgiving and Christmas dinner! It is savory, and creamy, has two kinds of cheese, and is loaded with the crispiest fried onions made from scratch— what's not to love? You'll almost forget you're eating vegetables. Even kids ask for seconds!
This recipe will also lighten the cooking load during the holidays. Aside from the homemade crispy onions, you just dump everything else into the crockpot and let it do its thing.
It frees up your oven and stove top for other dishes, and just come back when it's done. It's so easy and tasty, that I guarantee it will make it into your regular dinners as well!
To save time, you don't have to make your own fried onions, you can just buy some French Fried Onions and you are good to go!
Follow us on Pinterest for more delicious recipes!
Ingredients:
This dish has two main components: the creamy veggies which cook first, and the French-fried onions, half of which goes in with the veggies and half on top.
For the vegetables, you will need:
Green beans: To prevent excess moisture in the dish, drain well
Mushroom soup, condensed: adds creaminess and a delicious mushroom flavor

Sour cream: adds a delicious, creamy acidity

Milk: loosens the sauce so it doesn't get too dense and thick
Seasonings: garlic powder, salt, fresh ground pepper
Cheese: shredded cheddar and parmesan cheese
For the French-fried onions:
Onions: chop thinly into rings and halves
Buttermilk: Use store-bought or make buttermilk from scratch!
All Purpose Flour: will coat the onions to achieve a crispy texture
Seasonings: Prepare some fresh ground pepper and kosher salt
Oil: neutral varieties like canola or vegetable oil
How to make the best Crockpot Green Bean Casserole?
Begin with the fried onions because half of it is going into the veggies:
Soak the rings in buttermilk: tone down the bite and pungency by soaking for about 10 minutes.
Make the flour mixture: Give your flour and seasonings a good whisk

Coat the rings: dredge them well in flour
Fry: Drop them in the oil (375F hot) in batches and fry until crunchy and golden
Drain excess oil: Place the onions on paper towels or a wire rack to continue crisping up and remove excess oil. Set aside.
Assemble the casserole:
Combine the sauce: whisk together the milk, seasonings, condensed soup, and sour cream right in the pot
Add the veggies and cheese: stir in the two shredded cheeses, veggies, and half of the fried onions. For 2 hrs, cook on low setting.
Garnish with crispy topping: stir after 2hrs. Arrange remaining crispy onions on top, and turn on the pot for another 30 minutes to 1hr.

Serve. Enjoy the dish hot.
What else can you add to Crockpot Green Bean Casserole?
Add meat: Make it heartier with bacon, sausages, chicken, ground beef, and other meats
Use other soups: try cream of chicken or asparagus or cheddar cheese soup
Use other veggies: Swap out the beans with broccoli and cauliflower or add other veggies like peas and carrots
Play with seasonings and herbs: Mix in some chives, parsley, red pepper flakes, and other herbs for a flavor boost.
Can I substitute heavy cream for milk in green bean casserole?
Yes! Use heavy cream or half-and-half for a richer, creamier casserole.
Can you bake this green bean casserole instead?
Yes, baking is another great way to prepare the dish! Try my Classic Best Green Bean Casserole – the same delicious result, but oven-baked.
Do I need to cook the green beans before adding them to the slow cooker?
If you are using canned beans, you do not need to cook them. However, if you prefer using fresh green beans, blanching them briefly before adding them to the slow cooker can help ensure they cook evenly and are tender.
Will frozen green beans work in the crockpot?
Sure, but thaw it and drain it as much as possible.
What should I do if my casserole is soupy?
Don't panic! Thickening a soupy casserole is a simple fix. Take some of the sauce, then make a slurry by stirring in some flour or cornstarch. Mix it back into the casserole. Hard simmer until you get your desired thickness.
To prevent a watery consistency in the first place, make sure to drain your beans. Any excess moisture will be released into the dish, turning it soupy instead of rich and creamy.
What to serve with Classic Green Bean Casserole?
Perfect with Oven-Roasted Turkey during the holidays! It's also fantastic with juicy grilled steak, fried chicken, or the Best Honey Butter Ham.
More delicious Crockpot recipes:
Storing instructions:
Transfer to an air-tight covered dish. It will stay good for up to five days in the fridge, and up to 12 months when frozen. Thaw overnight before reheating.
There are several reheating methods:
Microwave: Transfer to a microwave-safe dish and microwave on high for around 5 minutes, stirring well between each minute
Bake: Transfer to a baking dish and bake until heated through
Stovetop: Transfer to a skillet and reheat on medium-high
Slow cooker: Transfer to the pot and heat on high for around 30 minutes
Recipe Tips:
Plan ahead, because this casserole takes a minimum of two and a half hours. Don't worry, almost all of that time is hands-off!
Also, if you want to cook the casserole early, you can keep it in the Crockpot in the warm setting until serving it. Just keep in mind not to leave it on warm for longer than 3 hours.
Use condensed soup, not regular soup, to prevent a watery consistency.
Feel free to add other ingredients to the casserole. Some great additions would be adding ingredients like garlic powder, onion powder, grated cheese, bacon bits, or even sliced almonds.
Crockpot Green Bean Casserole
Ingredients
4

cans

green beans

14.5 ounces each - drained

2

cans

cream of mushroom soup

14.5 ounces each

1/3

cup

sour cream

3/4

cup

milk

1/2

teaspoon

salt

1/2

teaspoon

pepper

1/2

teaspoon

garlic powder

1/2

cup

shredded cheddar cheese

1/4

cup

shredded parmesan cheese

6

ounce

can French fried onions
Instructions
Combine the cream of mushroom soup, sour cream, milk, and seasonings, in the crockpot, stir to combine.

Stir in the green beans, cheddar cheese, parmesan, and half of the french fried onions.

Cover with the lid and cook on low for 2 hours.

Stir well and add the remaining french fried onions on top. Cook for another 30 minutes, up to one more hour.