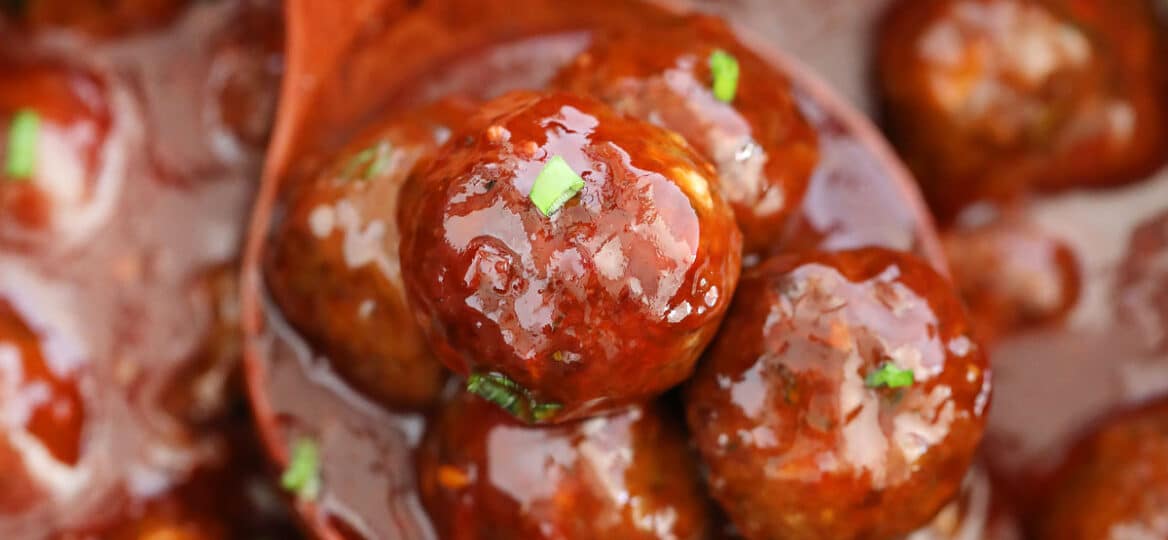 Best BBQ Crockpot Meatballs
BBQ Crockpot Meatballs are extremely easy to make, with just a few ingredients and just a few minutes of prep work. They turn out perfect all the time!
Slow Cooker recipes are some of the easiest you can make. You can cook appetizers, main dishes, and desserts. We also recommend you try this Crockpot Kielbasa, our most popular Baked Potato Soup, and obviously this juicy London Broil Pot Roast.
BBQ Crockpot Meatballs
Crock pot Meatballs Recipe is one of the easiest you can fix in your slow cooker. You can either make it with fresh or frozen meatballs, the result is always amazing. If you are looking for a great homemade meatball recipe, look no further, we have the perfect one for you!
This recipe is so versatile, we love using Orange marmalade and barbecue sauce. But other great combos are grape jelly or red pepper jelly with BBQ sauce. You can also make them spicier if you prefer it so. The meatballs turn out juicy and delicious all the time. Coated in a sauce that is so good you will lick your fingers clean.
What do you need to make Crockpot Meatballs?
This recipe is super simple and only requires a handful of ingredients:
Meatballs – you can make your own using this recipe or use your favorite store-bought frozen ones.
Orange marmalade – we love the subtle citrus flavor that it adds. For even more flavor we highly recommend you add some orange zest.
Barbecue Sauce – same here, use your favorite one, either homemade or store-bought. We usually recommend a more classic one or Bourbon based so it goes well with the orange flavors.
Orange zest – while optional, it will add a punch of flavors to the whole meal.
Sweet Chili Sauce – adds a nice contrast to the overall sweeter dish.
Vinegar – it balances the sweet flavors and adds a savory layer.
How do you make Crockpot Meatballs?
This recipe is so simple, all you have to do is:
Combine all the sauce ingredients in a bowl and stir to combine.
Spray the slow cooker with cooking spray.
Add the meatballs (fresh or frozen).
Pour the sauce and gently stir (especially if they are not frozen) to combine.
Cook and enjoy it!
Should I Brown meatballs before putting in the slow cooker?
If you are using homemade, fresh meatballs, you have to brown them, otherwise, they will lose their shape and become and mushy after cooking.
If you are using frozen meatballs, you don't have to brown them.
How long can meatballs stay in the crockpot?
You can cook them on HIGH for 1 ½ to 2 hours and after that keep on LOW or WARM for up to 4 hours.
What should I serve with BBQ Crockpot Meatballs?
This recipe is so versatile, it can be passed as an appetizer or as a main dish. We like serving mashed potatoes on the side, or corn on the cob. Creamed Corn is another great decision.
They are also great over noodles, pasta, or rice too!
Can you freeze crockpot meatballs?
Absolutely! This recipe is incredibly easy to freeze. First, make sure, you let the barbecue Crockpot meatballs fully cool. Next, place them in the freezer. They can stay fresh for up to 6 months inside the freezer. In the refrigerator, they will only stay fresh for a few days.
Slow cooker BBQ Meatballs Recipe Tips:
Make sure to spray the slow cooker with cooking spray, so the sauce won't stick to it.
If you decide to use frozen meatballs, you do NOT have to thaw them.
Orange marmalade can be replaced with grape jelly, apricot jelly, red pepper jelly, and even cherry.
For a spicier kick add some red pepper flakes or even hot sauce.
Deliciousness to your inbox
Enjoy weekly hand picked recipes and recommendations