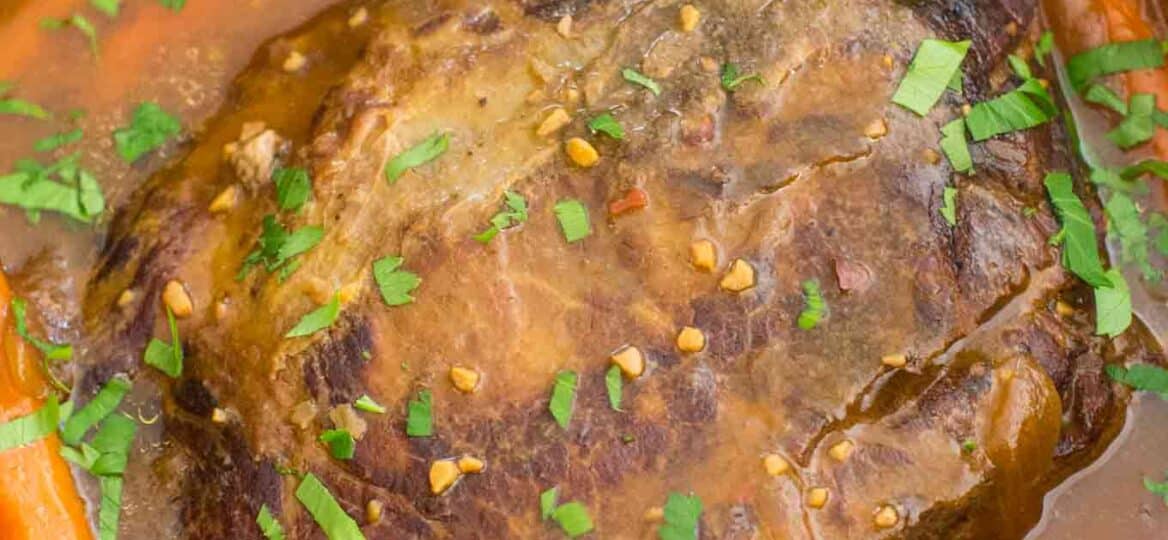 Slow Cooker London Broil [Video]
Slow Cooker London Broil is moist and tender, cooked slowly in delicious herb-infused gravy for six to ten hours until it is fall-apart tender without you having to do anything but wait. It will quickly become your favorite meat and potatoes meal to make.
If you enjoyed this London broil slow cooker recipe, try our Slow Cooker Yankee Pot Roast made with round steak and red potatoes or this Slow Cooker Corned Beef and Cabbage with carrots and potatoes. For something a little faster, our Instant Pot Mongolian Beef is perfectly made with flank steak, sesame oil, and soy sauce.
London broil does not come from London at all, as you would think. In fact, it was first found in a recipe book in Philadelphia, Pennsylvania in 1931. The cut of meat itself is not a London broil though. It is the way it is cooked.
Back then, it was a way to cook an inexpensive cut of beef quickly using the broiler. Then it was cut lengthwise to make it easier to eat.
With this wonderful London broil crock pot recipe, you can have this recipe tomorrow after letting it slow cook in its own juices all night long. There is nothing better than a fork-tender London broil with mashed potatoes and gravy, carrots, and homemade bread.
You will be wanting to eat it for breakfast though because the whole house will smell amazing. So what? There is nothing wrong with having beef and veggies for breakfast!
With very little effort and prep time, you can have this meat slow-cooked properly and ready to eat without having to do much of anything. If you are looking for more slow cooker recipes, try this slow cooker pot roast made with chuck roast!
Or chuck steak or our sweet and tangy slow cooker beef teriyaki with beef broth and soy sauce. For something completely different, this cabbage and sausage recipe cooks low and slow with apple cider vinegar and chicken broth for a savory meal.
Ingredients needed:
For this crock pot London broil recipe, you will need the following ingredients. When you are ready to begin preparing, scroll down to the bottom of the page for the instructions and measurements on our recipe card.
London broil cut of meat
Carrots: Use mini carrots or cut large carrots into two-inch pieces.
Mini red potatoes: Cut in half.
Unsalted butter: Diced.
Cream of mushroom soup: Condensed.
Onion: Quartered.
Minced garlic cloves
Beef broth
Red wine
Worcestershire sauce
Bay leaves (optional)
Canola oil
Ground thyme
Red pepper flakes
Kosher salt: To taste.
Pepper: To taste.
Optional cornstarch slurry:
How to make slow cooker London broil recipe?
Pat and season: To begin, pat the London broil dry with a paper towel and season with kosher salt and black pepper all over.
Sear beef: Next, heat a Dutch oven or large cast iron pan on the stovetop over medium-high heat. Then, add the olive oil and sear the beef on both sides for about one to two minutes each. It should be golden brown.
Add the rest of the ingredients: After, remove London broil from the pan and place it into a crockpot or slow cooker, adding the rest of the ingredients except for the potatoes and carrots. Put the butter on top of the meat.
Cook the London broil: Then, replace the lid and cook London broil for five to six hours on high or eight to ten hours on low.
Add the veggies: When you have two to three hours left to cook, add the potatoes and carrots. Cover and continue cooking until everything is tender.
Thicken the gravy: If the juice is not as thick as you would like, make the cornstarch slurry. Just mix the water and cornstarch and add it to the gravy when you have one hour left of cooking time.
Cut and serve: After it is done, place the London broil on a serving platter and let it rest for 10 minutes before cutting. Arrange the veggies around the meat and garnish with freshly chopped parsley and gravy to serve.
How to make instant pot London broil recipe?
Sear the beef: First, pat the meat dry and season before searing it on all sides in the instant pot on the saute setting.
Fill the pot: Then, put all of the ingredients into the pot with the butter on top.
Cook the London broil: After, seal the lid and set to pressure cook for 10 minutes before letting it naturally release for 10 minutes. Remove meat and veggies to a cutting board or serving platter and cover with foil to let it rest for 10 minutes.
Make the slurry: Meanwhile, mix the water and cornstarch and then add to the gravy. Continue to saute for two minutes or until it is thickened to your preference.
Carve and serve: After the meat is done resting, carve into one-inch slices and top with gravy and chopped parsley.
Recipe variations:
Onion soup: Add a package of onion soup mix to your gravy for an intense and rich flavor.
Sour cream: Mix in a cup of sour cream for a creamier gravy.
Brown sugar: For a slightly sweet London broil, add a half-cup of brown sugar to the gravy.
Low fat: If you are worried about calories, skip the butter.
No butter: If you do decide to skip the butter, add an oil like olive oil.
Low sodium: Also, use low-sodium beef broth to lower the sodium count.
How to serve:
Slow cooking London broil may take a long time, but it is worth every minute. And it is not like you have to do anything while it cooks. The slow cooker does all the work. That is the best thing about slow cooker cuisine. Here are some delicious serving suggestions or you can share some of your own in the comments below.
Serve on top of a bed of steamed rice. Try our low-carb instant pot coconut rice recipe.
This is the perfect meal to serve with mashed potatoes, carrots, and green beans. Just mash the potatoes with milk and butter after removing them from the crock pot.
You can also serve this delicious London broil on top of your favorite pasta like egg noodles or this angel hair pasta from scratch.
Serve with a small bowl of green salad or soup for an appetizer.
Use leftovers to make stew or casserole. Try our recipe for chipotle beef stew.
Why not shred the beef with two forks and make sandwiches? Use French bread or thick potato rolls.
You could also use the leftovers to make air fryer beef empanadas.
Frequently asked questions
What is a London broil?
A London broil is typically a broiled flank steak or a top round steak although you will also find London broil referred to as a skirt steak. The term is more specific to the way it is prepared rather than the cut of meat.
London broils are usually tenderized by marinating them for several hours or overnight before searing or grilling on high heat. Then, it is cut lengthwise across the grain.
How long should you marinate your London broil?
This recipe calls for a slow cooking method, so you do not have to marinate it at all. Rather, it marinates as it is slow cooked in the crock pot.
However, if you were to cook it in the oven or instant pot, go ahead and make the marinade and let it soak for at least a few hours or overnight. Since the cooking time is faster, marinating will help tenderize it.
How long do I cook London Broil in a slow cooker?
For optimal tenderness, the meat should be cooked for about 8-9 hours on low, or 4-5 hours on high. Check for tenderness and cook more if needed.
Can I cook this medium rare?
Yes, but you will have to change the cooking time. Instead of cooking it on high for five to six hours, cook it for four hours and then check the temperature. The internal temperature at the thickest part of the meat should read 130 to 135 degrees F.
How to store leftovers:
Store: After your leftovers cool to room temperature, wrap in plastic wrap and place in an airtight container in the fridge. Be sure to eat it within four or five days.
Freeze: For the meat, you cannot finish in five days, place it into a freezer bag and it will store safely in the freezer for about three months.
Thaw: For best results, defrost the meat in the fridge the night before you plan to serve it.
Reheat: Reheating is easy. You can put it in the microwave for one or two minutes or wrap it in foil and bake it in the oven for 15 minutes at 375 degrees F.
More slow cooker recipes:
Cooking tips:
Feel free to use other vegetables for your London broil. For example, you can add corn, green beans, celery, bell peppers, turnips, or whatever else you like.
Use baby potatoes and keep them whole so they do not get soggy if you are cooking on low.
Don't skip browning or searing the beef. It really locks in the juices to make it more tender and retains more of the delicious flavors.
You can replace the red wine with balsamic vinegar or beef broth if you do not want to use alcohol.
Since you are cooking the veggies with this wonderful recipe, you do not even have to worry about side dishes.
If your cut of meat is smaller than the one used in this recipe, you will have to reduce the cooking time.
We love slow cooker recipes, because we usually add all the ingredients, and leave it for hours to do its magic. The meals turn out flavorful and very tender. Our other popular crockpot recipe is this Pot Roast with Red Wine which is always a huge hit.
The Best Slow Cooker London Broil
Ingredients
5

lbs

London Broil beef cut

3

tablespoons

canola oil

1

onion

quartered

5

cloves

garlic

minced

1/2

teaspoon

ground thyme

1/4

teaspoon

red pepper flakes

1/4

teaspoon

salt

or to taste

1/4

teaspoon

pepper

or to taste

few bay leaves

optional

2

tablespoons

Worcestershire sauce

1

cup

red wine

or beef broth

2

cups

beef broth

1

can (10 1/2 oz)

cream of mushroom soup

condensed

4

tablespoons

unsalted butter

diced

10

mini red potatoes

cut in half

1 1/2

cups

carrots

cut into 2" chunks or use whole mini carrots
Optional Cornstarch Slurry:
3

tablespoons

cornstarch

1/4

cup

water
Instructions
First, pat dry beef with paper towels and season with salt and pepper on each side.

Place a large cast iron pan or Dutch oven on the stove over medium-high heat. Once hot, add oil, and sear beef on all sides for about 1-2 minutes on each side, until golden brown in color.

Transfer the meat to an 8 qt slow cooker. Add the rest of the ingredients, except carrots and potatoes, and add the butter last on top of the beef. Gently stir to combine.

Put the lid on the crockpot and cook for 5-6 hours on high, or 8-10 hours on low.

If you want to add carrots and potatoes, add them to the slow cooker when there are 2-3 more hours of cooking left. Cover and continue cooking until tender.
Optional Cornstarch Slurry:
Combine cornstarch and water in a small bowl until cornstarch is fully dissolved. Add the mixture to the slow cooker when one hour of cooking is left. Gently stir. This will thicken the gravy. Check after 30 minutes, and if needed add more.

Once done, transfer the London Broil to a serving platter and carve. Arrange the potatoes and carrots around the roast. Garnish with fresh chopped parsley and drizzle with the gravy before serving.
Deliciousness to your inbox
Enjoy weekly hand picked recipes and recommendations