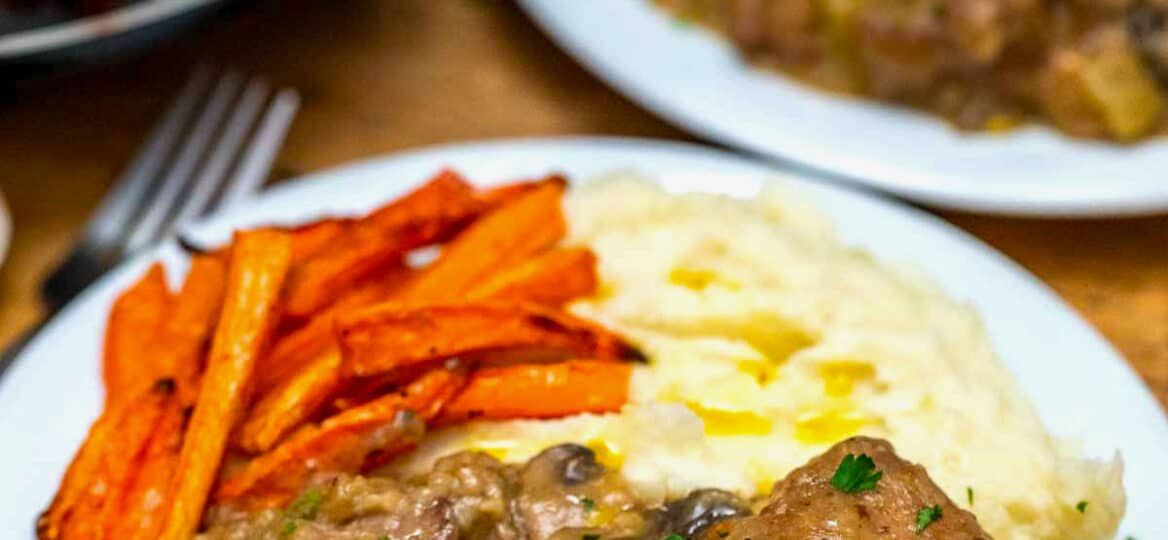 Slow Cooker Swiss Steak is fork-tender, tasty, and perfect for mashed potatoes! Prepare this using the crockpot for something rich, flavorful and easy for dinner!
I like that this dish is meaty, and it is never dry. It is tender and the gravy is flavorful, too! If you like beefy dishes like this, you can also try my recipes for Guinness Beef Stew, Beef Tips and Gravy, and Creamy Beef and Shells!
Crockpot Swiss Steak Recipe
Slow Cooker Swiss Steak is perfect for the family! Even picky kids love this dish! And as a home-cook, it is always a plus if a dish impresses them. As a family, we all love this because it is tasty.
I love how we can use tough cuts of meat for this recipe and still get fork-tender results! Tough cuts are generally cheaper. So, if a recipe makes them as if they were cooked at a restaurant, then, it is a winner in my book!
It is best to allot hours for this one. But, don't worry because using the crockpot is hassle-free. You can start preparing it in the morning and check just in time for dinner. The only challenge is the waiting game! It will smell so good and irresistible as it cooks!
What is Swiss Steak?
Swiss Steak is a classic beef dish wherein the beef is prepared by "swissing" it. Simply put, you pound on it to make it thinner. This step ensures that the meat will be tenderized well.
It also has a gravy. Some versions have tomatoes in the sauce. But, for this recipe, the gravy has the cream of mushroom soup as the base.
This classic dish has been around since the 1930s. It became even more popular in the 1940s when an aluminum foil manufacturer used it to promote the use of their product.
Surely, this dish is a favorite among many families then and now. It is delicious, easy to prepare, and hearty, that's why!
What's the difference between Swiss steak and Salisbury steak?
Both dishes have gravy and are equally delicious. The big difference is how the meat is incorporated.
Ground meat shaped into a patty is what you have in a Salisbury steak. While for this recipe of the Swiss steak, the meat is a solid piece of beef.
How to Make Slow Cooker Swiss Steak
Prepare the flour mixture: Combine the flour with the rest of the spices.
Coat: Coat the meat with the flour mixture.
Brown: Heat butter in a skillet and brown the meat.
Cook: Transfer the meat into the crockpot. Then, add in the vegetables. Add in the liquid ingredients. Set it to cook for 8 to 9 hours on LOW.
Serve: Garnish with parsley, then, serve with your favorite side dishes.
Best sides to serve with Slow Cooker Swiss Steak:
You can serve it with noodles, mashed potatoes, or rice. Or, serve it with these dishes:
How to Store it:
Refrigerate: Put it in an airtight container once it has cooled already. Consume within 3 to 4 days. You can simply reheat it in the oven.
Freeze: Use a freezer bag to store it and it will stay good for 3 months in the freezer. Thaw overnight before reheating.
Recipe Tips:
Aside from using round steaks, you can also use chuck steaks.
While using canned cream of mushroom soup is convenient, you can also make it from scratch. Follow this homemade cream of mushroom soup recipe.
Use a meat mallet to thin out the beef cuts.
Make sure to brown the beef! Do not skip this step as it adds a deeper flavor.