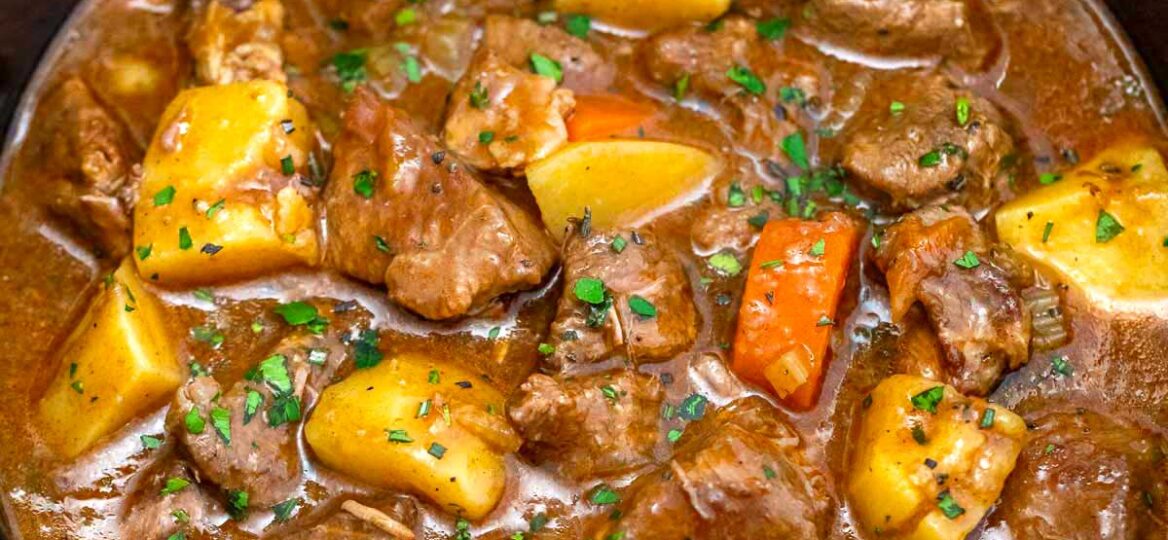 Slow Cooker Guinness Beef Stew [Video]
Slow Cooker Guinness Beef Stew can be prepared hassle-free and with optimum richness! This hearty traditional Irish dish is perfect for St. Patrick's Day!
I love the crockpot when making soup recipes like this – it is efficient and easy to use! If you love the crockpot as I do, then, you will also appreciate these recipes for Hot and Sour Soup, Sloppy Joes, and Whole Chicken!
Crockpot Guinness Beef Stew
Prepare Slow Cooker Guinness Beef Stew in the background as you go around your day preparing for this year's St. Patrick's Day! No need to babysit the pot for this, all you need is to set it and forget it for some time.
It is as easy as it gets, once you have browned the meat, then, let the crockpot do the rest. If you are looking for something flavorful to serve, this is the dish you would want may it be St. Patrick's Day or not.
This dish is simply rich and hearty! Aside from the chunks of tender meat, you get various vegetables, too. The base is also made rich with the special ingredient that this stew has, the beer!
So, if you are looking to complete your menu for this upcoming St. Patrick's Day, then, include this soup recipe!
How to make Slow Cooker Guinness Beef Stew
Brown: Season the meat in salt and pepper and sprinkle some flour on the chunks. In a skillet on the stovetop, brown the meat chunks in a small amount of oil until every side is done. Do this in batches.
Deglaze: Set the meat chunks aside. Then, add a little amount of the broth and scrape off bits and pieces that remain in the skillet. These are flavorful so getting all of those will add more intensity to the flavors. Use a wooden spoon for this.
Sauté: Using the same skillet, sauté the aromatics in butter.
Set: Put everything in the crockpot, cover tightly, and set it to cook for about 4 hours on HIGH or about 8 hours on LOW.
Serve: Garnish with parsley then, serve warm.
What kind of Guinness do you use for stew?
Use the extra stout as it is more flavorful. It is heavily hopped, and the roasted barley gives it the deep ruby red color. It works pretty much like how roasting the coffee beans extracts more coffee flavor.
You may be able to have draught on hand instead and are wondering if you can use it. For some, it is not as flavorful and tastes bitter while for others, they think it is creamier and smoother.
As a rule of thumb in cooking with alcoholic drinks, use the ones that you would drink yourself. So, give both a try and see for yourself. Do not worry about the alcohol content because most of it will boil off anyway.
What beef cut is best to use for Slow Cooker Guinness Beef Stew?
Since it will take hours of cooking to extract all the flavors, you do not need premium beef cuts for this. Chuck roast or shoulder are popular ones in this kind of dish. They are affordable and have enough marbling that keeps the meat moist.
How to Store:
Refrigerate: It tastes better the next day, so, you may want to refrigerate it first once it has completely cooled. Storing leftovers is good for up to 4 days. Reheat on the stovetop when ready.
Freeze: Put portions in freezer bags and freeze for up to 3 months. Leave out the veggies if you can as they will not freeze too well and turn mushy.
Recipe Tips
Serve it with mashed potatoes, your favorite bread, or some grains.
A good substitute for the beer is red wine.
To thicken, you can add a slurry of cornstarch, or prepare a roux of butter and flour and mix it in.