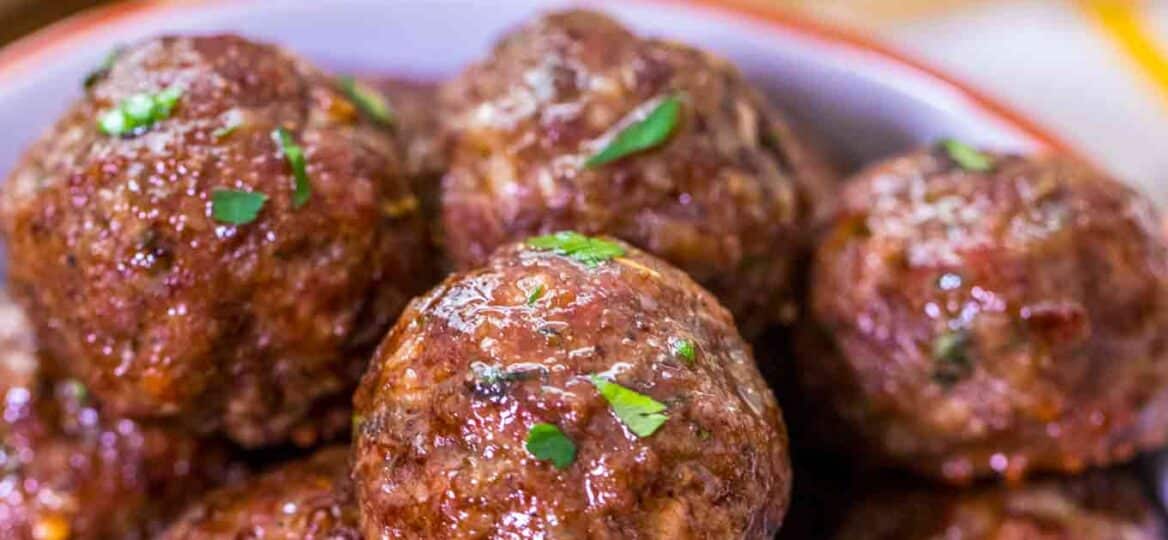 Easy Homemade Meatballs Recipe [Video]
Homemade Meatballs are so simple and easy to make that you will never ever again use store-bought ones. With their juicy texture and slightly salty taste, it'll bring Italy straight to you.
Whether it be pasta, rice, or even in soup, easy meatballs will always be the perfect kind of main part of any dish. Are you looking for more ways to spice up dinner? Look no further Magiano's Meatballs Recipe- COPYCAT, Bison Meatballs, and Instant Pot Italian Meatball Soup are other great choices that we love.
I have always loved meatballs especially eating them with some sort of pasta. Having these homemade always beats the store-bought ones because of their fresh taste. Not to mention the huge bonus of not having to thaw them after taking them out of the freezer.
This classic recipe reminds me of how my grandmother used to make them. It tastes authentic and will rival that of your favorite Italian restaurant!
She would always serve them with some kind of side salad and rice. I kept the same ingredients and steps just like my grandmother used to make them. The combination of ground pork, ground beef, cheese, and fresh herbs makes this dish irresistible.
Also, I have also found that eating them with a side of mashed potatoes tastes wonderful. My grandmother will be proud when she finds out that I'm making these at home.
In about 30 minutes, you will end up with a delicious, homemade dinner for the whole family to enjoy. You can serve them as appetizers, on sandwiches, subs, lasagna, or on top of spaghetti!
In addition, the recipe is incredibly easy to double or even triple so making larger batches to have for later is extremely simple. Freezing them is not a problem because they are easy to store and easy to thaw.
Ingredients for homemade meatballs
Meat: for enhanced flavor, I use a blend of meats: ground beef and ground pork (80 to 85% lean). However, you can make them with only ground beef. Also, I highly recommend using higher fat meat for a juicier texture.
Dairy: milk (preferably whole milk) and Parmesan cheese.
Breadcrumbs: feel free to use your favorite type.
Worcestershire sauce
Seasonings: Italian seasoning, red pepper flakes, garlic powder, salt, and black pepper.
Beef broth
Sweet onion
Fresh parsley
Eggs: Don't skip them, as they hold the meatballs together.
Freshly minced garlic
How to make homemade meatballs?
Preheat the oven: Start by preheating the oven to 400 degrees Fahrenheit.
Combine the ingredients: Once preheated combine in a large bowl all ingredients and mix gently with your hands. Use a food processor to fine crumbs.
Roll them: Next, take some of the meat and roll it into the shape of a ball that is about an inch in diameter.
Bake: After that, arrange meatballs on a greased baking sheet and place them in the oven. Keep them in the oven for about 25 to 30 minutes.
Serve: Enjoy them warm with some marinara sauce and spaghetti.
Recipe Variations:
Tips to keep meatballs juicy:
You can make meatballs from any ground meat (beef, pork), but the one with a higher fat content will produce better results.
2. Combine Different Meats
For great flavor and juicy texture, we like to use a blend of pork and beef. This results in very juicy, tender, and flavorful meatballs.
3. Use Cold Ingredients
While in many other recipes you might be used to have all the ingredients at room temperature, in this case, cold ingredients work best. This way, you are preserving the fat from not melting before its being transferred into the oven.
4. Add Moisture
This is a very important tip, as no one likes, dry and rubbery meatballs. Add milk, eggs, bread crumbs, and broth will add moisture to the protein and make the meat fluffier, airy, and super moist.
6. Add Cheese
We like to add a small amount of grated parmesan cheese. You can't really taste the cheese, but what it does is it adds more fat, it acts as a binder too and it adds more moisture, resulting in softer on the inside meatballs. Worth mentioning that it adds great flavor too, and an authentic Italian flavor.
6. Do NOT Over-mix
You might feel tempted to work your way quickly through the step of combining all the ingredients. However, it is very important to take your time and mix everything gently. Overbeating the ingredients will result in tougher meat.
7. Bake in a Pre-heated Oven
You want the oven to be pre0heated and hot. This way, once you add the meatballs, the outside will cook quicker, becoming like a crispy shell. This will help maintain the center juicy and moist.
Frequently Asked Questions:
How do I know if the meatballs are done?
Take a meat thermometer and make sure that their internal temperature is 165 degrees.
How long does it take to make them?
If you combine the preparations time with the cooking time it takes about forty-five minutes. The prep time only takes about fifteen minutes while the cooking time takes about 20 to 25 minutes.
Why are my meatballs tough?
No one likes dry metaballs that are hard to chew, and sometimes it can be really frustrating when you spend time making your own and the end result is not as expected. There are many factors that can alter the texture and create a tougher meatball.
For example, using very lean meat, over-mixing the ingredients, and not using binders like milk and eggs that add moisture. To ensure that you make the best ever homemade meatballs you put together some tips for you to follow.
How to make fresh bread crumbs?
Making breadcrumbs at home is super easy. Follow these steps:
First, tear up into slices some leftover or stale bread (3 to 4 days old).
Next, using a food processor, blitz them into fine crumbs.
Also, toasted bread can be used. Simply, toast the bread slices, and then crumble them using a food processor.
How to make homemade marinara sauce?
To truly experience authentic Italian flavors, I recommend making the marinara sauce at home using the freshest ingredients. Serve it with spaghetti and meatballs – a true Italian dish!
Here is the link where you can learn how to quickly make the marinara sauce from scratch.
Can I freeze them?
Absolutely! Homemade meatballs are incredibly easy to freeze. Once they are cooled down place them in the freezer. Also, they can stay fresh for up to 6 months inside the freezer while inside a refrigerator they will only stay fresh for a few days.
How to reheat baked meatballs?
You can reheat them by using the oven, microwave, or even a pan. If they are straight out of the freezer it's going to take a little longer for them to thaw all the way through. However, if you take them out of the freezer and place them in the refrigerator the night before, then it will take less time to reheat.
Oven: First, place them all onto a baking sheet with the oven preheated to 30o degrees Fahrenheit. Then, place them in the oven for about fifteen minutes. It will depend on how many you are heating, but fifteen minutes should do the trick.
Microwave: Place the meatballs on any plate or bowl in a microwave for three to four minutes and enjoy!
Pan: Spray any cooking oil on the pan and place the meatballs in the pan. Using medium heat gradually check them and their internal temperature. Make sure that the meatballs are 165 degrees on the inside because that means they're done.
More beef recipes to try:
Recipe tips:
Always use the freshest ingredients. They will make a ton of difference!
You can use other fresh herbs as well such as fresh basil, oregano, or thyme.
As stated above, do not use low-fat percentage ground meat. I tend to use 80-85% lean fat.
Parmesan cheese adds a lot of flavors as well, so do not be afraid to use it!
In addition, do not overwork the meatballs mixture.
Grease the baking sheet with some olive oil.
Also, for even cooking, ensure to form about the same-sized balls.
Easy Homemade Meatballs
Ingredients
1

lb

ground beef

preferably higher in fat

1

lb

ground pork

preferably higher in fat

1

teaspoon

dried Italian seasoning herbs

1/4

teaspoon

red pepper flakes

1

teaspoon

garlic powder

1/2

cup

breadcrumbs

1/2

cup

grated Parmesan cheese

1

tablespoon

Worcestershire sauce

1/3

cup

milk

1/3

cup

beef broth

1/2

sweet onion

finely diced

1/4

cup

chopped parsley

1

egg

beaten

1

tablespoon

minced garlic

1/2

tablespoon

kosher salt

or to taste

1/2

teaspoon

ground black pepper

or to taste
Instructions
Preheat oven to 400 degrees F.

Coat a baking sheet with cooking spray and set it aside.

Add all the ingredients to a large bowl, except meat, and combine.

Add ground beef and pork and combine with your hands or using a spatula. Do NOT overmix.

Take about 2 tablespoons of the beef mixture and roll it into a 1-inch ball. Repeat with the rest and arrange onto the prepared baking sheet.

Bake for about 25-30 minutes. The internal temperature of the meat should be 165 degrees F.

Remove from oven and let them rest for 5-10 minutes before serving.

Serve them on pasta with marinara sauce, or make subs.
Deliciousness to your inbox
Enjoy weekly hand picked recipes and recommendations