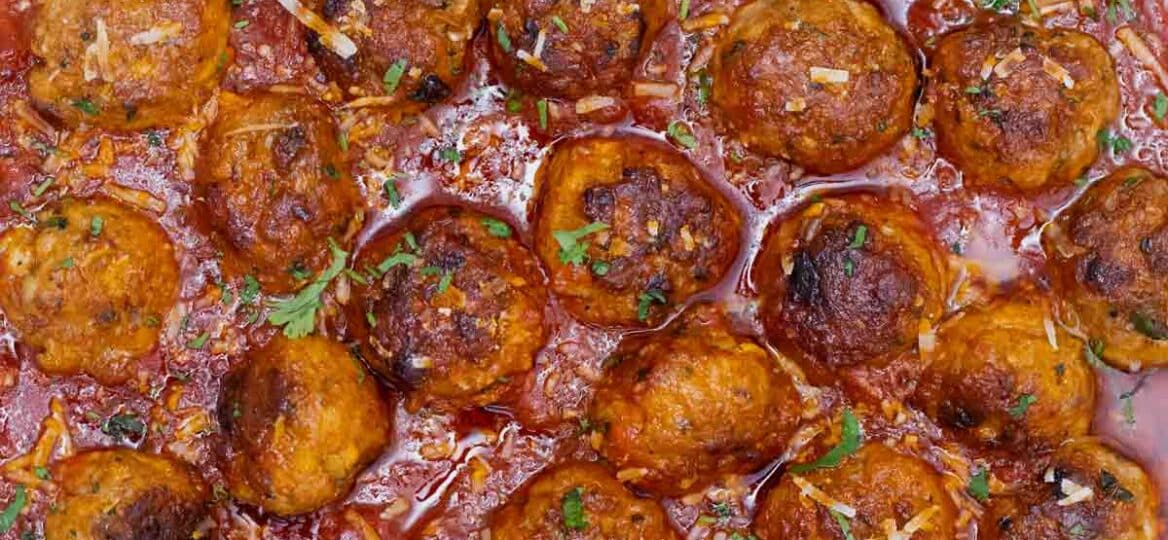 Turkey Meatballs Recipe [Video]
Turkey Meatballs is a lighter version of the classic Italian dinner staple! Pile several over spaghetti, use them to fill subs, enjoy with mashed or roasted potatoes, or serve as an appetizer at your next gathering.
We love meatballs in this house! They're so easy to make and always a hit, especially with picky eaters. Aside from drenching in marinara sauce, they're also fantastic in this Swedish or BBQ crockpot version, or enjoy them in these cheesy zucchini boats!
How to Make Homemade Turkey Meatballs
Turkey Meatballs are a lean but equally delicious variation of the classic beef. They're so tender and juicy, with layers of flavor from the spices, parmesan, and herbs, and Worcestershire in the mixture. If you're craving Italian comfort food tonight, this dish fits the bill.
Because this recipe makes a lot of meatballs without much effort, it's a great dish to make if you have to feed a crowd. And no matter who you serve this to, be ready for them to ask for seconds. Don't forget to add more parmesan on top!
Are turkey meatballs healthier than beef?
They're both healthy meats that are packed with protein, healthy fat, and lots of vitamins and minerals.
However, turkey has much less saturated fat, so if you're focusing on heart health, it can be a better choice than beef. Its fat-free variety also has the lowest calories among most meats, which makes it a good option if you want to lose weight.
How to Make Homemade Turkey Meatballs?
Combine the seasonings. Mix the crumbs, cheese, and onion with herbs and spices.
Make the meat mixture. To that, blend in the Worcestershire sauce, egg, and ground meat. Chill for at least an hour to make them easier to handle.
Shape. Form the meat into balls with a diameter of around 1 ¼ inch.
Sear. Brown the meatballs on all sides in a pan with hot oil.
Cook in the marinara. In the same pan, simmer the marinara then arrange the meatballs until they're covered in sauce. Cook for up to 20 minutes until fully done.
Serve. Enjoy hot with more parmesan, chopped parsley, and a splash of olive oil on top.
Recipe Variations:
Use other meats: Ground chicken, pork beef, or meat substitutes will work for this recipe, too!
Try other sauces: Instead of marinara, try coating the meatballs with barbecue sauce! You can also give them an Asian twist by simmering in some General Tso Sauce or Sweet and Sour Sauce. Replace the herbs with powdered garlic and ginger, or keep them plain with salt and pepper.
Stuff with cheese: Put a cube of mozzarella or cheddar inside the balls for a cheesy surprise! You can also shred your favorite cheese and add about 1/2 cup to the mixture. We enjoy these with some sharp cheddar cheese or Pepper Jack cheese!
Make them spicy: For more kick, add a tsp of cayenne or double the amount of pepper flakes.
How do you know when Turkey Meatballs are done?
Aside from turning a beautiful golden brown, check the internal temperature as well. They're done once the temp hits 165F. You can also check by cutting them in half to see if they're cooked all the way to the middle.
How do you keep Turkey Meatballs from falling apart?
One, chill them before shaping. This allows the balls to hold their shape until they're in the pan. You can also dust them with a little flour before searing.
Why are my Turkey Meatballs rubbery?
You probably overworked the meat mixture or packed them too tightly.
Handle the mixture just until everything is blended. You can also oil your hands lightly before shaping them so they don't stick and you don't have to knead them too much.
Can I make these in advance?
Yes, once they're shaped, you can freeze them. Arrange them in a flat pan with small gaps in between so they don't stick together. Once they're frozen, transfer them to a freezer-safe baggie.
When you're ready to cook, thaw overnight. Continue the recipe from the searing step and enjoy!
How to store:
For leftovers, cool completely before transferring to air-tight storage containers or bags. Consume within 5 days or earlier.
How to freeze:
Transfer the cooled leftovers to a freezer bag or container. Freeze up to a month.
How to reheat:
To reheat, you can microwave them until hot, or heat them in a pan with more marinara sauce.
More Turkey Recipes:
Recipe Tips:
Leave them in the fridge for up to 24 hours after mixing. The chilled is easier to shape and helps you avoid overmixing.
Sear in batches. This allows them to get a nice, brown crust instead of steaming together.
Try using seasoned Italian breadcrumbs for a flavor boost!
Deliciousness to your inbox
Enjoy weekly hand picked recipes and recommendations