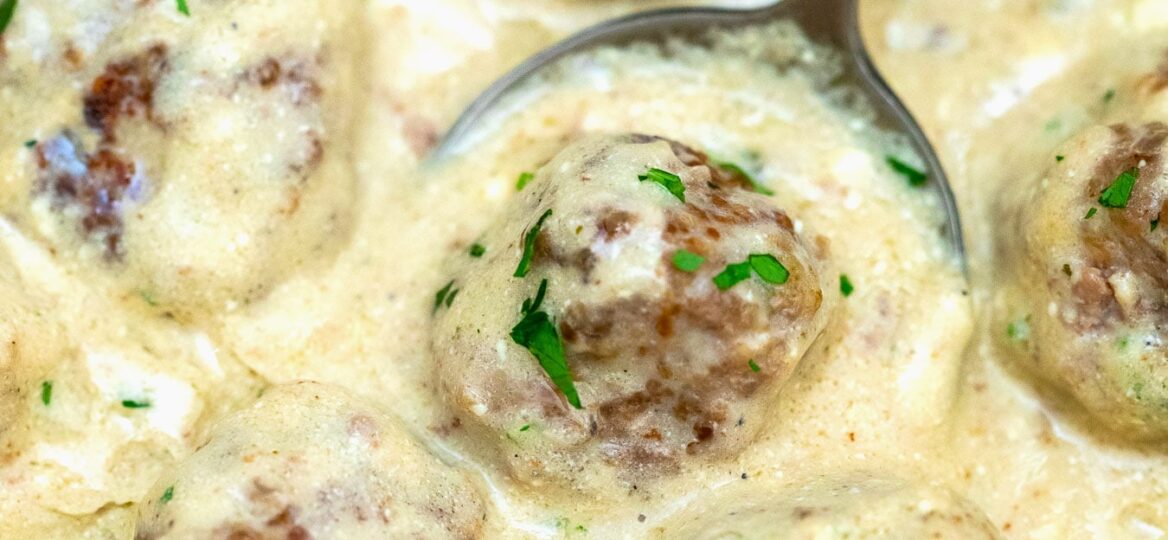 Swedish Meatballs Recipe [Video]
Swedish Meatballs are juicy, tender, and tasty! Kids and adults will surely love them with rice, mashed potatoes, or noodles! Make them using this easy recipe!
Going to IKEA has meant eating this dish off their menu! If you want more meaty entrees like this, feel free to browse my recipes for Beef Tips and Gravy, Bacon Wrapped Pork Loin, and Bacon Cheeseburger Meatloaf!
Swedish Meatballs Recipe
Swedish Meatballs made from scratch are so good that I prefer to keep them all for myself! I can even eat them without the delicious gravy. But of course, with the gravy, the entree is complete and perfectly seasoned.
They are a lot like their Italian counterpart but there are a lot of notable differences, too. They are both loved by my family! But we have done Italian a lot of times already and this recipe is a welcome, delicious change.
This dish has become a hit in Sweden. But did you know that it came from Turkey? It was King Charles XII, who once lived in Turkey, brought it home to the Swedes.
It turned out to become IKEA's best-selling meal worldwide in their restaurant. It might even be the most popular Swedish food in the world, not just in IKEA. Serve it with boiled potatoes and lingonberry jam for an authentic Swedish experience!
What is so special about Swedish Meatballs?
Instead of the usual tomato-based sauce of its Italian cousin, this dish has the meatballs drowning in creamy gravy. Even without the gravy, the mounds of beef and pork combined are already juicy and tasty.
Yes, you read that right! They are made with two different kinds of meat. But what makes them Swedish is the addition of nutmeg and allspice.
How to make Swedish Meatballs:
Watch the recipe video attached above for a quick and easy to follow tutorial. The general steps are as follows:
Cook the onions: In a large skillet, heat half of the olive oil and sauté the onions in it.
Combine: In a large bowl, combine the rest of the ingredients except for the remaining olive oil and gravy ingredients. Add in the onions that you cooked earlier.
Roll: Scoop out the mixture to roll into balls of about 1 1/4 to 1 1/2 inches. This recipe makes about two dozen.
Cook: In the same skillet, add more olive oil and then, cook the balls. When evenly browned already, set aside and drain the fat.
How do you make IKEA meatball Sauce?
This recipe is a copycat of the IKEA version. To make the sauce, just follow these steps.
In the same skillet, make a roux by melting the butter and whisking in the flour.
When the flour has browned already, add slowly the beef broth and heavy cream.
Then, add in the rest of the ingredients listed in the recipe card below.
After that, you can combine everything and garnish with parsley before serving.
How to Store:
Refrigerate: They can last for 3 to 4 days in the refrigerator, stored in airtight containers. The beef gravy, on the other hand, can last for one to two days.
Freeze: Both the meatballs and the sauce may last for 3 months in the freezer. I suggest that you store them separately though. Flash-freeze them for about an hour or two on a tray. When they are already frozen, you can put them all in one freezer bag. The gravy, on the other hand, can be directly put in the freezer bag. Thaw them both before reheating.
Recipe Tips:
It pays to have a meat-baller when doing this recipe. It is less messy, and the balls are more uniform in size.
If you do not have lingonberry jam, you can try accompanying this with cranberry sauce.
When shaping the mixture with your hands, it can get sticky. What you can do is to chill for about half an hour before rolling with slightly wet palms.