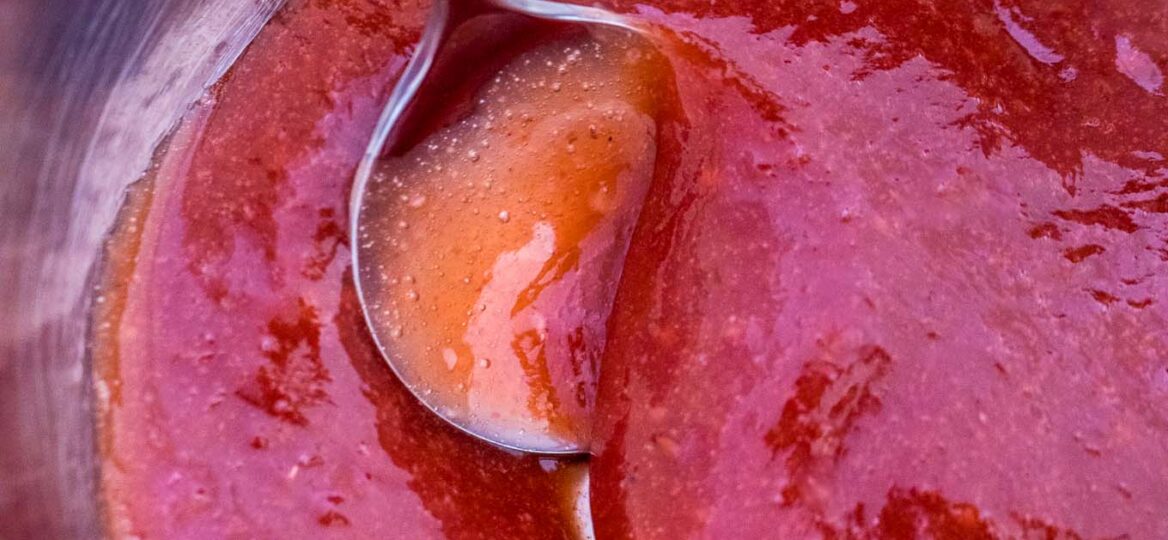 Sweet and Sour Sauce Recipe [video]
Sweet and Sour Sauce is a perfect blend of yin yang flavors! It is great to use on various dishes, as it balances the tanginess of the fruit juice and the sweetness of sugar!
If you are craving some other Chinese flavors, go ahead and make some of our favorite dishes like the Hunan beef, Szechuan chicken, and Moo Goo Gai Pan along with this dip.
Easy Sweet and Sour Sauce
Sweet and Sour Sauce is a versatile dip reminiscent of Chinese takeout! It has a fruity acidic base that is in perfect harmony with sugar. It is so versatile that you can use it in a wide array of dishes, such as chicken, pork, shrimp, or fish. You name it!
Learn how you can make this right in your kitchen for a healthier homemade version of those that are commercially available. Also, it will be much cheaper and healthier than the store-bought version.
Did you know that it only takes about 5 minutes to make this? You only need a few ingredients and then utilize this dish in a ton of other recipes. This is how efficient this recipe is!
What is sweet and sour sauce?
This is an Asian inspired dish, that is commonly used in many Asian dishes. It is made with pineapple and orange juice sweetened with sugar, with tanginess enhanced by adding in vinegar. The soy sauce adds depth to it, while the ketchup adds that hint of Western flavor.
You can also add some spices to this recipe to make it more savory.
How to make the sweet and sour sauce?
This easy recipe requires a few simple steps described below. Also, feel free to watch the short video tutorial attached.
Combine the following in a saucepan: pineapple juice, orange juice, soy sauce, light brown sugar, white sugar, rice vinegar, apple cider vinegar, ketchup, and garlic powder.
Then, let the mixture of ingredients simmer over medium heat.
To thicken, add a slurry by combining water and cornstarch into the mixture. Stir well.
Next, let the mixture lightly boil. Have a taste and check if anything needs adjusting according to your liking.
Once the desired consistency and taste have been achieved, let it cool and then, serve.
How to make the sweet and sour sauce for chicken?
Just use the same recipe, and incorporate the chicken with it. It tastes exactly the same!
Also, to make it for egg rolls, follow the same steps. It is a very versatile dip and can be used just about anything fried. Egg rolls go really well with this sauce.
How to make McDonald's sweet and sour sauce?
To make a homemade version for this, use apricot and peach preserves in place of the pineapple and orange juices. Instead of sugar, use light corn syrup. And, instead of ketchup, use yellow mustard.
Basically, follow the same procedure but with these slight changes. The expected mixture will be a bit stiff and blending might help.
How to make it without cornstarch?
Simply boil it for a longer period of time, without the cover. Simply let it thicken as the sugar caramelizes.
Or, use flour! It can have the same thickening effect as cornstarch.
How many calories are in it?
A cup contains up to 230 calories.
How to make a healthier sweet and sour sauce?
Just by making it at home and not relying on the store-bought version makes this healthier already. It has no preservatives and you know what goes into your dip, not some chemical compound you cannot even pronounce.
But for this recipe, you can substitute fresh garlic instead of powder. Also, if you choose to put in the red food coloring, choose the all-natural kind – the one made from beets.
How to store it?
Once it has completely cooled, you can transfer this to an airtight container and refrigerate it. Use this up within two to three weeks.
Can you freeze it?
Yes! It freezes well and can stay good for up to 3 months. When you reheat it, it might need some adjusting with the vinegar and sugar so taste it first and see what needs to be added.
Recipe Tips
When using the cornstarch slurry, be sure to use the pineapple juice in the can. Freshly squeezed pineapple juice has components that may degrade the cornstarch.
Also, you can add some chili peppers for a spicier kick.
When freezing, it is best to keep it in smaller portions so that when you reheat, you will only thaw the ones you need and not the entire batch.
Also, you can make it red in color. The addition of ketchup turns it red, but if desired, add in a few drops of red food coloring. In addition, for a spicier kick, add some sriracha or tabasco, it will be red but spicy!