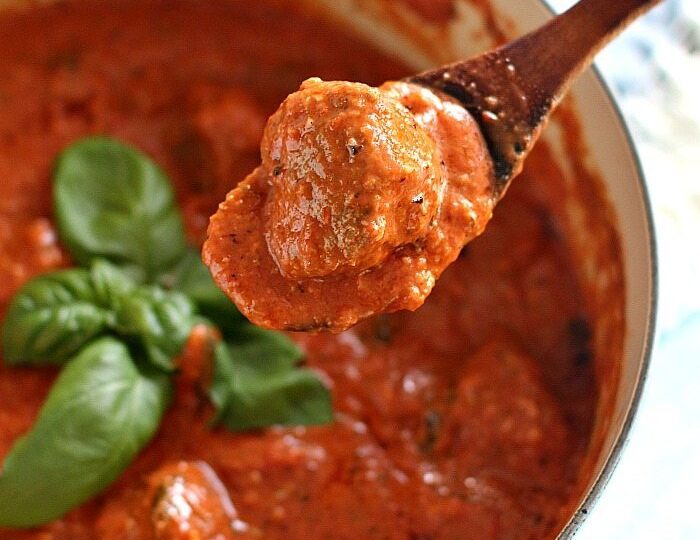 Bison Meatballs are loaded with garlic and jalapeños, simmered in a spicy and creamy pasta sauce, this meal is also Gluten Free.
We love Meatballs dishes, they are rich and tasty. Our other favorite once are Mini Meatball Pies and Instant Pot Italian Meatball Soup.
Bison Meatballs
I made these amazing Bison Meatballs in the middle of the week, and I made such a huge pot that we have leftovers for a few days. Tasty leftovers = happy husband = happy me. It was my first time making Bison Meatballs, and I must say that we loved them. My husband is a huge fan of Italian dishes, well, I am too, so I promised him some meatballs in tomato pasta sauce for a long time. Finally I delivered the promise.
What I love about this dish is how easy it can be made. Also, its perfect for weeknight dinners, or even when you have company over. A big pot of creamy, garlicky and spicy tomato sauce with delicious meatballs, what's not to love here!?
The Bison Meatballs turned out amazing, they have a chewier texture than classic meatballs. Also, the meat is very lean. In addition, I added TONS and TONS of garlic to the meat, and jalapeño peppers for a hot kick. Then, I added a cup of ricotta to make them softer. Really, hand down, they turned out amazing.
First, I baked them in a very hot oven and after that I added them to the simmering pasta sauce and everything went into the oven again. This is my type of comfort food, also this dish is so flavorful, yet healthy and its also Gluten Free. Gotta love all that!
Can you freeze the Meatballs?
Yes, the Meatballs freeze well.
Layer them into an aluminum foil pan, after that wrap it tightly with plastic wrap.
Then wrap it in aluminum foil and freeze for up to 3 month.
To reheat add additional sauce on top and place in the oven at 350F for about 20-30 minutes or until hot.
I am literally addicted to my Dutch Oven from Le Creuset. I use it a lot and I just love serving comfort food straight from it. The pasta sauce that you see was made with store bought marinara sauce, that I flavored with tons of garlic, jalapeños, dry and fresh basil. The sauce is creamy, spicy and tangy, its perfect with the meatballs. The Bison Meatballs also get to absord some of the sauce which is fabulous. This is the type of dish that tastes even better the next day when all the flavors get a chance to settle. I served it over pasta with fresh parmesam cheese – delightful!
If you love comfort food that is easy to make and unbelievably flavorful with a spicy kick this is the dish you have to try and if you want a chicken version, check this one!