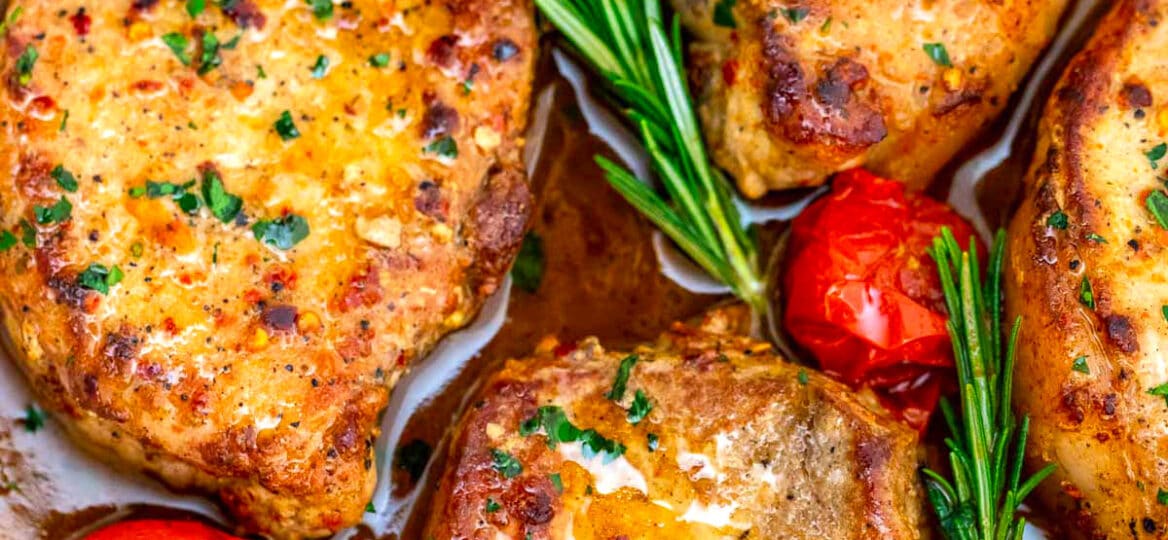 Skillet Pork Chops – 30 Minutes Only!
Skillet Pork Chops are pan-seared to perfection and then drenched in a sweet and savory sauce! Enjoy this comfort food at home with this easy recipe!
This protein-rich dish is a nice complementary dish to fiber-rich ones like the Overnight Salad, Southwest Salad, or Homemade Coleslaw!
Easy Skillet Pork Chops Recipe
Skillet Pork Chops are juicy and delicious, just perfect for a quick lunch or dinner! So simple, yet the outcome is a homestyle dish that your family will surely love.
You will be amazed at how a lean piece of meat can still be juicy and flavorful with this easy recipe. Everything is balanced and the flavors enhance the pan-seared meat.
I love the tomatoes and apple cider vinegar in this. They work wonderfully with the maple syrup and sugar. And the rosemary and fresh parsley give it a feel of freshness.
With only a few ingredients required, this recipe is ideal when you are in a hurry. Besides, you will be using only one skillet for this dish. Even the clean-up after cooking it is easy!
What is the best pork cut to use?
This recipe is ideal for thick cuts like pork chops, tenderloin, or steak, either bone-in or not. Bone-in ones are usually juicier because fats are surrounding the bone.
But with this recipe, it does not matter since any thick lean meat will still be juicy with the sauce.
How to make Skillet Pork Chops
Prepare the meat: Before cooking, season the meat with salt. Then, heat some oil on the skillet. Once hot enough, pan-sear the slices, waiting for each side to caramelize for about 2 to 3 minutes. Sear all sides, especially the fatty portion if there is any.
Cook further: Lower the heat, cover the pan, and cook further. Check for doneness starting at the 5th-minute mark.
Cook the tomatoes: Once done, remove the cooked meat and set aside. Then, quickly toast the tomatoes in the same pan.
Make the sauce: Using the same pan, add in the sauce ingredients except for the butter. Add in a few rosemary leaves. Using a wooden spoon, deglaze the pan. Then, stir in the butter.
Combine: Put the meat back into the pan, with or without slicing, then baste with the sauce. Garnish with fresh herbs, then serve.
How can you tell if Pork Chops are done?
The thermometer must read about 145 degrees Fahrenheit for food safety. Stick the thermometer to the thickest part to measure properly. Or, slice and check if the juices are already clear, not pink.
Why are my Pork Chops tough?
It is a sign that you have overcooked them. Hence, make it a point to check for doneness now and then. Investing in a thermometer is a big help with this since you do not want to undercook them, too.
How do you tenderize pork chops?
Here are some suggestions:
Using a mallet: Break up the tissues through physical force.
Marinating: Using a marinade that has mildly acidic components like yogurt can help breakdown the tissues.
Brining: This can also help but be cautious not to brine for too long or it will be too salty.
How to make Pork Chops in the Instant Pot?
Using the Instant Pot is great for thick cuts. Check out our Instant Pot recipe in this link.
How to grill them?
Grilling is another way to enjoy them. Here is the link for the recipe for grilled pork chops.
What to serve with:
How to store leftovers:
Refrigerate: Put them in an airtight container and refrigerate for 3 to 4 days.
Freeze: Place leftovers inside freezer bags and freeze for 3 to 4 months.
Reheat: To reheat, simply thaw and reheat on the stovetop until the internal temperature reaches 145 degrees Fahrenheit.
Recipe Tips:
Make sure that the meat is at room temperature to ensure uniform cooking.
When buying meat, choose the thick ones since these do not dry out quickly.
Remember that when checking the temperature with a thermometer, measure it from the side and not from the top to obtain a more accurate result.