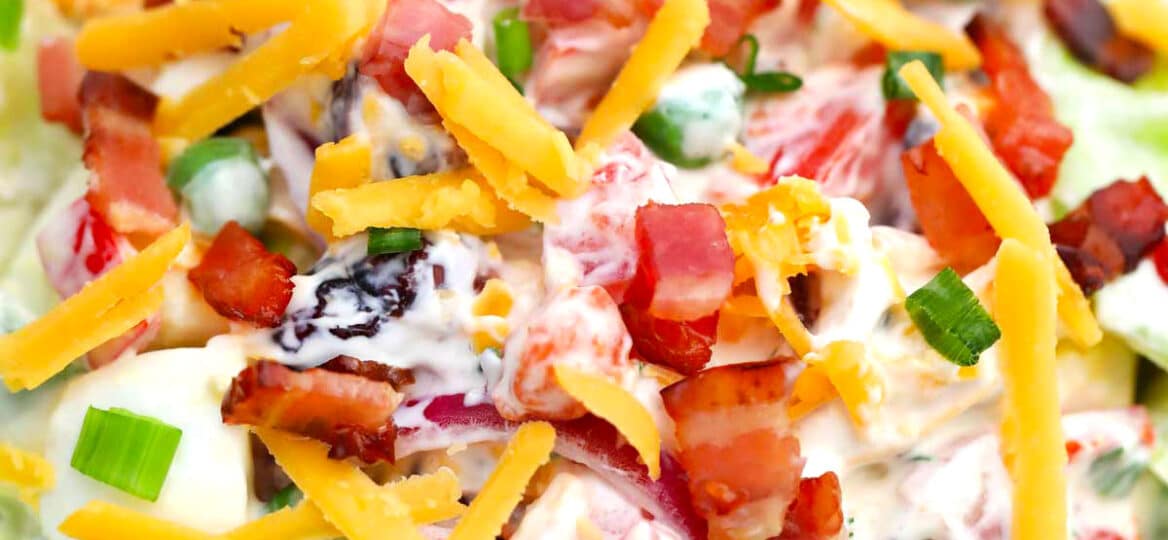 Overnight Salad or Seven Layer Salad
Overnight Salad, also known as seven-layer salad, is a classic with its ease of preparation and abundance of delicious flavors and textures!
This is a refreshing side dish that you can serve easily even when you have a huge family! It pairs well with almost any main entree like Air Fryer Pork Chops, Crispy Baked Chicken Legs, and Slow Cooker Lazy Lasagna!
Seven Layer Salad Recipe
This Overnight Salad recipe has the traditional seven layers and more! Aside from the crunchy vegetables, it has protein from the eggs and bacon. So, this side dish could very well be the main dish if you would prefer so since it is so hearty.
I am pretty sure that we all have this recipe in our childhood memories! When I was young, I used to help my mother create this awesome dish!
What sets this apart from the traditional recipe is the dressing. It has buttermilk and savory spices in it while the traditional one is based on mayonnaise and sugar.
When arranged in a glass bowl, you get to see all those ingredients that look beautiful and appetizing. Hence, this makes this dish nice to serve at parties!
What is Overnight Salad?
It is a traditional side dish that is served with layered ingredients, not tossed. The primary ingredient of the dressing is mayonnaise and sometimes with sour cream.
This has been in the regular menu rotation of households in America since the 1950s and it is believed to have originated from the South.
Wondering why it is called as such? Because you can make it the night before and serve it the next day without wilting!
What is in a layered salad?
This is the breakdown of this recipe:
iceberg lettuce: provides crunch more than anything else, refreshing because of its water content
hard-boiled eggs: add protein which makes you feel fuller for longer
green bell pepper and sweet red pepper: add a pop of color, a bit of sweetness, and crunch
red and green onions: pungent and add a bit of bite
frozen peas: adds color and carbohydrates
diced tomatoes: add color, a bit sweet and sour at the same time
cheddar cheese: adds saltiness that keeps everything tasty and balanced
dried cranberries: add texture and a mix of sweetness and sourness
crispy bacon: adds texture, smoky flavor, and a mix of sweetness and saltiness
buttermilk dressing: a creamy mixture that is savory and tangy at the same time
How to keep 7-layer salad from getting soggy?
Make sure that the ingredients are dry, especially the lettuce. You can use a spinner to ensure this. You can also use a towel for the lettuce to soak up excess moisture.
And, seal the top with the creamy dressing well to ensure that everything remains fresh and crisp.
How to make Overnight layered salad
Prepare the dressing:
Mix its ingredients in a bowl.
Assemble:
Place the lettuce at the bottom of the glass bowl or pan. Then, add in the layers of eggs, peppers, and red onion. Spread the dressing and some bacon. Then, continue layering the other ingredients.
Top with the dressing and cheese. This last layer seals the whole thing.
Refrigerate:
Cover it and put it in the fridge for at least 4 hours.
Serve:
Garnish with bacon and green onions, then, serve.
What to Serve with Overnight Salad?
This is a nice dish to serve at potlucks or barbecue parties. So, you may want to serve this alongside these:
Recipe Tips:
You can leave out the frozen peas if you want to make this low carb.
Feel free to add or omit layers. You can also add purple cabbage, carrots, cauliflower, and other vegetables that you like.
Parmesan is a nice substitute for cheddar cheese.
Rinse the onions with cold water to minimize the pungency.
Do not toss it. Just dig deep to get a little of everything and mix on your plate.
More delicious salads: