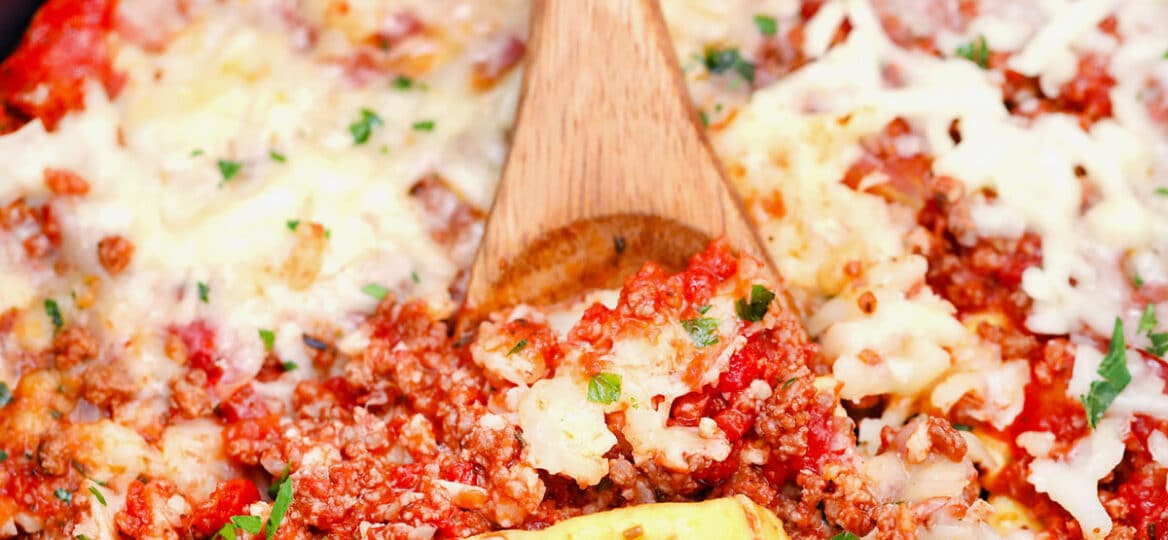 Slow Cooker Lazy Lasagna [Video]
Slow Cooker Lazy Lasagna is such an easy meal, made with frozen ravioli, ground beef and tomato mixture and obviously lots of cheese. Enjoy this cheesy, meaty, and hearty dish even on busy weeknights!
Italian dishes surely are tasty and hearty just like this pasta dish. If you want more Italian-inspired pasta dishes like this, check out my recipes for Penne Alla Vodka, Pesto Pasta Salad, and Instant Pot Chicken Alfredo!
Crockpot Lazy Lasagna Recipe
This Slow Cooker Lazy Lasagna recipe has made it into my regular menu rotation because it is so easy to prepare and tastes amazing. And why make it so often? Just because it is hearty, and the tomato-cheese combination is simply amazing. I am yet to meet a person who dislikes lasagna!
Imagine having to cook the beef mixture and cheese mixture separately, then, assembling and baking the classic dish. Not that it is impossible, but this easier crockpot version does exist!
So, it has become my go-to recipe whenever I just want to have some extra rest. At times like this, I crave some home-cooked comfort food and I resort to recipes like this. Try it, and you will see what a time saver it is!
Why is it called Lazy Lasagna?
This is called as such for two main reasons: fewer ingredients and fewer steps during the preparation. You can even do some of the steps ahead when you have time.
This recipe only uses seven ingredients at most. That is a lot fewer than the 22 ingredients that our classic lasagna recipe requires.
If you are using the kind of crockpot in which you can brown the meat, then, you can make this as a one-pot recipe. But if not, then, do not fret. You just have to use a skillet once and nothing more. That means fewer pots to wash!
No need to cook the pasta separately and you do not even need to thaw the ravioli. Isn't this recipe just convenient? So, if you want something simpler but equally delicious, then, this recipe is for you.
How do you make Slow Cooker Lazy Lasagna
Brown the beef: In a skillet, cook the beef until it is no longer pink. You may have to drain the excess fat.
Finish the sauce: In the same skillet, pour in the crushed tomatoes. Season everything.
Assemble the layers: Cover the bottom of the pan with a layer of sauce. Add in a layer of the frozen ravioli, then, the mozzarella cheese. Alternate these three layers until you top everything off with the meat sauce, then, with the mozzarella cheese. If you want, you can add parmesan cheese, too.
Cook: Set it to cook for 4 hours on low.
Serve: Allow it to rest for a few minutes then, serve.
What do you serve with Slow Cooker Lazy Lasagna?
I love serving it with garlic bread to soak the sauce with or a vegetable side dish to add balance with this carb-meat combo. Here are some recipes you can try:
Can you freeze lasagna?
Yes! You can even buy frozen ones and even the homemade ones can be made into a freezer meal. It can stay good in the fridge for up to 3 or 5 days and to extend that, freeze it for up to 2 to 3 months.
Allow it to completely cool, cover it with plastic wrap, and freeze. Make sure that the container is freezer-safe. When reheating, you can thaw it overnight and bake it in a preheated oven at 375 degrees Fahrenheit.
Recipe Tips
You can pre-cook the meat, then, put and freeze everything together in a freezer bag. Dump everything in the crockpot to cook later.
You can substitute the cheese with ricotta or cottage cheese.
For the meat, I like using lean ground beef, but you can add ground pork in it or Italian sausage.
Deliciousness to your inbox
Enjoy weekly hand picked recipes and recommendations