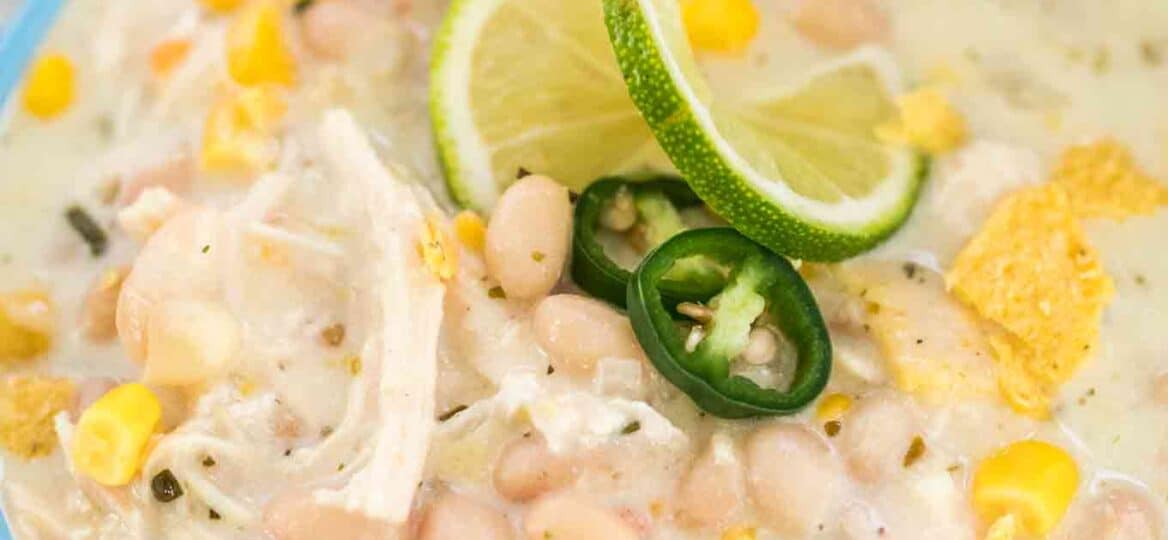 Creamy Crockpot White Chicken Chili
Crockpot White Chicken Chili is the best way to make chili because the slow cooker does the cooking so easily! You simply dump the ingredients in the crockpot and get rewarded with a family favorite comforting meal.
Slow cooker recipes are easy dinner for busy weeknights. Not only is it simple to make, but you are guaranteed to end up with the best and very flavorful meal for the whole family to enjoy. We also love crockpot chicken and rice, slow cooker cheesy potato soup, or crockpot whole chicken.
This Crockpot White Chicken Chili is one of those easy dump-and-go recipes. It is absolutely amazing and is one of the easiest dinners you can make. It has a creamy texture, delicious taste, and healthy ingredients.
Similarly, you end up with a lot of time to work on something else while it cooks. Simply, put all the ingredients in the pot, cover it and let it slowly cook to perfection.
This white bean chicken chili is a cozy and hearty meal to serve during a chilly day or winter months. Also, once you prepare your ingredients, you will end up with plenty of time to enjoy most of the afternoon or evening.
We love to serve it as is with some tortillas, and cilantro on top. This white chili recipe is perfect to make for lunch, dinner, pot-luck, game day, or to host a larger party. It is also great for meal prep, and leftovers taste even better the next few days!
How Do You Make Crockpot White Chicken Chili?
First, make sure to drain and rinse the beans. You want to control the flavor and salt content in it, therefore it is best to rinse the beans.
Then, add the chicken to the pot. You can use cooked shredded chicken, but also you can use thawed uncooked meat. Also, use breasts or chicken thighs based on preference.
Next, add the rest of the ingredients to the crock pot including the chicken stock. For a thick chili texture, you can use just one cup of stock. However, we like to use 2 cups for the best results and texture.
Lastly, set the cooking time and let it slowly cook, and do its magic. Cook on HIGH for 3-4 hours, or LOW for 6-7 hours.
Serve warm, and top it with fresh cilantro, tortilla strips, or sour cream.
Can I make it spicier?
For a spicier kick, add some extra sliced jalapeno peppers or roast 2 poblano peppers and add to the pot.
Also, when adding the poblano peppers, make sure to rub away the skin, remove the seeds and membranes, then coarsely chop.
It is best to add to the pepper at the beginning of cooking.
How to thicken chili?
If you want to thicken it even more, then simply mix 1 tbsp of cornstarch into 3 tbsp of milk or chicken broth.
Then, simply stir together to make the cornstarch slurry, and stir the mixture into the chili during the last 30 minutes of cooking.
Another way would be to blend half of the chili in a food processor or using an immersion blender. This will thicken it as well.
Favorite toppings:
We enjoy this meal as it is with simple toppings like tortilla chips or cilantro. The base of this chili is mild in flavor so it mixes well with plenty of toppings. Some other favorites are:
Sour cream
Monterey Jack cheese or any other cheese
Sliced avocado
Plain Greek yogurt
Pickled jalapeno
Fresh lime juice
Croutons
A squeeze of lime juice
Avocado slices
Green onion
Salsa verde
More Game Day Favorites:
How to store leftovers?
To refrigerate: First, let the dish completely cool at room temperature. Then, transfer leftover chili to an airtight container and store for up to 4 days.
To freeze: Transfer the soup to a freezer bag, and freeze it for up to 3 months.
Deliciousness to your inbox
Enjoy weekly hand picked recipes and recommendations