Crockpot Cheesy Potato Soup [video]
Crockpot Cheesy Potato Soup is ultra-creamy, rich and flavorful. It is one of the best family soups you can make in the slow cooker! Watch the recipe video tutorial below and see why this is one of the best soups out there!
We love delicious and comfort soups, and this recipe is one of the best! If you love soups, check out cheeseburger soup, taco soup, and homemade chicken noodle soup.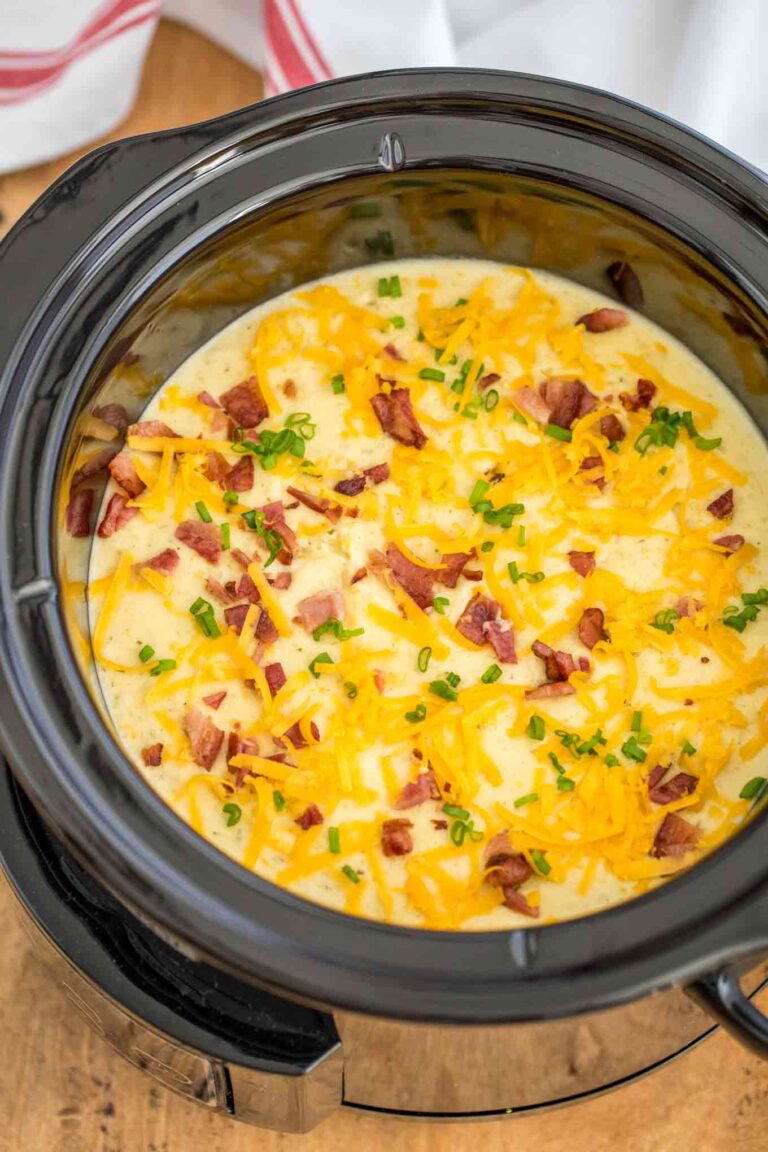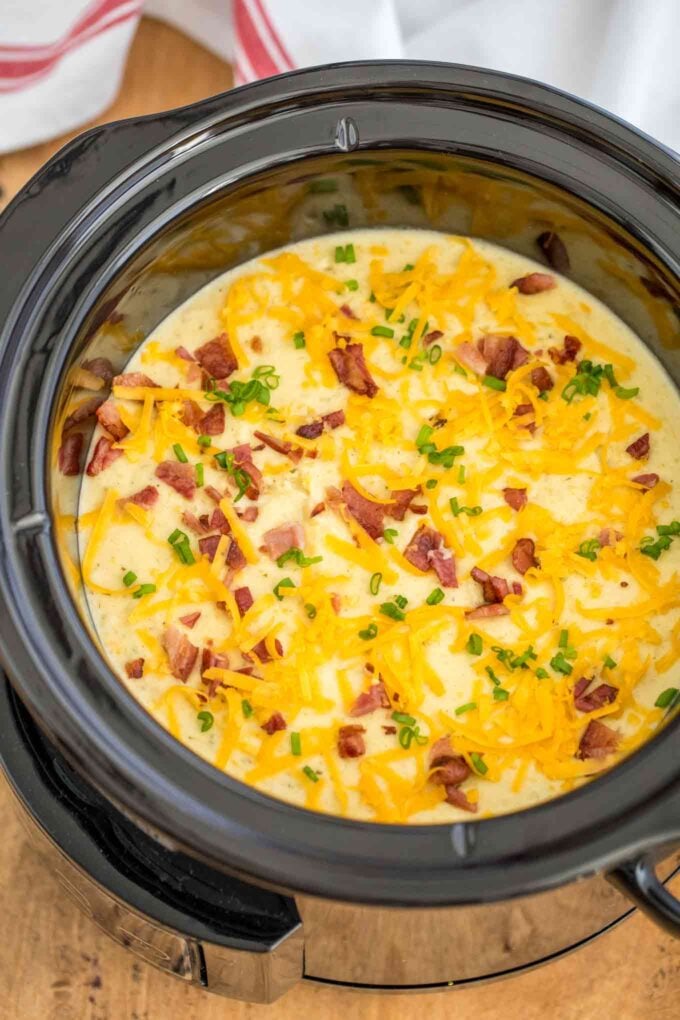 Easy Crockpot Cheesy Potato Soup
Crockpot Cheesy Potato Soup is very easy to make and tastes amazingly delicious. It is one of our favorite meals to make when it is cold outside. It is comfort food at its best, loaded with potatoes, cheese, and bacon. Who does not like that?! The pound of cheddar cheese in this soup pretty much means it tastes perfect.
Also, if cheddar cheese is not your favorite use Velveeta cheese instead. We've tried many variations of this recipe and ended up with what we believe is one of the best possible outcomes.
This recipe does not ask for much. Simply, follow the recipe steps closely and you will end up with a hearty and flavorful meal. Just dump everything in the slow cooker and in a couple of hours, you will have a delicious homemade meal!
HOW TO MAKE CHEESY POTATO SOUP IN THE Crockpot?
This is one of the easiest meals you can prepare in the slow cooker.
Start by combining potatoes, chicken broth, celery, corn, onion, garlic salt, and pepper in the crockpot.
Then, cover and cook on HIGH for 4 hours or LOW for 6-8 hours.
Add heavy cream and cream cheese, stirring until well blended.
Next, add shredded cheese, and heat until the cheese melts.
Serve and top with bacon pieces, green onions, and more shredded cheddar cheese.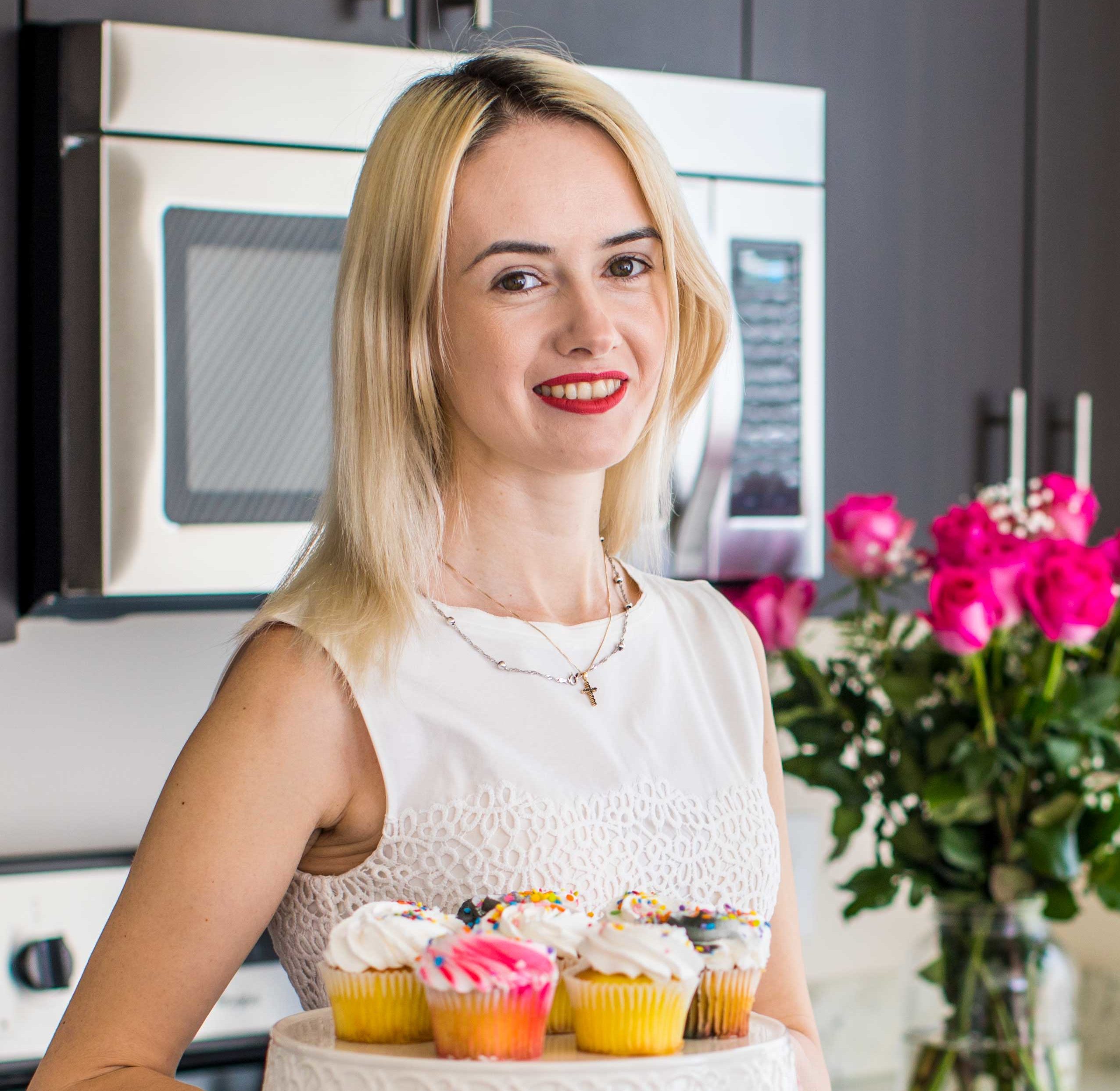 Follow us on Pinterest for more delicious recipes!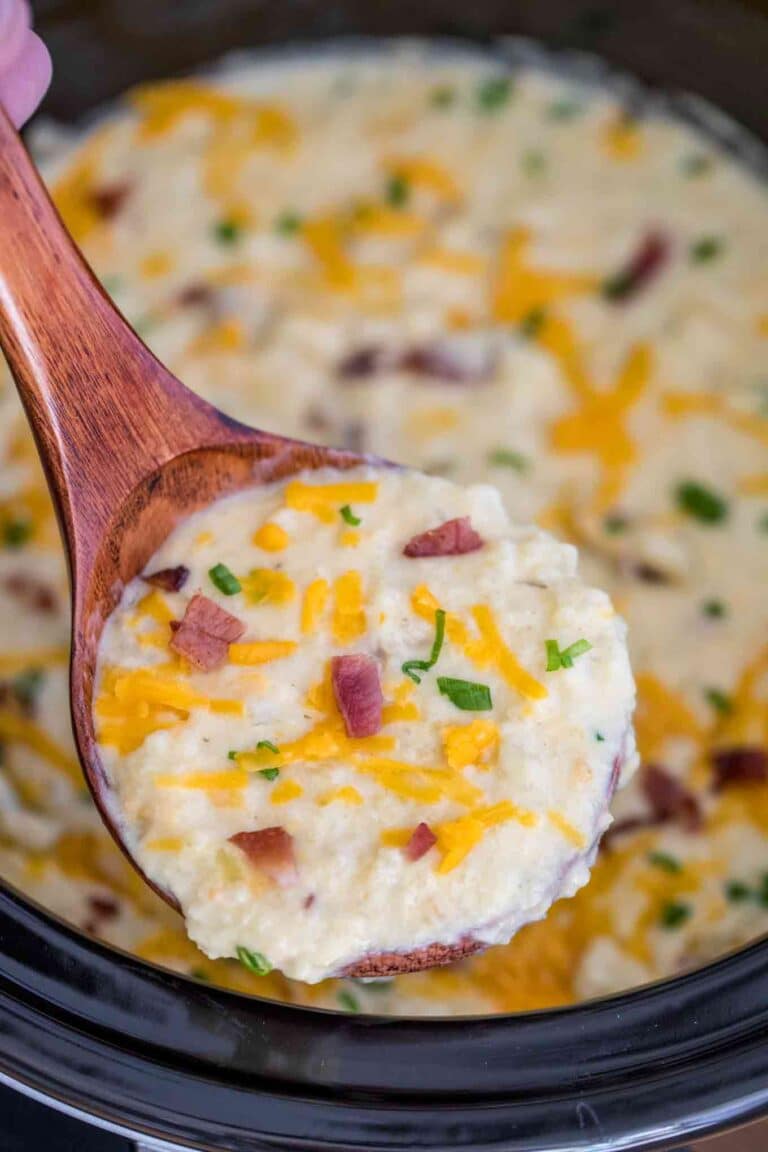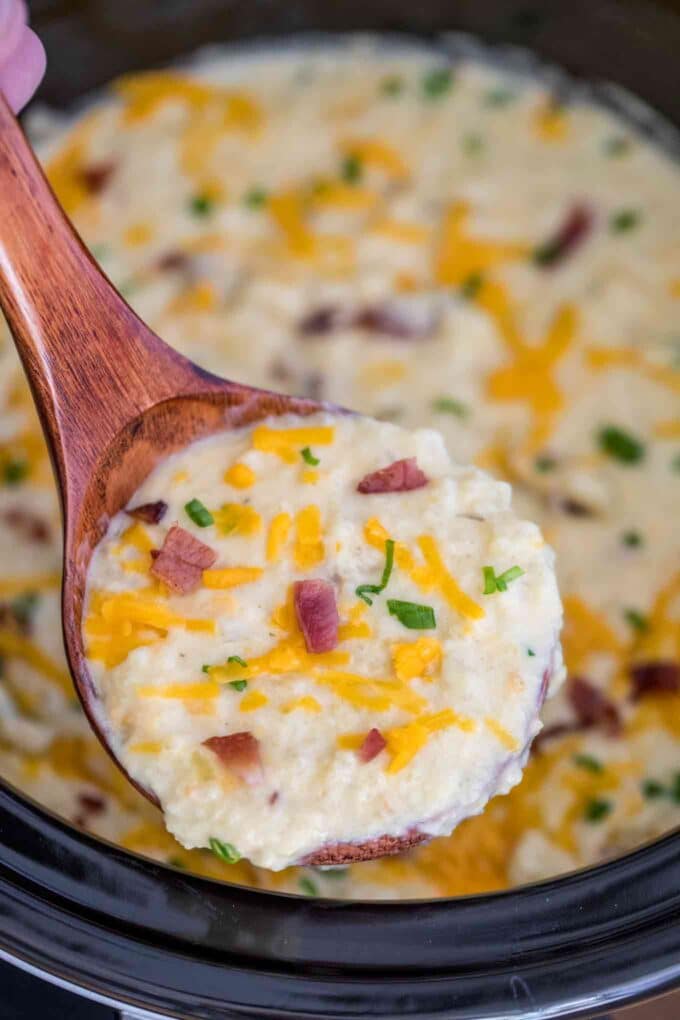 What goes with Cheesy potato soup?
We love serving it topped with sour cream, bacon, and cheese. Similarly, you can add some fresh chopped green onions or croutons, but it's certainly good without anything added!
You can also add some chopped ham to make cheesy ham and potato soup. This simple dish is filling and amazingly flavorful. It also pairs well with a green salad or a fresh slice of French baguette.
How to thicken crockpot cheesy potato soup?
The easiest and best way to thicken it is by adding some cornstarch. Just whisk it into some milk to the hot soup and cook for 15-30 minutes. In addition, if you add extra cheese, it will make become extra thick and creamy, so use your discretion here.
Another way to thicken it would be to use a blender and blend part of the soup with an immersion blender. Just make sure not to blend all the potatoes as you want to have some left in the soup.
Can you freeze it?
You can freeze it but we do not recommend it. Because it has milk and cheese in it, when frozen it won't hold up well. It will take on a grainy texture and separate when defrosted and rewarmed.
However, if you still wish to freeze it, we recommend doing so without the milk and cheese in it. You will have to freeze the base soup without the milk and cheese and add those later during reheating. Use a freezer bag and freeze it up to 3 months.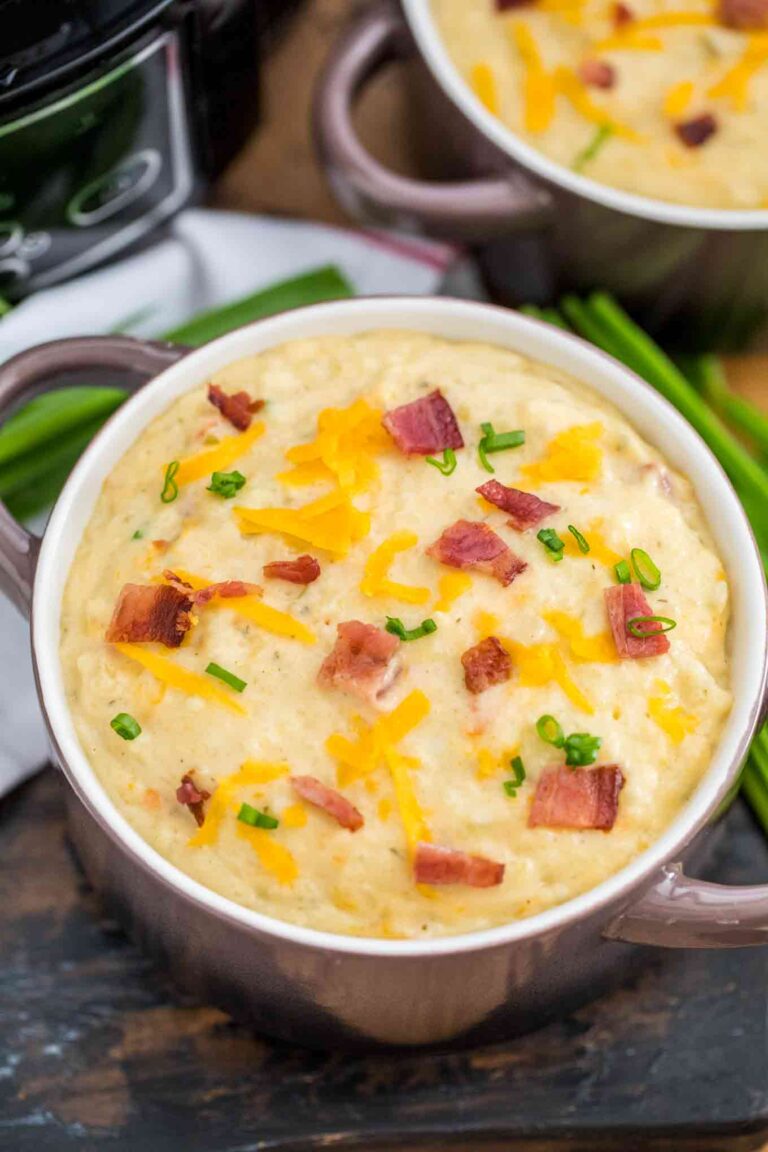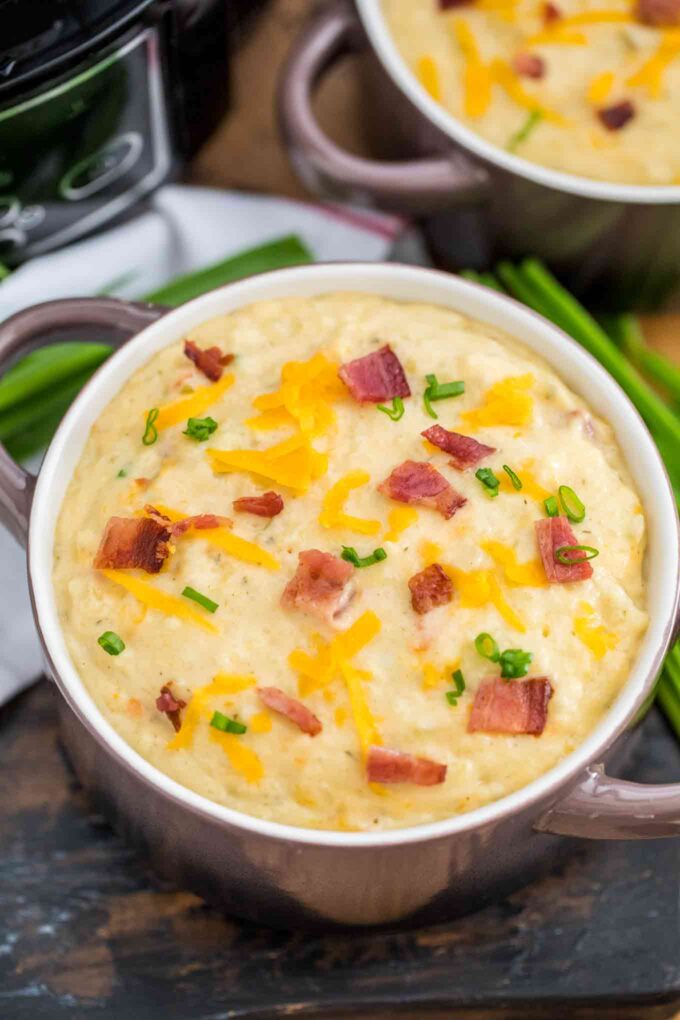 Recipe Tips:
We prefer to use Yukon gold potatoes for this recipe because it has a buttery texture and makes this dish super creamy.
Also, for more flavor, we recommend sauteing the onions, garlic, and celery before adding them to the pot. slow cooker. However, if you are short of time, just add them to the slow cooker and skip this step.
Similarly, is best to use fresh minced garlic instead of a powdered version.
Bacon can be cooked prior to starting the soup, by frying it or roasting it in the oven, whatever method you prefer. Also, you can use pre-cooked bacon to save time and cut down on the effort.
Tools used to make this recipe
Slow Cooker – Love this one and we use it a lot when cooking.
Soup bowls – You can use whichever you like, but these are pretty nice and inexpensive.
Watch recipe video:
Save Recipe
Crockpot Cheesy Potato Soup
Crockpot Cheesy Potato Soup is ultra-creamy, rich and flavorful. It is one of the best family soups you can make in the slow cooker!
Author: Catalina Castravet
Serves: 8 servings
Prep time:

10

minutes
Cook time:

3

hours

50

minutes
Total time:

4

hrs
Nutrition information
Calories: 154 Carbohydrates: 21 Protein: 11 Fat: 2 Saturated Fat: 1 Cholesterol: 7 Sodium: 632 Potassium: 680 Fiber: 3 Sugar: 3 Vitamin A: 130 Vitamin C: 23.9 Calcium: 190 Iron: 4.1
Save Recipe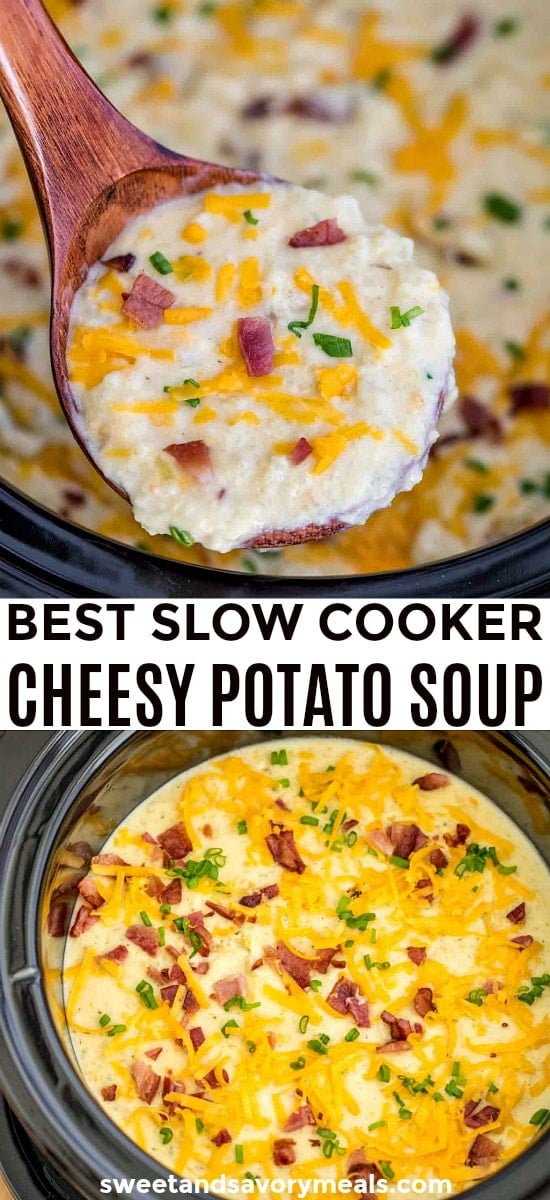 More recipes you might love
Categories: