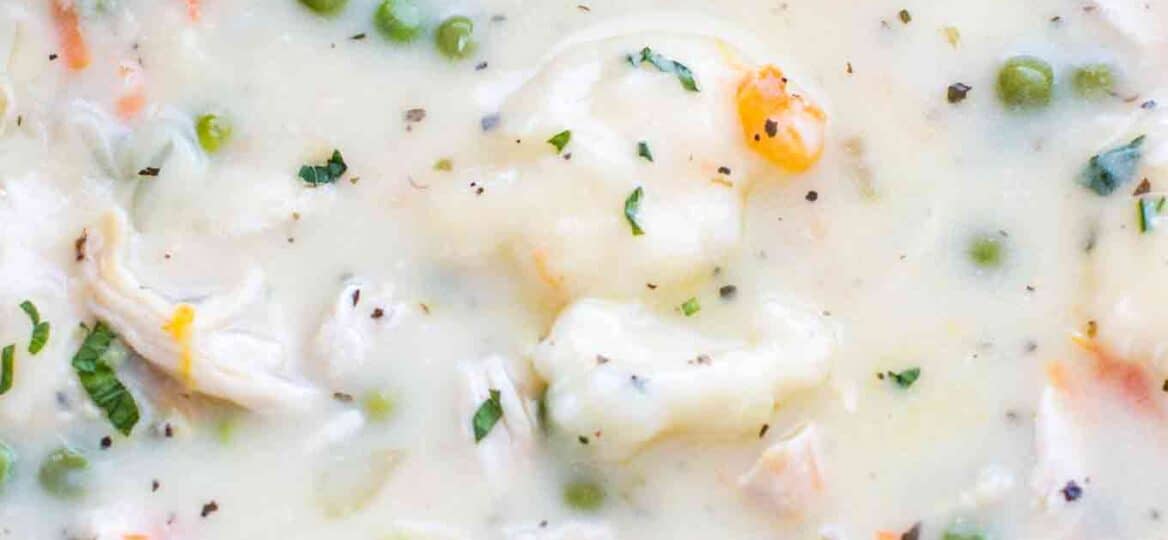 Crockpot Chicken and Dumplings
Crockpot Chicken and Dumplings is made with juicy chicken breast, biscuits, and cooked to perfection in the slow cooker in a rich cream of chicken soup. It is the perfect comfort food to serve with the whole family during the fall or winter season.
This is definitely one of our favorite crockpot recipes to make when cold times hit. It is super easy to make and requires only a few minutes to prepare. For more comfort foods try our delicious Cheeseburger Soup, Baked Potato Soup, and Crockpot Chicken Noodle Soup.
Easy Crock Pot Chicken and Dumplings Recipe
Chicken and Dumplings are probably the best comfort food. It is made with tender chicken breasts, frozen peas, chicken stock, and flaky biscuits. Then, slowly cooked in a delicious and creamy sauce. Also, it is very convenient and easy to prepare. You simply throw the ingredients in the crockpot in the morning, and when dinner time comes, you have a delicious bowl of warm comfort meal waiting!
This recipe is a huge hit, especially during the winter seasons. I have already shared with you our Stovetop Chicken and Dumplings recipe. However, this slow cooker version takes it to a different level. It has lots of flavors, and the tender meat is just irresistible.
This easy crockpot chicken and dumplings is what we always eat when we crave a comforting bowl of deliciousness. Also, I love making our biscuit dough from scratch because it gives this dish a homemade taste and a richer flavor. However, if you are short on time, and want a simple yet elegant meal, go with canned biscuit dough for the dumplings.
This great recipe has that classic taste that everyone loves. It never disappoints, and the slow cooker makes the job so much easier. The meat is cooked to tender perfection in the slow cooker in a rich and creamy chicken sauce.
We add some veggies to it for color and extra flavor. However, if you are not a big fan of veggies in it, feel free to leave them out.
Ingredients list:
This easy recipe requires only 5 minutes of prep time. You will need the following ingredients:
Chicken: I like to use boneless skinless chicken breasts. However, feel free to use thighs or even rotisserie chicken.
Cream of chicken soup: I love making my own cream of chicken soup and use it in this recipe. This adds a lot of flavors and makes it extra rich and creamy.
Vegetables: Onion, garlic, frozen peas, and carrots.
Seasoning: Poultry seasoning, bay leaves, dried parsley, salt, black pepper. You can also add garlic powder, onion powder, and other dried herbs.
Chicken broth: Feel free to use homemade stock or the store-bought version.
Biscuit dough: You can go with homemade dumplings or use refrigerated biscuits. Such as buttermilk, country, or homestyle.
How to make Crockpot Chicken and Dumplings
This homemade crock pot recipe is very easy to make, especially if you are using a canned biscuit. The cooking steps are broken down into two parts: cooking the chicken and then cooking the biscuits.
Start with a couple of pounds of chicken breast (thighs will work as well).
Then, add some chopped onion, garlic, and cream of chicken soup and broth to the slow cooker.
Season everything with poultry seasoning, parsley, some salt, and pepper.
Give everything a quick stir and then cover the slow cooker, and cook it on LOW for approximately 7 hours or on HIGH for 3 hours.
About 1 hour before serving (after 6 hours of cooking time on LOW), open the lid shred the chicken (using two forks). Then, give everything a good stir.
Next, add sliced biscuits on top, and closed the lid as quickly as possible.
Cook for an additional 1 more hour on LOW setting, until soft dumplings or the biscuit dough, is fully cooked.
Serve warm in a bowl.
Variations and substitutions:
Cream base: I tend to use regular cream of chicken soup. However, feel free to swap it with cream of celery soup or even creamy gravy. If you cannot find any of them, simply use heavy cream or whole milk.
Rotisserie chicken: To save time use rotisserie meat. Simply dice up the meat and follow the recipe the same way as using raw meat.
Turkey: Alternatively, swap the poultry and use raw or cooked turkey meat. This way, you can have a turkey and dumplings instead!
Instant Pot Chicken and Dumplings: Want a quick and fast alternative? Then, the instant pot is a perfect choice. You will have a comforting meal for dinner in less than 30 minutes.
How to make dumplings from scratch?
First, put some baking powder, flour, and some salt in a medium bowl.
Then, melt some butter and add it to the mixture.
With a fork stir the mixture until it has a crumble-like texture.
Next, add some buttermilk and stir the mixture together to make a soft dough.
Can you make it without cream of chicken soup?
Yes! Traditionally this meal is made with cream of chicken soup because it gives it a rich and flavorful taste.
However, you can skip it, or replace it by using broth, half & half, and a touch of flour. This will also make the soup rich and creamy.
What can I use instead of canned biscuits?
Crescent rolls: From time to time, I like swapping the biscuits with crescent dough. Just cut it into small pieces (using a knife or pizza cutter) and then add it to the hot soup.
Dinner roll dough: They are more like croissant-style rolls that are refrigerated. A great and delicious alternative.
Bisquick: Try making these Betty Crocker Bisquick Rolled Biscuits.
Flour tortillas: If you want a twist of flavors, then try making it with flour tortillas. Simply cut into smaller pieces and add the tortillas to the soup during the last 20 minutes of cooking.
What to serve with slow cooker chicken and dumplings?
This is a full and hearty meal on its own. Therefore, I like to pair it with the following side dishes:
Can you put frozen chicken in the crockpot?
It is not recommended, and I would not do it. Technically you're not supposed to cook frozen meat in the crockpot due to food safety issues.
Therefore, it's better to avoid it and use fresh or thawed poultry.
Storing instructions:
Refrigerate: Use an airtight container to refrigerate leftovers for up to 4 days.
Freeze: Before freezing let it cool completely. Then, transfer the soup to an airtight container, while putting the dumplings in a separate bag. Squeeze out the extra air, and place both in the freezer for up to 3 months. Defrost before consuming.
More delicious crockpot recipes:
Cooking Tips:
When using the crockpot, it is really important to open the lid as little as possible, and that the vegetables are completely defrosted.
Also, not all the slow cookers are the same, and the cooking time might take longer to cook than others. So you may have to adjust the time a bit depending on that.
Make sure NOT TO OVERCOOK the biscuits. They should have a soft, slightly doughy dumpling-like texture.
For additional flavor, add about 6oz of sliced portabella mushrooms during the last hour of cooking.
You can serve the dish as is, or over a pile of mashed potatoes. Either way, this dish is super good and delicious!
Chicken thighs are a great alternative because they are juicy and tender.
Garnish the soup with some chopped fresh parsley.