Slow Cooker French Dip Sandwiches [Video]
Slow Cooker French Dip Sandwiches are incredibly juicy, tender and so flavorful. Perfect for a delicious dinner and the best quick and easy party food. Watch the recipe video tutorial below and see how easy this is!
If you love easy slow cooker recipes check out Slow Cooker Corned Beef, Slow Cooker Asian Short Ribs, and Slow Cooker Garlic Sesame Chicken. For a tender and juicy beef meal, check this Slow Cooker Beef Teriyaki recipe.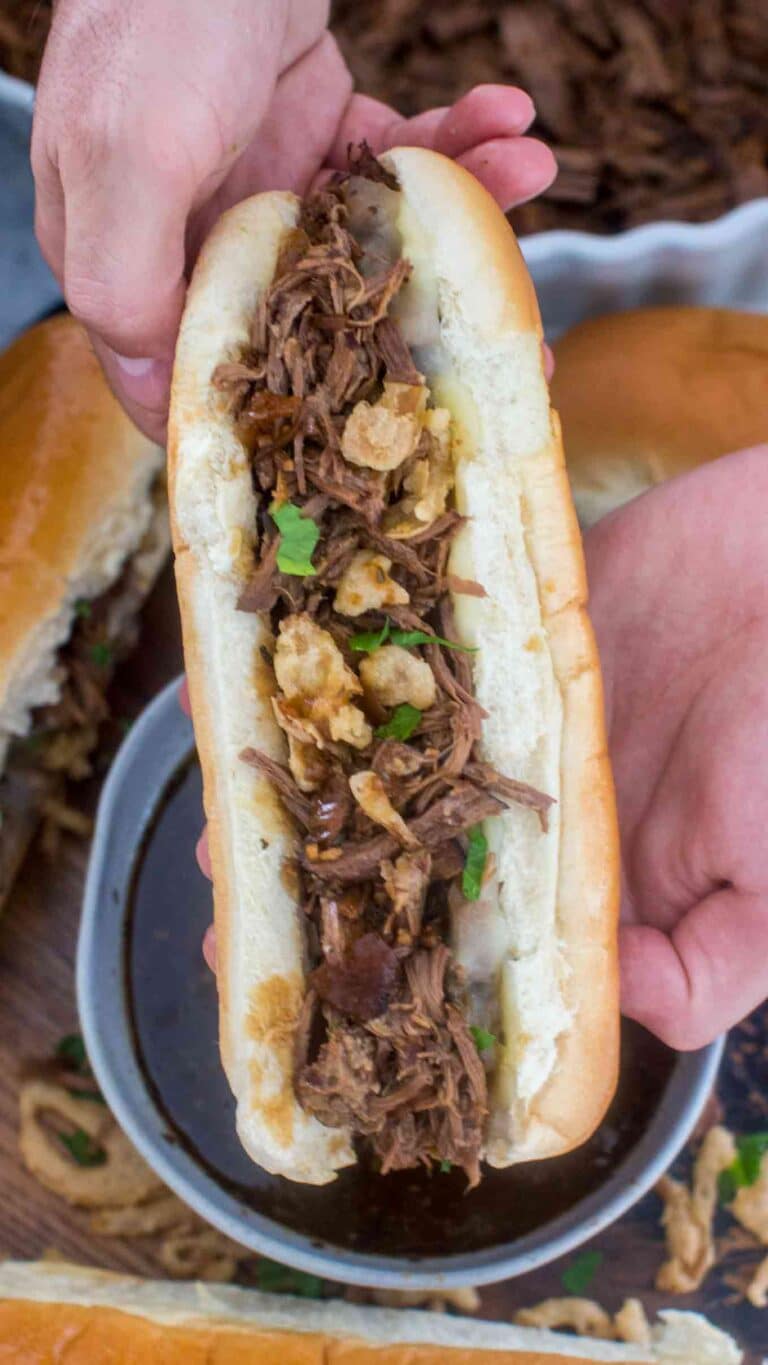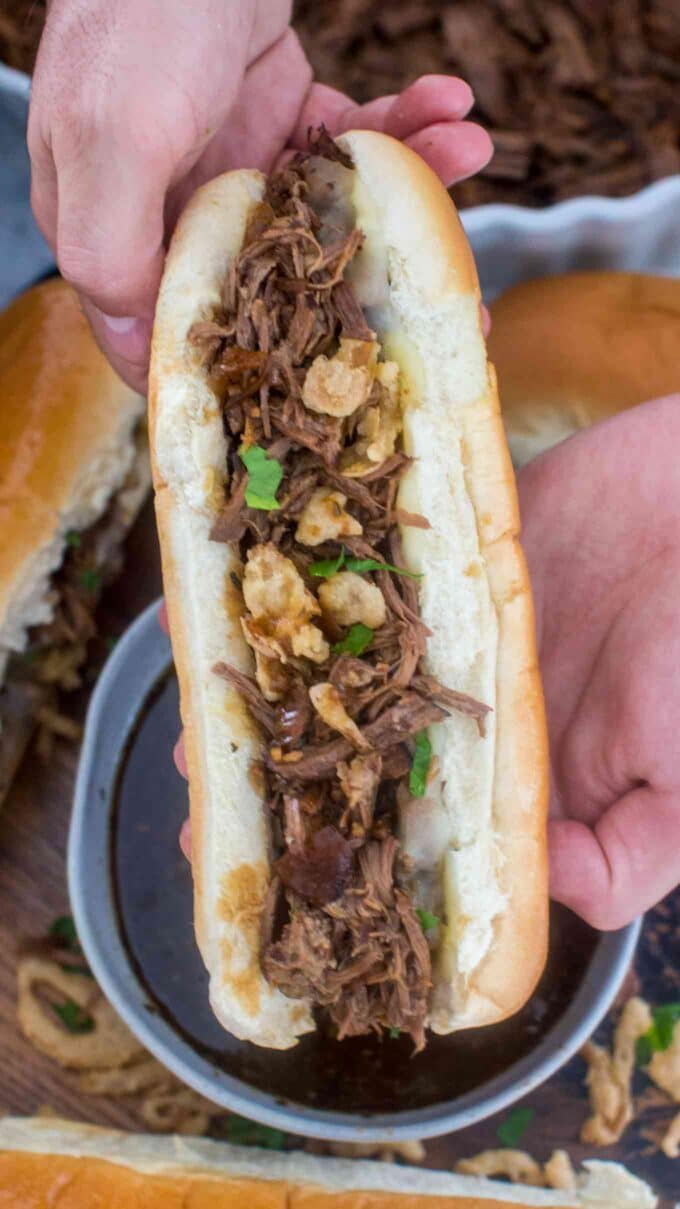 Slow Cooker French Dip Sandwiches
Slow Cooker Sandwiches are easy to make, taste amazing, and can feed a crowd. The meat is tender and juicy from soaking all the flavors and cooking for so long in a nice mixture of onion soup, beef consommé, herbs, and spices. The sauce is very good for dipping the sandwiches in or even to eat it like soup!
The Crockpot Sandwiches are perfect to make for a quick night dinner or to entertain a company. You add everything to the Slow Cooker and forget about it until ready to serve.
Topped with melted Swiss cheese on fluffy white bread, these Slow Cooker French Dip Sandwiches are a must-try!
Why You'll Love This Slow Cooker French Dip Sandwiches Recipe:
Very easy to make with minimal prep work.
A hearty and delicious meal that can be served as a weeknight dinner.
Perfect party food, with minimal prep work so you can entertain more and cook less.
You will have delicious leftovers the next day.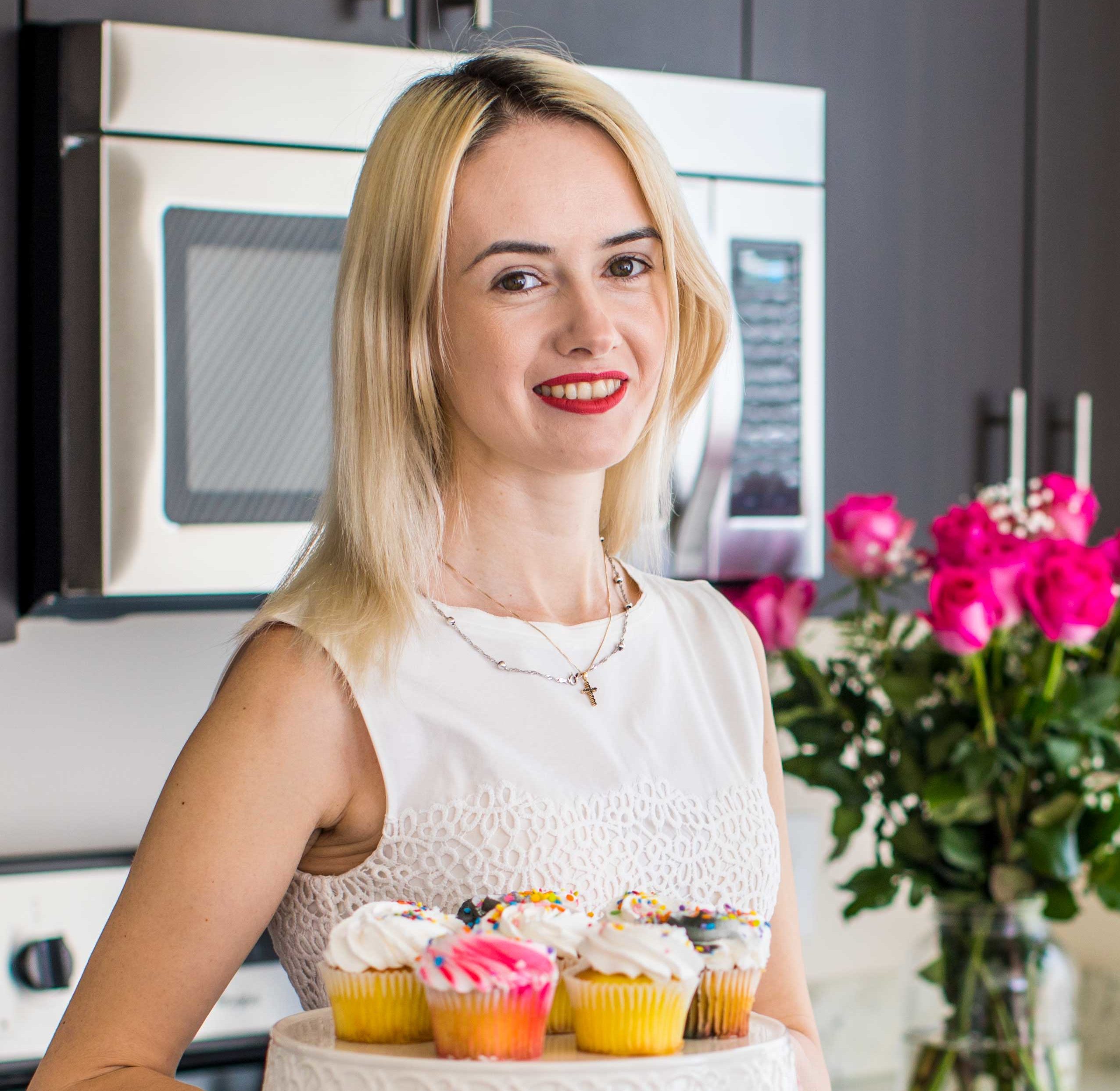 Follow us on Pinterest for more delicious recipes!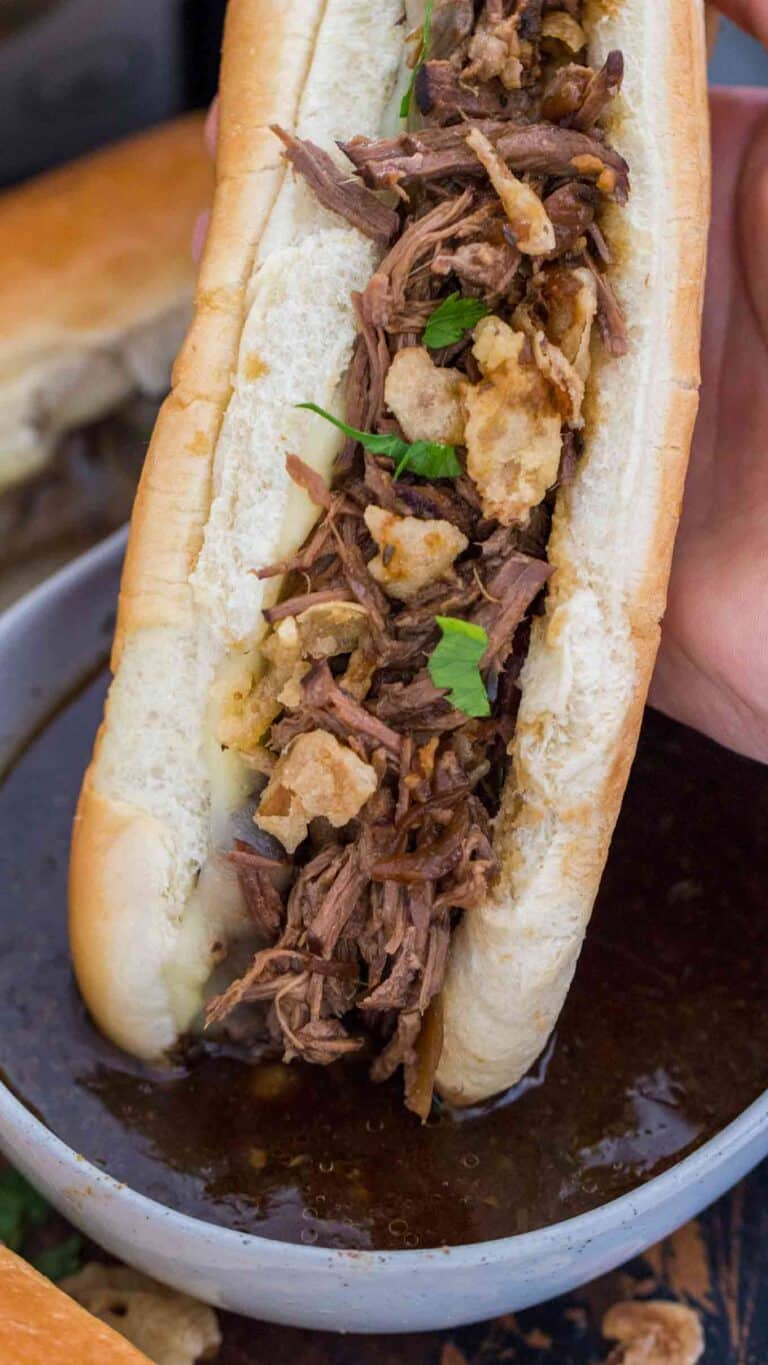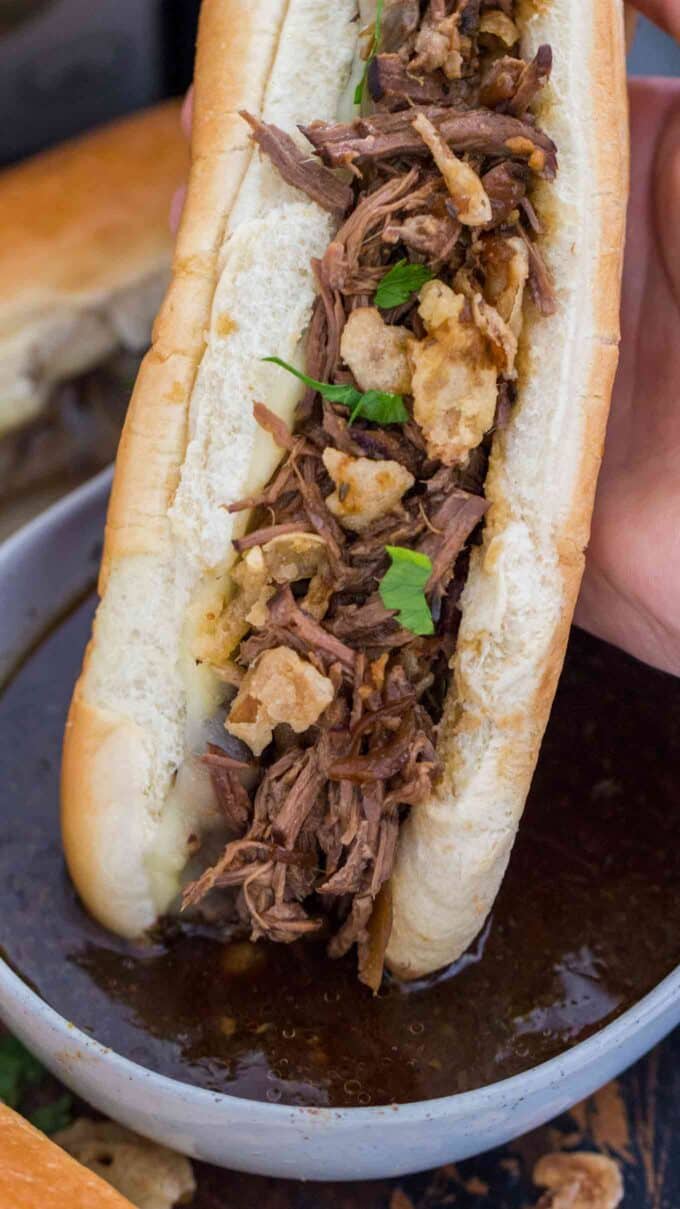 Tips to make the perfect Slow Cooker French Dip Sandwiches:
Use high-quality meat. I recommend grass-fed, organic meat if possible, as it tends to be extra tender, which is perfect in this recipe.
You can use a chuck roast or round roast. The chuck roast has more fat, so it will be more tender and juicy. If you prefer less fat, I recommend using round roast beef. The round roast will be a little drier, so you will have to shred the meat and let it in the slow cooker for another hour to absorb all the juices.
Brown the beef – it will improve the texture and taste and also will lock in all the delicious flavors.
The beer can be replaced with non-alcoholic beer or beef broth.
If you can't find beef consommé you can replace it with low sodium beef broth.
Love Slow Cooker Recipes? I have some delicious ones! Check them here: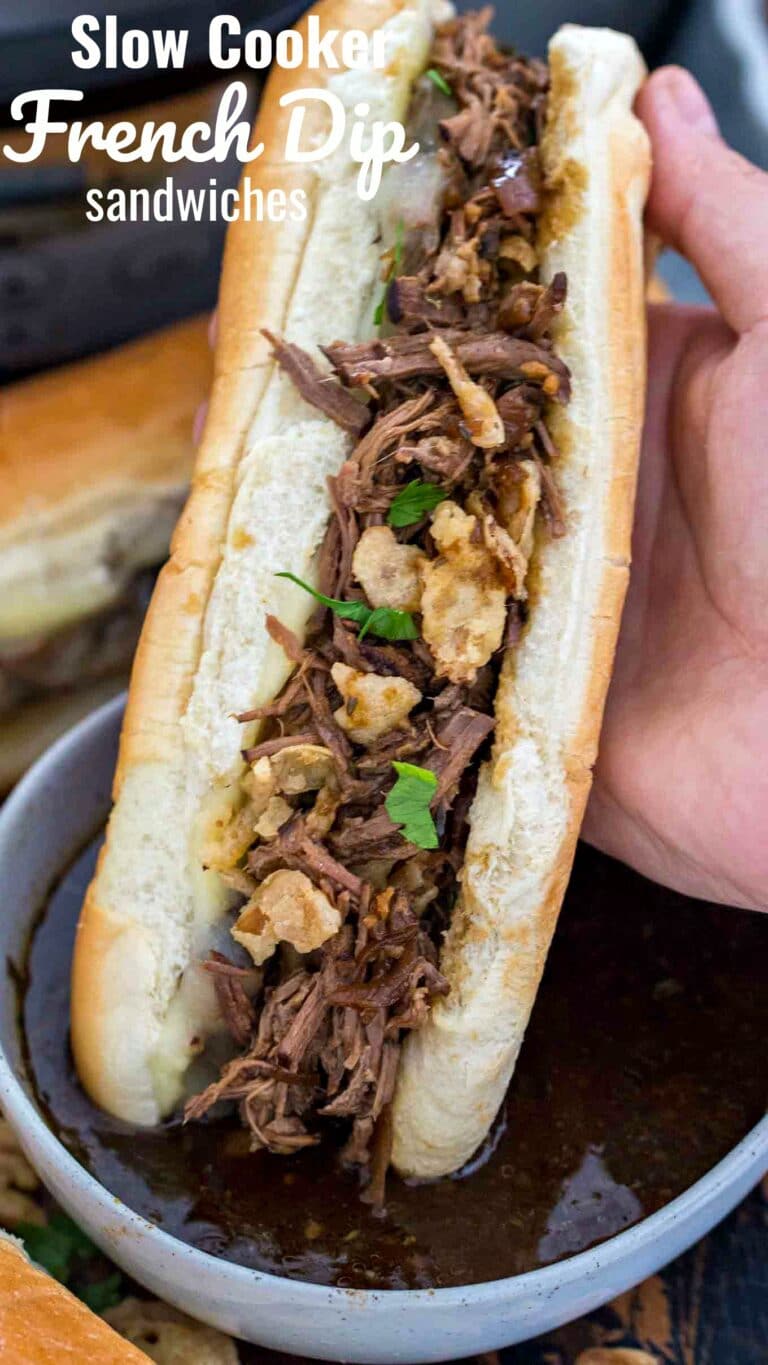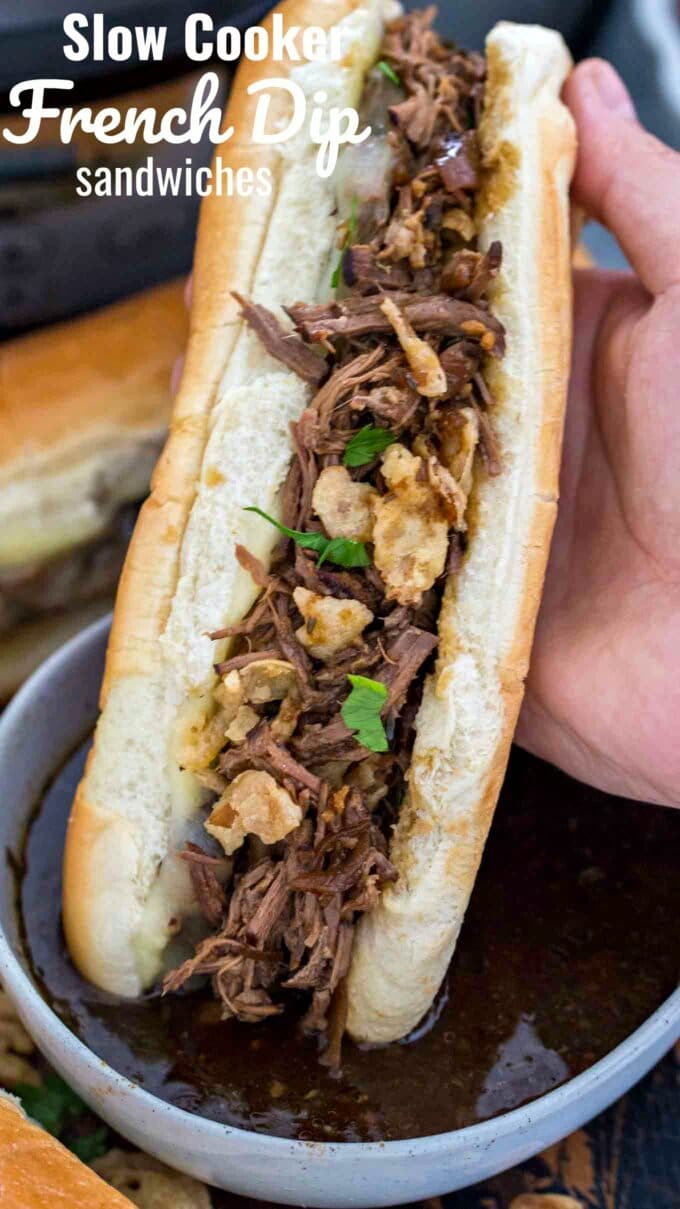 Can you refrigerate the beef from the slow cooker?
Yes. After cooking the meat, store it in a large airtight container in the fridge. Make sure that the beef is at least partially covered by the sauce so it doesn't dry out. Store for up to 3-4 days.
Tools/ingredients that I used to make the Best Slow Cooker French Dip Sandwiches:
Save Recipe
Slow Cooker French Dip Sandwiches
Author: Catalina Castravet
Serves: 8 servings
Prep time:

15

minutes
Cook time:

8

hours
Total time:

8

hrs

15

mins
Ingredients
Beef:
3 lb beef chuck roast trimmed of excess fat (or round beef roast)
1 tablespoon olive oil
Sauce:
1 10.5 oz cans beef consommé
2 10.5 oz cans french onion soup
1 12 oz bottle of beer (you can use non alcoholic too)
10 cloves garlic (minced)
1 tablespoon dark molasses
½ tablespoon Worcestershire sauce
1½ tablespoon onion powder
1 tablespoon garlic powder
1 teaspoon dried oregano
1 teaspoon dried thyme
½ teaspoon salt
½ teaspoon pepper
3 bay leaves
To Serve:
6 French rolls or hoagie buns
12 slices provolone cheese
2 tablespoons freshly parsley (chopped)
French fried onions (optional)
Instructions
Add olive oil to a large nonstick skillet and heat over medium heat.
Sear beef on all sides until lightly golden - brown. For about 1-2 minutes per side.
Using tongs, carefully transfer beef to the slow cooker and top with all SAUCE ingredients. Gently stir everything to combine.
Cooking tips if you are using a round beef roast:
Cook beef on low for 8 hours. After 8 hours shred the beef and continue cooking for another 1 hour on low.
TIP: For best results, after 4 hours of cooking, turn beef on the other side for the rest of the cooking. After 8 hours of cooking, shred beef into the sauce and cook on low for one more hour.
Cooking tips if you are using a chuck roast:
Cook beef on low for 8 hours. Once ready, transfer roast to a cutting board and thinly slice it across the grain, or you can shred the beef.

OR: cook roast on low for 5 hours, transfer roast to a cutting board and thinly slice it across the grain. Place sliced meat back in the slow cooker and cook on low for another 2 hours.
Store:
Any remaining beef should be added to an airtight container and topped with the remaining sauce so it does not dry out. Store in the fridge for 4-6 days.
Serve:
When ready to serve, remove beef from slow cooker, using a ladle and a fine mesh, strain the sauce into a large container.
Preheat oven to 350F.
Split french rolls and line them open face up on a baking tray. Top each half with beef and top beef with 2 slices of swiss cheese.
Bake for 5-7 minutes or until cheese is melted.

Remove from oven, sprinkle with freshly chopped parsley and add French fried onions if desired. Close the sandwiches.

Serve with the strained sauce for dipping.
Serve immediately.
Enjoy!
Calories: 659 Carbohydrates: 32 Protein: 49 Fat: 35 Saturated Fat: 16 Cholesterol: 148 Sodium: 1189 Potassium: 986 Fiber: 1 Sugar: 7 Vitamin A: 475 Vitamin C: 1.8 Calcium: 378 Iron: 12.3
Save Recipe
More recipes you might love