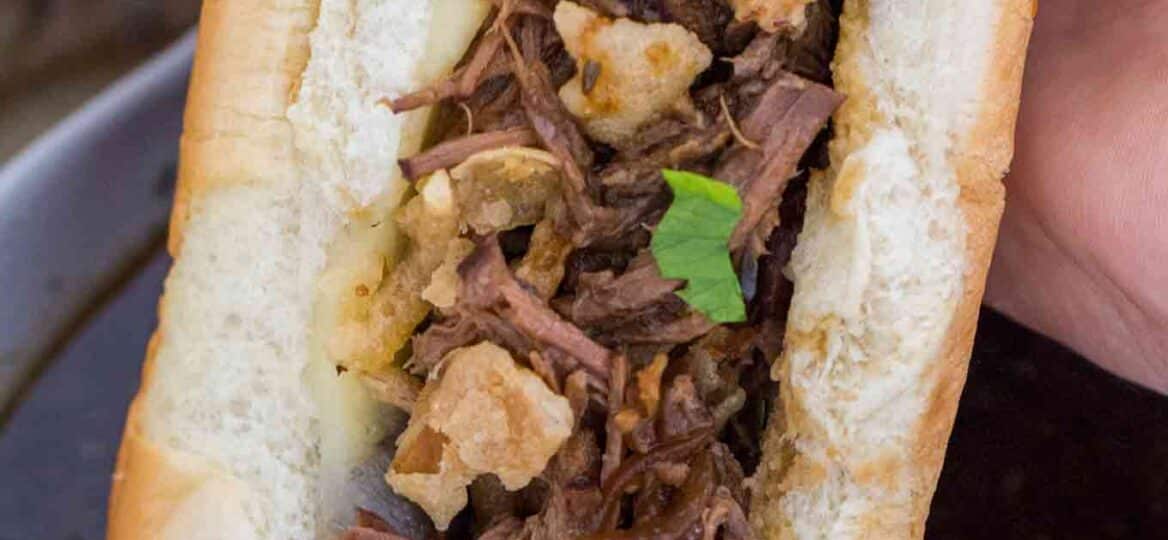 Slow Cooker French Dip Sandwiches [Video]
Slow Cooker French Dip Sandwiches are incredibly juicy, filled with tender roast beef, caramelized onions, melted provolone cheese on a hoagie bread all dipped in au jus sauce. It is quick and easy dinner or party food. Watch the recipe video tutorial below!
If you love easy slow cooker recipes check out Slow Cooker Corned Beef, Crockpot Asian Short Ribs, and Garlic Sesame Chicken. For a tender and juicy beef meal, check this Crockpot Beef Teriyaki recipe.
French Dip Sandwich
When I want an easy recipe for the whole family to enjoy, these Crock Pot French Dip Sandwiches are always on my menu. First, the meat is cooked slowly over a longer period of time. This results in super tender beef and flavorful sauce.
Also, when topped with melty cheese, flavorful sauce, and served on hoagie rolls it makes for the ultimate comfort food. This recipe tastes amazing and can feed a crowd.
The meat is tender and juicy from soaking all the flavors and cooking for so long in a nice mixture of onion soup, beef consommé, herbs, and spices. In addition, the sauce is very good for dipping the sandwiches in or even eating it like soup!
The slow-cooker french dip sandwiches are perfect to make for a quick night dinner or to entertain a company. Simply add everything to the bottom of the crockpot and forget about it until ready to serve.
Why You'll Love This Slow Cooker French Dip Sandwiches Recipe:
Very easy to make with minimal prep work.
A hearty and delicious meal that can be served as a weeknight dinner.
Perfect party food, with minimal prep work so you can entertain more and cook less.
You will have delicious leftovers the next day.
How to make Slow Cooker French Dip Sandwiches?
Sear the beef: First, add some olive oil to a large skillet and sear the roast on both sides over medium-high heat until golden brown.
Add to the slow cooker: Next, add the meat to the crockpot with the rest of the ingredients, along with beef broth and Worcestershire sauce.
Cook: Cover and cook on low heat for 8 hours, or high heat for 4-5 hours.
Shred: Using two forks, shred the meat into pieces.
Serve: Add it on hoagies with a slice of cheese and enjoy warm!
What is a French dip sandwich?
Unlike the name suggests, this dish did not originate from France. Its originator was a French man, who owned a sandwich shop in Los Angeles. According to the story, he was making sandwiches for the police force and by mistake dropped the sliced French roll into the dripping roasting pan.
From there on, the classic French dip sandwich started its existence! It is a hot sandwich made with tender beef roast cut into thin slices and served on a long French roll bread. Then, it is topped with melted cheese, and dipped in a flavorful sauce from the pan called "au jus".
The best meat to use for a french dip sandwich?
The original recipe calls for beef chuck roast beef or boneless round or top sirloin roast.
You want to use cuts that have fat because when it is cooked on low heat, it becomes super tender and flavorful.
You can find it in the local grocery store, or to save time, try using pre-packaged roast beef meat.
Best bread type to use:
To end up with the perfect sandwich you need good bread that is holding all the ingredients together when dipped into au jus sauce. Therefore, you want to look for a thick and hearty type of bread.
I usually go with toasted sandwich roll, French roll, or hoagie buns.
Also, it is best to avoid a thin or weak bread that will fall apart especially when dipped in liquid.
What to serve with this dish?
This is one of our family's favorite meals. The flavorful beef is slowly cooked to perfection till mouth tender. Feel free to pair this easy dinner idea with the following:
How to make "au jus"?
The dipping juice is also known as "au jus" is made from beef broth, Worcestershire sauce, and flavorful drippings from the slowly cooked beef and sauteed onions and garlic.
Just strain out the solids from the crockpot and the leftover cooking liquid is the homemade au jus sauce!
Instant Pot version:
Alternatively, feel free to make this recipe in the Instant Pot. It is equally easy but made at a fraction of the time.
Here is the Instant Pot French Dip Sandwiches recipe.
How to store leftovers?
First, let leftover beef completely cool at room temperature. Then, transfer it to an airtight container and refrigerate leftover for up to 4 days. Also, make sure that the beef is at least partially covered by the sauce so it doesn't dry out.
How to freeze it?
Transfer leftovers to an airtight container or heavy-duty freezer bag along with the dipping sauce.
Next, squeeze out any excess air.
Then, freeze it for up to 3 months.
When ready to serve, thaw it in the refrigerator overnight.
Reheat using the slow cooker, microwave, or stovetop.
More easy family dinners:
Recipe tips:
Use high-quality meat. Also, I recommend grass-fed, organic meat if possible, as it tends to be extra tender, which is perfect in this recipe.
As state above, you can use a chuck roast or round roast. The chuck roast has more fat, so it will be more tender and juicy.
However, if you prefer less fat, I recommend using round roast beef. Also, the round roast will be a little drier, so you will have to shred the meat and let it in the slow cooker for another hour to absorb all the juices.
Brown the beef – it will improve the texture and taste and also will lock in all the delicious flavors.
The beer can be replaced with non-alcoholic beer or beef broth.
If you can't find beef consommé then replace it with low sodium beef broth.
In addition, I love seasoning the roast weel this way it adds more flavor to it.
To add some crunch to it, you would broil the sandwich for 2-3 minutes until the cheese melts.
Feel free to use your favorite cheese for topping. Mozzarella cheese is a great alternative to provolone cheese.
Tools/ingredients that I used to make this dish:
Crockpot – very reasonably priced and definitely a kitchen must-have if you are busy.
Dried Thyme – I like to have dried thyme on hand for many recipes, including different rubs and marinades, it adds a nice flavor.
Garlic Powder – no recipe in my house is made without garlic unless we are talking about cake. Garlic powder is versatile and will add a lot of flavor to your main dishes.
Onion Powder – great to have on hand to season main dishes and also to make meat rubs.
Dried Oregano – I love this organic brand, it's perfect to use in rubs and adds a nice flavor to meat-centered dishes.
Bay Leaves – I like using bay leaves in my recipes, they add a nice flavor, I always use them in soups and stews.
Beef Consommé – great for cooking condensed soup, can be used in a lot of recipes, adds a very nice flavor.
French Onion Soup – so great in this recipe, it has actual pieces of onions that add so much flavor.
Worcestershire Sauce – definitely a specialty ingredient that it's great to have on hand for beef recipes.
Beef Broth – I always use organic in recipes, it also adds a tone of flavor, you can replace the beef consommé with beef broth if you don't have any on hand.
Deliciousness to your inbox
Enjoy weekly hand picked recipes and recommendations