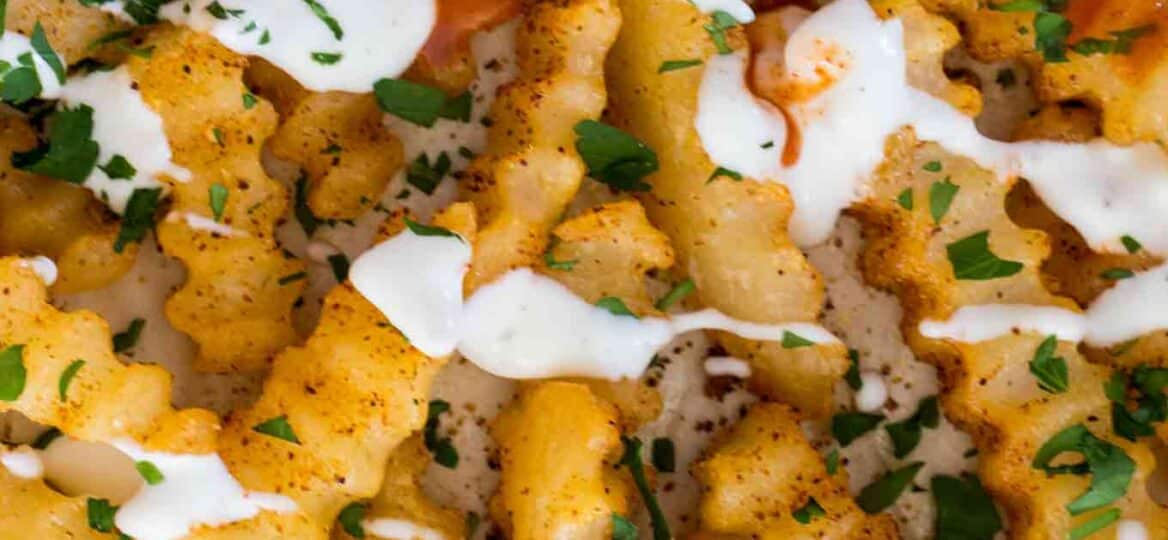 Taco Fries and Fire Grilled Chicken
Taco fries are flavorful and delicious and you only need two ingredients. Perfect to serve as an appetizer or side dish for game days, parties, or gathering.
This is one of our favorite Tex-Mex side dishes. We love to pair the fries with Baked Buffalo Wings, Chicken Quesadilla, and Spinach Artichoke Dip.
Easy Homemade Taco Fries
Taco fries are becoming a staple in this house. I made them for a party and everyone loved them so much that they disappeared in minutes. The best thing about these is that all you need only 2 ingredients and you can serve them with your favorite dipping sauce.
Our family loves to dip them into horseradish sauce, chipotle sauce, or buffalo sauce. Also, chicken and fries are the perfect companions. Since they come in one package, you simply bake them for 15 minutes for a quick and easy dinner.
For these Taco Fries recipe just use our favorite taco seasoning and favorite brand of frozen fries. Garnish them with fresh cilantro or Pico de Gallo. For a spicier kick, add some hot sauce to the fries before serving or some chili powder before baking. You can also sprinkle some fresh lemon zest or sea salt onto them.
What to serve with them?
If you want to serve these Taco Fries as part of an easy dinner, I have the perfect solution. Simply add some Cooked Perfect® Fire Grilled Chicken Tenders to the baking sheet. You now have a delicious one sheet pan dinner.
Cooked Perfect Fire Grilled Chicken is grilled over an open fire to sear in the flavor for juicy, tender chicken that's super easy to serve.
You can find them in the frozen foods aisle of the grocery store. They are easy to prepare by heating them in the oven or the microwave.
Also, these chicken tenders come in a variety of cuts like wings, drumsticks, thighs, tenders, and chunks. Some of our favorite flavors are:
Bourbon BBQ
Buffalo Ranch
Wildflower Honey BBQ
Lemon Herb
Zesty Herbs and Spice
Szechuan Style
Korean Style
Classic Style
Dinner does not get any easier! I like when I can find an easy, delicious solution to everyday meals. Browse Recipes & Save $1.50
Deliciousness to your inbox
Enjoy weekly hand picked recipes and recommendations