Horseradish Sauce Recipe [Video]
Horseradish Sauce is what your roast needs! Steaks and roasts simply taste better with it on the side and with this easy recipe, you can make it at home!
I am fond of making homemade seasonings and sauces! I have many recipes including keto caramel, chimichurri, and cranberry sauces!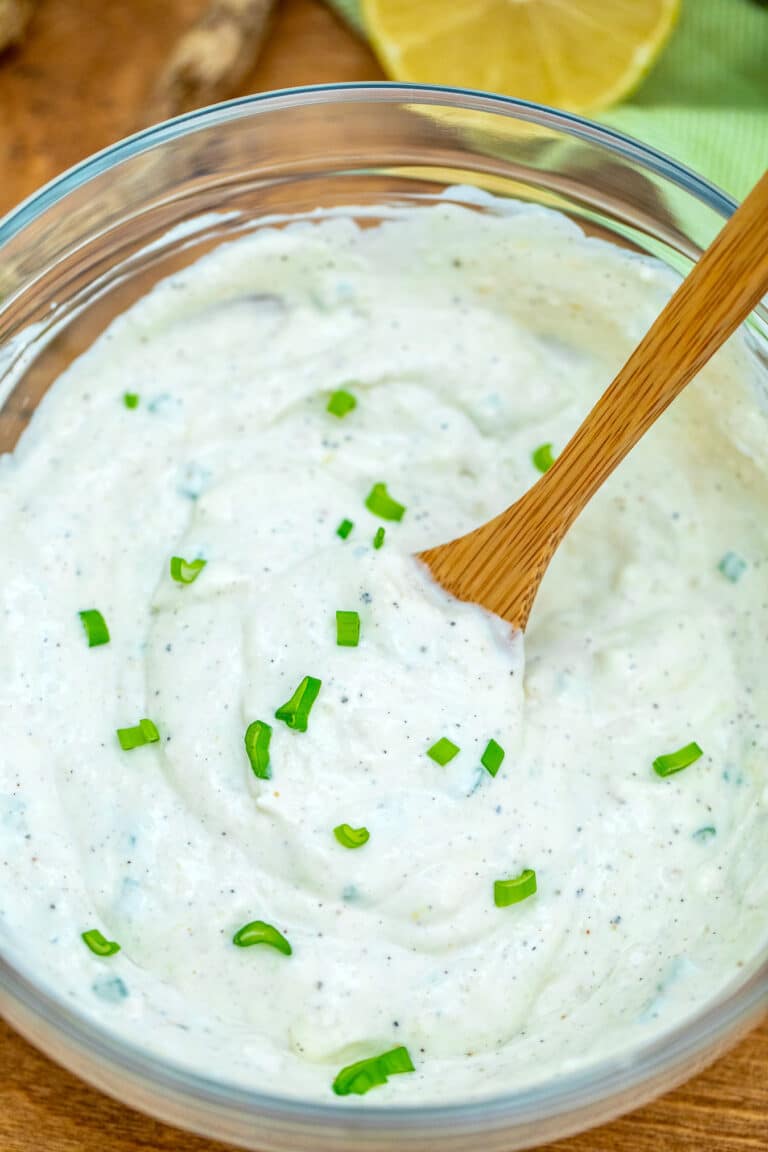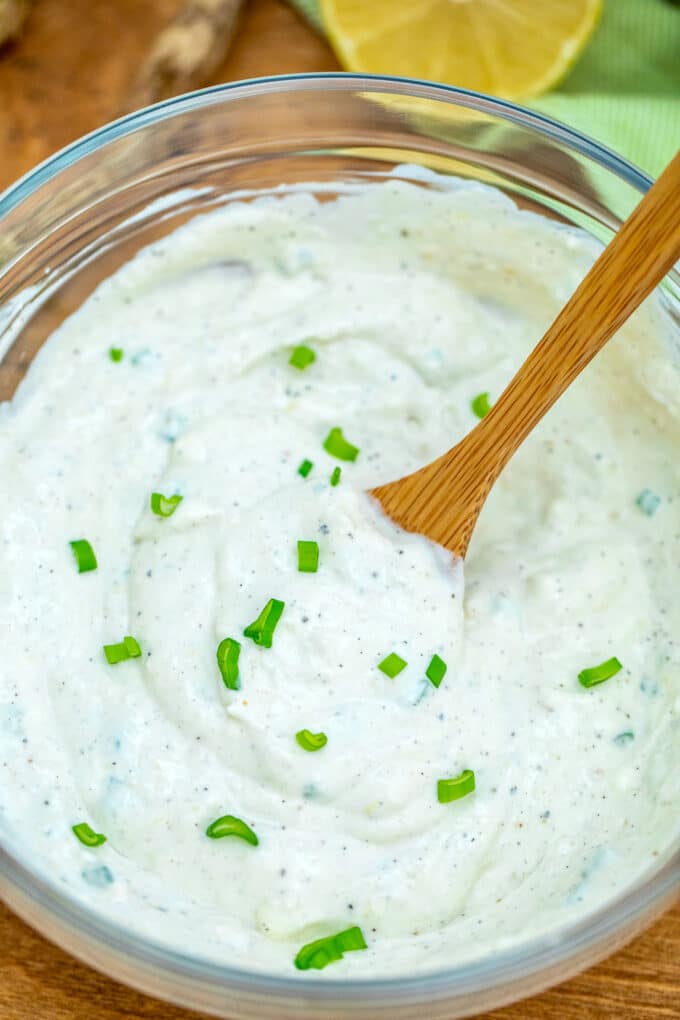 Homemade Horseradish Sauce
Horseradish Sauce is so easy to make that you can whip it at home, no need to go to the grocery store to get some! With this recipe, you will find that only a few ingredients make this great dip. The most important ingredient is the tuber itself, of course.
Horseradish is a pungent tuber that is a close relative of mustard and wasabi. Modern Japanese restaurants even use this as a paste and color it with green as a substitute to the true wasabi plant.
It has been around for thousands of years, cultivated mostly in Europe where it probably originated. No wonder, it is popular in the UK. Even Shakespeare once mentioned it in his work!
This simply reflects how important it is in culinary. Aside from pairing so well with meat, this is quite healthy, too. It has compounds and antioxidants that can fight cancer and bacterial growth.
If you are not a fan, then, I guess you are missing a lot! And it is time to follow this recipe and make it at home.
By making this at home, you are in control as to how much of the tuber goes into the dip. Hence, you can tailor it to your taste and how much heat you want to add.
This dip adds just enough heat and the creamed version, such as this exact recipe, tames down the pungency. Before learning this recipe, I was at a loss as to how people could tolerate the heat, but I was determined to like it.
And guess what, my family and friends now like it as well! Try this homemade recipe and thank me later!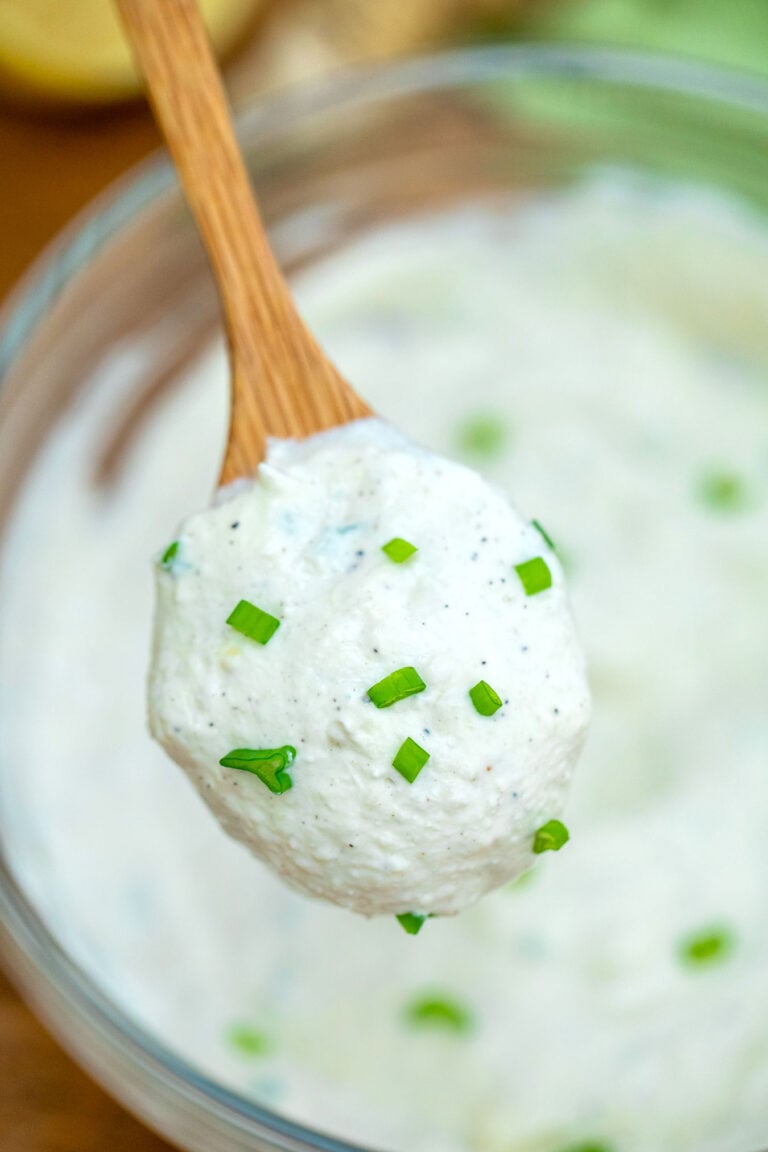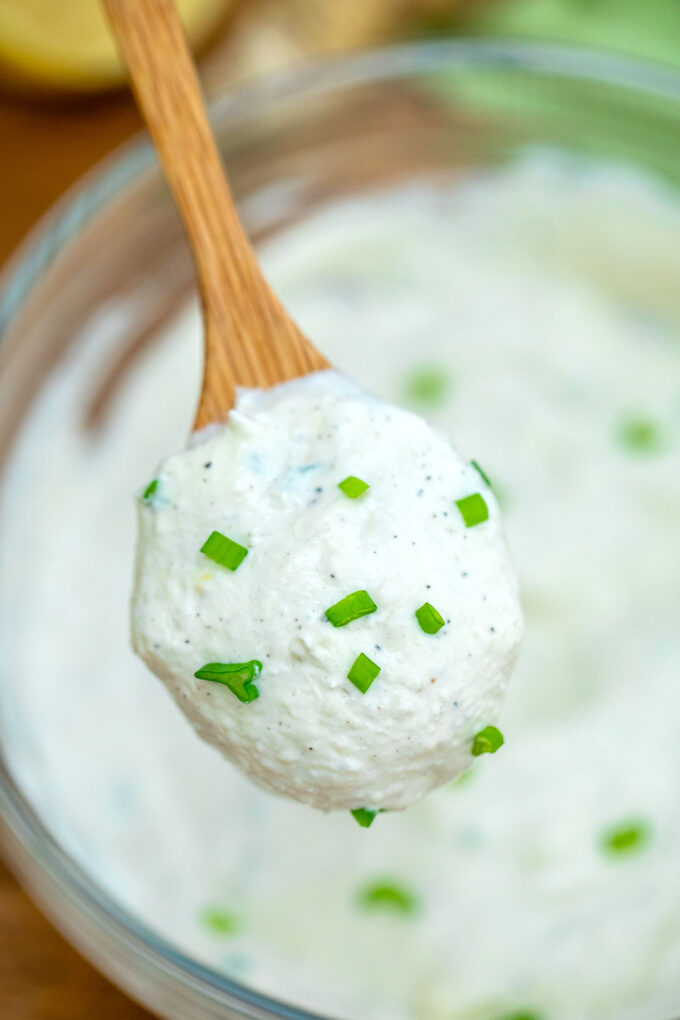 What is Horseradish Sauce made of?
Here are the basic ingredients for this homemade recipe:
Sour cream
Greek yogurt
Mayonnaise
Apple cider vinegar
Lemon zest
Salt
Pepper
Green onion
Prepared horseradish
Did you notice how most of these ingredients are on the sour side? Even the prepared horseradish has vinegar in it.
It is typically made with the shredded root veggie, salt, and vinegar. It has an offensive odor and when you turn it into this sauce, the pungency subsides. The key is to add more acid as it tames the pungency. Nevertheless, the pungency goes away after several days.
How to Make Horseradish Sauce:
To prepare this, simply combine everything in a bowl. Then, transfer it into an airtight jar and store in the fridge for up to 2 weeks.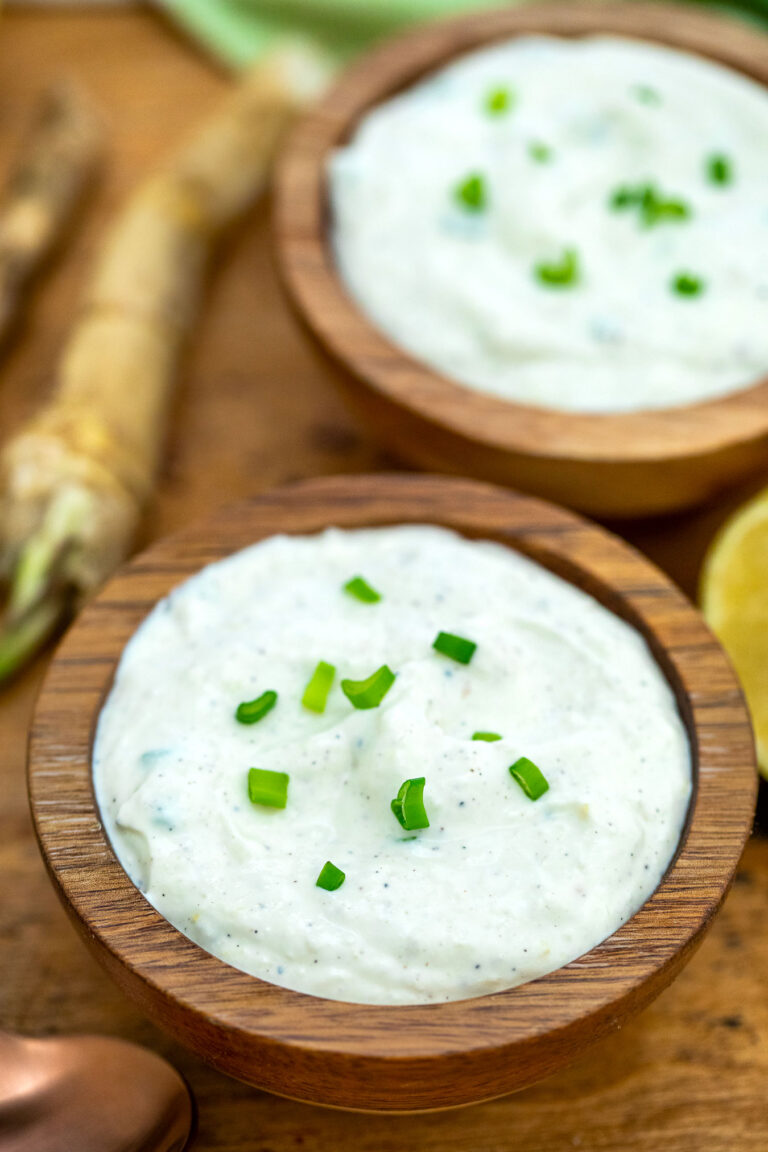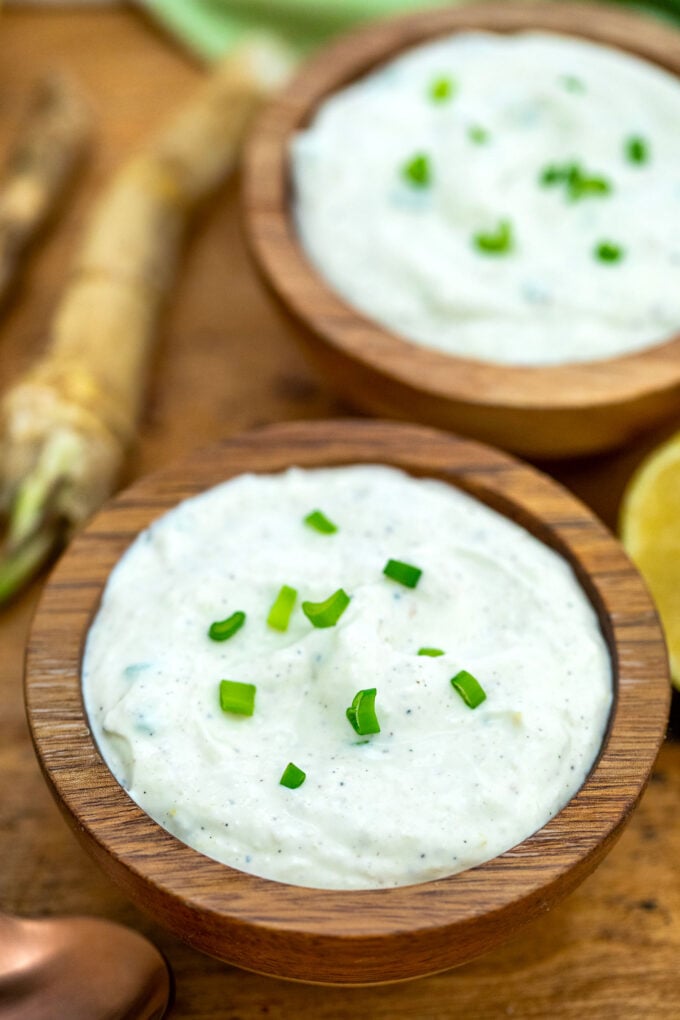 What can I serve Horseradish Sauce with:
Aside from serving alongside roast beef, use it as a sauce. Or, mix it with your favorite topping, filling, or dressing. Try it for the following:
How long does it last:
Refrigerate it for about 2 weeks. It may keep for until 4 weeks but the flavor weakens through time.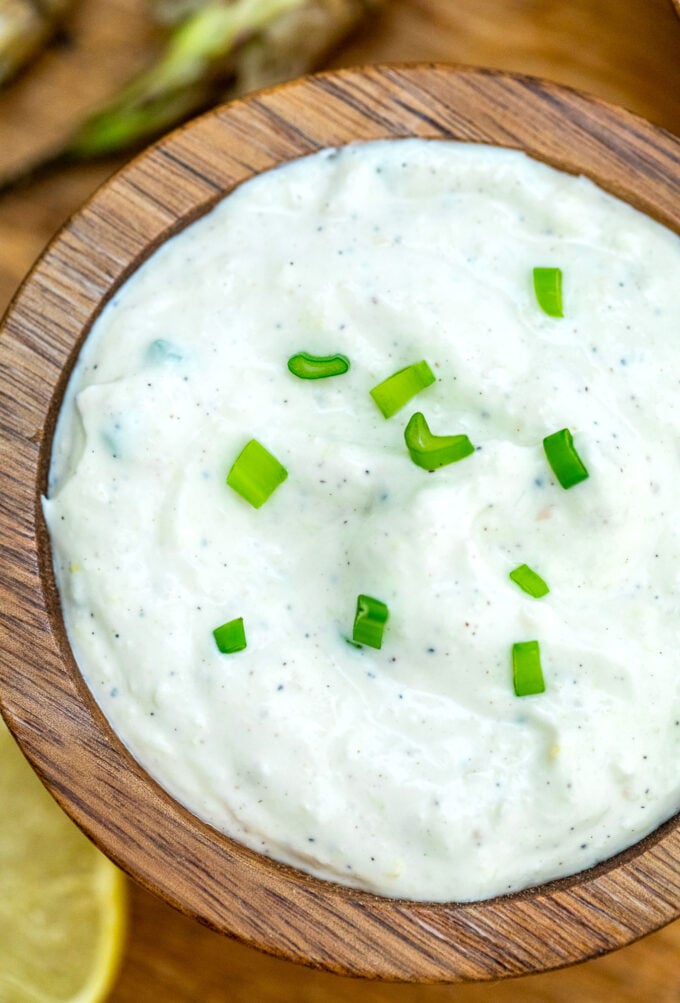 Recipe Tips:
Swap the Greek yogurt, apple cider vinegar, and lemon zest with Dijon mustard.
To make the prepared horseradish, simply grind together horseradish, vinegar, water, and a bit of salt. This can be kept in the fridge for up to 4 weeks.
If you have leftovers of the tuber, you can simply peel and cut them up. Then, put the chunks in a jar with vinegar and you can use this vinegar as a condiment, too.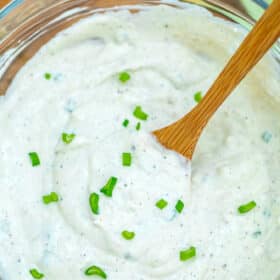 Horseradish Sauce
Horseradish Sauce is what your roast needs! Steaks and roasts simply taste better with it on the side and with this easy recipe, you can make it at home!
Save
Share
Print
Pin
Rate
Ingredients
1/2

cup

sour cream

1/2

cup

greek yogurt

1/4

cup

mayo

3

tablespoons

prepared horseradish

(drained)

1

teaspoon

apple cider vinegar

1

teaspoon

lemon zest

1/4

tsp

salt

(or to taste)

1/8

tsp

black pepper

(or to taste)

1

tablespoon

green onion

(finely chopped)
Instructions
In a small bowl, stir all of the ingredients together.

Serve right away or add to an airtight container and refrigerate for about 2 weeks.
Nutrition
Calories:
25
kcal
|
Carbohydrates:
1
g
|
Protein:
1
g
|
Fat:
2
g
|
Saturated Fat:
1
g
|
Cholesterol:
3
mg
|
Sodium:
50
mg
|
Potassium:
20
mg
|
Fiber:
1
g
|
Sugar:
1
g
|
Vitamin A:
17
IU
|
Vitamin C:
1
mg
|
Calcium:
12
mg
|
Iron:
1
mg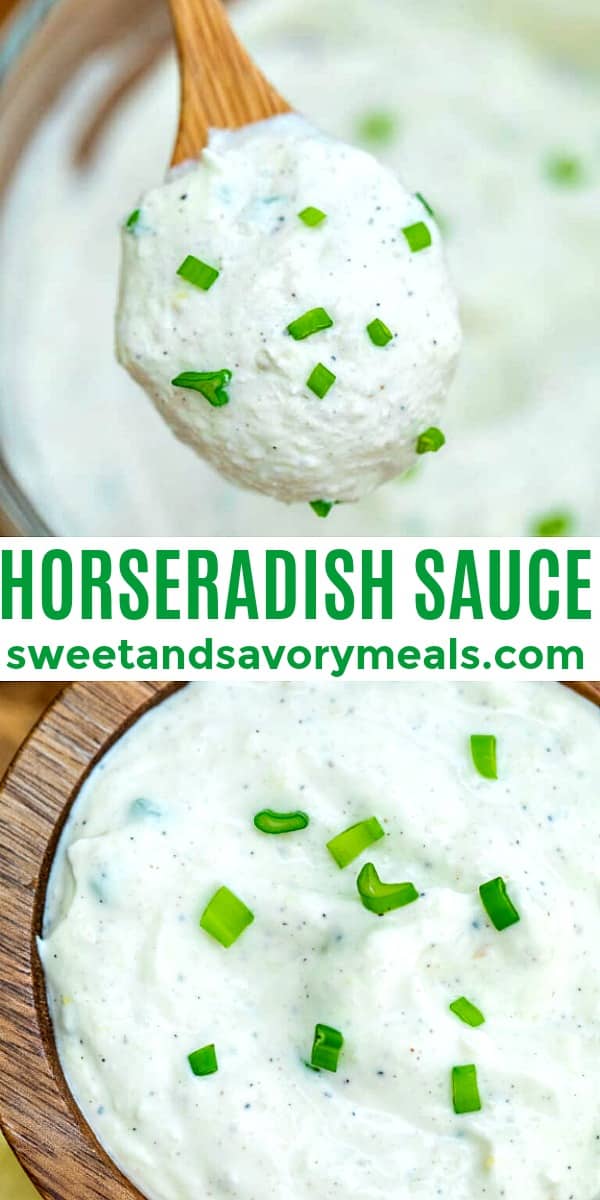 More recipes you might love