Chimichurri Sauce Recipe [Video]
Chimichurri Sauce is an oil-based sauce with parsley, garlic, herbs, and spices. It perfectly pairs with steak! Make it on your own with this easy recipe!
This is an extremely versatile dip that you can serve as a side to our other recipes like the Grilled Chicken Wings, Grilled Potatoes, and Grilled Pork Tenderloin.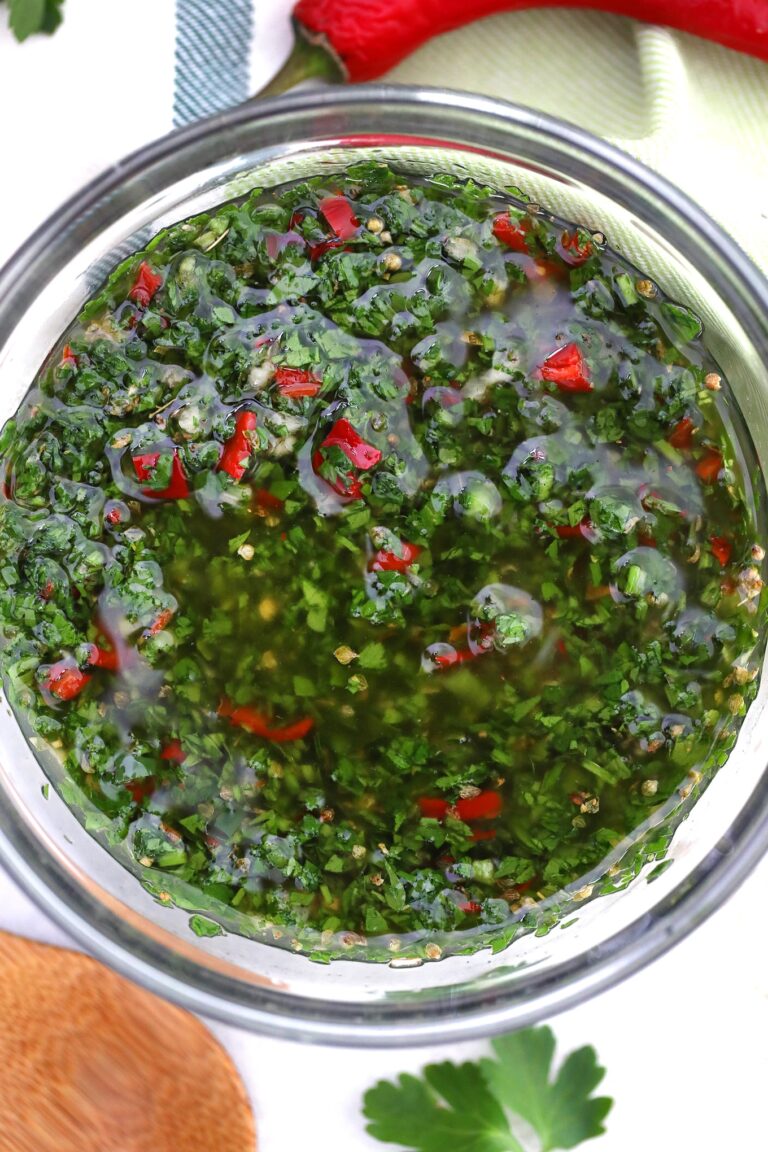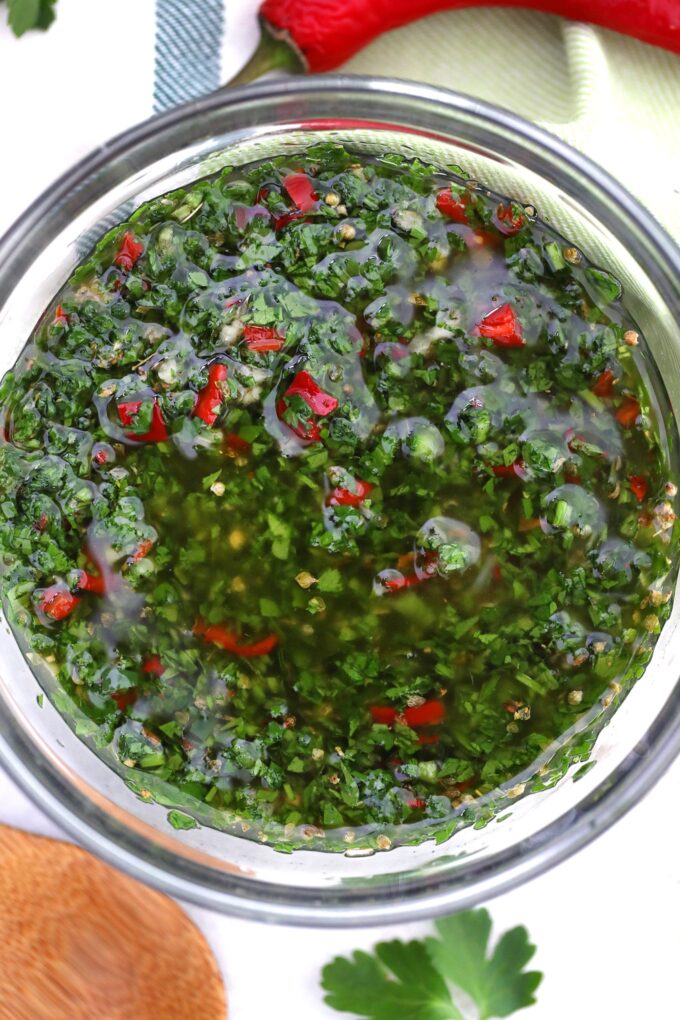 Chimichurri Sauce Recipe
Chimichurri Sauce comes from Argentina where people encourage making homemade food products. In fact, serving homemade food is a sign of affection. It is a tradition for them to pass on family recipes especially for homemade ones just like this recipe.
It is versatile as it can be paired with just about anything. My family raves about it whenever we have it as a condiment for dinners with steak as the main dish. They just go together so well!
It is available in bottles, but there is no need to buy those processed ones! It may taste like gourmet dips and condiments, but the recipe is not complicated at all. All you need is a few ingredients and this easy recipe!
What is chimichurri sauce?
It is an Argentinian dip made with olive oil, garlic, parsley, and other herbs. It can be served as a condiment or used as a marinade.
How to make chimichurri sauce?
For a quick tutorial, watch the recipe video attached above. But the general steps are as follows:
Chop: Armed with your knife skills, cut up the vegetables and herbs very finely.
Mix: Simply mix the ingredients in one bowl! It is that easy.
Rest: Before using, let the flavors marry by letting the mixture rest for at least 2 hours. You can also have it refrigerated if you want to store some for future use.
Chimichurri Sauce variations:
It has two main kinds, red and green. In this recipe, we are making the green version. But to make it red, you can add tomatoes and paprika.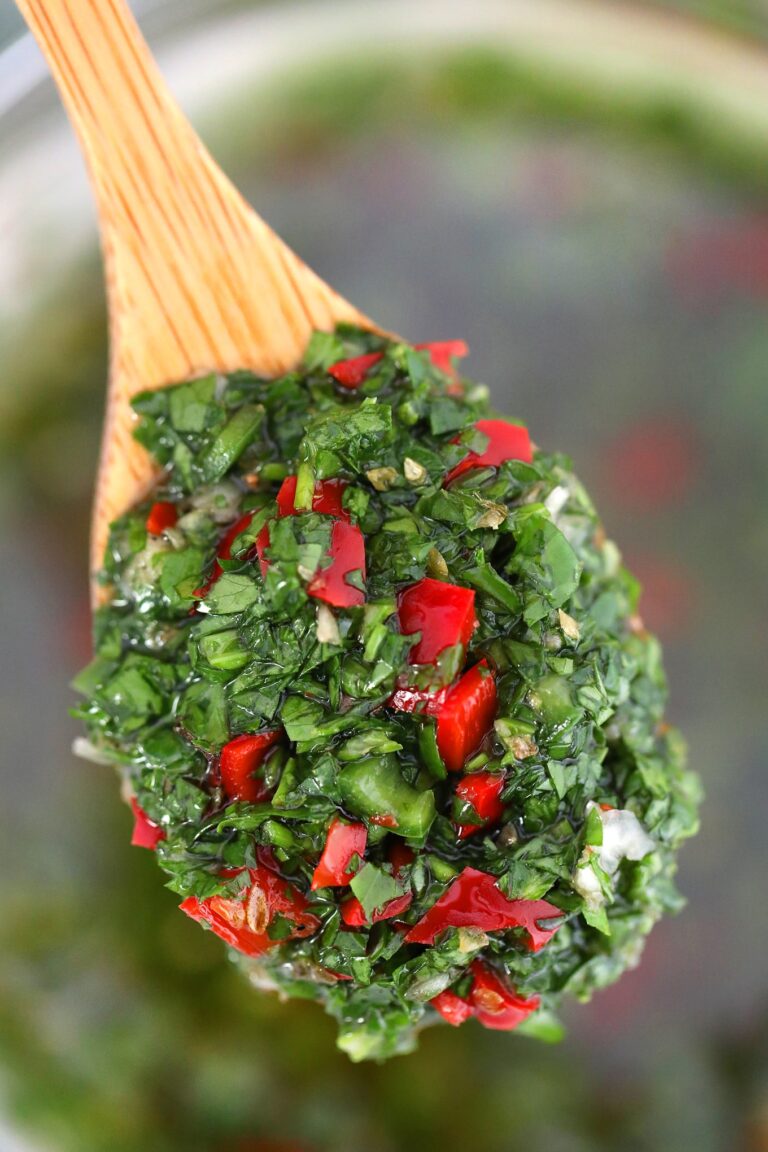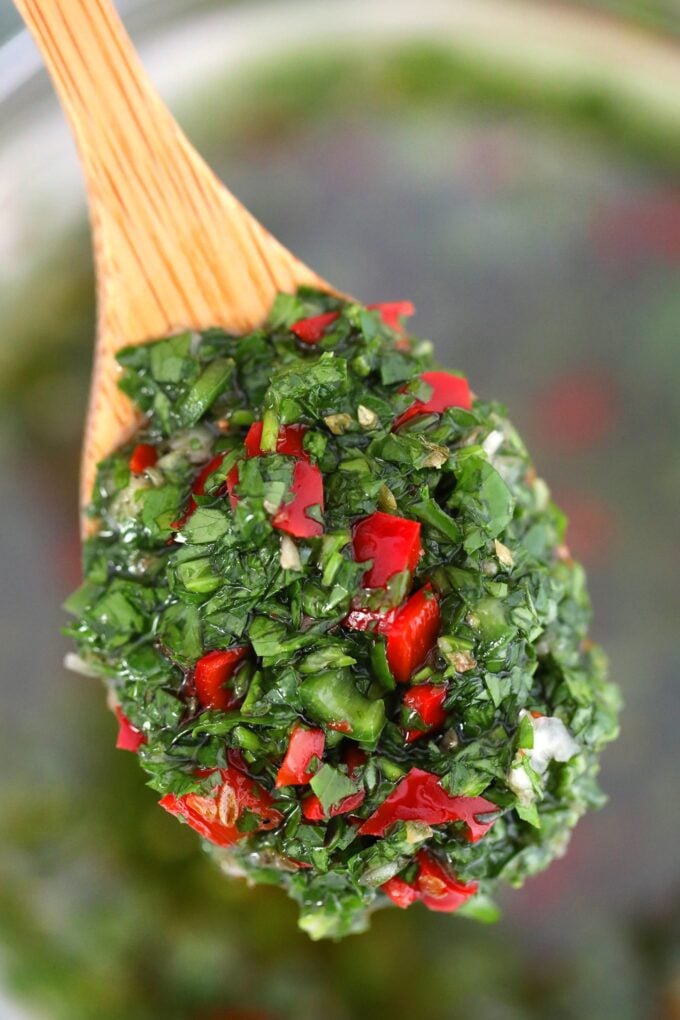 What does chimichurri sauce taste like?
Since it is made with fresh ingredients, it has a refreshing taste reminiscent of grass. It has parsley and oregano to blame. Also, the strong garlic flavor makes it pungent while the red vinegar makes it a bit tangy.
The chilis and red pepper flakes add some heat but not overly spicy. You are free to adjust this by adding more.
All in all, these unique flavors make one delicious dip!
Is chimichurri sauce healthy?
Yes! It has no dairy, no gluten, and no sugar. Also, it is both keto-friendly and paleo-friendly. All the ingredients are nutritious and beneficial for health. This nutritious blend has antioxidants (olive oil), can regulate blood pressure and cholesterol (garlic), and has anti-microbial properties (parsley).
A two-tablespoon serving will set you back by 176 calories, though.
How to serve chimichurri sauce:
It is highly versatile and can be served in many ways. Here are some suggestions:
As a condiment alongside grilled meat like steak, chicken, fish, pork, or shrimp (or use it to baste while cooking)
Drizzled over grilled or roasted vegetables like potatoes and sweet potatoes
Top on a slice of bread and toast to make a garlic bread
Blend with mayonnaise to make it creamy – good for sandwiches and salads
Serve cold as a salsa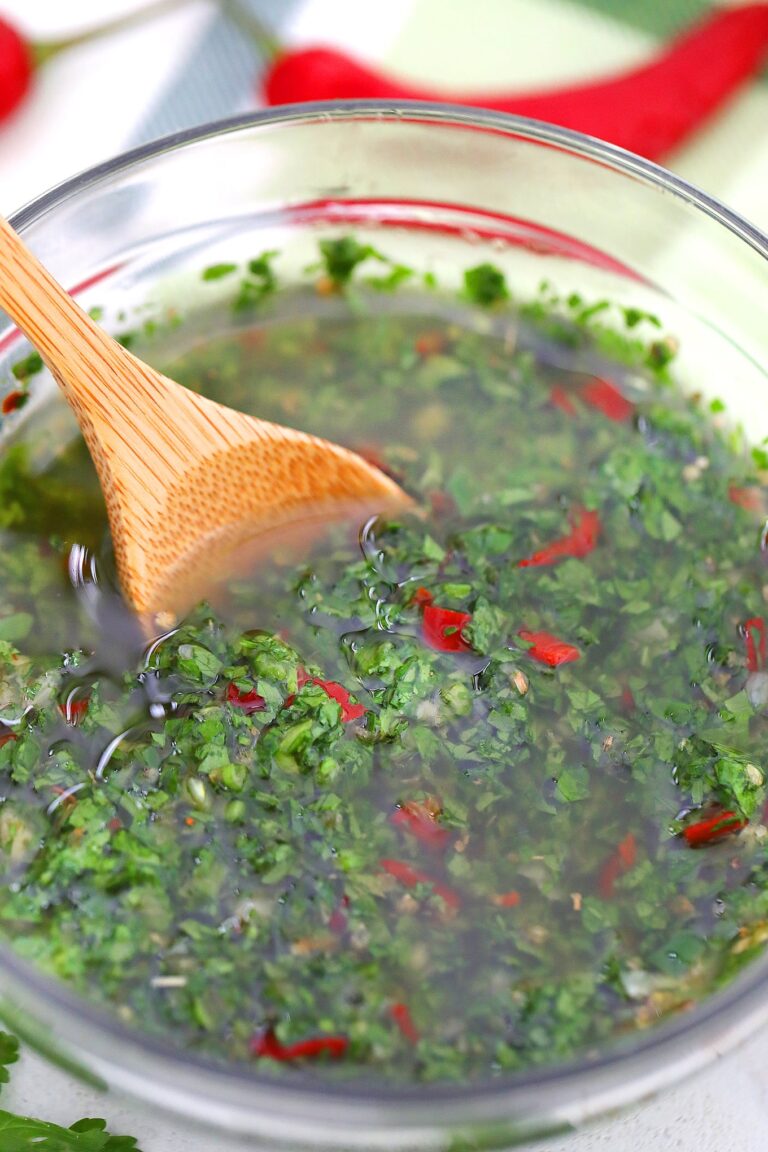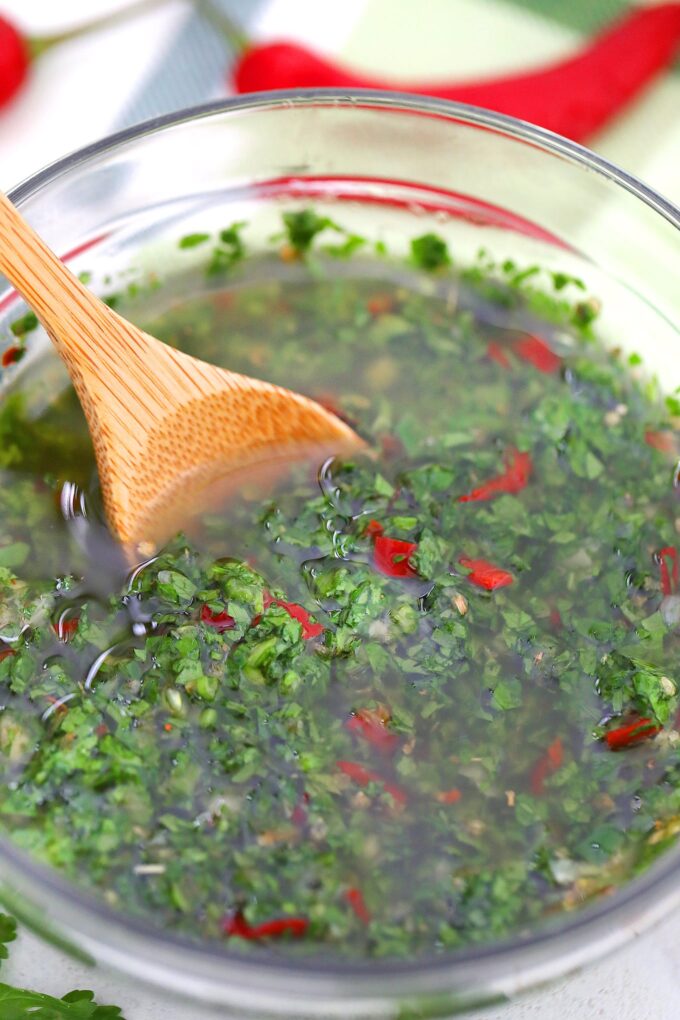 How to store chimichurri sauce:
It refrigerates well – up to two weeks! Just remember to put it in airtight containers or mason jars.
It freezes well, too. You can freeze it by putting it first in single-portion containers so that when you thaw it, you will not need to thaw the whole batch. Make a big batch and keep it in the freezer for 3 to 6 months!
More homemade sauce recipes:
Recipe Tips:
Add some cilantro to boost flavor and add more chilis if you want it spicier.
Use the food processor to spare you the time of chopping the ingredients.
In freezing dips, you can use the ice tray. This way, you can get a cube or two whenever you want, without defrosting the whole thing.
As a marinade, you can simply put this in a bag along with the meat and refrigerate for a few hours (if for seafood, limit marinating time to one hour).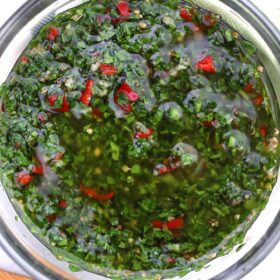 Chimichurri Sauce
Chimichurri Sauce is an oil-based sauce with parsley, garlic, herbs, and spices. It perfectly pairs with steak! Make it on your own with this easy recipe!
Save
Share
Print
Pin
Rate
Servings:
6
servings (about 1/4 cup each)
Ingredients
2/3

cup

olive oil

3

tablespoons

red wine vinegar

1

cup

finely chopped parsley

4

cloves

garlic

(finely chopped)

1

medium red chili

(deseeded and finely chopped)

1

small green chile

(finely chopped)

2

tablespoons

fresh oregano

(chopped)

1/4

teaspoon

red pepper flakes

Salt

(to taste)

Black pepper

(to taste)
Instructions
Mix all ingredients together in a bowl and let sit for 10-15 minutes to release all the flavors. For best results, refrigerate for 2 to 24 hours before serving.

The sauce can be used as a marinade, as a sauce or as a dip.

Serve over steak or seafood.
Nutrition
Calories:
232
kcal
|
Carbohydrates:
3
g
|
Protein:
0
g
|
Fat:
24
g
|
Saturated Fat:
3
g
|
Cholesterol:
0
mg
|
Sodium:
34
mg
|
Potassium:
100
mg
|
Fiber:
1
g
|
Sugar:
0
g
|
Vitamin A:
965
IU
|
Vitamin C:
25
mg
|
Calcium:
40
mg
|
Iron:
1.5
mg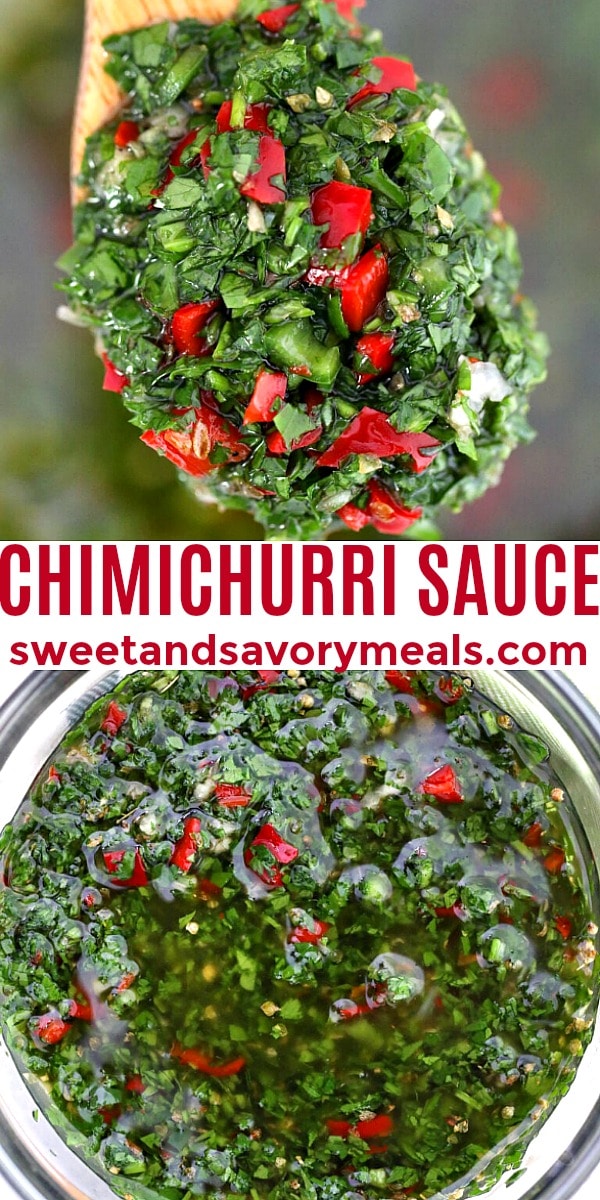 More recipes you might love