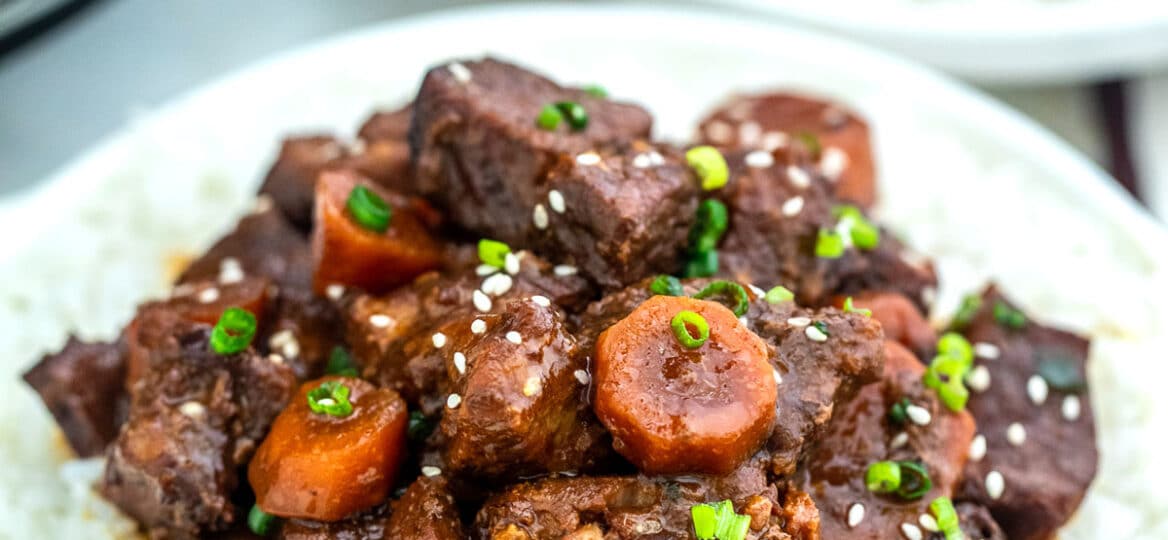 Slow Cooker Beef Teriyaki [VIDEO]
Slow Cooker Beef Teriyaki is very easy to make and a perfect weeknight meal. Just add all the ingredients to the crockpot and cook, and I guarantee you will enjoy it!
If you love easy crockpot recipes check out Crockpot Corned Beef, Crockpot Asian Short Rib, and Slow Cooker Garlic Sesame Chicken.
Easy Slow Cooker Beef Teriyaki
Slow Cooker Beef Teriyaki is one of my favorite meals to make in the crockpot. This dish is such a time-saver, also budget-friendly. Teriyaki gives this dish an Asian infused flavor because it's sweet, and not too salty, which perfectly combines with beef in the crockpot.
This Beef Teriyaki is the first Asian beef recipe I had the kids try and it's since led to a large variety of recipes they enjoy. This homemade recipe is very tender and flavorful, you can serve it with rice or over noodles.
Makes enough to feed a large family and the leftovers are delicious. Made with simple ingredients, this meal is always in rotation. Serve it with steamed broccoli or a large green salad on the side.
What is Beef Teriyaki?
Teriyaki is thought to have originated from Japan. It is mostly referring to a cooking method and can be used with other various meats. Today, this dish is known worldwide and can be found on pretty much all Asian restaurant's menu. In our recipe, we used the same cooking technique where beef is glazed with soy sauce, mirin, and sugar.
How do you make Teriyaki Sauce?
Teriyaki sauce is very easy to make, usually, you combine 1 cup of water with brown sugar, soy sauce, honey, garlic, and ginger in a medium saucepan and put over medium heat.
Once the mixture starts to simmer, combine in a small bowl 2 tablespoons cornstarch with 1/4 cup water and whisk until dissolved. Add the cornstarch mixture to the saucepan. Heat the sauce until it thickens to your desired thickness.
What to serve with Beef Teriyaki?
This dish goes well with pretty much everything. We like serving it over
How to store it?
If you have leftovers, you can easily store them. First, let the dish completely cool. Then, transfer to an airtight container, and store for up to 4 days.
To freeze, transfer it to a freezer-safe dish, and freeze for up to 3 months. Defrost prior to serving.
Recipe Tips:
I always say this, but a good meat-centered meal starts with quality meat, preferably use organic meat for this meal.
Also, cut the beef into 1-1 1/2 inches chunks, so they hold their shape after cooking.
Similarly, cornstarch is a key ingredient in here, do not try to replace it with flour, the results will not be the same.
I used a LOT of garlic in this recipe, we love garlic in our family and I think it works really well with the sweet and salty flavors. Feel free to useless if you are not a huge garlic fan.
In addition, you can add red pepper flakes for the dish to be spicier.
For even more flavor you can add some fresh ginger as well.
Using fresh ginger and garlic will add amazing flavor and taste to the sauce.
Tools/Ingredients I used to make the Slow Cooker Beef Teriyaki Recipe:
Crockpot – very reasonably priced and definitely a kitchen must-have if you are busy.
Cornstarch – I prefer using cornstarch instead of flour to thicken sauces, and this organic brand is my favorite.