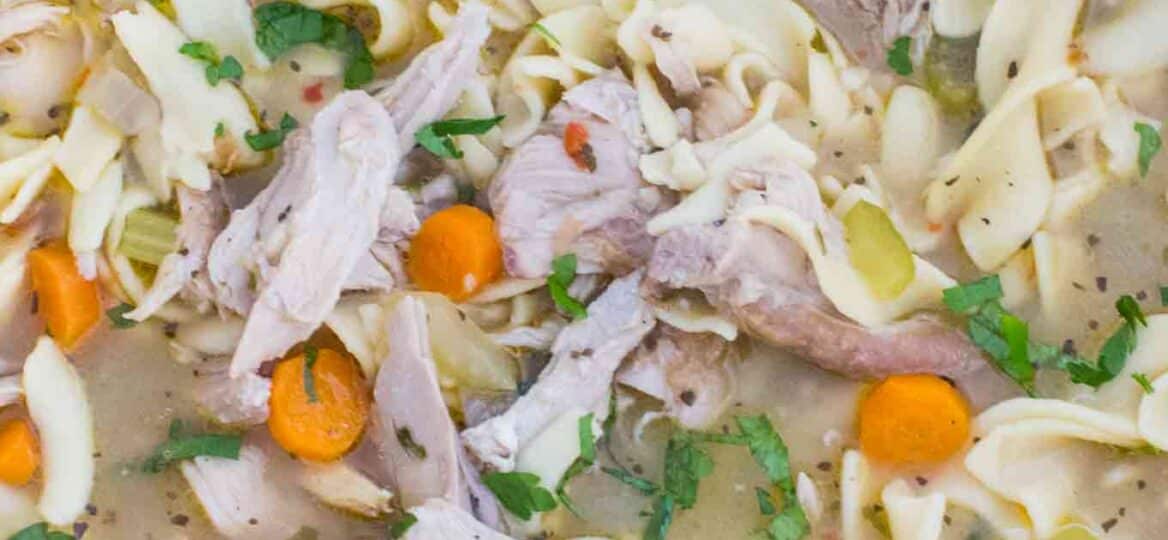 Homemade Chicken Noodle Soup [VIDEO]
This Homemade Chicken Noodle Soup is healthy, satisfying, and tastes amazingly delicious. The chicken tights give this soup an extra rich and flavorful aroma, which is then mixed with loads of fresh vegetables and finished off with egg noodles.
We love making easy soups on our blog, and this version of the Homemade Chicken Noodle Soup is the perfect food for the soul. With colder weather during this time of the year, this soup recipe will warm you up in no time. Our other popular soup recipes are the Slow Cooker Baked Potato Soup and the Panera Bread Soups Copycat Recipes.
Best Chicken Noodle Soup (Ultra-Satisfying)
The Homemade Chicken Noodle Soup is made in one pot, with tender chicken thighs, veggies, and egg noodles. It is comfort food at it's best, and ready in just about 40 minutes. The soup is cozy and rich in flavors from the chicken and veggies, and perfect for flu season!
For this recipe, it's important to use good-quality chicken broth. You can easily make the broth at home. This is one of the main ingredients that gives this dish that rich and flavorful taste.
Similarly, it is incredibly easy to make, and it does not involve multiple steps to follow. After you prepare your chicken and veggies, add the broth to the pot, you just have to wait under 30 minutes for the soup to be ready.
Make sure to salt your soup to taste. We use low-sodium chicken broth and add salt as needed during the cooking process. In addition, you can swap the veggies in this soup if you are inclined to do so. To keep it more traditional, I used carrots and celery. However, you can substitute them, or even add additional veggies such as broccoli, zucchini, and bell peppers.
CHICKEN NOODLE SOUP INGREDIENTS
Chicken tights
Egg Noodles
Chicken broth
Onion
Garlic
Celery and carrots
Salt and pepper
Dried herbs
HOW TO MAKE THE BEST CHICKEN NOODLE SOUP?
Please see the exact ingredients and their measures in the recipe card below. Also, I have included a short step-by-step video on how to follow this recipe.
In a large dutch oven or soup pot add some olive oil and lightly brown the chicken thighs on each side. Remove from pot and set aside.
Add your veggies and lightly sauté. Then, add chicken and chicken broth and bring to a boil until chicken is cooked through.
Then, remove chicken thighs and shred them or cut them into small pieces. Make sure to leave the bones off.
Next, add your egg noodles to the broth and bring to a boil.
After, reduce heat and simmer until noodles are tender.
Once noodles are cooked, add your chicken back to broth along with salt and pepper. Bring to a boil until everything is heated through.
What can I add to my chicken soup to give it flavor?
For the best taste, it is important to use seasoning. Do not be afraid to add some extra season to your soup, it does make a lot of difference in the taste. Here are my favorite options:
Salt, black pepper, poultry seasoning, white pepper, bay leaves, thyme, garlic powder, cumin, dried basil, and onion powder are the best spices you can add to chicken soup for flavor.
Another option is to use fish sauce. You will be surprised how much flavor it adds to this dish. You only need about 1 teaspoon of fish sauce.
To make it creamier, add 2 to 4 tablespoons of heavy cream, half-and-half, or whole milk.
Also, toasted sesame oil is another option I usually go to add more flavor to it. Just add one teaspoon of toasted sesame oil along with the fish sauce, and you will end up with the most aromatic, flavorful, and the BEST chicken soup ever!
Can I use vegetable broth instead?
Absolutely. I prefer to use chicken broth since the soup is chicken based, which gives it a richer aroma. However, a vegetable stock will work as well.
Can I use store-bought chicken or leftover chicken?
To save time, you can use rotisserie chicken or leftover chicken to make the soup. If you have a rotisserie or leftover chicken, instead of adding chicken thighs to the pot, add two to three cups of shredded or diced cooked chicken to the soup at the same time as adding the dried noodles.
How to freeze Chicken Noodle Soup?
I recommend using freezer quart bags to freeze this soup.
First, let the soup fully cool.
Use a cup to transfer the soup from the pot into the bag.
Squeeze out excess air and seal the bags.
The bags can nicely be stored in the freezer for up to 2-3 months.
When reheating, you may need to add a bit of chicken broth or water, since the noodles will soak up the broth.
More delicious soup recipes:
Easy Chicken Noodle Soup Recipe Tips:
Use quality chicken broth. For the store-bought version, I go with Organic low-sodium broth.
You can make this soup in the slow cooker as well. The crockpot version of this recipe can be found here.
Similarly, I used chicken thighs instead of chicken breasts. This gives the soup extra richness and flavor.
Also, chicken thighs make a better soup and are far more tender than chicken breasts.
This soup can also be made with shredded rotisserie chicken meat.
You can skip some of the veggies if you don't like them. For example, if you absolutely hate onions you can skip those.
I prefer to use egg noodles, but another pasta may be substituted.
Tools used to make this Homemade Chicken Noodle Soup recipe
Large Pot: This pot is excellent for cooking, as it maintains the heat evenly and is a high-quality product.
For a budget-friendlier version, you can get the Enameled Cast Iron Dutch Oven, which works also great.