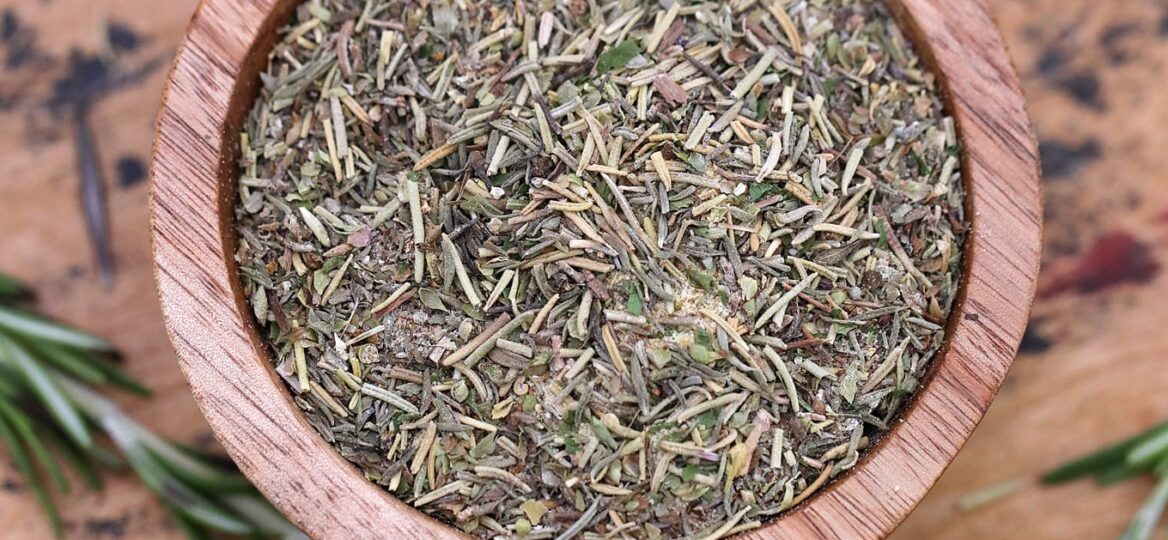 Homemade Poultry Seasoning Recipe
Poultry Seasoning is super easy to make and perfect for roasted turkey and chicken dishes. This is the winning recipe that will make any dish taste so much better!
Apart from roasted turkey, you will appreciate this herbed poultry seasoning on dishes like Crockpot Stuffing and Instant Pot Whole Chicken.
Poultry seasoning for turkey
Homemade Poultry Seasoning is often sold in grocery stores or online. But, did you know that you can just prepare it right in your kitchen? Why buy when you have all the ingredients you need? Also, it is way cheaper and more flavorful to make it on your own, and you are sure to use quality ingredients.
This poultry seasoning would make for a perfect DIY recipe to get you through the holidays. Not to mention, it is one of the best seasonings to use on Turkey, Chicken, or Stuffing.
This is why I am sharing with you this amazing rosemary and thyme seasoning. Ever since I ran out of this versatile mix, I learned how to prepare it on my own so that it will never happen again.
All it takes is a variety of herbs and spices that may already be present in your pantry. This rosemary and thyme seasoning mix will elevate the flavor of pretty much any dish.
what is in the poultry seasoning recipe?
Poultry Seasoning is simply a dried seasoning blend often used in Roasted Turkey and stuffing recipes. The main spices are sage, thyme, rosemary, marjoram, nutmeg, and onion powder. Together, these dried herbs make the best poultry seasoning.
You are likely to have these ingredients on hand in your pantry. With them, you can easily make your own DIY poultry seasoning blend at a fraction of the cost!
The other spices that can be added are nutmeg, oregano, parsley, garlic powder, chili powder, and black pepper.
Also, marjoram works well in roasted chicken dishes while rosemary spice and sage are best used in stuffing.
Follow us on Pinterest for more delicious recipes!
How to make poultry seasoning?
In a bowl, simply combine all the ingredients according to the prescribed proportions from the recipe card below. Then, mix evenly and put in an airtight container.
That's it! This homemade recipe is that easy!
What is poultry seasoning used for?
There is no limit to where and how this mix of herbs can be used. It is super versatile, and will truly elevate the flavor of any dish.
Aside from using it in chicken and turkey recipes, it can be used as a rub in recipes for beef, veal, pork chops, and other red meats. Note that despite its name, this mix also pairs well with fish, and even vegetables. It can be used even for barbecue as it adds quite a rich flavor.
You can also put it in marinades or in stuffing for additional flavor. It can also be used in soups and pies.
How to use poultry seasoning?
If you are going to flavor up stuffing or soups, simply incorporate this mix.
But, if used as a rub, oil the surface of the chicken or turkey first and then, rub it in. Cover with cling wrap and thenbeforeit on for about 2 hours before cooking.
What can I use instead of poultry seasoning?
If you still have the herbs, you can substitute them with just a em. Mainly, I will mix rosemary, thyme spice, sage, and marjoram.
Just in case any of these are not available, my go-to replacement would be a simple salt, pepper, and garlic powder. In the rare case that I will not be able to complete the roster of spices that this recipe prescribes, this trio will be enough to add flavor to make a roasted chicken or turkey.
Can you make it in advance?
Yes! Since all the ingredients in this recipe are dried, it will keep for a long time. Just make sure that it will not oxidize so much by transferring it to an airtight spice jar or container. It will last for up to 6 months!
More homemade seasoning recipes:
Recipe Tips
If the ingredients are not ground, just use your mortar and pestle to ground everything.
Also, feel free to use a spice grinder for an evenly ground mix.
For extra flavor, add some more spices like cumin, lemon zest, cayenne pepper, garlic powder, etc. Just remember to add the extra herbs and spices slowly to the mix based on your preference.
It is very important to use dried herbs and not fresh as dried herbs. Firstly, they are more aromatic and have a longer shelf life than fresh herbs. Also, fresh herbs have a higher moisture content which will lead to spoiling and growing mold early on.
Poultry Seasoning Recipe
Ingredients
2

teaspoons

ground sage

2

teaspoons

ground thyme

1

teaspoon

ground oregano

1

teaspoon

parsley flakes

1

teaspoon

ground marjoram

1/2

teaspoon

garlic powder

1

teaspoon

onion powder

2

teaspoon

ground rosemary

1/8

teaspoon

nutmeg

1/2

teaspoon

black pepper
Instructions
Combine all ingredients, stir and transfer into a tightly sealed container.

Store for up to 6 months.