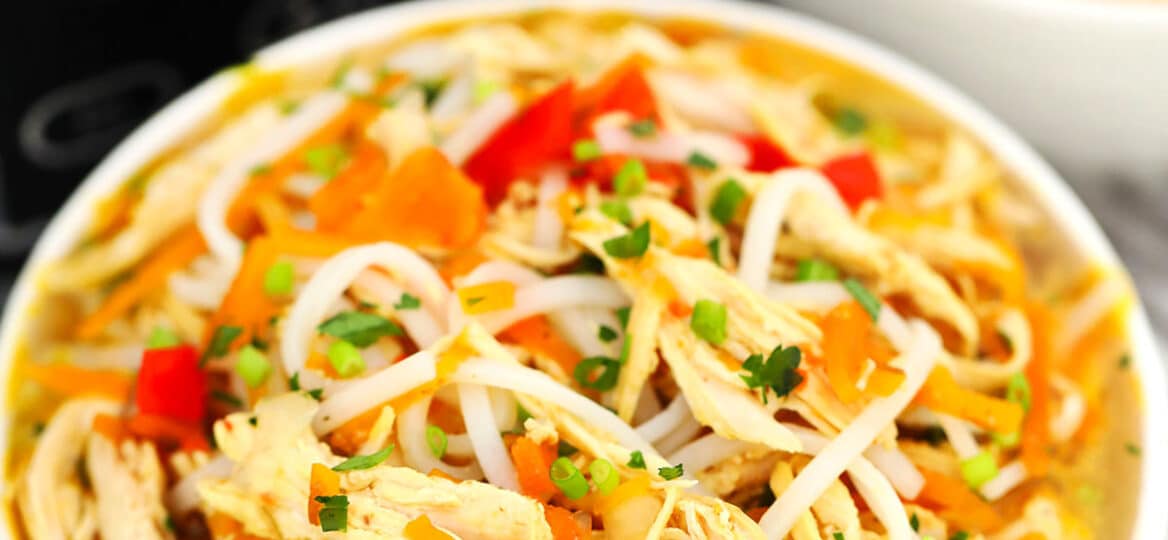 Slow Cooker Asian Chicken Noodle Soup
Slow Cooker Asian Chicken Noodle Soup is a comforting, hearty, and nutritious dish with bold Asian flavors from the spices. Easy to make from scratch and guaranteed to be your next favorite homemade meal.
For more Asian inspired flavors, try our Chinese Hot and Sour Soup. Love instant ramen? Enjoy more complex flavors with this Instant Pot Tonkotsu Ramen with Chashu Pork! If you have some leftover chicken, this One Pot Tuscan Chicken Tortellini Soup is a delicious way to use it up.
Asian Chicken Noodle Soup Recipe
Slow Cooker Asian Chicken Noodle Soup is one of my favorite dishes of all time. It's one of those nostalgic dishes that takes me back to my childhood. It also has all the elements of a great recipe – takes minimal effort, loaded with deep flavors from hours of cooking on low, filling enough for a whole meal, and appeals to everyone from kids to adults.
If eating soup means opening a can and heating it in the microwave, this recipe will show you how easy it is to make it yourself. Seriously, all you need to do is chop up the ingredients, throw it all in the slow cooker, and spend the rest of the day looking forward to an amazing meal!
Is CNS (Chicken Noodle Soup) healthy?
Ever wonder why CNS is a staple when someone is feeling unwell, like with the cold or flu? Aside from being delicious, this dish is also incredibly healthy. It's lower in calories than creamy, rich versions. The chicken provides a lot of protein without much fat, and you can load it up with your favorite vegetables to boost your nutrient intake. For example, carrots have tons of Vitamin A and beta-carotene.
Since we're making this from scratch, it already contains much less sodium than the canned version. To reduce it further, make sure to use low- or no-sodium broth. CNS is also an excellent way to stay hydrated, especially when you don't have much appetite.
Finally, this dish is not just excellent for the body, but the heart and soul too. Not only when you're sick, but anytime you want good food that's easy to make. I don't know about you, but I always feel better after a hearty bowl of this recipe!
How to make it on the stovetop?
It's pretty much the same process as the slow cooker method, but you do have to keep watch over it to make sure it doesn't dry out.
Begin by pouring the stock in a large pot and adding the chicken plus the seasonings. Cook on medium heat until the meat is done. Chop your veggies while the meat is cooking. Then, take the meat out and use two forks to shred it. Add it back to the stock along with your vegetables and noodles. Simmer for 15-20 minutes until the noodles are tender, and the veggies are soft. Serve immediately.
Should you cook the chicken before adding it?
You can add it raw straight to the slow cooker. It will be cooked through after a few hours. However, feel free to brown the meat before adding it to the pot.
What are the ingredients of SCACNS?
You're going to need:
Rotisserie chicken
Chicken broth
Bell peppers
Yellow onion
Carrots
Garlic
Cayenned pepper
Juice of one lime
Salt
Cilantro
Asian rice noodles
Green onions
Olive oil
How to make Crockpot Asian Chicken Noodle Soup
Prepare the ingredients. Chop all the vegetables ahead of time and shred the meat.
Cook. Put everything in the slow cooker except for the rice noodles and the green onions. Cook on high for 3-4 hours, or on low for 6-8 hours.
Add rice noodles. Prepare the noodles according to package instructions and place them inside the pot. Cook for an additional 30 minutes to one hour.
Serve. Garnish with chopped green onions and serve hot.
How to store:
Cool it thoroughly, then put it in the fridge if you plan to consume it soon. You can also freeze it, but leave out the noodles, so it doesn't get soggy. To reheat, pop in the microwave or bring it to a boil on the stove. Add a fresh batch of noodles and serve.
What to serve with Asian Chicken Noodle Soup:
Some crusty bread or crackers are classic accompaniments to ACNS. However, I also like serving it with some Southern Corn Bread, Beer Bread with herbs, or even a Turkey Grilled Cheese if I have some extra time.
More delicious soup recipes:
Recipe tips:
Add more veggie goodness with bokchoy, cabbage, and other leafy greens.
Use chicken breast instead of rotisserie chicken if you like it lighter.
Experiment with other herbs and spices like chili pepper flakes and parsley to add more flavor.
Deliciousness to your inbox
Enjoy weekly hand picked recipes and recommendations