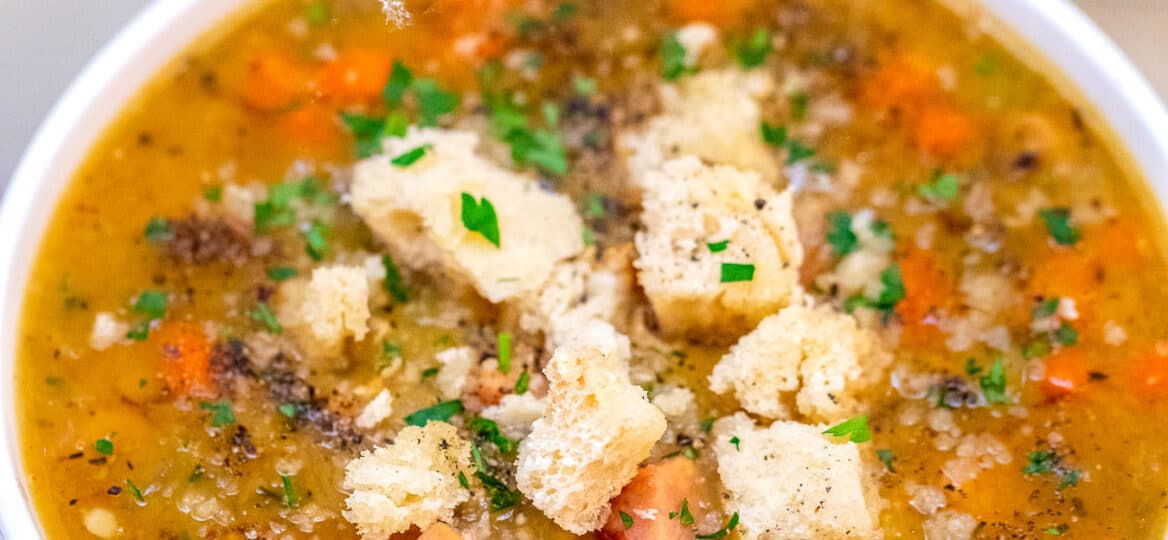 Ham Split Pea Soup [video]
Ham Split Pea Soup is perfect for the cold weather! It is warm, comforting, and flavorful. Make it a tradition to prepare it after the holiday celebrations!
It is getting colder every day! As we go deeper into the winter, soup recipes like this become a norm at home. Serve it alongside Cranberry Coffee Cake, Cinnamon Cream Cheese Cookies, and Blueberry French Toast Casserole on the morning after the Christmas celebration!
Ham Split Pea Soup Recipe
Ham Split Pea Soup is primarily made with ham and split peas as the name suggests. It also has a few vegetables and several spices and herbs that add flavor.
If you are preparing ham dishes for the holidays, then, this is a nice soup to use the leftover ham for. But, of course, you can have it any time of the year since the ingredients are not seasonal and are easy to find.
There is something about it that is so homey and comforting. It makes for a great freezer meal, so, you can make a huge batch now and reheat later. And that is another plus in my book.
What are Split Peas?
They are peas that have been cut in half and are usually dried. There are two variants: yellow and green.
You can use both variants interchangeably in most recipes as there is only a subtle difference in taste.
Other than the obvious color difference, the yellow ones tend to be milder while the green ones tend to be on the sweeter side.
Is Ham Split Pea Soup healthy?
Yes, it is. It has a lot of dietary fiber associated with the legumes as well as the vegetables that are incorporated in the dish. The dish is rich in potassium, vitamin K, and other nutrients. Also, both meat and legumes provide high levels of protein.
Be careful with high levels of sodium that canned ones have though. For this recipe, use the low-sodium stock. Hence, it is better to prepare this dish at home in terms of giving you control over the ingredients.
Do split peas need to be soaked before cooking?
No, there is no need to soak them. For dried beans, some people would soak them to hopefully lessen the cooking time.
But for this kind of legumes, it will not take much time to cook and flavor may be affected if you soak them for too long. Simply place them in a colander, rinse, then, drain.
How to Make Ham Split Pea Soup:
Brown the meat: In the Dutch oven, cook the ham in melted butter until it turns brown.
Sauté: Add in the aromatics as well as the vegetables. Season them with salt and pepper. Cook until everything is soft and tender. Then, add in the legumes.
Season: Add in the herbs.
Boil: Stir in the stock and water. Allow it to boil at high heat then, reduce the heat to maintain a steady simmer for about 60 to 90 minutes without the lid. Stir now and then until the legumes are cooked and the soup develops your desired consistency.
Serve: Once cooked, remove the bay leaf, garnish, then, serve.
How do you thicken Ham Split Pea Soup?
Stir in a bit of flour or mashed legumes. That should do the trick. You can also use an immersion blender or scoop some of the soup into a high power blender and puree it. Add it back and stir well to combine.
Can I make it in advance?
Yes! It keeps well and so, you can make it in advance. Put it in the fridge and simply reheat within 3 days. Or, freeze it in freezer bags to keep it for up to 3 months. Simply thaw before you reheat it on the stove.
Recipe Tips:
Leftover ham bone or ham hock can be used for this recipe. And aside from ham, you can use sausage or bacon.
Aside from carrots and celery, you can also add potatoes.
Serve it with a grilled cheese sandwich. It pairs well with this dish.