Air Fryer Cheeseburgers Recipe
Last updated on September 9th, 2022 at 03:35 pm
Air Fryer Cheeseburgers make a fast and easy dinner while still being absolutely delicious, juicy, and perfectly cooked, from fresh or frozen meat. Whether you make them from fresh ground beef or frozen burger patties, this easy recipe has the best flavor combination from the soy sauce, garlic, and Worcestershire sauce.
If you are looking for more air fryer recipes, we have them for you. This Air Fryer Falafel recipe has great flavor with hummus, pita bread, and cucumber. And our Air Fryer Stuffed Peppers with brown rice and bell peppers are scrumptious. Why not add Air Fryer Corn on the side with parmesan cheese, cilantro, and butter?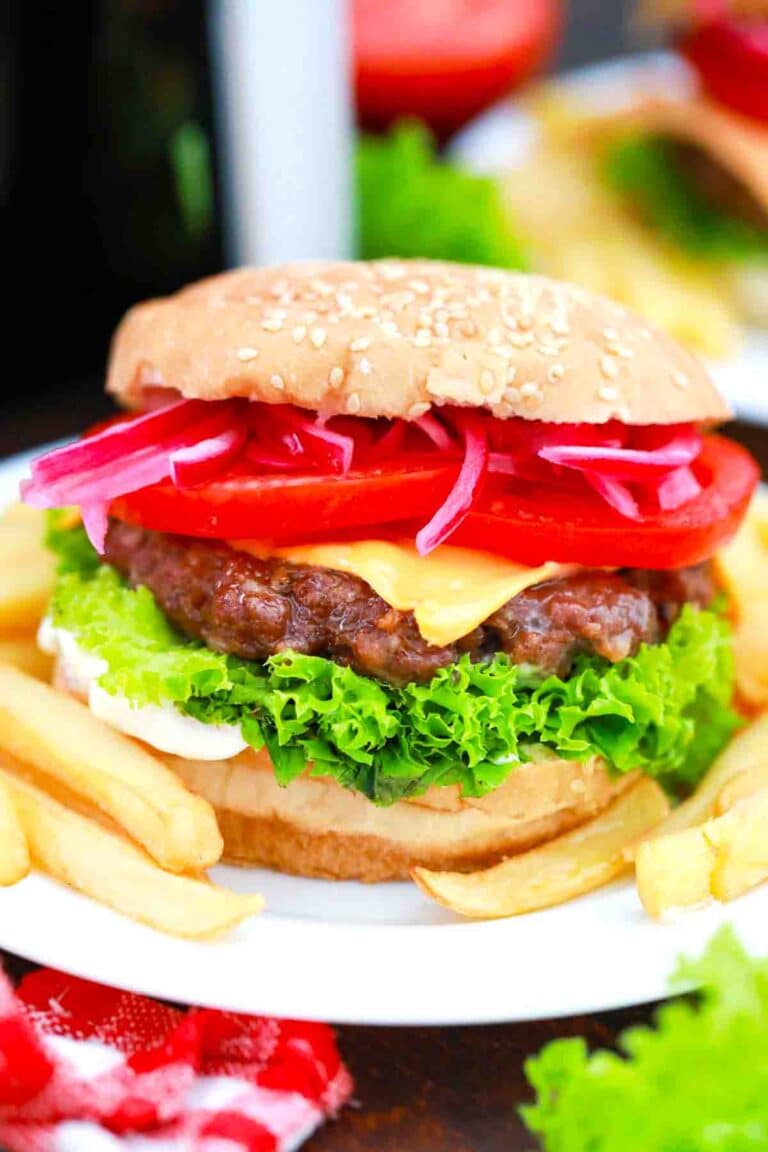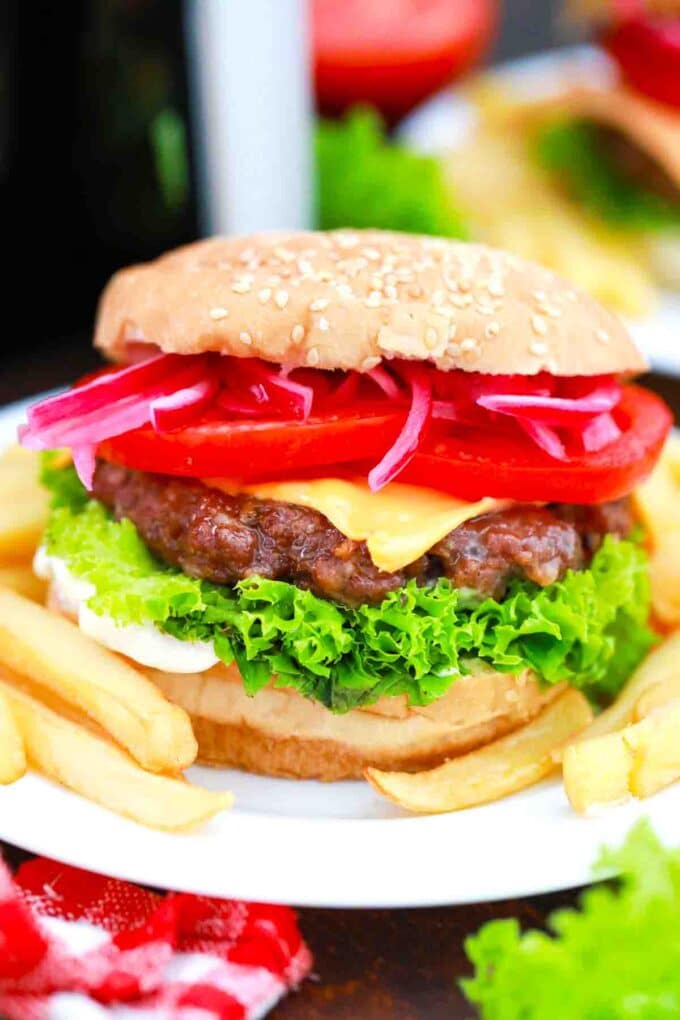 Where the burger first came from depends on who you ask. A Hamburg steak known as Frikadelle was first made in Germany in the 1600s. But the first actual burger was created by Otto Kuase in 1891, also in Germany.
The US claims it was first invented in Texas in the 1880s by Fletcher Davis or in Connecticut in 1900 by Louis Lassen. No matter where it was made first, it is now the #1 food in America and one of the most popular in the world.
This air fryer cheeseburgers recipe lets you cook burgers in just a few minutes, and they come out juicy and delicious every time. No matter what kind of air fryer oven you are using, our air fryer burger recipe is foolproof!
If you love burgers, make these and just add your own favorite toppings. This is one of those easy recipes you can change as you wish. All you need for these air fryer hamburgers are a few items you probably already have in your kitchen like buns, cheese, lettuce, onions, and tomatoes.
For more main course cuisine, this easy instant pot crack chicken makes delicious sandwiches for a quick lunch, dinner, or snack anytime. Or try our easy instant pot Tuscan chicken pasta with sun-dried tomatoes and cream cheese. If you have plenty of time, make this juicy crockpot meatloaf that cooks all day while you do whatever you want.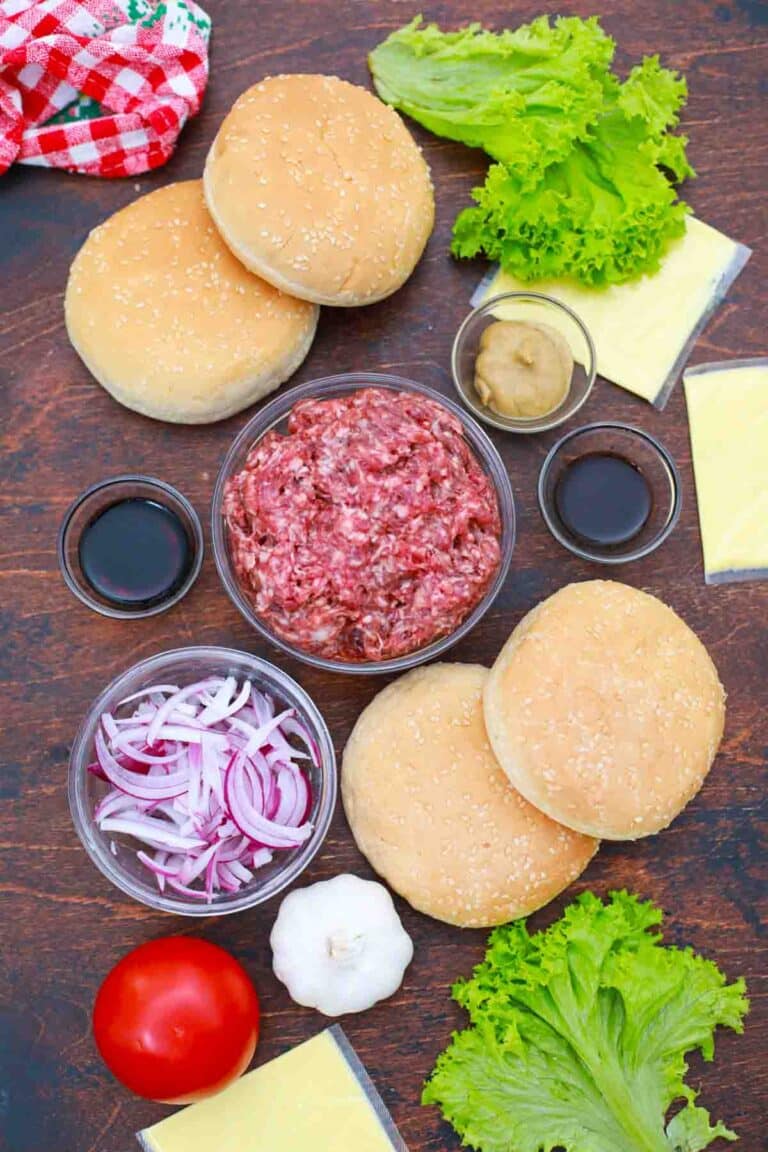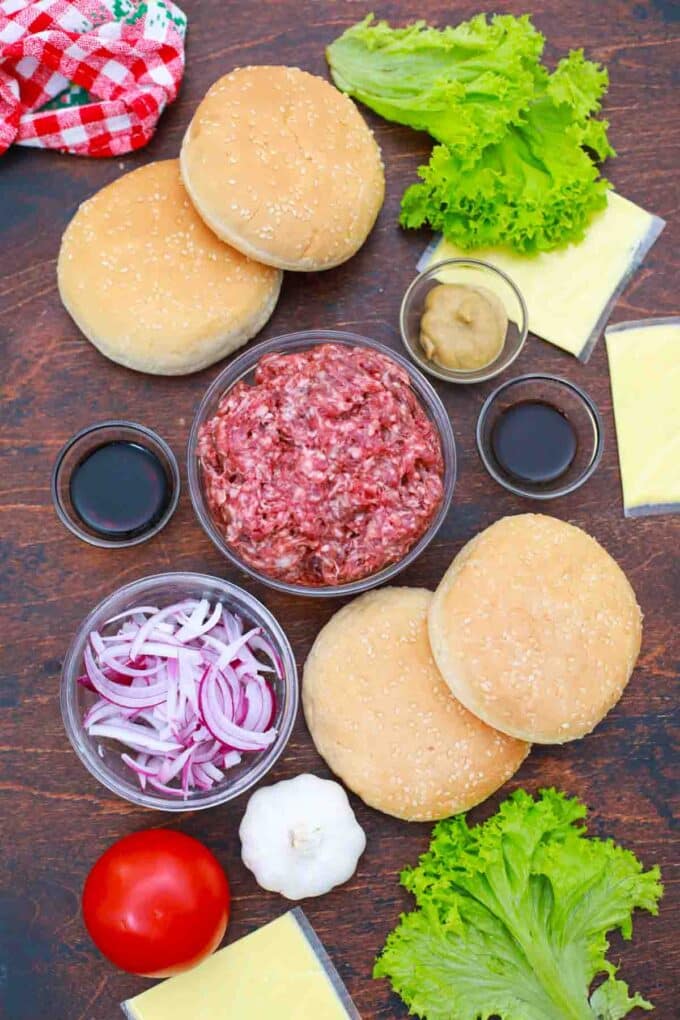 Ingredients needed:
If you want a good burger, do not use this recipe. Because this recipe makes great burgers! Just gather these simple ingredients we have listed here. Then, when you are ready, scroll down to the recipe card for the step-by-step instructions at the bottom of the page.
Ground beef: We used 80/20 ground beef.

Garlic cloves: Minced.
Low-sodium soy sauce
Worcestershire sauce
Yellow mustard
Kosher salt
Freshly ground black pepper
American cheese
Hamburger buns
Thousand island dressing
Lettuce
Sliced tomatoes
Thinly sliced red onion
How to make delicious air fryer cheeseburgers from fresh meat?
Preheat the air fryer: To begin, preheat your air fryer to 375 degrees F.

Mix the burgers: In the meantime, mix the soy sauce, mustard, Worcestershire sauce, garlic, and ground beef in a large bowl.

Shape the burgers: After the ingredients are completely mixed, make four hamburger patties and flatten them into circles of about four inches in diameter. Season both sides with salt and pepper.

Air fry the hamburgers: Last, put two of the hamburger patties into your air fryer basket and cook for approximately four minutes. Remove and top each with a slice of cheese right away. Then repeat with the other two patties.

Prepare and serve: To serve, spread the buns with dressing and then top them with onions, tomatoes, lettuce, and the burger patties.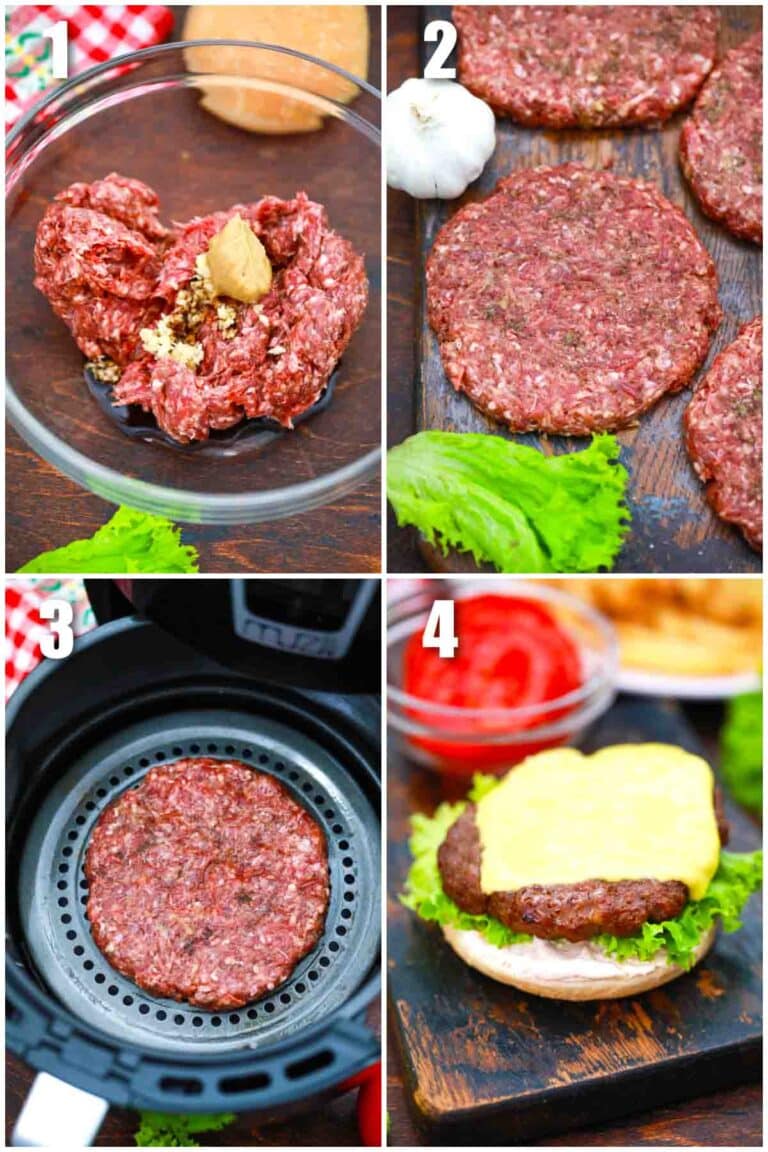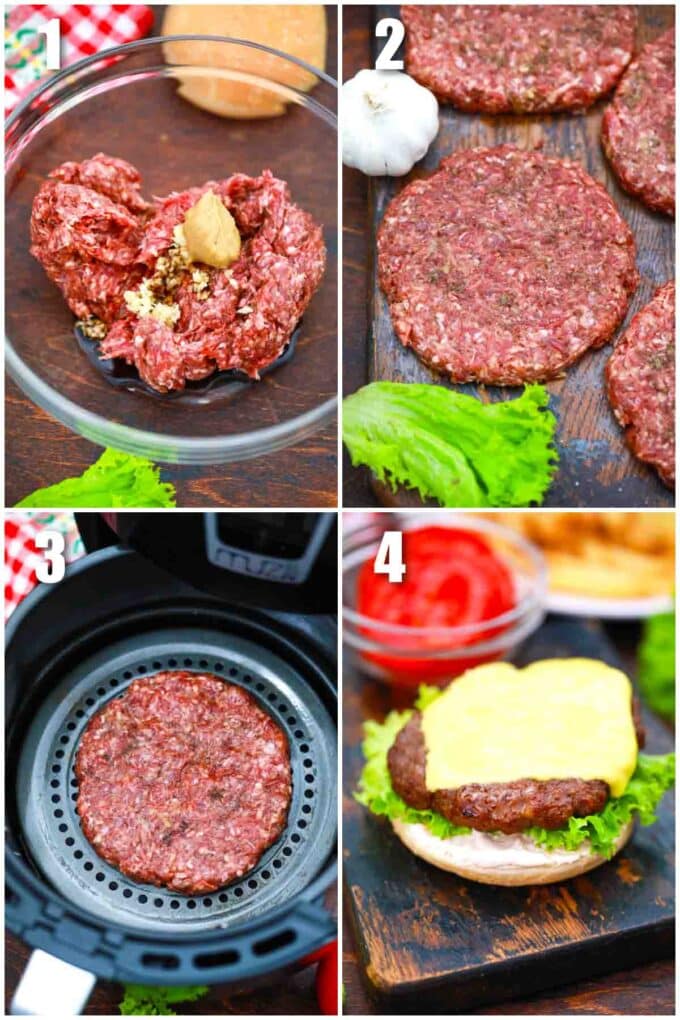 Learn how to make these delicious cheeseburgers on the stove:
Make the patties: To start, in a large bowl, mix the ground beef, minced garlic, both sauces, and the mustard. Shape them into four patties and then flatten them into a four-inch circles. Season with salt and pepper.
Heat the pan: Then, heat a large skillet over medium-high heat. Once it gets hot, place the burger patties on the pan leaving some space between them. You should only cook two at a time.

Flip and cook: Now, continue cooking until the burgers are browned halfway up the sides. Then flip and cook to your preferred doneness.

Finish cooking: The cook time varies depending on the pan and the thickness of your burgers. However, five (rare) to nine (well-done) minutes should do the trick, adding the cheese before letting them rest for 10 minutes while you cook the other two.
Dress the buns: Finally, spread hamburger buns with thousand island dressing and then top them with the burgers, lettuce, tomatoes, and onions.
How to make air fryer cheeseburgers from frozen?
Preheat: To start, preheat your air fryer for five minutes at 375 degrees F.
Cook burgers: Then, place frozen burgers in the air fryer basket and cook for seven minutes before flipping and cooking for another five minutes.
Let them rest: Finally, place the cheese on top as soon as they are done, and then let them rest for 10 minutes while you dress the buns.
Dress and serve: To serve, add a teaspoon of salad dressing to each one and then top with onions, tomatoes, and lettuce on the top part of the bun. Place the burger on the bottom part of the bun, cover, and serve.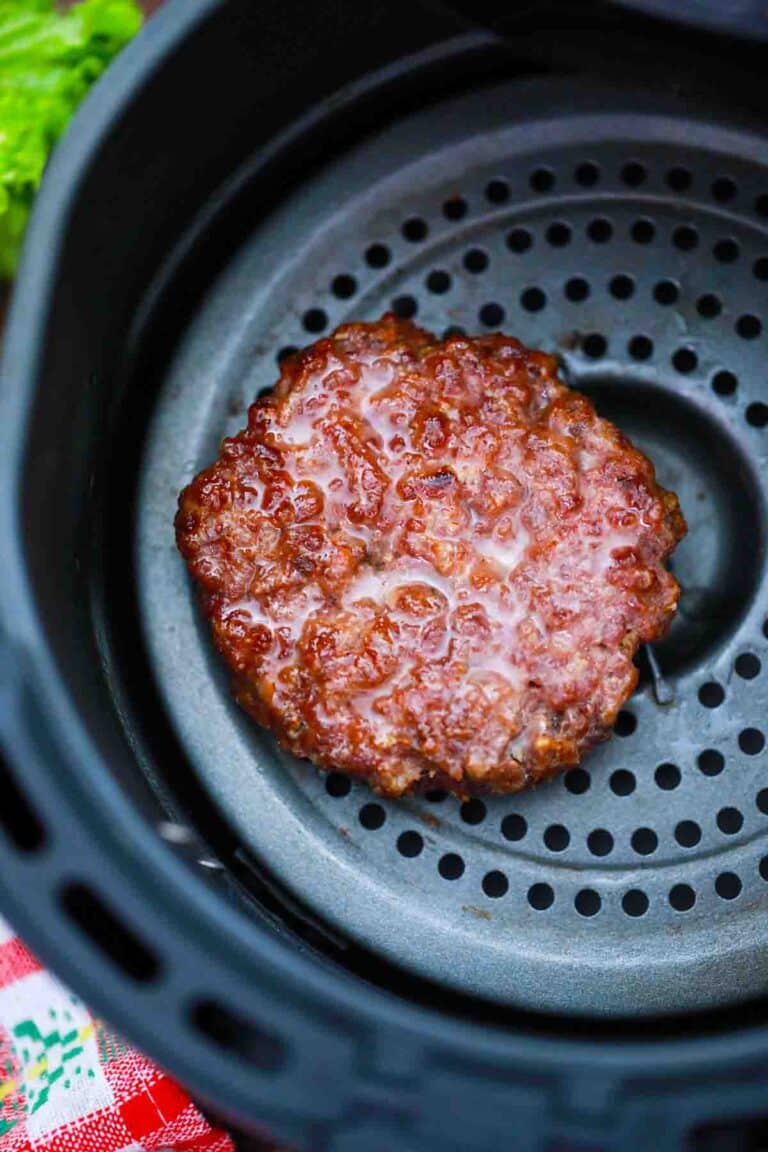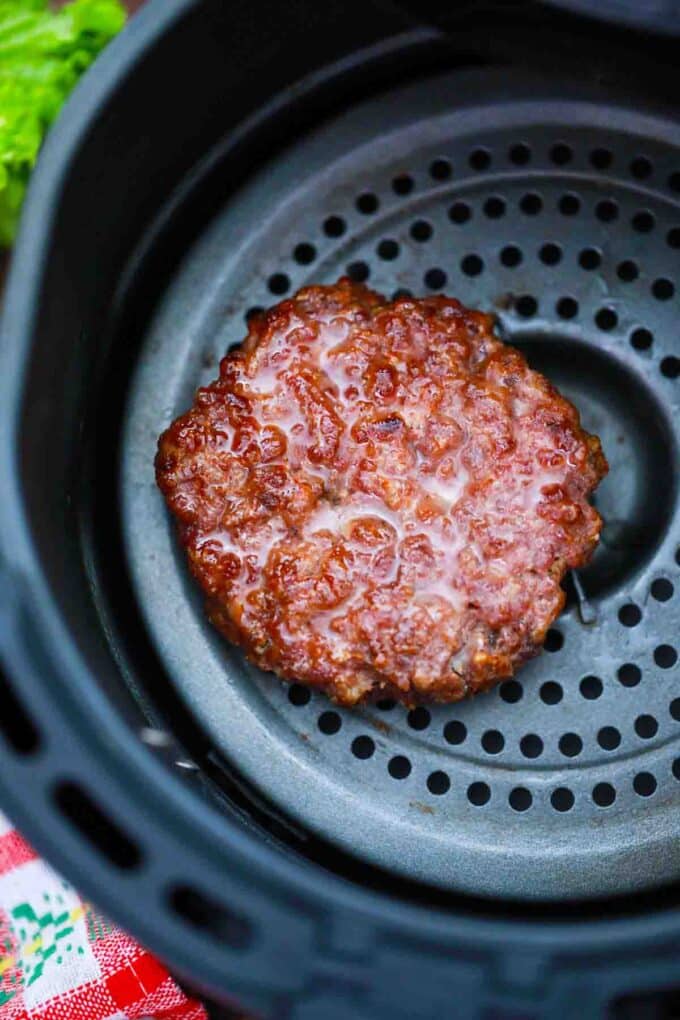 Recipe variations:
Substitutes: Feel free to use garlic powder and onion powder if you do not have the fresh stuff.

Other cheeses: You do not have to use American cheese. Try swiss, Colby jack, cheddar cheese, or whatever your favorite cheese is.
Mushroom and swiss burgers: Make mushroom and swiss burgers by adding a slice of swiss cheese, brown mushrooms, and gravy.
Smoky burgers: Add a teaspoon of liquid smoke to the burgers when mixing for a smoky flavor.

Toasted buns: For extra flavor, toast the buns in the air fryer or in a toaster before topping.

Other meat: Feel free to use ground pork, turkey, or chicken for a different taste.

Skip the cheese: You can also skip the cheese if you would rather have an air fryer hamburger.

Gluten-free: Make these burgers gluten-free by using gluten-free buns.
How to serve:
These air fryer cheeseburgers are perfectly cooked and taste delicious whether you add all your favorite toppings or use no toppings at all. It is a quick meal with a cooking time of just four minutes so you can make it for dinner tonight. Try one of our delicious serving suggestions or one of your own.
You can use a variety of burger toppings like bacon, green onions, and pickles. Place small bowls of your desired toppings on the table for garnishing.

Nothing goes better with air fryer hamburgers than french fries. Try our recipe for crispy potato wedges made with olive oil and rosemary. Or these air fryer sweet potato fries are perfectly seasoned with smoked paprika and garlic powder.

Make Hawaiian burgers with pineapple slices and teriyaki sauce instead of dressing.

Sprinkle some parmesan, brie, blue cheese, romano, or another kind of cheese on top for even more cheesy goodness.
Top your delicious burger with jalapenos or green chilis to make it spicy.
Replace salad dressing with your favorite condiments like ketchup, mustard, mayo, or barbecue sauce. Try our delicious homemade barbecue sauce recipe.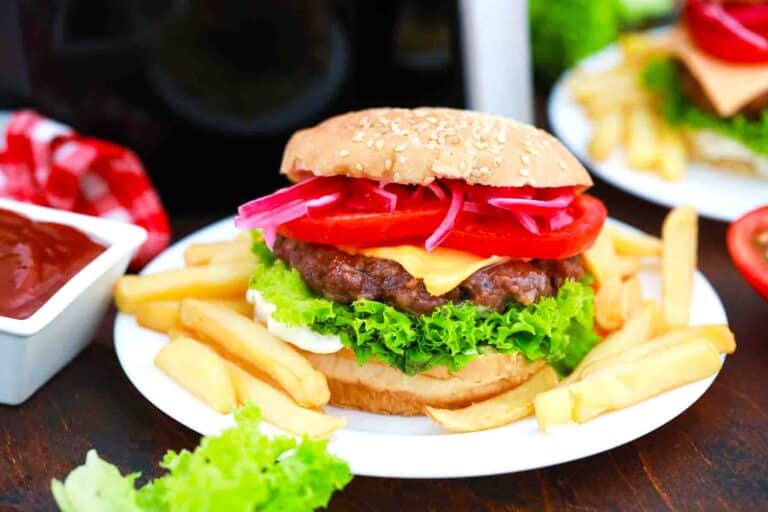 Frequently asked questions
Why do they call it American cheese?
This modern cheese we have been using since 1910 is actually a blend of cheddar, Colby, and other cheeses. However, cheese was made in the 1600s, and America did not start making it until 1790.
It became known as American cheese when they exported it to England, and it was posted in the Oxford Dictionary as American cheese in 1804 because of where it was made.
What temperature should my air fryer burgers be?
To check for doneness, the internal temperature should be 125 to 160 degrees F depending on your desired doneness. Rare burgers should be 125 degrees F and they will be reddish-pink inside. Medium rare is 135 degrees F and mostly pink. They should be 145 degrees F and partially brown for medium doneness.
For medium-well burgers, your thermometer will read 155 degrees F and the middle will be mostly brown with a little pink. And well-done burgers will be 160 degrees F with no pink at all.
Can I use aluminum foil in my air fryer?
Although many cooks say no, using aluminum foil in air fryers is fine as long as you leave enough space for the air to circulate. Place the foil in a single layer on the bottom of the basket before setting your burgers on top.
Just make sure you do not cover all of the holes or there will not be enough air circulation to cook burgers evenly.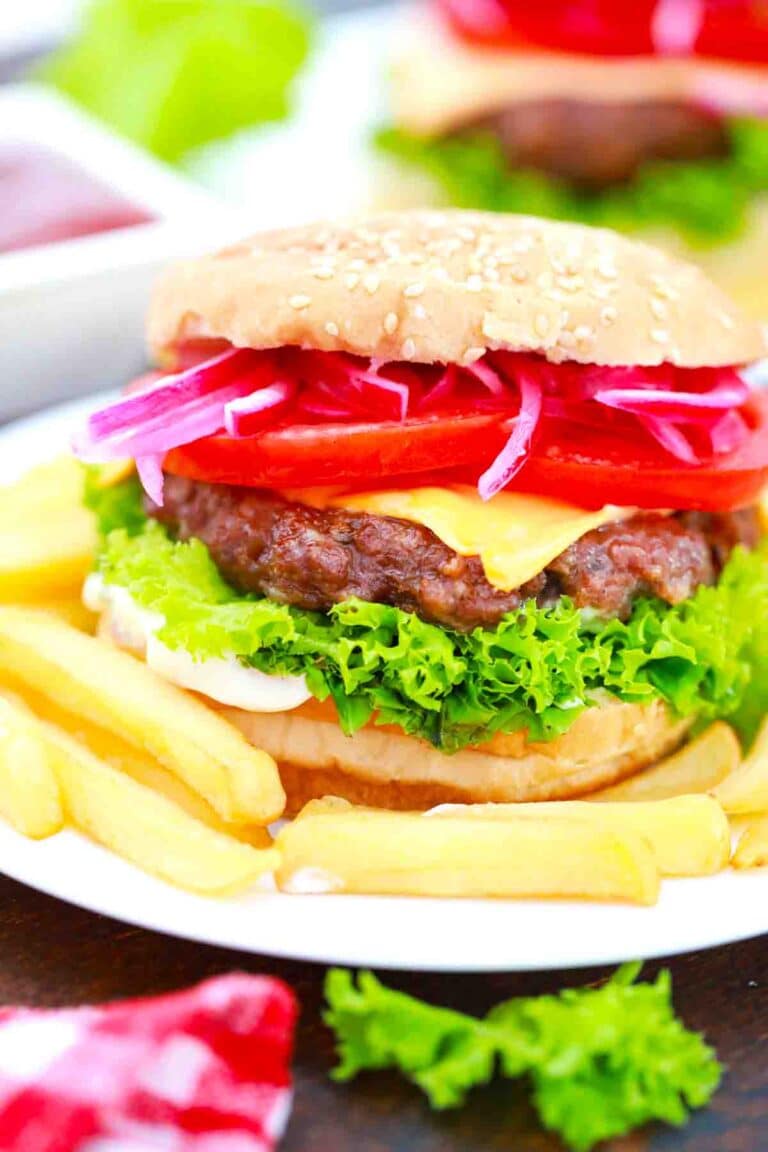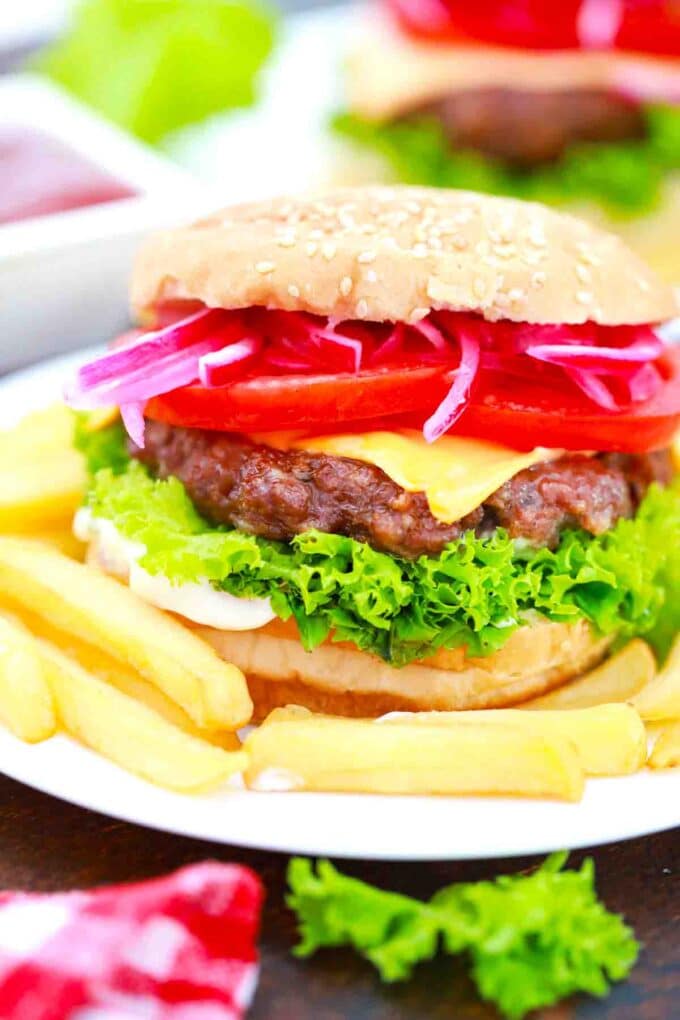 What are the nutrition facts in this recipe?
Air frying is healthier than pan-frying burgers. Each serving is just 500 calories and has 35 grams of fat with 15 grams of saturated fat, 110 milligrams of cholesterol, 650 milligrams of sodium, and 23 carbs. But you also get 25 grams of protein, 100 units of vitamin A, 90 milligrams of calcium, and 2 milligrams of iron.
How to store leftovers:
Store: If you have any leftovers, store air fryer cheeseburgers without the bun and toppings in an airtight container. Put a piece of parchment paper in between each one so they do not stick together.
Freeze: If you cannot finish these burgers in a few days, they can be frozen for up to three months.
Thaw: Remember to put burgers in the fridge to thaw overnight before serving.
Reheat: To reheat, air fry for one to two minutes or microwave for 60 to 90 seconds.
More air fryer dinners:
Cooking tips:
Use a meat thermometer to check for doneness. They should be between 125 and 160 degrees F.
Do not handle your meat too much. The more you mix it, the tougher the meat will be.
Wet your hands before making the patties. It will help keep the meat from sticking to your hands and make it come together faster so you do not have to work it as much.
Always put a half-inch dimple in the middle of your burgers. Because the meat shrinks and pulls inward when it cooks, the dimple will help your burgers stay flat and even.

Also, once you make the burger patties, chill them for at least 20 minutes and keep them chilled until you are ready to cook them. This will help them stay together and remain juicy.
Only flip the burgers once after searing. Too much turning will toughen the meat and may cause them to fall apart.

Do not squish your burgers. All the juice just comes right out.
Let the burgers rest for at least 10 minutes so the juices redistribute into the meat.

Shorten prep time by using frozen burgers or choosing pre-cut veggies. You can even get pre-made burger patties from the butcher at your local grocery store.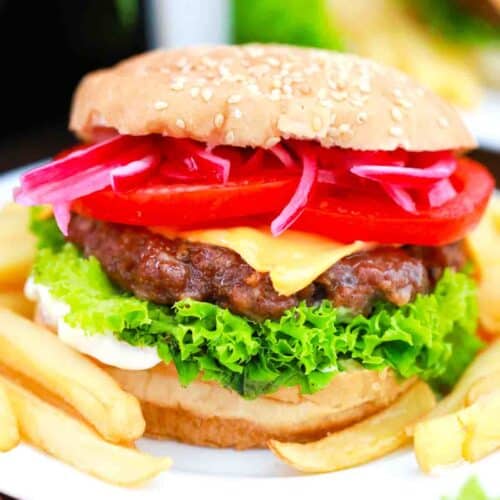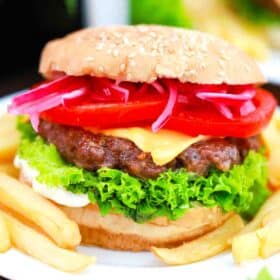 Air Fryer Cheeseburgers
Air Fryer Cheeseburgers make a fast and easy dinner while still being absolutely delicious, juicy, and perfectly cooked, from fresh or frozen meat.
Save
Share
Print
Pin
Rate
Ingredients
1

lb.

ground beef

2

cloves

garlic

(minced)

1

tablespoon

low-sodium soy sauce

1

tablespoon

Worcestershire sauce

1

teaspoon

yellow mustard

1/2

teaspoon

Kosher salt

(or to taste)

Freshly ground black pepper

(to taste)

4

slices

American cheese

4

hamburger buns
For serving:
Thousand island dressing

Lettuce

Sliced tomatoes

Thinly sliced red onion

French fries
Instructions
In a large bowl combine the ground beef, minced garlic, Worcestershire sauce, mustard, and soy sauce. Mix well and after that shape the mixture into 4 equal patties and flatten into 4" circles.

Season both sides with salt and pepper.

Preheat the air fryer to 375 degrees F.

Place 1 or 2 patties in an air fryer basket and cook for 4 minutes per side, for medium, and for 5-6 minutes for medium well done.

Remove and immediately place it on a plate and top with a slice of cheese. Repeat with remaining patties.

Spread the hamburger buns with dressing, then top with lettuce, add the patties, and top with tomatoes, and onions.
Nutrition
Calories:
497
kcal
|
Carbohydrates:
23
g
|
Protein:
28
g
|
Fat:
32
g
|
Saturated Fat:
13
g
|
Polyunsaturated Fat:
2
g
|
Monounsaturated Fat:
12
g
|
Trans Fat:
2
g
|
Cholesterol:
102
mg
|
Sodium:
1143
mg
|
Potassium:
436
mg
|
Fiber:
1
g
|
Sugar:
4
g
|
Vitamin A:
203
IU
|
Vitamin C:
1
mg
|
Calcium:
309
mg
|
Iron:
4
mg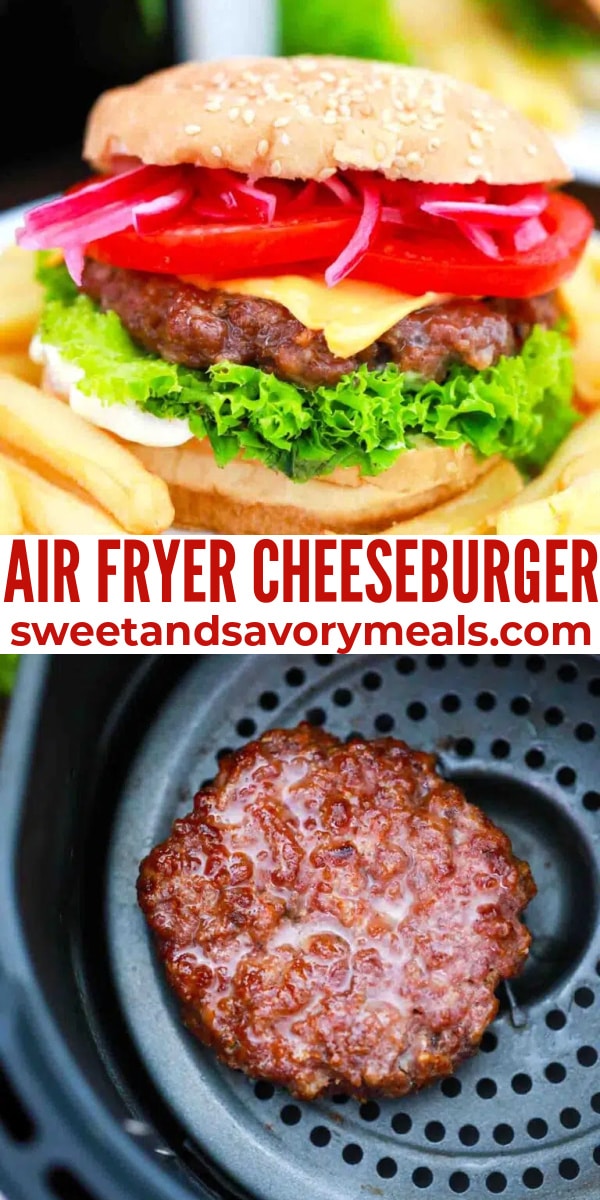 More recipes you might love