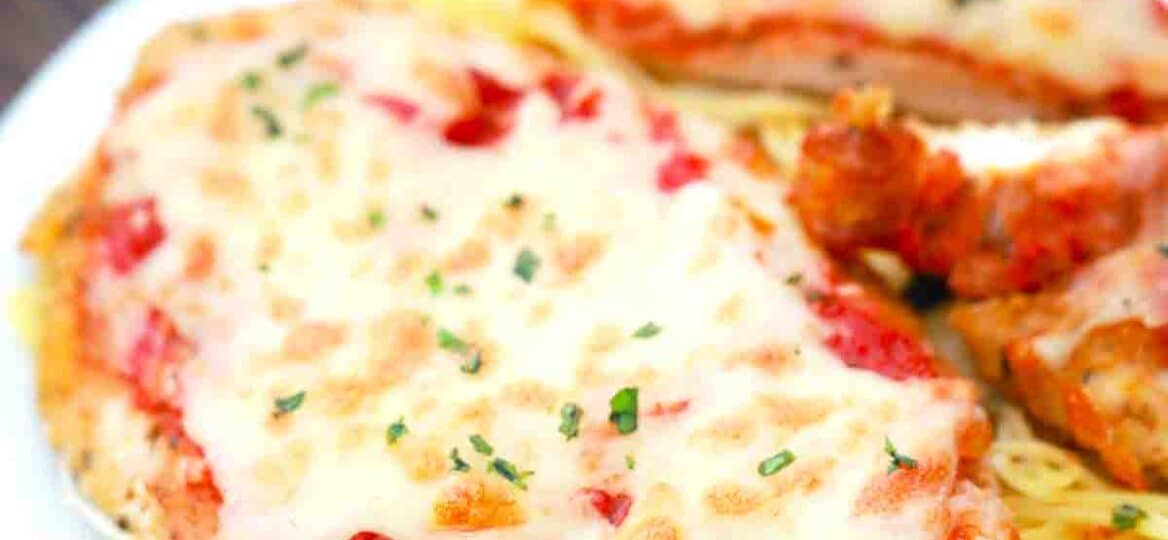 Air Fryer Chicken Parmesan
Air Fryer Chicken Parmesan is crunchy and delicious on the outside and tender on the inside with a layer of ooey gooey cheese and marinara sauce on top. Flavored with parmesan, Italian seasoning, garlic powder, and onion powder, these chicken breasts are the perfect meal on busy weeknights when you need dinner in a hurry.
Looking for more air fryer recipes? This Air Fryer Stuffed Chicken recipe is easy to make in 30 minutes with cream cheese and mozzarella cheese and our Crispy Air Fryer Onion Rings would make the perfect side dish. Another great poultry recipe is this Air Fryer Chicken Thighs seasoned with smoked paprika and chili powder.
The first air fryer was patented by Philips Electronics in 201o. It was introduced at a consumer electronics fair in Germany and was listed as one of the top five inventions that year.
Today, the air fryer is incredibly popular and as of 2020, almost half of the homes in the United States had one. You can air fry anything from an egg to donuts and this frying process needs no oil like a deep fryer so it is also much healthier and safer to use.
Our air fryer chicken parmesan recipe is better than regular chicken parmesan because you get juicy chicken that is extra crispy on the outside without all that saturated fat from deep fryer chicken parmesan. All you need is chicken, breadcrumbs, cheese, and some seasonings.
Using one of these cooking methods, you can get a delicious chicken dinner in minutes without having to worry about getting splashed with hot oil.
For something different in your air fryer, try our air fryer pork chops recipe made with smoked paprika, ground mustard, and garlic powder or air fryer buffalo chicken with a spicy coating of buffalo sauce. This air fryer cabbage steaks recipe is amazing, flavored with garlic, paprika, and Old Bay seasoning.
Ingredients needed:
You will need to gather these items to make this air fryer chicken parmesan recipe. When you are ready to begin, scroll down the page to our recipe card for the exact measurements, ingredients, and instructions.
Chicken breasts: We used boneless skinless chicken breasts.
Shredded parmesan: Not grated parmesan cheese.
Italian-style bread crumbs
Panko bread crumbs
Eggs: Whisked.
Mozzarella cheese
Marinara sauce
Garlic powder
Smoked paprika
Onion powder
Dried basil
Dried Italian herbs
Salt
Black pepper
How to make air fryer chicken parmesan from scratch?
Preheat air fryer: First, preheat your air fryer by setting it at 360 degrees F and prep a baking sheet with parchment paper.
Cut and pound: In the meantime, cut the chicken breasts in half lengthwise on a cutting board, trim, and pound them into thinner pieces of the same thickness.
Make the panko mixture: Next, combine breadcrumbs, panko, parmesan, herbs, spices, salt, and pepper in a medium bowl.
Whisk the eggs: After, whisk the eggs together in a small shallow bowl until they are frothy.
Dip the chicken: Then, dip each piece of chicken breast into the eggs and then into the bread crumb mixture. Repeat with the remaining chicken pieces.
Fill the basket: Immediately, place breaded chicken in a single layer in the air fryer basket, making sure they are not too close. The air needs to circulate for proper cooking so you may have to cook in batches.
Cook the chicken: Close the air fryer basket and cook for six minutes. Flip the chicken breasts and top with the mozzarella cheese and the sauce before air frying for another three to four minutes. They should be golden brown, and the internal temperature should read 165 degrees F on a meat thermometer.
Remove the chicken: Lastly, carefully remove the air fryer chicken parm with tongs and place them on a baking sheet in the oven set at 200 degrees F to stay warm while you finish cooking the rest of the chicken cutlets.
Sprinkle and serve: Finally, sprinkle with extra shredded mozzarella cheese and serve immediately.
How to make air fryer chicken parmesan in the oven?
Preheat oven: To begin, heat the oven to 350 degrees F and put a piece of parchment paper on a baking sheet.
Trim and thin: While you wait for the oven to heat, trim the chicken and cut it in half horizontally before pounding it with a meat mallet. They should be the same thickness.
Make the breadcrumbs mixture: After, mix together the panko breadcrumbs, regular bread crumbs, seasonings, spices, and herbs in a small shallow bowl and whisk the eggs in another shallow bowl.
Coat the chicken breasts: Next, dip chicken into the beaten egg, shaking off the excess egg before dredging it through the breadcrumb mixture. Place each piece onto the prepared pan as you go.
Bake the chicken: Now, put the pan into the oven and bake for five minutes before flipping and coating them in the marinara sauce and shredded cheese. Bake for another four minutes.
Check for doneness: Before removing, insert a meat thermometer into the thickest portion of the chicken. It should read 165 degrees F.
Serve: After you let the chicken rest for several minutes, serve with extra mozzarella cheese and fresh basil.
Recipe variations:
Third shallow bowl: Alternatively, you can have a third shallow bowl with all-purpose flour, garlic powder, and onion powder. Use the flour mixture first, then the egg mixture, and then dip it into the panko mixture.
Tomato sauce: Feel free to use your own favorite sauce recipe instead of marinara sauce.
Extra hot: If you like spicy food, add some red pepper flakes or cayenne pepper to your bread crumbs.
More cheese: Try adding more cheese or a different kind of cheese like cheddar or swiss.
Other cutlets: Instead of chicken, feel free to use pork or turkey cutlets instead.
Different sauce: Instead of marinara sauce, try barbecue or buffalo hot sauce.
Chives: Chop some green onions or chives to sprinkle on top.
How to serve:
Serve this delicious air fryer chicken parmesan recipe with any side dish for a meal your whole family will love. Or make them as a snack to be eaten alone or with dip for game day. No matter how you serve this family favorite, this is one recipe you want to make sure you save. Try one of our serving suggestions below or share one of your own in the comments section.
Toss in a handful of frozen french fries after you air fry the chicken for a quick meal.
Use leftover chicken to make this easy and tasty baked chicken parmesan casserole made with cavatappi pasta.
Speaking of pasta, you can serve this chicken parmesan on a bed of pasta or rice.
Another way to use leftover chicken is in this air fryer chicken and veggies dish.
Slather some mayo on a bun and have a chicken parmesan sandwich for lunch or a snack.
Chicken parmesan goes great with any side dishes. Try our air fryer corn on the cob with parmesan cheese and cilantro or our buttery roasted Brussels sprouts.
You could also pack this for your child's school lunch. They can eat it cold or heat it up in a microwave in the cafeteria.
Pineapple is the perfect accompaniment to this chicken. Try one of our pineapple recipes like pineapple bread for dessert or serve with our air fryer pineapple rings on the side.
Chop up leftovers and toss them in a salad or soup.
Frequently asked questions
What is an air fryer?
Air fryers are similar to a convection oven only a lot smaller and more convenient. You can air fry anything at a high temperature and it will cook up crispy without using any oil.
You may have to use a touch of nonstick cooking spray but that is all. Using your air fryer makes this parmesan chicken recipe fast, easy, delicious as well as healthier.
Should I put use aluminum foil on my chicken or the air fryer basket?
Generally, you should never use aluminum foil in your air fryer unless the manufacturer's guide recommends it. And you should only use foil if a recipe calls for it, which this one does not. In fact, the only time you should use any foil is when you are preparing your leftovers to go in the fridge.
What are the pros and cons of using an air fryer?
Using an air fryer makes almost any recipe much easier and faster. You can heat up frozen food in minutes or fry fish without having to use oil. It is healthier and easier than deep frying, and it does not heat up your kitchen like the oven does.
The only downside is that they are typically small so if you are cooking for a crowd, you will have to cook in batches.
What is the nutritional value of this recipe?
Each serving size (half a piece of the chicken breast) has 350 calories, 18 grams of carbohydrates, 14 grams of fat with 6 grams of saturated fat, 150 milligrams of cholesterol, and 1,200 milligrams of sodium.
But you also get 35 grams of protein, 710 units of vitamin A, 15 milligrams of vitamin C, 300 milligrams of calcium, and 3 milligrams of iron.
How to store leftovers:
Store: Leftovers should be immediately refrigerated in an airtight container or wrapped in aluminum foil. It will stay fresh for up to four days.
Freeze: To freeze, wrap in plastic wrap and place the chicken in a freezer bag. Be sure to write the date on the bag and eat within 90 days.
Thaw: Thaw out your chicken in the fridge overnight for the best flavor.
Reheat: You can reheat this chicken in the microwave for one minute or cook it in the air fryer for two or three minutes.
More chicken dinners:
Cooking tips:
The internal temperature of your chicken should be 165 degrees F when it is done.
Spray chicken with nonstick cooking spray to keep it from sticking to the air fryer basket.
Cook time may vary depending on the size and strength of your air fryer.
If you cool your chicken on a wire rack, put a piece of parchment paper or aluminum foil underneath to catch any bread crumbs.
Make sure you whisk your eggs, so each piece of chicken gets the right amount of coating.
The thinner you pound your chicken, the shorter the cooking time.
Use freshly shredded cheese for the best flavor.
Air Fryer Chicken Parmesan
Ingredients
2

chicken breasts

boneless and skinless

1/4

cup

shredded Parmesan

not grated

1/2

cup

Italian-style bread crumbs

1/2

cup

panko bread crumbs

1

teaspoon

garlic powder

1/2

teaspoon

smoked paprika

1

teaspoon

onion powder

1/2

teaspoon

dried basil

1/2

teaspoon

dried Italian herbs

Salt and pepper

to taste

2

eggs

whisked

1/2

cup

marinara sauce

1/2

cup

mozzarella cheese
Instructions
Preheat the Air Fryer to 360 degrees F for 3 minutes.

Cut chicken breasts in half, lengthwise, and trim any excess fat. Place it on a cutting board and pound it into pieces of the same thickness.

In a medium shallow bowl mix together the breadcrumbs, herbs, spices, salt, pepper, and parmesan cheese.

In another shallow bowl whisk together the eggs.

Dip each piece of chicken in the egg mixture and then dredge in the breadcrumb mixture. Repeat with remaining pieces of chicken.

Arrange the chicken breasts in a single layer in the air fryer basket. If needed cook in batches.

Cook for 6 minutes, flip and top it with marinara sauce and mozzarella cheese. Air fry for an additional 3-4 minutes or until the chicken reaches an internal temperature of 165 degrees F.
Deliciousness to your inbox
Enjoy weekly hand picked recipes and recommendations