Asian Chicken Salad Recipe
Asian Chicken Salad is made with tender grilled chicken, crunchy nuts, and ramen noodles, mixed with sweet fruit like mango and mandarin oranges before being coated in our homemade peanut dressing. The tanginess of the rice wine vinegar and teriyaki blend perfectly with the spiciness of the jalapeno for this recipe.
Looking for other chicken recipes? Try our Instant Pot Orange Chicken flavored with white wine, orange juice, and soy sauce, or this One Pan Hunan Chicken with zucchini and oyster sauce.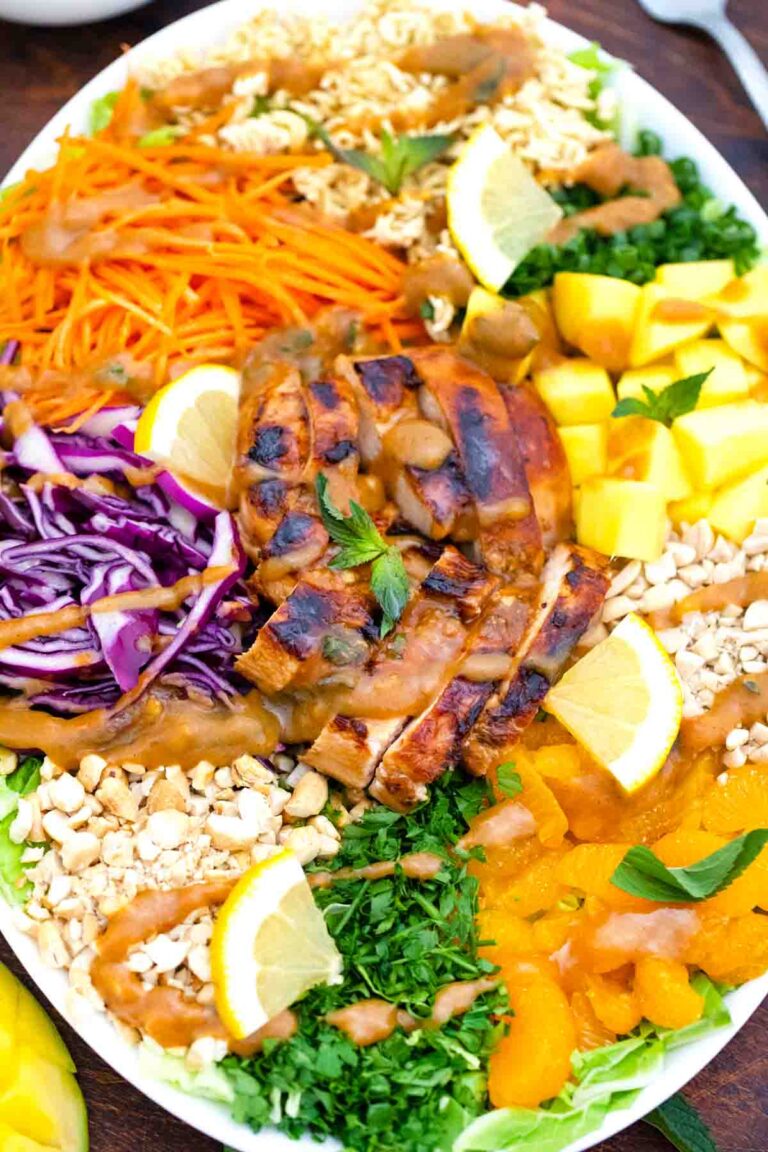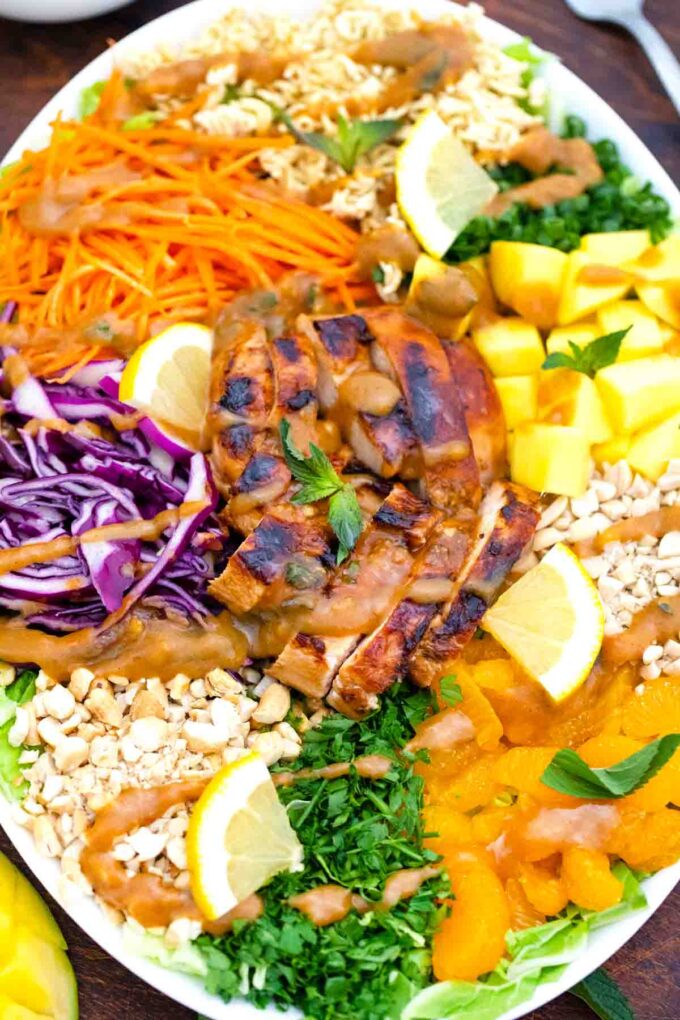 Even though it is referred to as Asian or Chinese chicken salad, the dish was originally invented in the United States. Most believe that it was created by Wolfgang Puck while others say it was first made in the 1930s, but still in America.
No matter what they call it on restaurant menus, you can make this delicious salad at home and call it whatever you want. Another scrumptious way to make Asian chicken is with this Instant Pot Sweet and Sour Chicken from chicken thighs, apple cider vinegar, and pineapple juice.
You can use chicken breasts or shredded chicken that is already prepared for this tasty dish or add some other kind of meat with the chicken. You can also change the dressing recipe to suit your family's tastes.
No matter what you use, this chopped salad is one of my favorite recipes and is made from restaurant-quality ingredients.
This fast and easy air fryer chicken and broccoli recipe made with hoisin sauce, honey, and fresh broccoli is another way to enjoy chicken. Or toss all the ingredients for this slow cooker teriyaki chicken into the crock pot and let it simmer all day.
If your grocery stores do not have a good selection of salad ingredients, try an Asian grocery store. While most of the ingredients are commonly found, some may be hard to find such as the Asian chili sauce and the Napa cabbage. You can also use one of our substitution ideas below.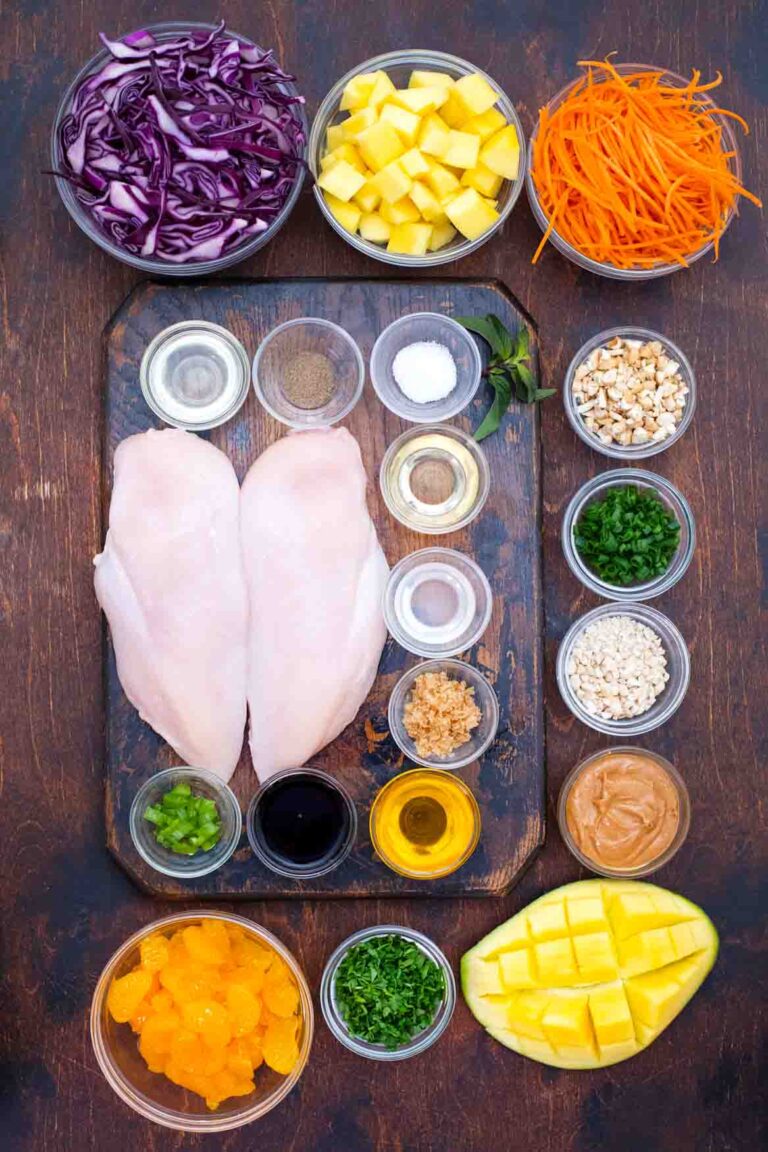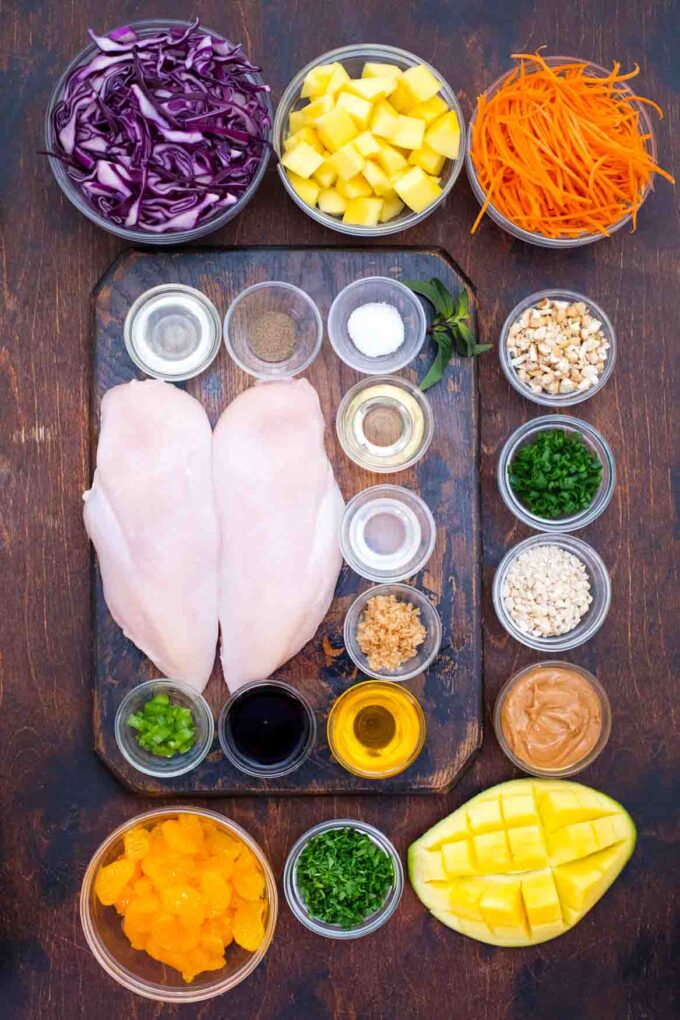 Ingredients needed:
You need these ingredients to make our Asian chicken salad recipe. Get the measurements and directions from our recipe card at the bottom of the page.
Boneless chicken breast
Green onions: Finely sliced.
Chopped peanuts
Roasted cashews
Jalapeno: Chopped.
Ripe mango: Diced.
Crunchy ramen noodles: Crushed.
Can mandarin oranges: Drained.
Shredded carrots
Shredded cabbage: Napa cabbage is a great choice.
Head romaine: Roughly chopped.
Asian chili sauce
Teriyaki sauce: Homemade or store-bought.
Canola oil: Sesame oil is another great choice for this recipe.
Fresh cilantro leaves: Chopped.
Kosher salt: To taste.
Freshly ground black pepper: To taste.
Asian salad dressing or homemade peanut dressing:
Creamy peanut butter
Reduced sodium soy sauce
Asian sweet chili sauce
Honey
Lime juice
Rice vinegar
Brown sugar
Minced garlic cloves
Fresh mint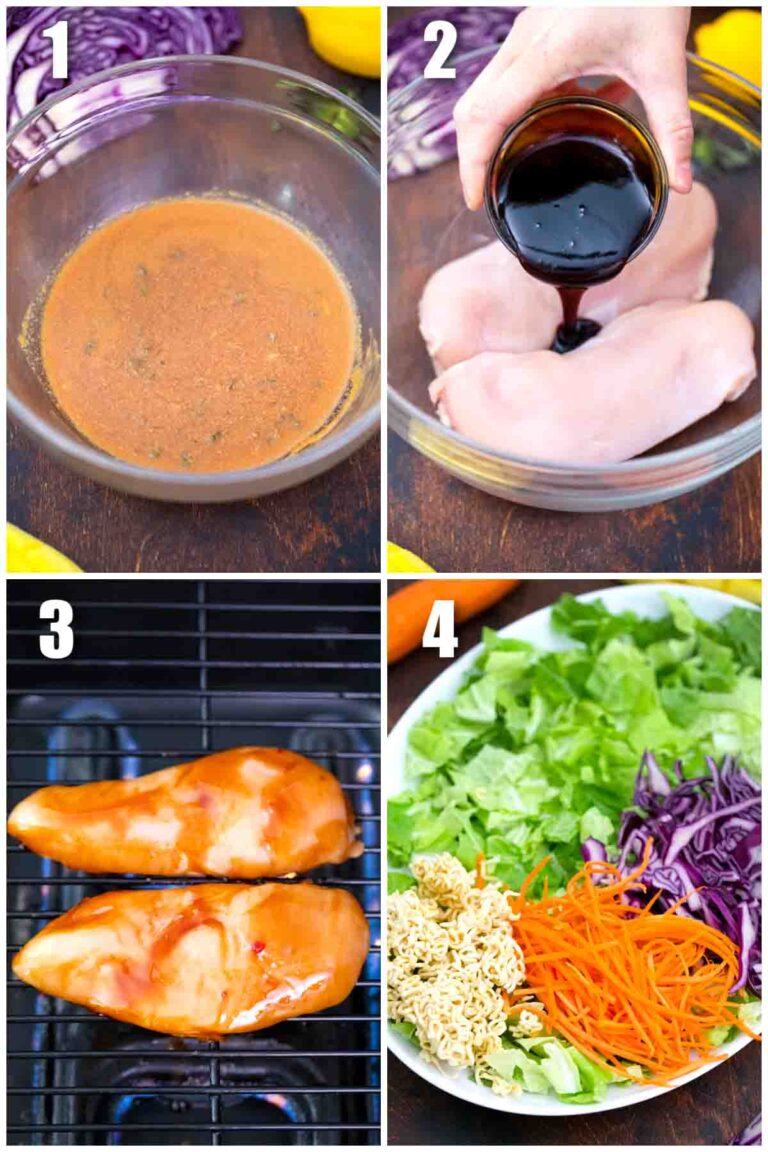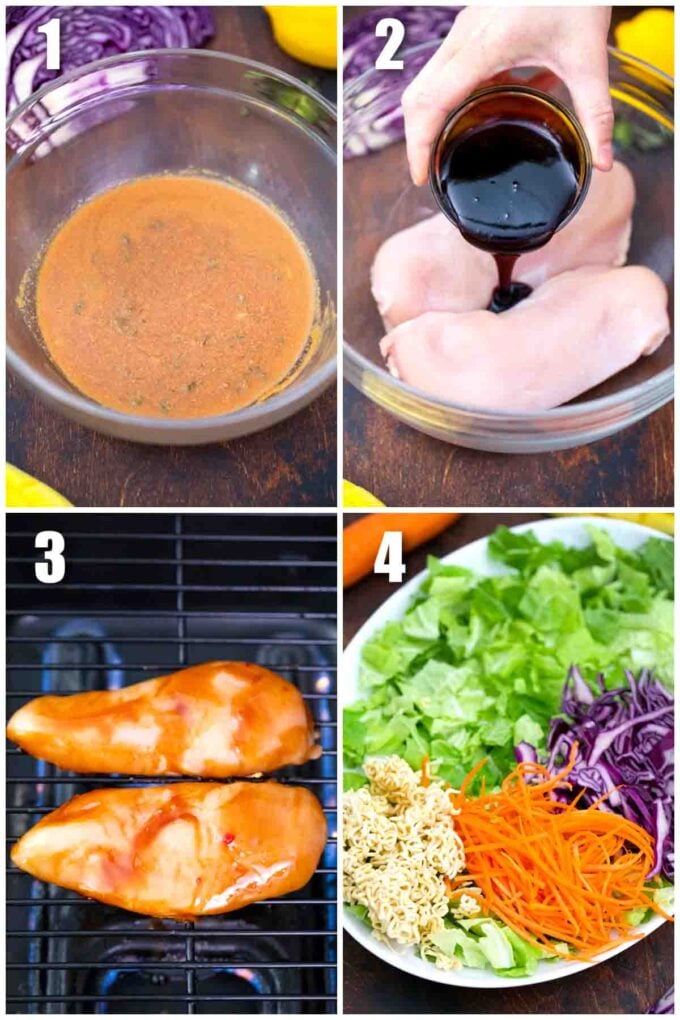 How to make Asian chicken salad recipe?
Make the delicious dressing: First, whisk the salad dressing ingredients in a small bowl, adding warm water until it is smooth. Put it in the fridge until the salad is ready to be served.
Marinate chicken: Next, combine the Asian sweet chili sauce, teriyaki sauce, and chicken in a gallon-sized freezer bag or large bowl. Let it marinate for at least two hours but overnight is better.
Preheat: In the meantime, preheat the grill to medium heat.
Cook chicken: Then, drain the excess marinade from the chicken and brush it with oil, salt, and pepper before adding it to the grill. Cook, turning occasionally until it is cooked through to 165 degrees F and browned. This should take about 10 minutes, depending on how thick your chicken slices are.
Cool and assemble: Lastly, place romaine lettuce in a large bowl and top with the cooked chicken salad ingredients.
Serve: Finally, add peanut dressing and toss. Serve immediately, garnished with mint and lemon wedges.
How to make air fryer Asian chicken salad:
Marinate the chicken: To begin, marinate your chicken for several hours or overnight with the Asian sweet chili sauce and teriyaki sauce.
Make salad dressing: After, make the salad dressing by mixing all the ingredients in a small bowl and chilling it while you prepare the rest of the salad.
Air fry the chicken: Then, instead of grilling your chicken, place it in a preheated air fryer at 400 degrees F for 10 to 15 minutes, flipping it halfway through the cooking time.
Cool and serve: After air frying the chicken, let it cool before tossing it with the other ingredients and the salad dressing. Serve right away with lemon and mint.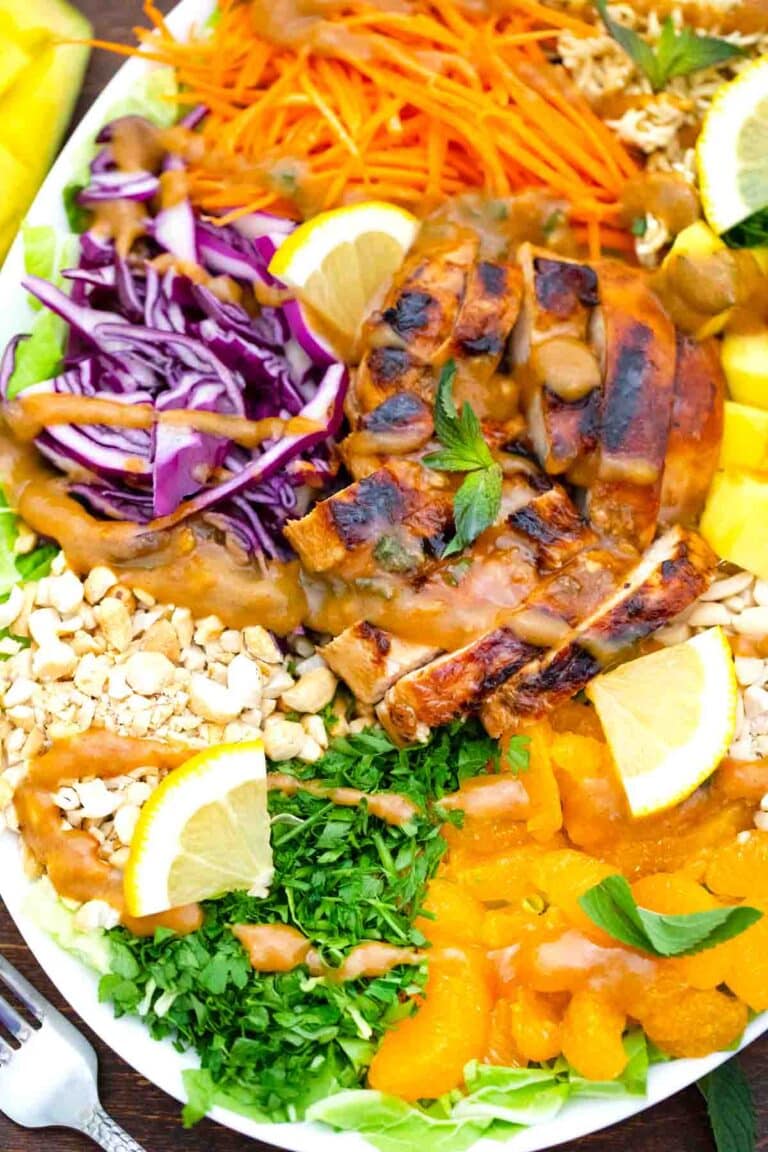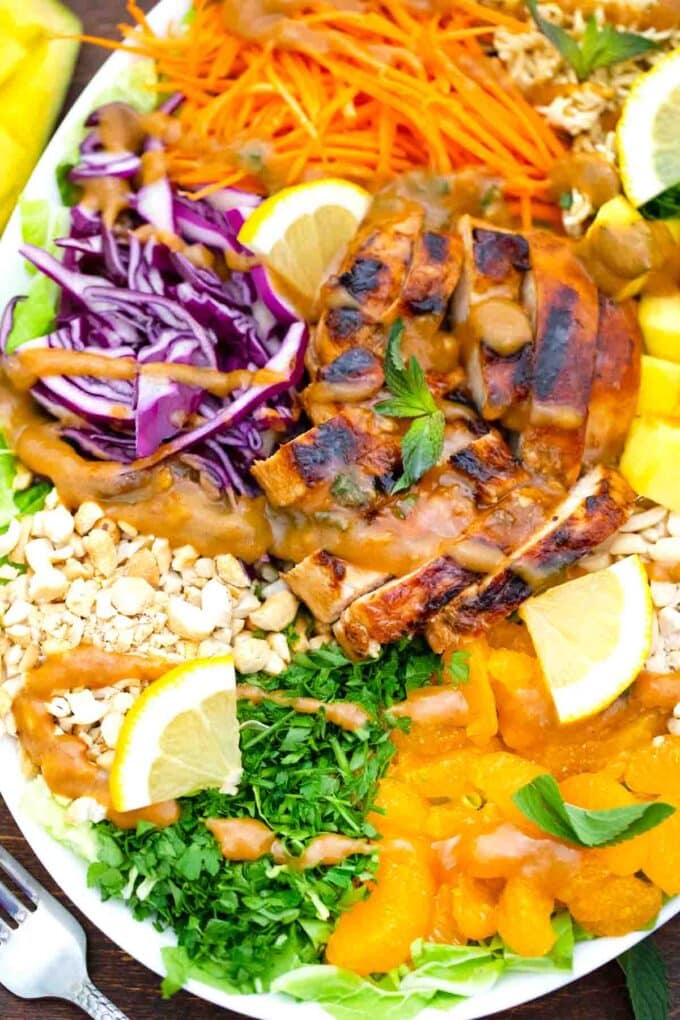 Recipe variations:
Other nuts: Instead of peanuts, use chopped toasted almonds, slivered almonds, or toasted sesame seeds.
No chicken: Substitute chicken with beef, pork, or chicken. Or just add it to the chicken.
Other oils: Feel free to use other oils such as sesame seed oil or olive oil.
Crunchy peanut butter: Use crunchy peanut butter instead of the homemade peanut dressing for more crunch.
More veggies: You can add more veggies for a heartier Asian chicken salad. Some of our favorites are sugar snap peas, broccoli, and cauliflower.
Iceberg lettuce: If you are not a fan of romaine, feel free to use iceberg lettuce instead.
Simple sauce: Instead of using our simple sauce recipe, use your own homemade peanut dressing or some other kind of sauce.
How to serve:
Use this Chinese chicken salad recipe with your favorite toppings and garnish with lemon and mint. It is perfect for dinner tonight or any night of the week for any everyday home cook. Try one of our great serving ideas or one of your own.
Add a handful of crunchy chow mein noodles to the top for an extra crunchy salad. The crunchy noodles give it a deliciously rich flavor as well.
This dish is delicious when served over our easy and low-carb coconut rice recipe.
Use leftovers for Asian chicken slaw, casserole, or some other Asian chicken salads your family enjoys.
You could use the leftovers to add to this instant pot pineapple chicken recipe.
Set out small bowls of your favorite toppings like white onions, sliced bell peppers, wonton strips, bok choy, radishes, and dried mushrooms.
You can also use a different dressing like our homemade General Tso sauce or this tasty Szechuan sauce.
Instead of mixing the salad ingredients, keep them all separate so that dinner guests can choose what they want in their salad. Also, give them the option to use the Asian dressing or some other type of dressing.
Make Asian chicken salad with a side of oven-roasted bok choy or some other Asian side dish your family loves.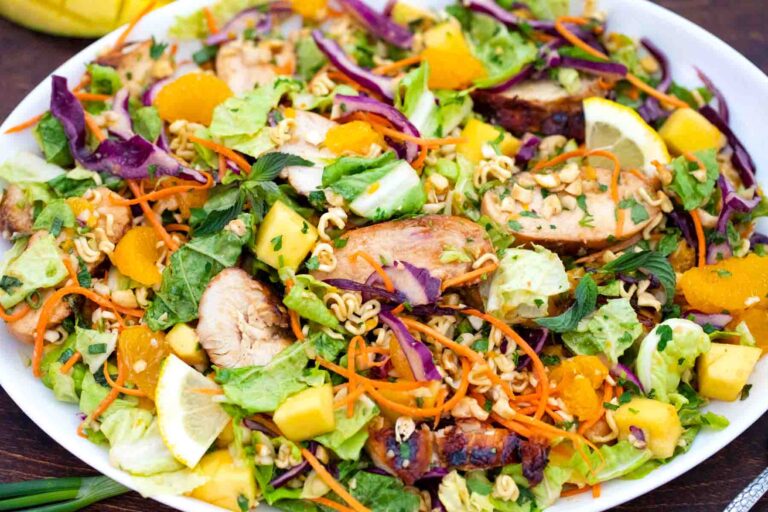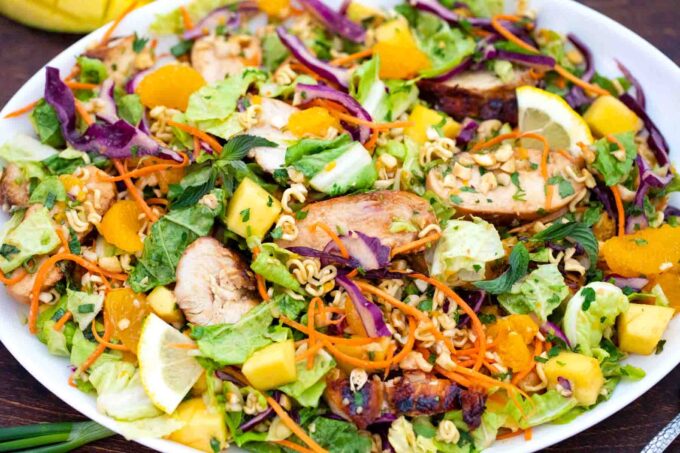 Frequently asked questions
What is the difference between napa and red cabbage?
Also known as Chinese cabbage, napa cabbage is sweeter and the leaves are more tender. It is also more of a leaf-type cabbage than the typical round ones. This is the best choice for raw salad recipes because it does not have the bitterness that red or green cabbage has.
Why is it often called Chinese chicken salad?
The recipe for Chinese chicken salad is actually not Asian at all. In fact, it was first served in the United States in the 1930s. However, the reason it is called Asian or Chinese chicken salad is because of all the Asian seasonings used like soy sauce, teriyaki, and Asian chili sauce.
This recipe also includes Asian ingredients like ramen noodles and Mandarin oranges.
Can I make the meal prep ahead of time?
This Asian chicken salad can easily be chopped and prepared for later or the next day. Chop all the veggies and keep them in an airtight container or zipper storage bag in the fridge. Prepare the chicken by cooking it and slicing or chopping. Just mix with dressing, heat, and serve when ready.
What are the nutrition facts for this recipe?
Each serving has about 450 calories, 23 grams of carbs, 34 grams of fat with 5 grams of saturated fat, 30 milligrams of cholesterol, and 600 milligrams of sodium. You also benefit from 15 grams of protein, 5 grams of fiber, 4,025 units of vitamin A, 75 milligrams of vitamin C, and 130 milligrams of calcium.
How to store leftovers:
Store: After leftovers (without the lettuce) cool to room temperature, store in your fridge for up to four days in an airtight container.
Freeze: If you cannot eat it all within a few days, go ahead and put it into a freezer bag and store it in the freezer for up to four months.
Thaw: This salad is best when thawed overnight in the fridge.
Reheat: To reheat, stir it for a minute or two in a skillet over high heat or in the microwave for 45 to 90 seconds.
More salad recipes:
Asian chicken salad recipe tips:
Be sure to check your chicken with an internal thermometer. It needs to be 165 degrees F before serving.
Cut out some of the meal prep by using shredded chicken from a rotisserie chicken or even leftovers from last night's dinner.
Another way to save time is to use coleslaw mix instead of having to chop the cabbage yourself.
Easily chop veggies in your food processor instead of doing it all by hand.
Toasted almonds are easy to make. Just slice them thin and bake on a prepared baking sheet at 350 degrees F for 10 minutes.
For the best flavor, let your chicken marinate overnight.
For more free recipes that are absolutely delicious, check out our website.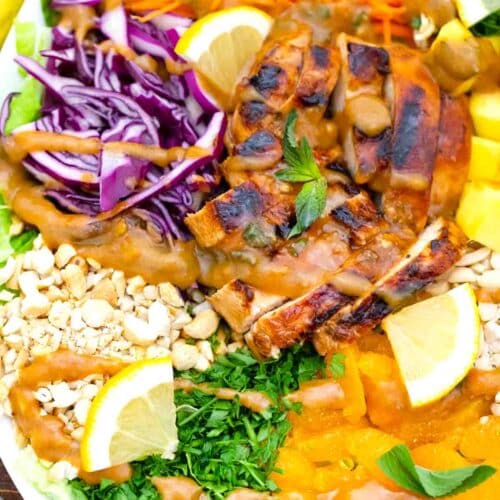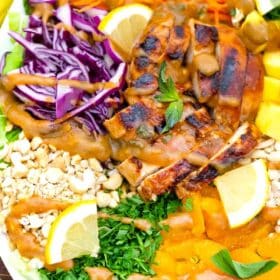 Asian Chicken Salad
Asian Chicken Salad is made with tender grilled chicken, crunchy nuts, and ramen noodles, mixed with sweet fruit like mango and mandarin oranges before being coated in our homemade peanut dressing.
Save
Share
Print
Pin
Rate
Ingredients
2

lbs

chicken breast

(boneless and skinless)

1/2

cup

teriyaki sauce

(homemade or store-bought)

1/2

cup

Asian sweet chili sauce

2

tablespoons

canola oil

Kosher salt and ground black pepper

(to taste)

1

head romaine lettuce

(roughly chopped)

2

cups

shredded red cabbage

1 1/2

cups

julienned carrots

1

cup

crunchy ramen noodles

(crushed)

11

ounce

can mandarin oranges

(drained)

1

cup

diced ripe mango

1

jalapeno

(seeds removed and chopped)

1/4

cup

roasted cashews

1/4

cup

chopped peanuts

1/2

cup

chopped fresh cilantro leaves

4

green onions

(thinly sliced)
Dressing:
1/4

cup

creamy peanut butter

2

tablespoons

reduced-sodium soy sauce

1

tablespoon

Asian sweet chili sauce

2

tablespoons

honey

(or maple syrup)

1

tablespoon

lime juice

1

tablespoon

rice wine vinegar

1

tablespoon

brown sugar

2

cloves

garlic

(minced)

1/4

cup

warm water

Fresh mint
Instructions
In a small bowl, whisk together the dressing ingredients until smooth. Store in the refrigerator until ready to use.

In a gallon-size Ziploc bag or large bowl, add chicken, teriyaki sauce, and Asian sweet chili sauce. Toss to combine and coat evenly the meat. Marinate for at least 2 hours or overnight, turning the bag occasionally.

Drain the chicken from the marinade when ready to cook.

Preheat the grill to medium heat. Or place a grill pan over medium-high heat.

Brush the grill with canola oil. Season the chicken with salt and pepper, to taste.

Grill the meat turning occasionally, for about 10 minutes, until completely cooked through, reaching an internal temperature of 165 degrees F.

Remove the chicken to a cutting board and let it rest for 5-10 minutes, slice it into strips.
Assemble:
Add romaine lettuce to a large bowl or platter, and top with chicken, cabbage, carrots, noodles, mandarin oranges, mango, peanut, cashews, cilantro, and green onions.

Give the dressing a stir and pour it on top of the salad. Gently toss to combine.

Garnish with lemon wedged and mint.
Nutrition
Calories:
630
kcal
|
Carbohydrates:
104
g
|
Protein:
67
g
|
Fat:
40
g
|
Saturated Fat:
10
g
|
Polyunsaturated Fat:
8
g
|
Monounsaturated Fat:
19
g
|
Trans Fat:
0.1
g
|
Cholesterol:
145
mg
|
Sodium:
3621
mg
|
Potassium:
1771
mg
|
Fiber:
8
g
|
Sugar:
54
g
|
Vitamin A:
10829
IU
|
Vitamin C:
80
mg
|
Calcium:
126
mg
|
Iron:
6
mg
More recipes you might love