Slow Cooker Teriyaki Chicken Recipe [Video]
Slow Cooker Teriyaki Chicken features juicy, shredded meat tossed in an Asian sauce brimming with the flavors of ginger, garlic, soy sauce, and a little honey. A Japanese-inspired dish to wow your family and friends!
Get more flavor inspiration from Asia! Make your next meal extra special with this Tonkotsu Ramen with Chashu Pork, Soba Noodles, the crispiest Chicken Katsu with Tonkatsu Sauce.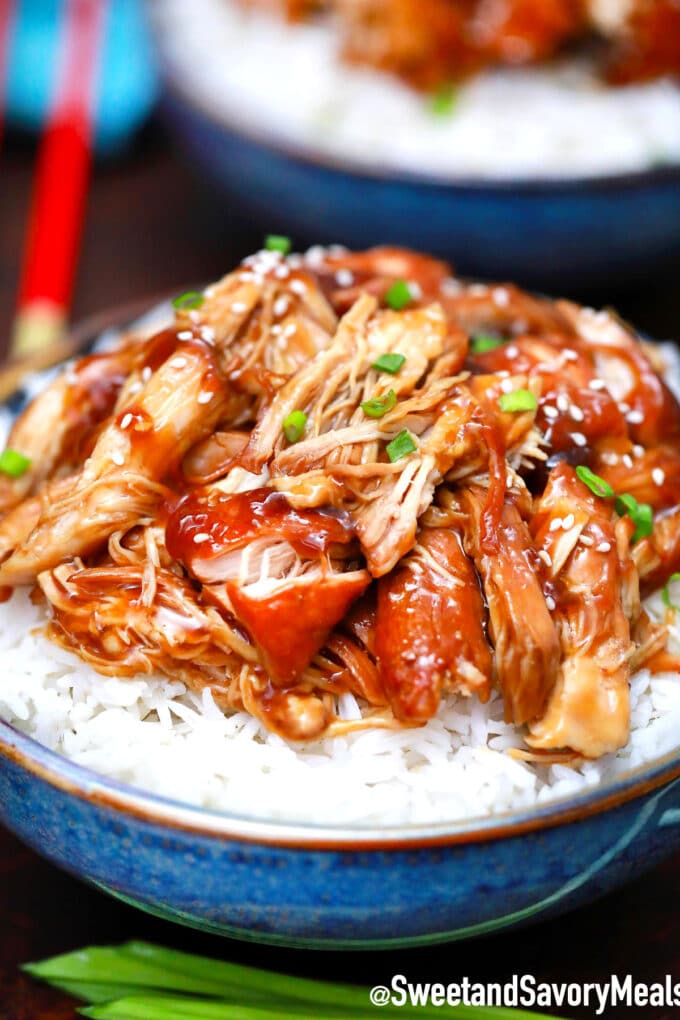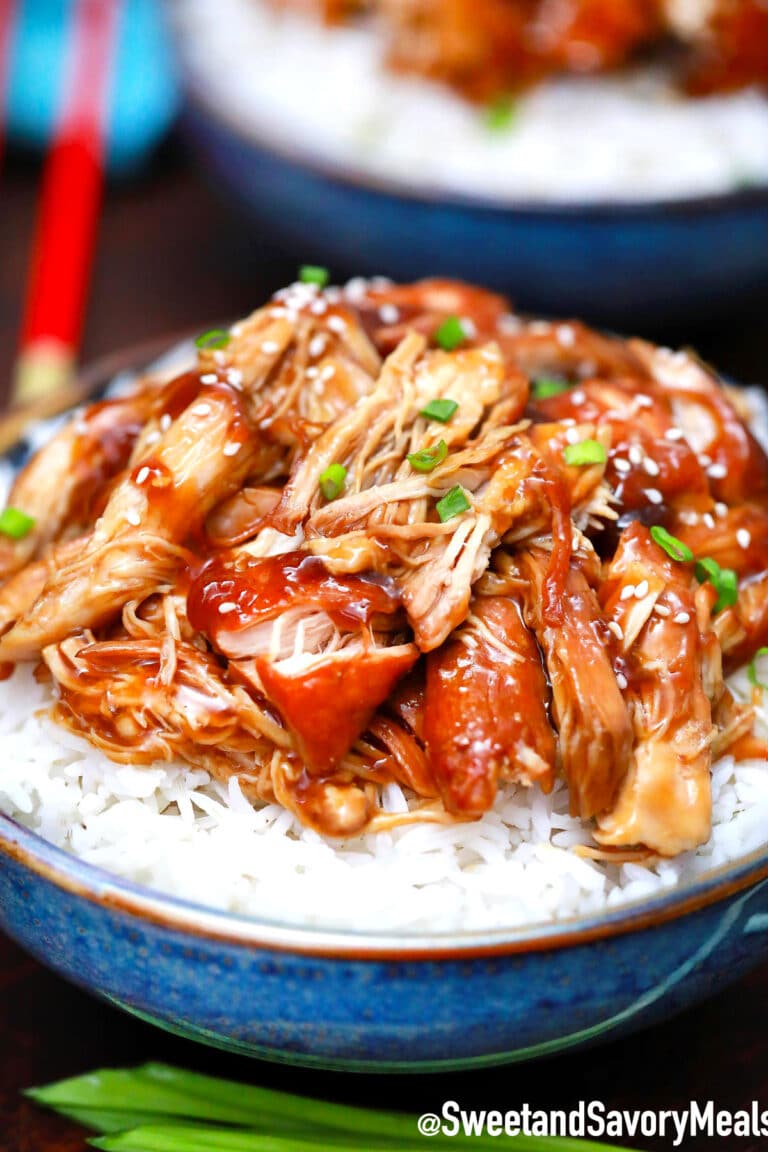 Slow Cooker Teriyaki Chicken
Slow Cooker Teriyaki Chicken is on constant rotation in my house. We love Japanese food around here, and this dish hits all the right spots!
The chicken becomes unbelievably juicy in the slow cooker, and that sauce is insanely irresistible. It's sweet, perfectly salty, and a little tangy at the same time. The ginger and garlic flavors really come through, and the sesame oil really punches up the sauce!
On top of that, the leftovers are just as crazy good. We love turning them into sliders, rice bowls, or crisped up to enjoy on salads. Everyone who tries this dish can't get enough!
What is Chicken Teriyaki made of?
You've got lean breast meat, drenched in a medley of Asian aromatics and spices. For the sauce, we use low-sodium soy, plus a touch of honey, brown sugar, and nutty sesame oil.
You also have some vinegar in there to brighten up the flavors, along with our main aromatics fresh ginger and finely minced garlic. For a bit of kick, we'll also add some pepper flakes.
Each component is so flavorful on its own. But together, they make a teriyaki sauce that's truly outstanding!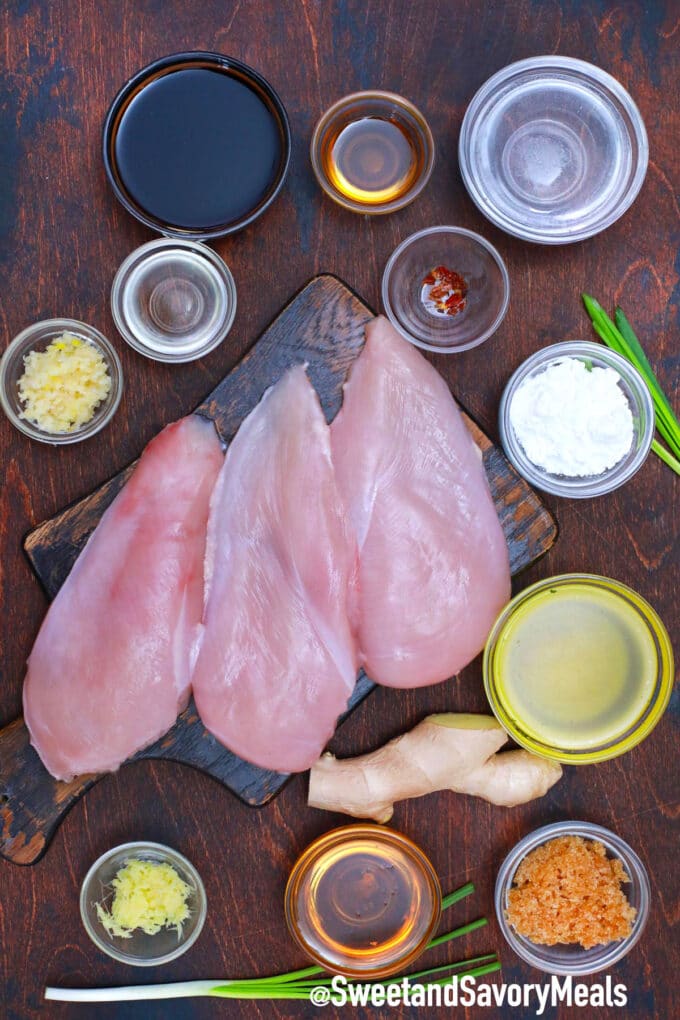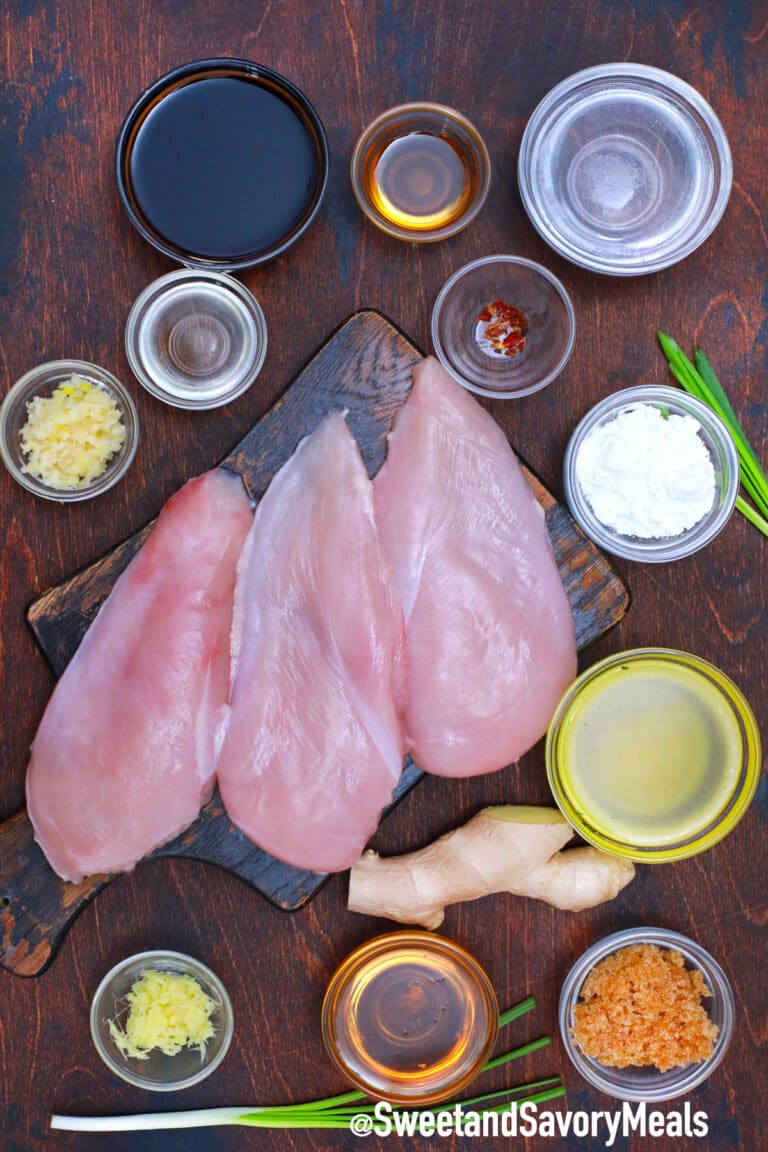 Why is it called teriyaki?
It comes from two words: "teri" (gleam or luster in Japanese) and "yaki" (the Japanese term for grilled).
Very accurate, since this dish refers to the Japanese cooking method of grilling meat or fish, then drenched in a shiny and glaze-like soy sauce marinade.
Is teriyaki Japanese or Chinese?
It's Japanese. This cooking technique goes as far back as the Edo (aka Tokugawa) period, which began in the year 1603.
How do you make teriyaki sauce from scratch?
Glad you asked! It's so easy. Mix all the sauce ingredients with the minced aromatics, then simmer them together in a pan.
While that's going on, make your slurry by blending water and cornstarch. Stir that in until the sauce thickens. You can now use it as a dip, Asian salad dressing, or marinade!
I wrote an entire post on this wonderful sauce, including variations and more ways to use it, so make sure to check it out.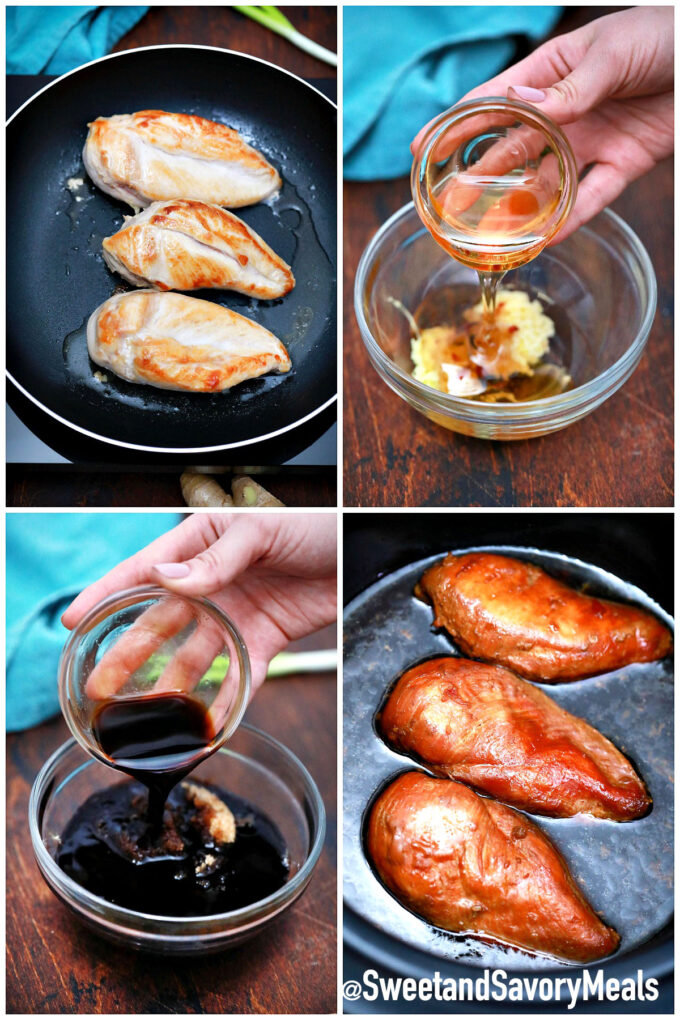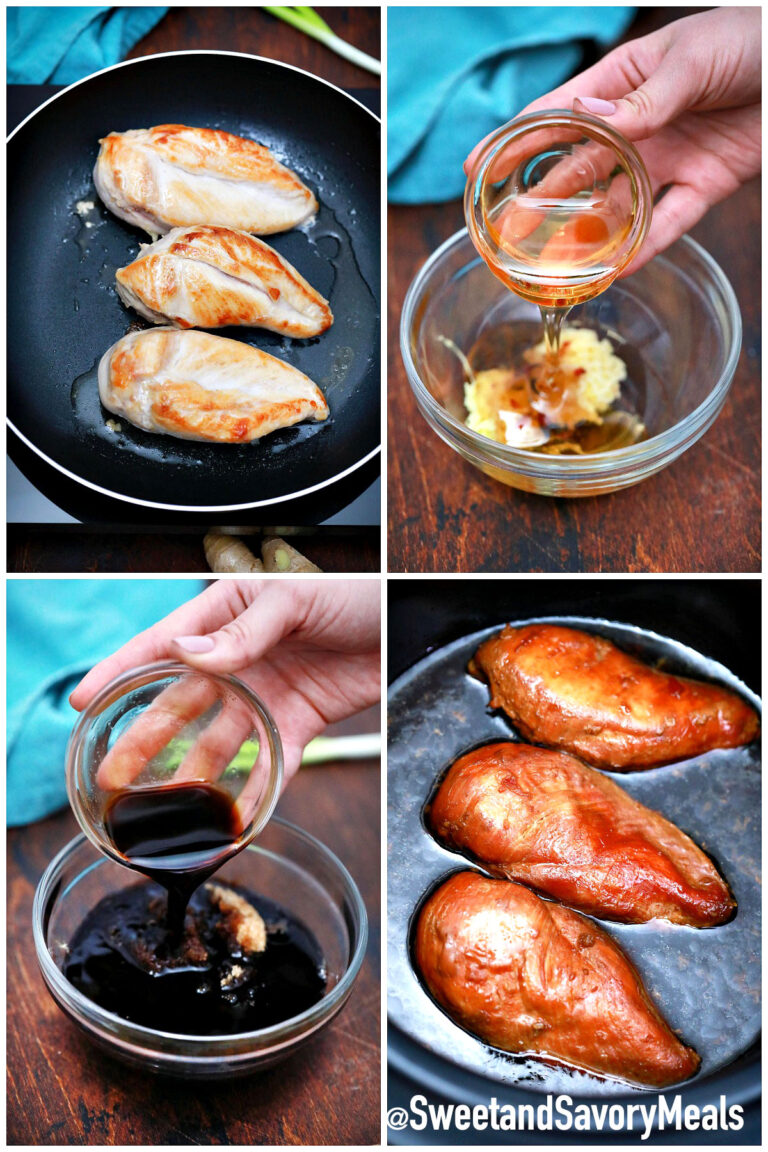 How to make Slow Cooker Teriyaki Chicken from scratch?
Brown the breasts – Start by browning the meat in oil, then arrange in your crockpot. Cover with sauce.
Cook – Next, slow cook on high for 4-5 hrs. or 8 hrs. (LOW).
Shred – Take out your meat, then shred it into your desired thickness. I like mine slightly bigger to give it a nice bite.
Reduce the glaze – Strain sauce, simmer to reduce, then finish with slurry until it becomes a shiny, thick glaze.
Serve – Lastly, toss the shredded meat in the glaze. Plate it up with sesame seeds and a sprinkle of green onions. Enjoy as desired!
Recipe Variation:
Use other meats: Try this with sliced thigh fillets, salmon, pork strips, or very tender and thin slices of beef.
Make it meatless: Use crispy tofu in place of meat, and swap the stock with veggie broth.
Add veggies: Dump in some bell pepper slices, mushroom, carrots, and even broccoli florets into the slow cooker for an ultra-flavorful, balanced dish in one crockpot!
Grill it: Instead of a quick sear, grill the meat instead. This infuses the dish with amazing smokiness.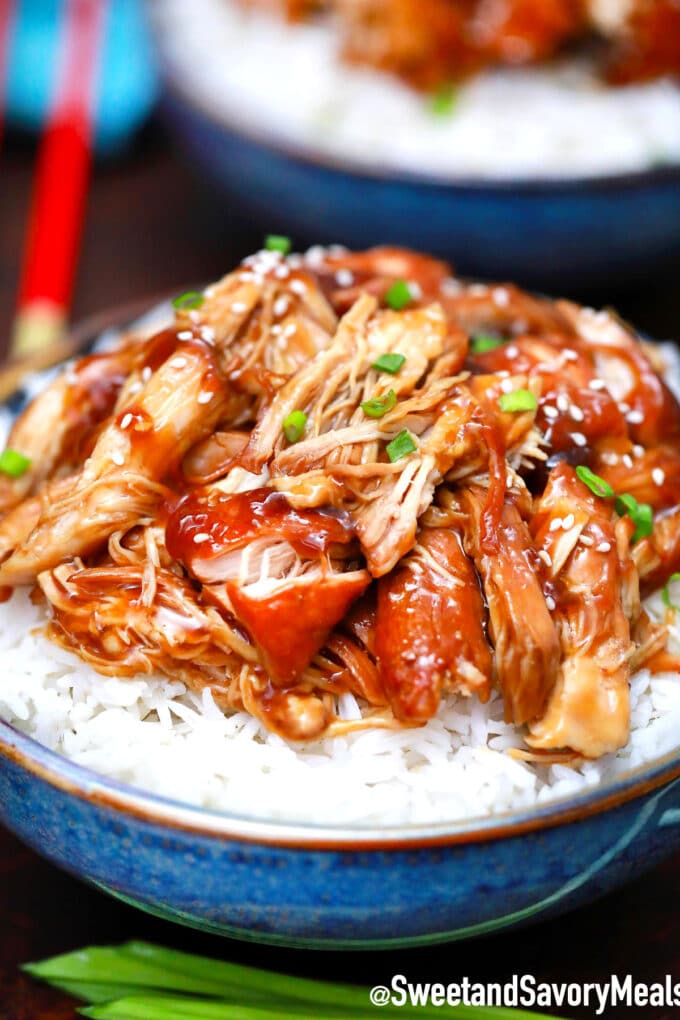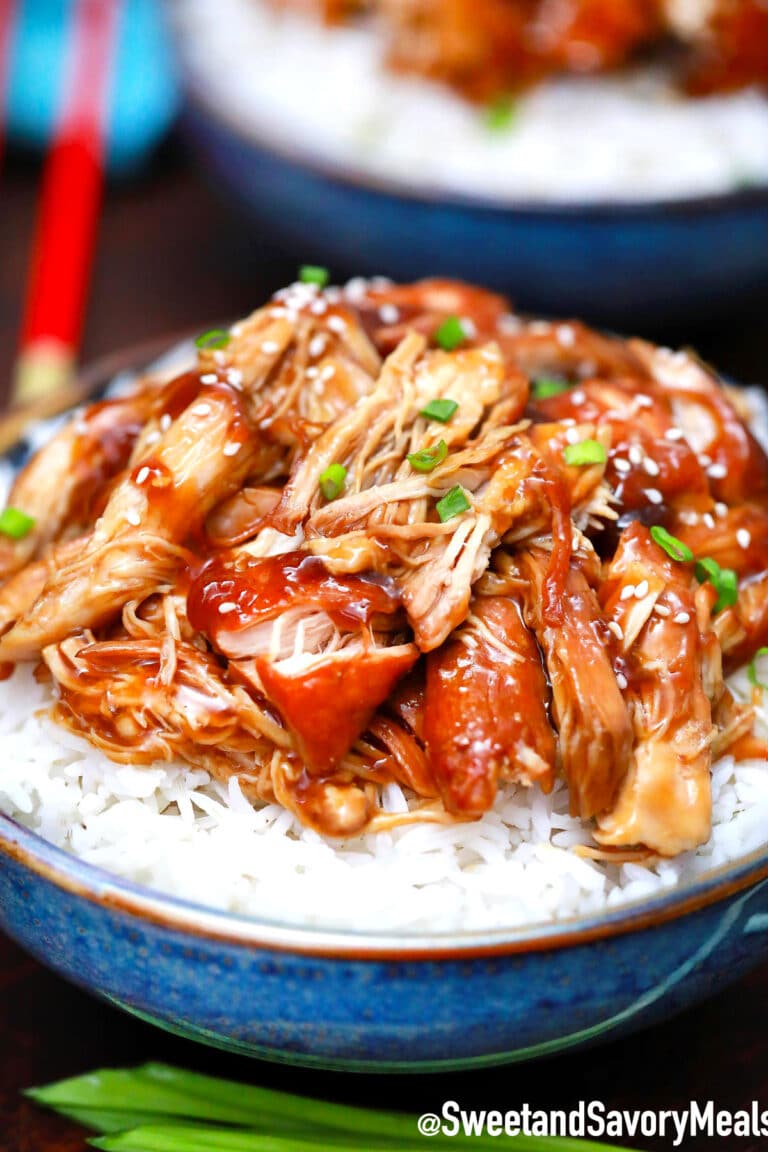 Can Teriyaki Chicken be made in the Instant Pot?
Sure! Sear the breasts on Sauté mode first, then deglaze the pot with stock. Then, cover the meat with the sauce ingredients. Press High Pressure and set to 10 mins. Do a quick vent to release the seal.
For a thicker sauce, let it simmer some more on Sauté mode. Shred, then serve hot and garnished with green onion slices and sesame!
How healthy is Slow Cooker Teriyaki Chicken?
This homemade version is much healthier than what you can order in most restaurants.
For one, we use low-sodium soy sauce to lessen the salt content of this dish. There's also very little sugar, just enough to add a subtle sweetness to the marinade. There's no oil as well— just a splash of sesame for flavor and a little more for searing the meat.
In addition, the breast meat is lean, light, and loaded with fiber. The slow cooking method is also excellent at retaining nutrients.
Serve with veggies and complex carbs like sweet potatoes, and you've got one healthy and tasty meal indeed!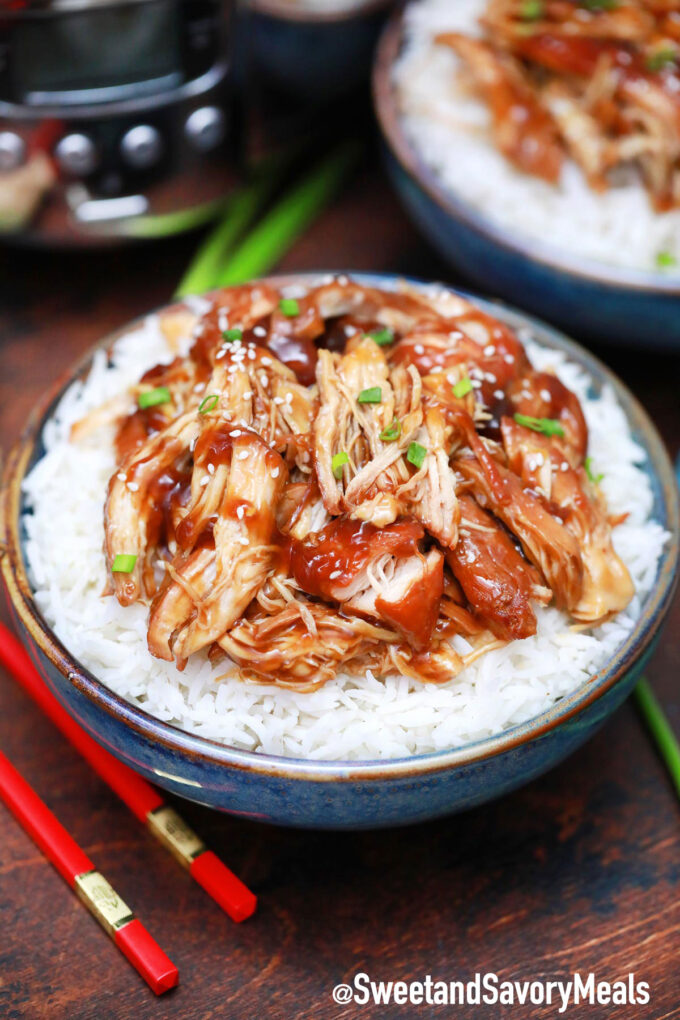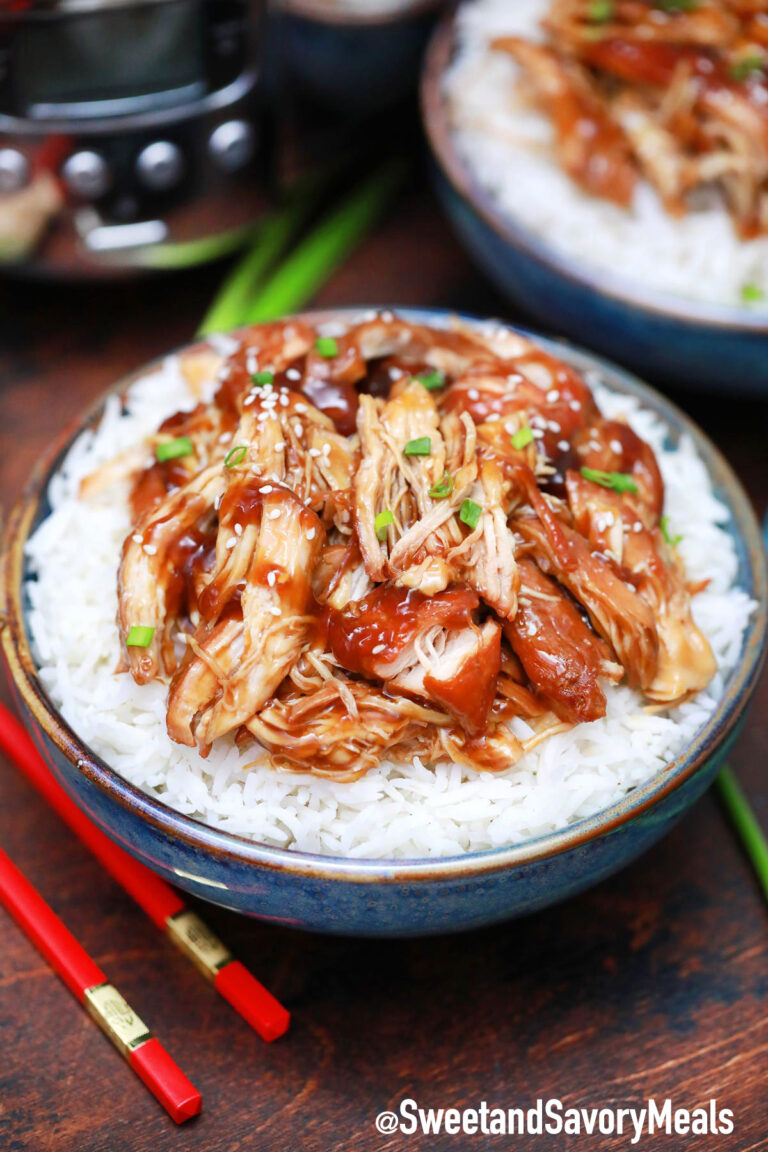 Can you make it in advance?
Yes, go ahead! Believe it or not, this recipe becomes even more delicious as leftovers. The meat absorbs the teriyaki sauce, which turns into a thick glaze by day one or 2 in the fridge.
What to serve with Crockpot Teriyaki Chicken?
This entrée is PERFECT on top of hot white rice, brown rice, or cauliflower rice if you're watching your carbs!
You can also whip up this quick egg fried rice for a takeout-inspired meal.
My family also enjoys this with a big side of steamed broccoli or roasted sweet potatoes. You can also turn leftovers into yummy sliders using these fluffy dinner rolls!
How to Store it?
Cool the dish completely first. Then, transfer in a well-sealed container. Cover the meat with the sauce. In the fridge, this will stay fresh for up to 5 days.
You can make it last as long as 2 months by freezing. To reheat, simply microwave until hot!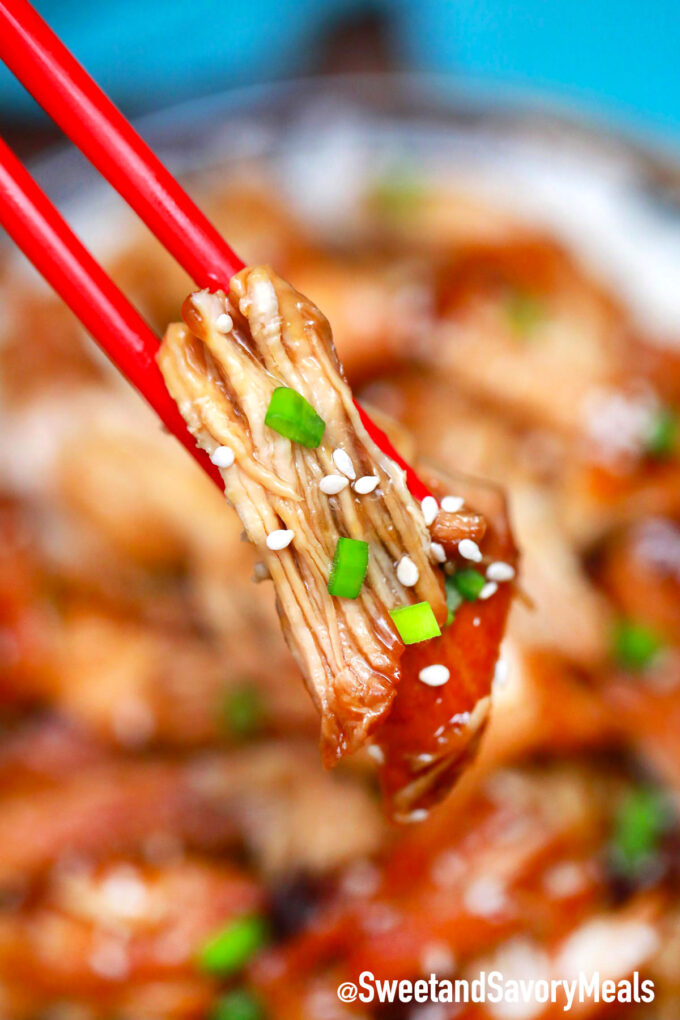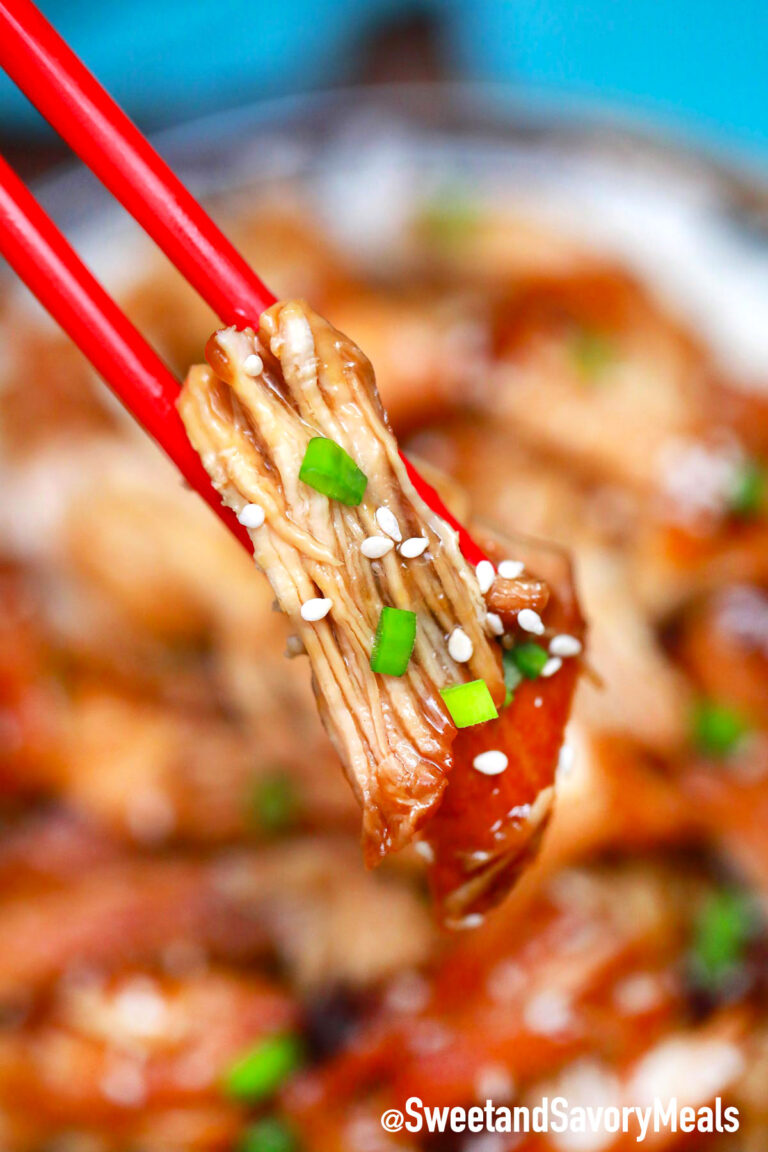 More Asian Recipes:
Recipe Tips:
I love grating the aromatics into an almost paste-like consistency so they melt into the sauce!
Strain the sauce before reducing so you get a smooth glaze.
Use thigh fillets if you love dark meat.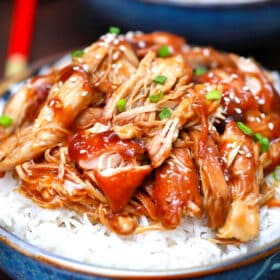 Slow Cooker Teriyaki Chicken
Slow Cooker Teriyaki Chicken features juicy, shredded meat tossed in a homemade Asian sauce!
Save
Share
Print
Pin
Rate
Ingredients
2

pounds

chicken breasts

(boneless and skinless)
Sauce:
6

cloves

garlic

(minced)

1

tablespoon

fresh ginger

(minced)

1/4

teaspoon

red pepper flakes

1/4

cup

honey

2

tablespoons

brown sugar

1/2

cup

low sodium soy sauce

1

tablespoon

toasted sesame oil

2

tablespoons

rice vinegar

1/4

cup

chicken broth
Slurry:
1/4

cup

cold water

2

tablespoons

cornstarch
Garnish:
1

tablespoon

sesame seeds

2

tablespoons

sliced green onions
Instructions
In a large skillet over medium high heat, add some oil and once hot, brown the chicken breasts on both sides for a few minutes.

Place the browned chicken breasts in the slow cooker.

In a small bowl, whisk together all the SAUCE ingredients.

Pour the SAUCE mixture over the chicken.

Cover and cook on HIGH for 4-5 hours or on LOW for 8 hours.

Remove the chicken from the slow cooker place it in a large bowl and shred with two forks.

Pour the teriyaki sauce from the slow cooker through a strainer into a saucepan and place on the stove over medium-high heat. Bring to a simmer.

In a small bowl, mix the cornstarch with the water until dissolved and add the slurry to the saucepan. Bring it to a boil and cook for 1-2 minutes or until the sauce has thickened.

Pour the sauce over the shredded chicken and toss to coat.

Serve with rice, sprinkle with sesame seeds and green onions.
Video
Nutrition
Calories:
437
kcal
|
Carbohydrates:
31
g
|
Protein:
50
g
|
Fat:
12
g
|
Saturated Fat:
2
g
|
Cholesterol:
145
mg
|
Sodium:
1386
mg
|
Potassium:
929
mg
|
Fiber:
1
g
|
Sugar:
24
g
|
Vitamin A:
105
IU
|
Vitamin C:
4
mg
|
Calcium:
41
mg
|
Iron:
2
mg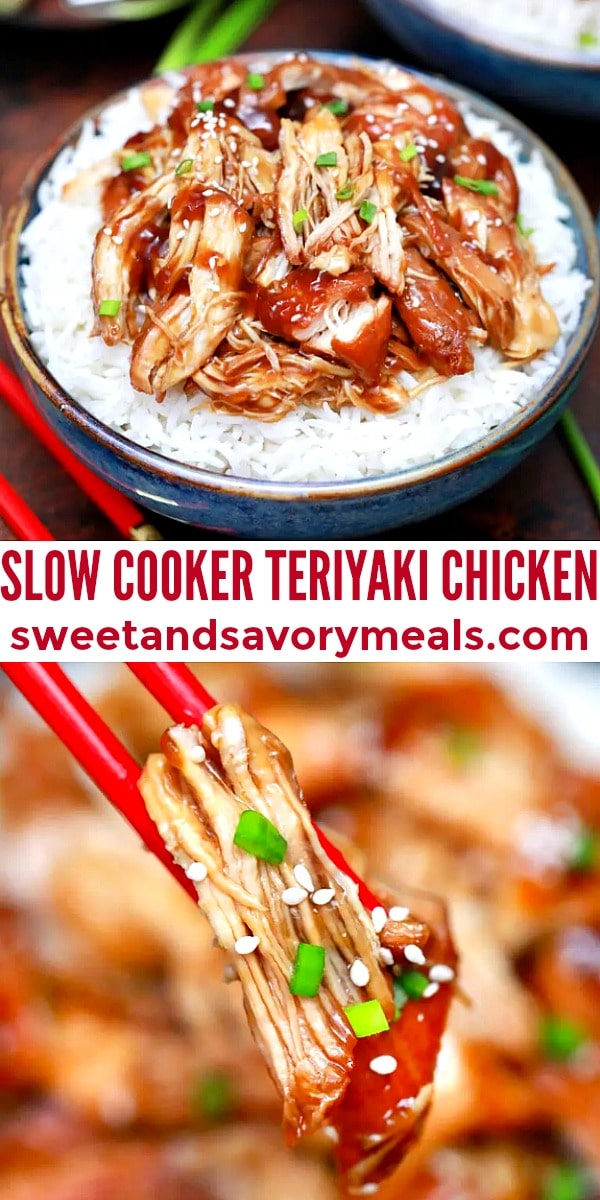 More recipes you might love