Filipino Chicken Adobo Recipe
Last updated on June 18th, 2021 at 10:32 pm
Filipino Chicken Adobo is a savory Asian dish marinated in vinegar, soy sauce, and spices. It's then simmered down to a delicious glaze that penetrates deeply into the meat. Addictive and delicious served over hot white rice!
For more Asian-inspired meals, try this smoky Korean Beef Bulgogi, the Best Hunan Beef Recipe you'll ever make, and Teriyaki Salmon with Homemade Teriyaki Sauce for a lighter option.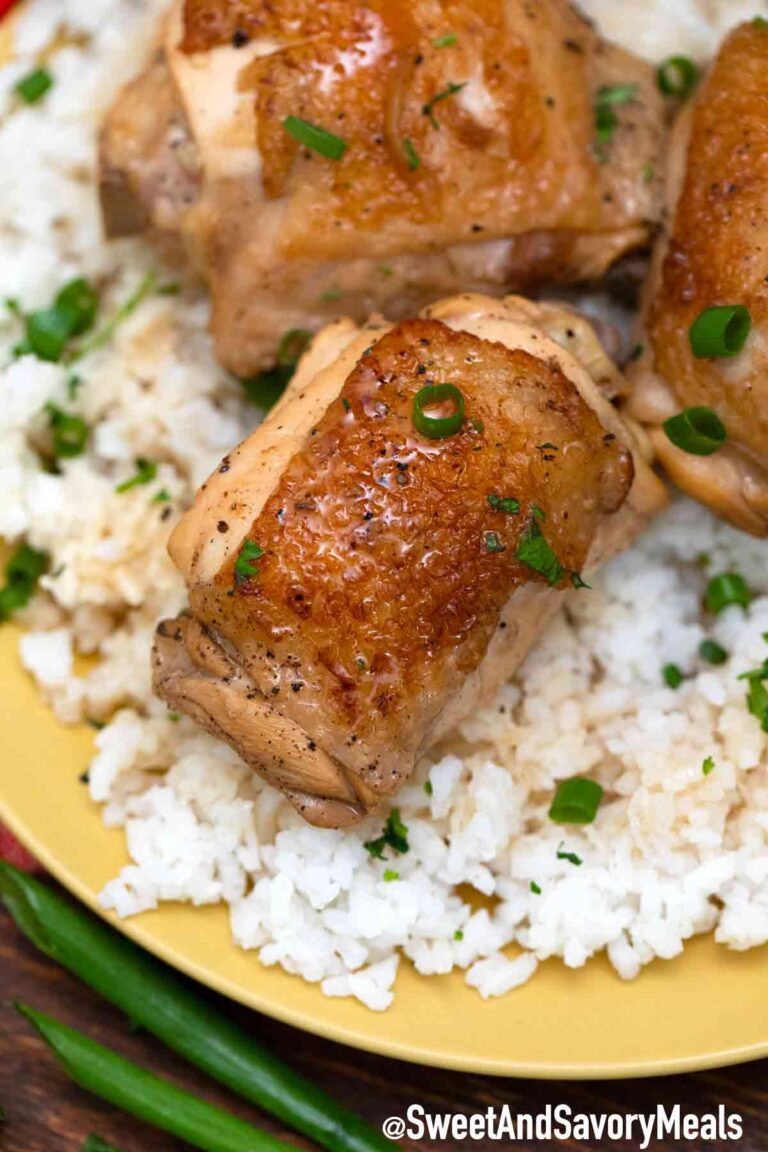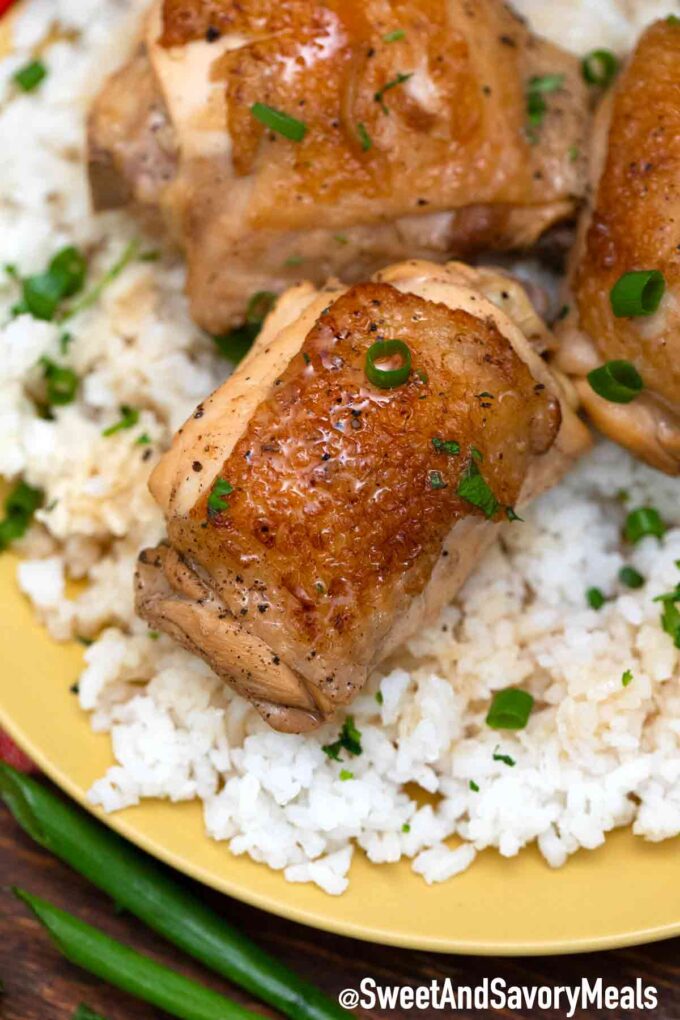 Filipino Style Chicken Adobo
Filipino Chicken Adobo is synonymous with the Philippines. When I searched must-make Filipino recipes, this was the hands-down the winner. Everyone I know who's tried it or been to that beautiful country can't stop raving about this dish. So, I had no choice but to try it myself!
Well, folks, all of them were right! This dish is next-level delicious and healthy. The marinade and braising method transform humble ingredients into one amazing meal. Also, this is an easy recipe that yields juicy, tender chicken coated in a sweet and savory glaze.
You can make it with thighs or boneless breasts, the result will be equally delicious. It is the perfect dinner for busy weekdays that is incredibly tasty and affordable. If you're lucky enough to have leftovers, this tastes even more amazing the next day!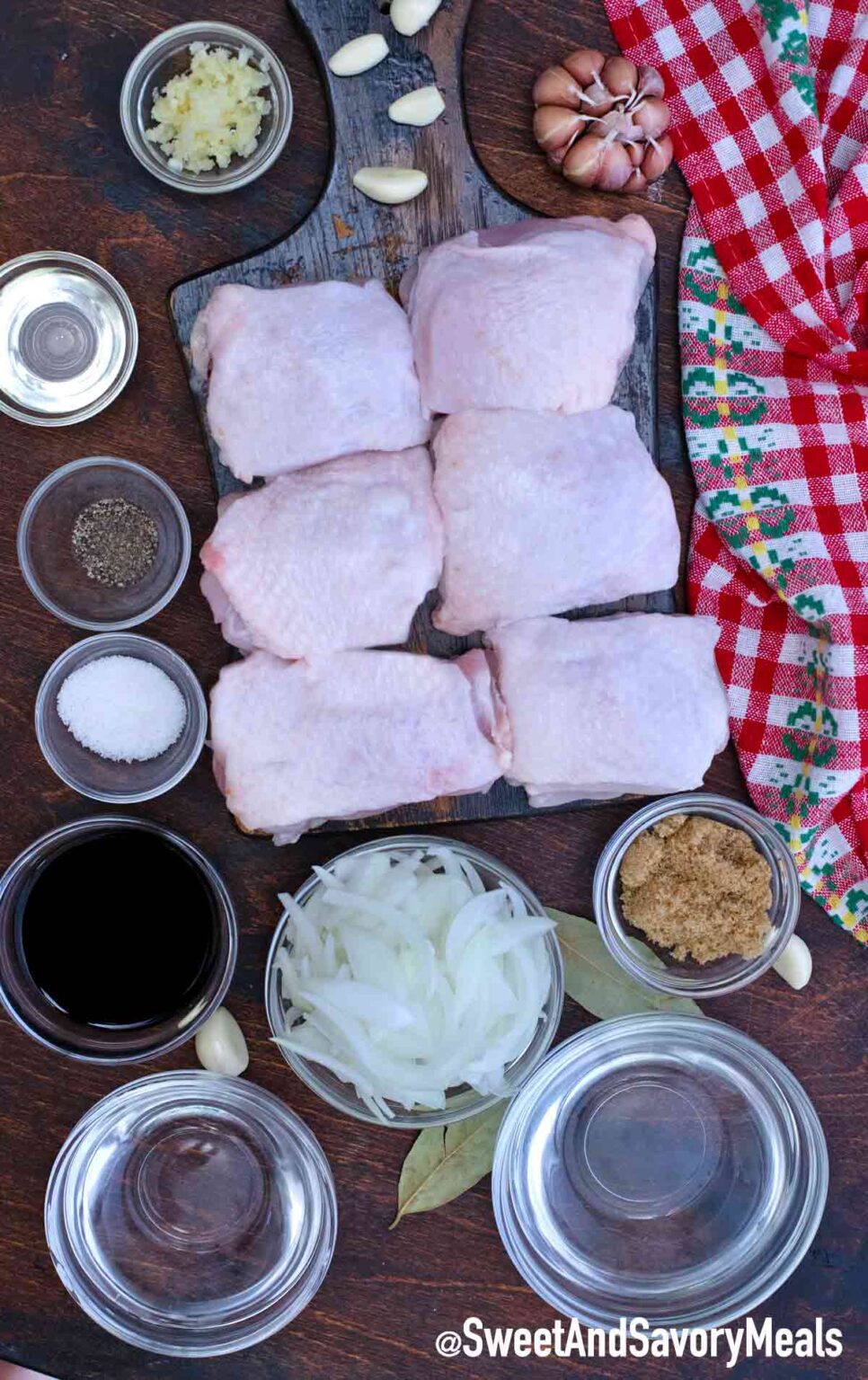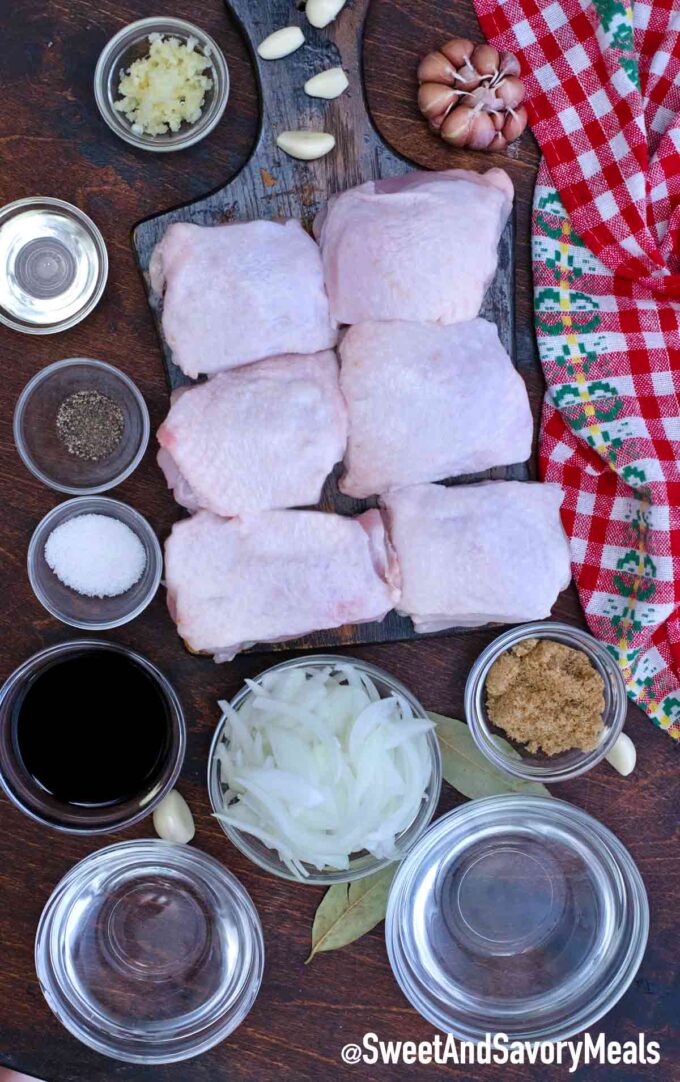 What is Chicken Adobo?
There's adobo seasoning, and then there's adobo. One is an all-purpose seasoning made with a mix of spices like cumin, garlic powder, oregano, onion powder, and chili powder. The other is a cooking method.
You see, food goes bad quickly in tropical countries like the Philippines. To counteract this, this cooking method involves a soy sauce and vinegar marinade. This briny soak helps make the dish last longer.
It's then braised slowly until that marinade becomes a salty glaze with a tanginess that coats every bit of the meat. If you ask me, that flavorful sauce is the best part!
Filipino Chicken Adobo Ingredients:
Soy sauce and vinegar form the base of the marinade. To this, you'll add garlic cloves, a bit of salt, ground pepper, and bay leaves. Don't forget the bay leaves! You need it for that distinctive adobo taste.
Drumsticks and thighs are the best cuts to use for this recipe. I encourage you to stick to these cuts. The fatty skin renders into the sauce and adds moisture and richness to the dish.
Prepare some canola oil for searing the meat. Mince more garlic and onions. Measure out one cup of water. Mellowing out the saltiness is a small amount of brown sugar.
Set some chopped green onions aside for garnish.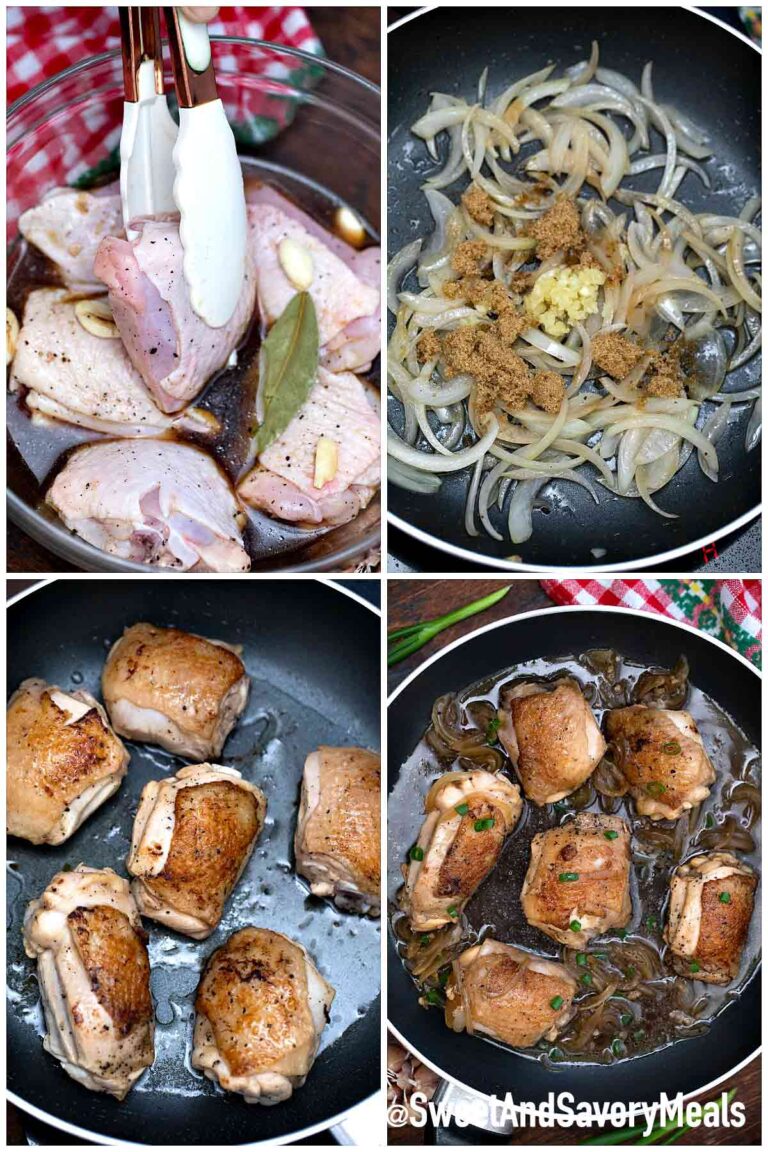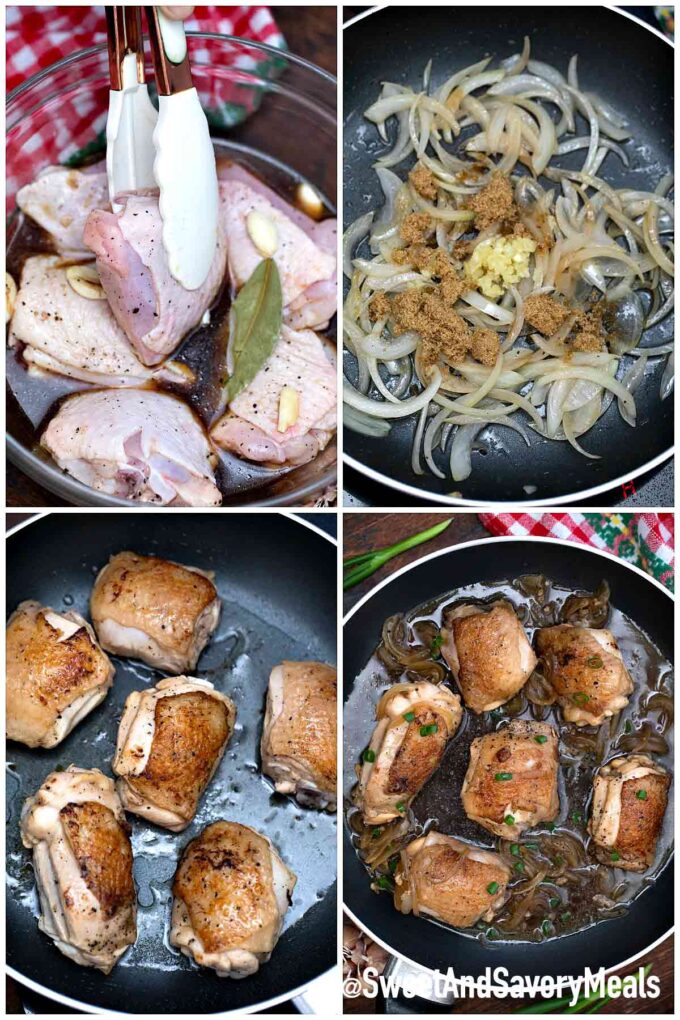 How to make Filipino Chicken Adobo?
Marinate the meat: I recommend marinating it for about half an hour. If you are in a hurry, feel free to skip this step. However, marinating it will result in a juicier and more flavorful chicken. Once marinated, remove and pat it dry. Reserve the liquid.
Sear the chicken: Sear the meat until brown. Set aside.
Prepare the sauce and cook it: Caramelize the onion, then the garlic, and add the sugar. Next, pour the remaining marinade and water. Bring to a boil, then return the meat to the skillet. Turn down the heat until a reduced sauce forms.
Serve it: Served with chopped green onions on top.
Recipe Variations and substitutions:
Add red chilies for a spicier version
Make it creamier with coconut milk
Also, feel free to substitute honey in place of brown sugar
Swap white vinegar with cane vinegar, rice vinegar, or coconut vinegar
Use other proteins like pork and beef
Throw in some sliced ginger to the aromatics
Braise the meat with potato chunks
Add turmeric powder for a curry-like adobo
Add fried tofu
Flake the meat and fry it for a crispy topping for salads, burgers, and sandwiches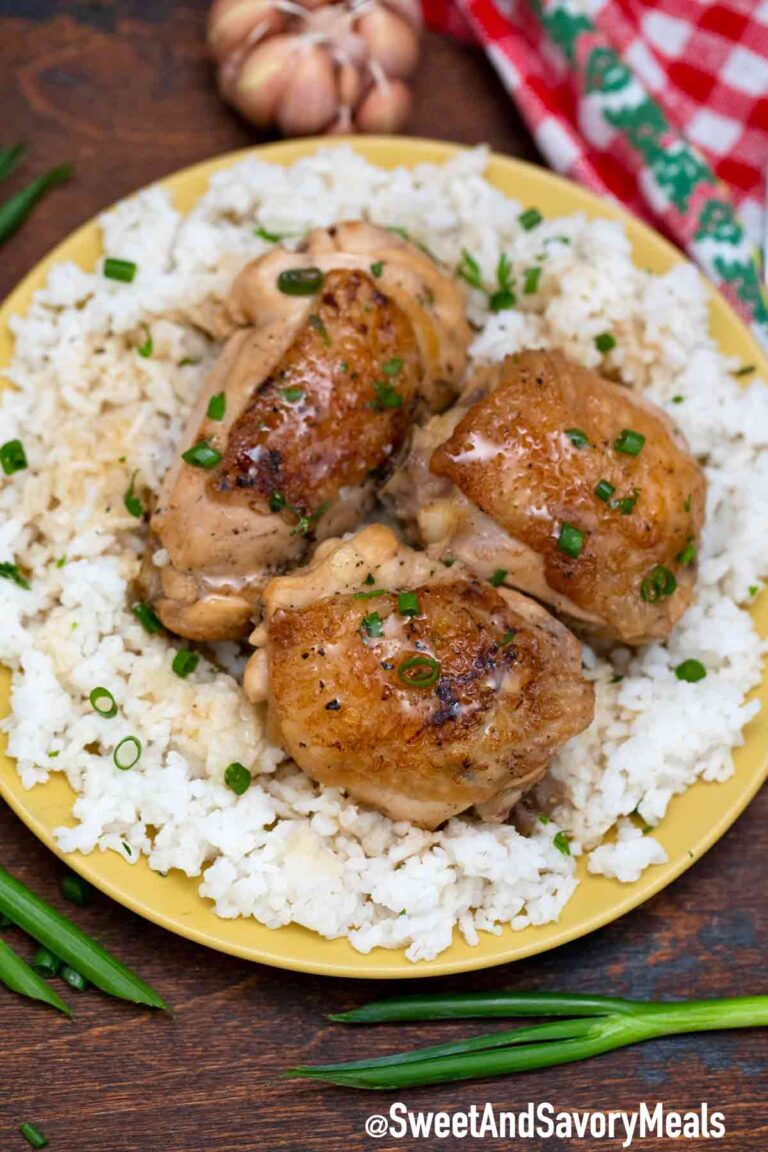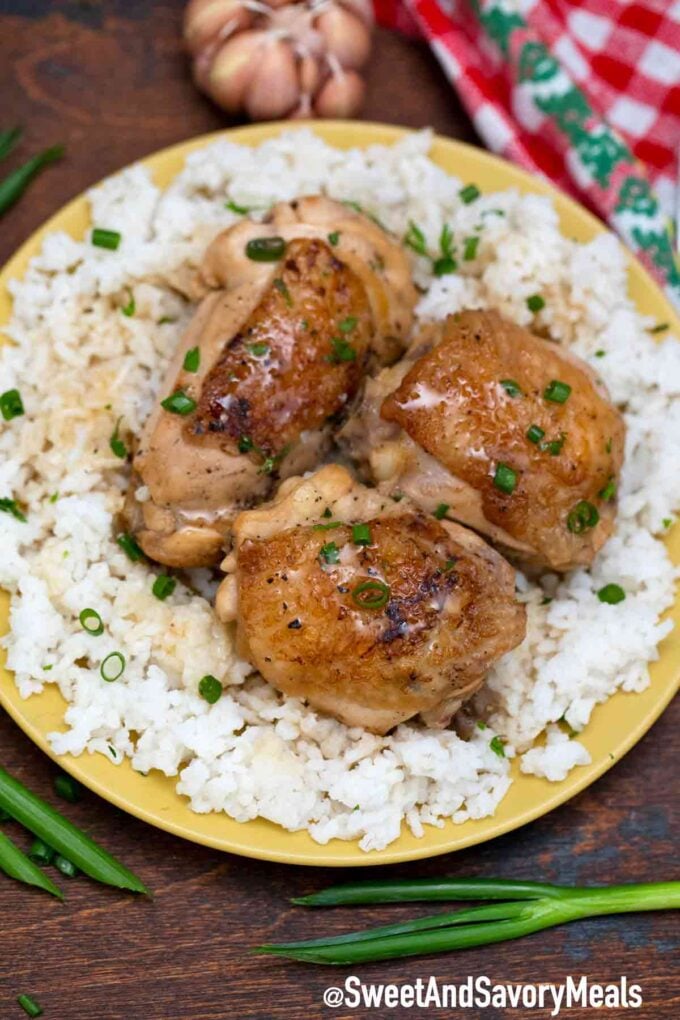 What to serve with Filipino Chicken Adobo?
Because adobo has a salty flavor profile, go easy on the salt for your side dishes.
This dish is traditionally served over fluffy white rice. Also, it goes well with brown rice. For more fiber or something more special, pair it with Coconut Rice.
I also like serving it with plain quinoa, Perfectly Creamy Mashed Potatoes, steamed broccoli, or a simple arugula salad on the side.
More chicken recipes: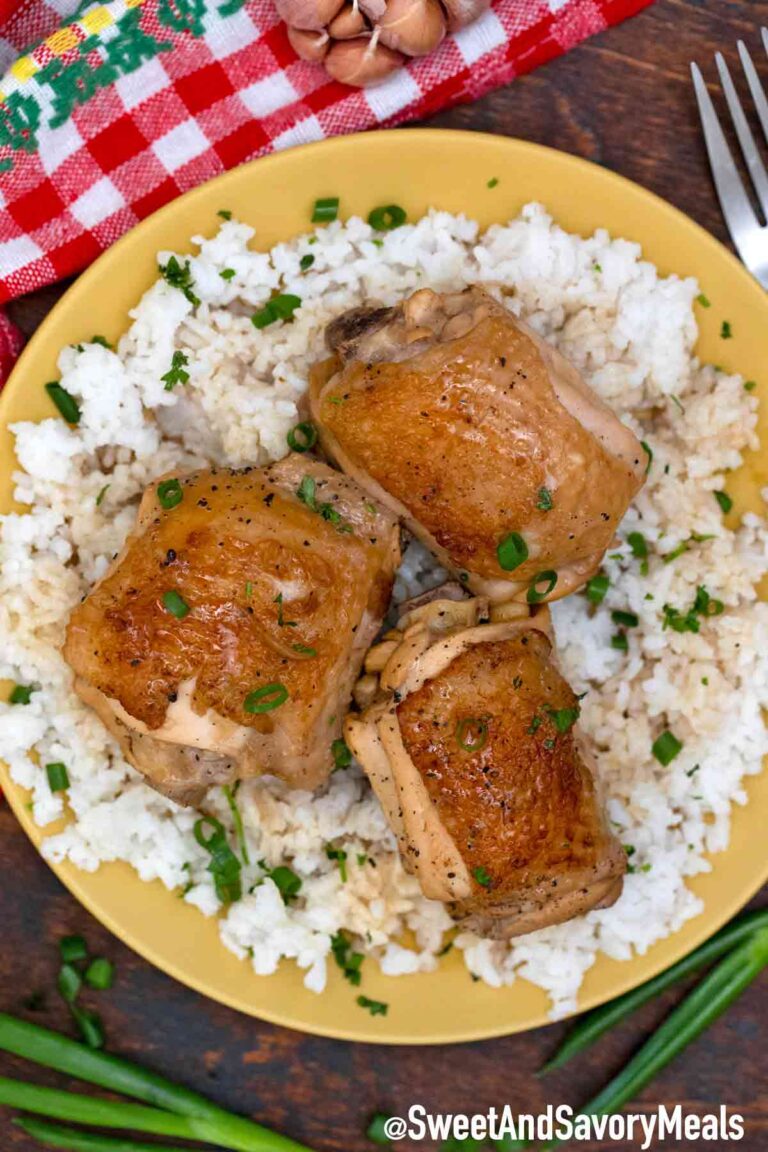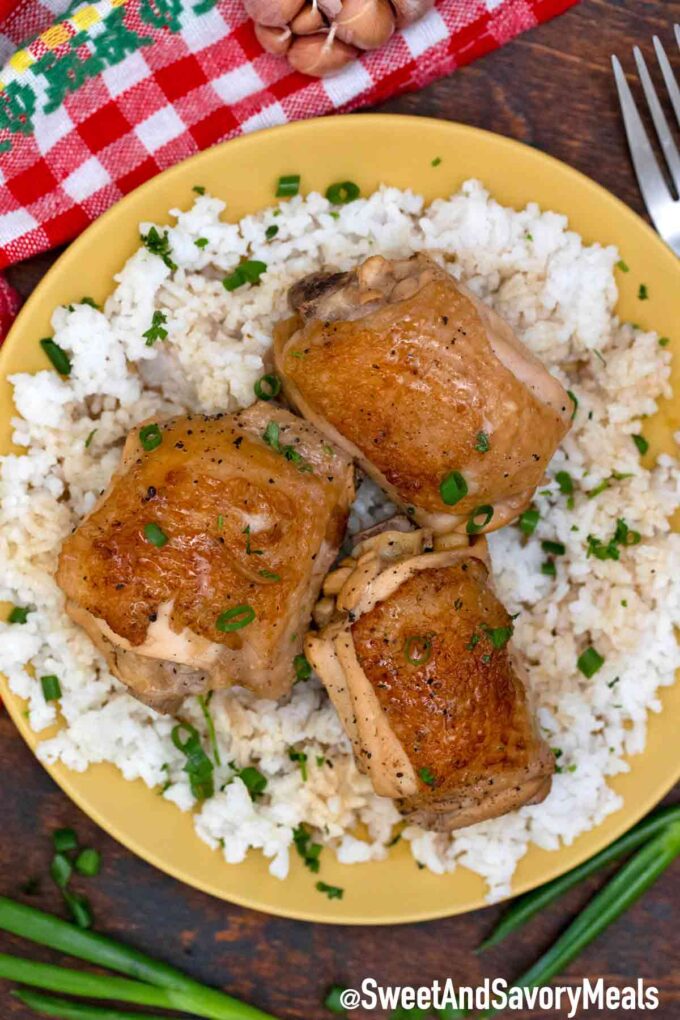 Storing Instructions:
This dish is tastier the next day because those flavors really come together. Also, it's an excellent recipe for meal prepping. Just serve with sides for each day!
To refrigerate: first, cool leftovers completely. Then, store in the fridge for up to 4 days.
To freeze: user a freezer-safe dish, or an airtight container. Freeze for up to 3 months.
Recipe Tips:
Use low-sodium soy sauce to reduce the salt level. Do not use dark soy sauce because it is too intense for the sauce.
Marinate the chicken overnight so the flavors really penetrate into it. I recommend using the thighs or drumsticks.
As much as possible, don't use breast parts because it can get dry.
The bay leaf is essential to the flavor, so remember to add it in.
Also, you can skip searing the meat if you prefer.
For more vitamins, throw in some spinach at the end of cooking.
Love garlic? Double the amount in the recipe!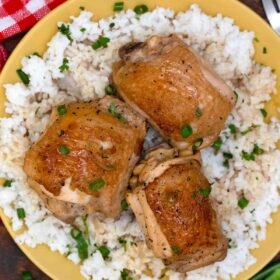 Filipino Chicken Adobo
Filipino Chicken Adobo is a savory Asian dish marinated in vinegar, soy sauce, and spices. It's then simmered down to a delicious glaze that penetrates deeply into the meat. Addictive and delicious served over hot white rice!
Save
Share
Print
Pin
Rate
Ingredients
2

pounds

bone-in chicken thighs

(or drumsticks)

2

tablespoons

canola oil

1

onion

(thinly sliced)

4

cloves

garlic

(minced)

1

cup

water

2

tablespoons

brown sugar

Marinade:

1

cup

white vinegar

1/4

cup

soy sauce

6

garlic cloves

(smashed)

2

teaspoons

kosher salt

1

teaspoon

ground pepper

2

bay leaves

Garnish:

Chopped green onions
Instructions
In a large bowl dish, combine the marinade ingredients. Add chicken, cover with plastic wrap and refrigerate for 20-30 minutes.

Next, drain, reserving the marinade, and pat dry chicken with paper towels.

In a large skillet, heat oil over medium-high heat and brown chicken well. Set aside.

Add onion and cook until very tender, 5-6 minutes.

Add garlic, and brown sugar, stir, and cook for 30 seconds.

Add 1 cup of water and the reserved marinade. Bring the mixture to a boil.

Add back the chicken into the sauce, reduce heat, and simmer, uncovered, until chicken is no longer pink and sauce is slightly reduced, for about 20-30 minutes.

Discard bay leaves when done cooking.

Serve chicken with cooking sauce and rice.

Garnish with chopped green onions.
Nutrition
Calories:
554
kcal
|
Carbohydrates:
11
g
|
Protein:
33
g
|
Fat:
40
g
|
Saturated Fat:
9
g
|
Cholesterol:
189
mg
|
Sodium:
2129
mg
|
Potassium:
484
mg
|
Fiber:
1
g
|
Sugar:
7
g
|
Vitamin A:
150
IU
|
Vitamin C:
3
mg
|
Calcium:
42
mg
|
Iron:
2
mg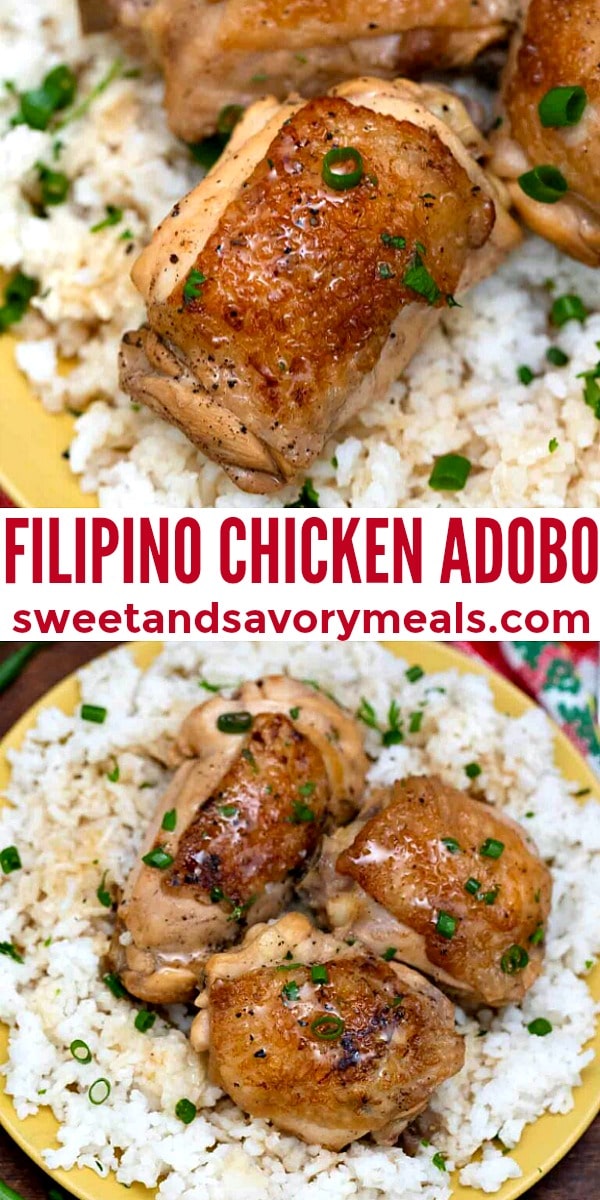 More recipes you might love