Instant Pot Hawaiian Chicken Recipe [Video]
Instant Pot Hawaiian Chicken is made with tender chicken thighs, pineapple chunks, bell pepper, and all soaked in a sweet and tangy sauce. This is one of the best and easiest chicken recipes that you can make in the pressure cooker!
Instant Pot dinners are one of our favorites because they are quick to prepare, and are super tasty! Feel free to try our other favorites, such as Orange Chicken, Beef and Broccoli, and Corned Beef and Cabbage.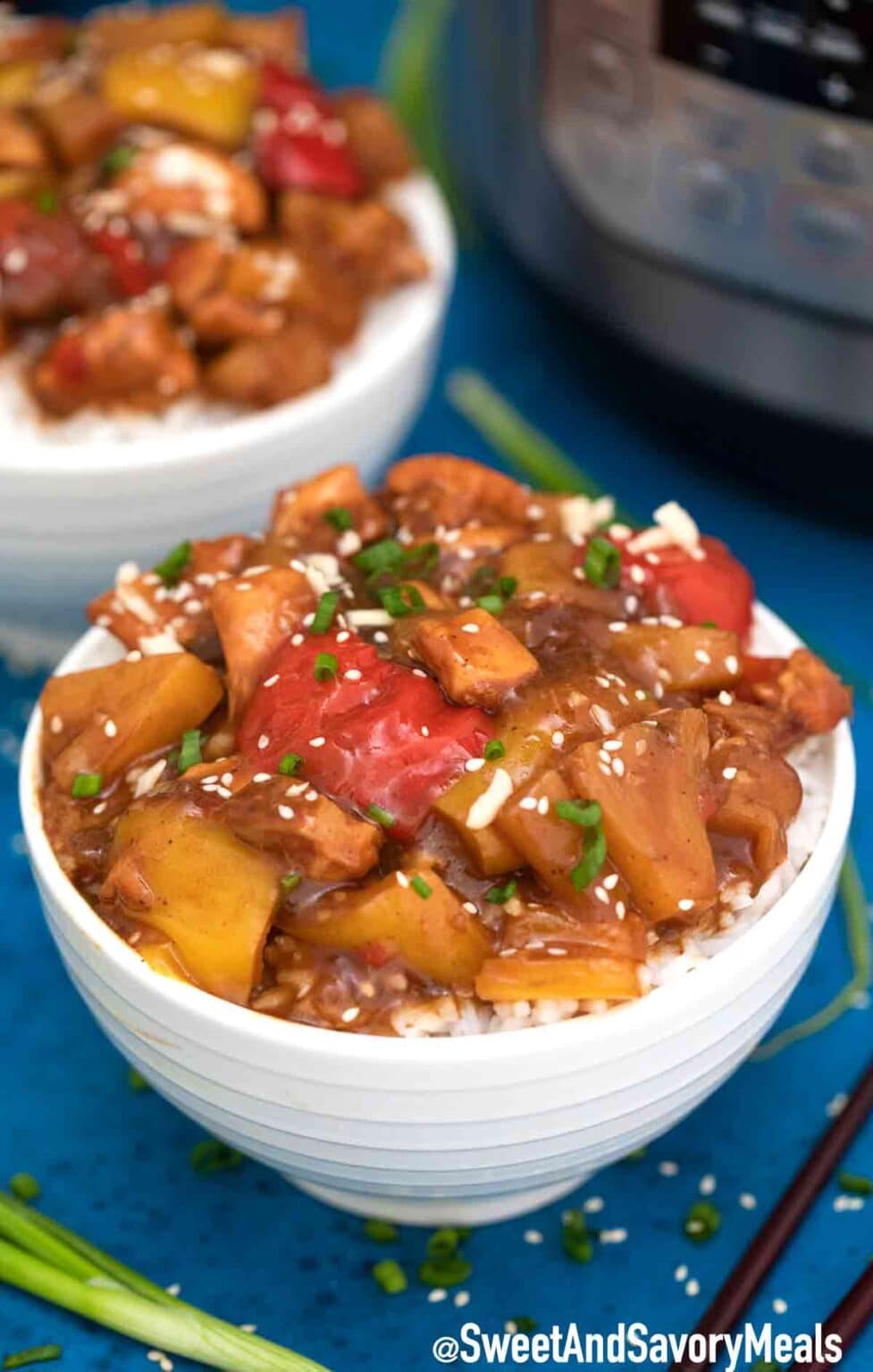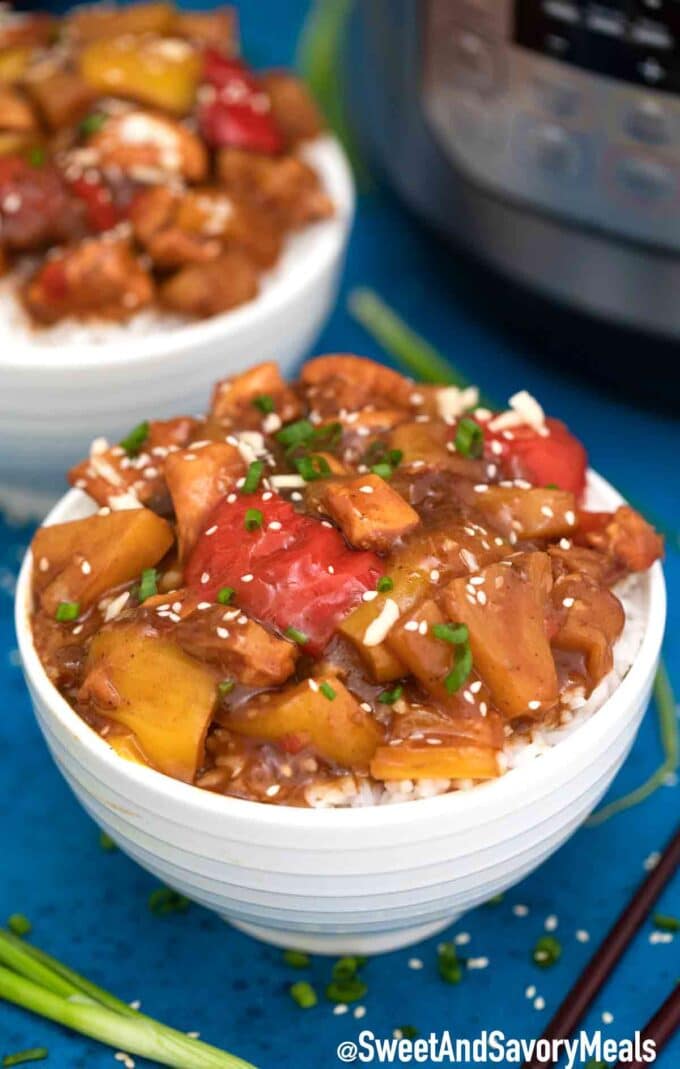 Best Instant Pot Hawaiian Chicken
This easy Instant Pot Hawaiian Chicken is a hearty and light dinner that can be served any day of the week. Because it is so quick to prepare, you can experience the tropical flavors in your kitchen in as little as 30 minutes!
We already have our famous oven-baked version of it. But this recipe is shorter and quicker to prepare while delivering the same amazing results. The flavors are outstanding, and the meat is super juicy and tender. The tropical sauce is just the perfect finish, giving it that sweet and tangy flavors.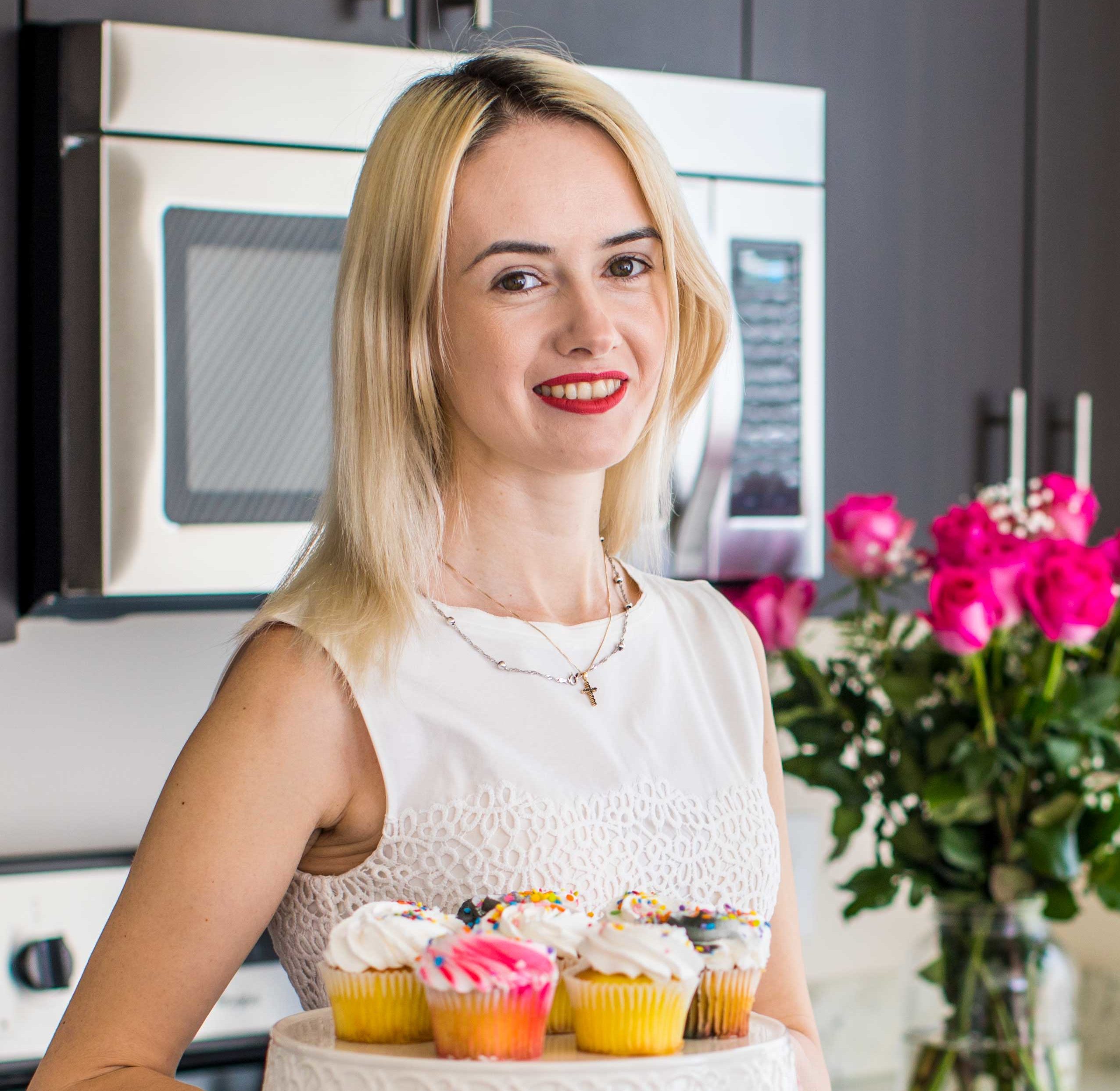 Follow us on Pinterest for more delicious recipes!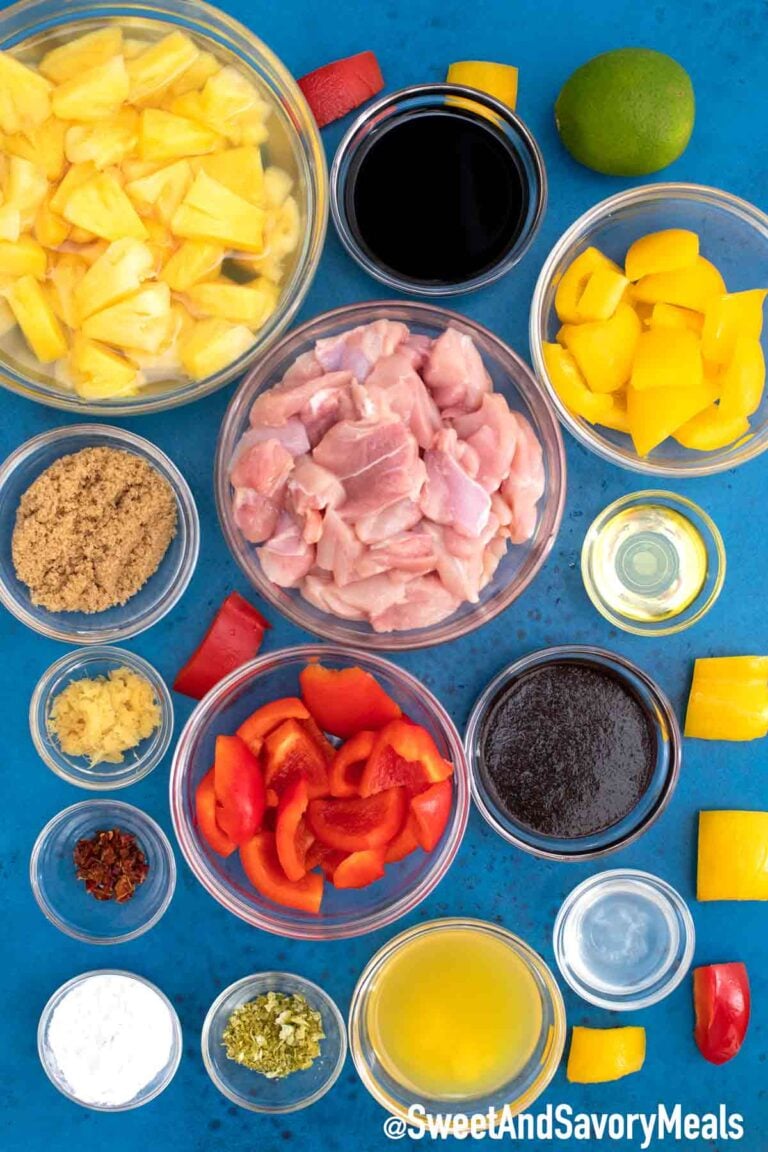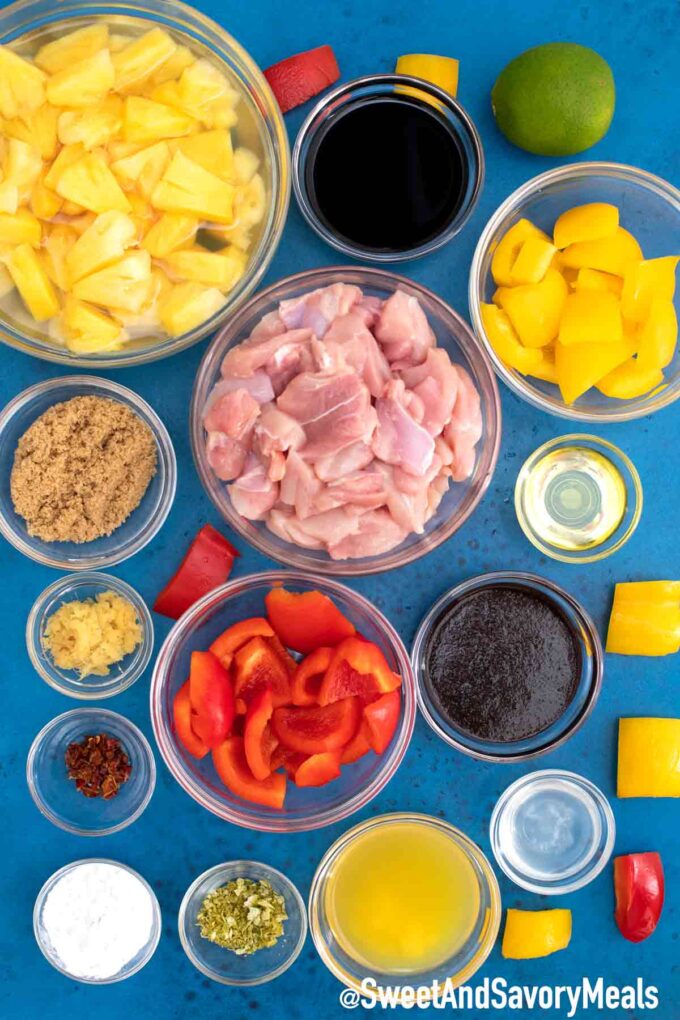 This recipe is really amazing when you are serving a lot of people. It is easy to pass around and is usually served in bite-sized cuts. You can even enjoy this dish with a variety of sides such as rice, mashed potatoes, or even use it as a filling for a burger.
The combination of pineapple juice and sweet marinated Hawaiian meat makes every bite extremely juicy and savory. Give it a try, and you will see why this classic dish is loved all over the world!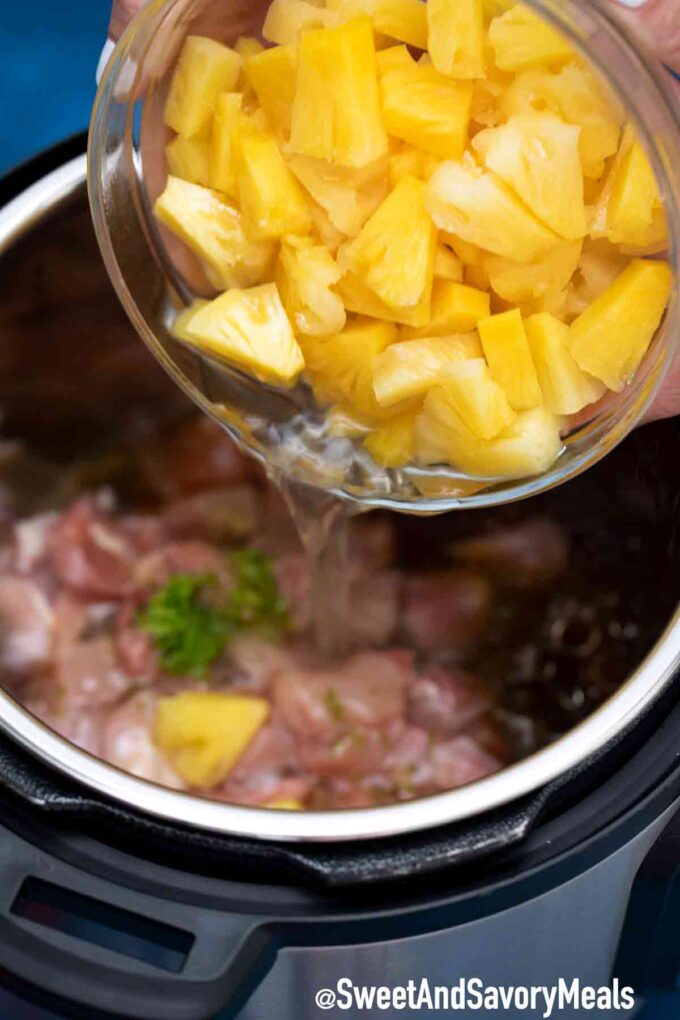 What goes into Hawaiian Chicken?
You will need the following ingredients:
Chicken thighs – I prefer to use thighs as they result in a tender and moist meat. However, you can easily use breasts or other parts as well.
Soy sauce – Low sodium is the best option here.
Lime juice and zest – It adds a bit of citrusy note to it.
Orange juice – Use any type you have on hand.
Sesame oil
Pineapple chunks
Bell pepper
Minced garlic – Try using freshly minced garlic. Also, if you are not a garlic fan, simply skip it.
Ginger – Just like garlic, go with fresh ginger. It makes a huge difference.
Brown sugar and hoisin sauce
Red pepper flakes
Cornstarch – This is used to thicken up the sauce and make the slurry.
Green onions, sesame seeds, and slivered almonds – for garnishing.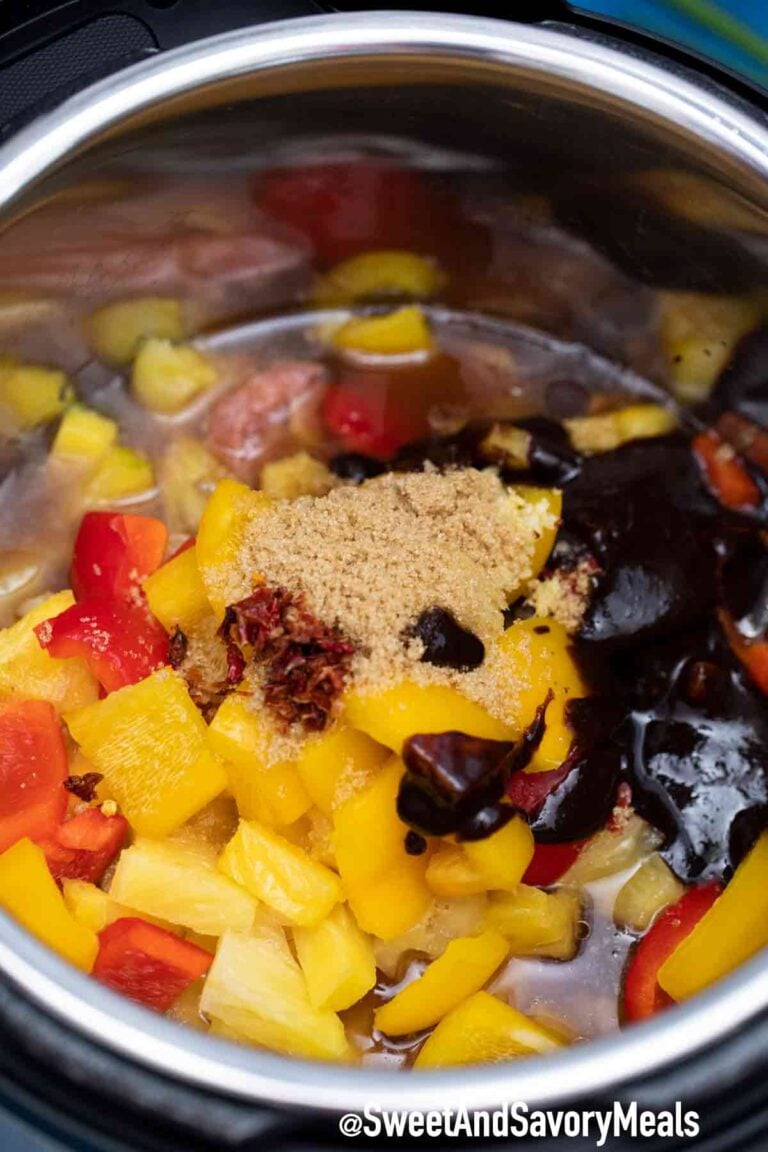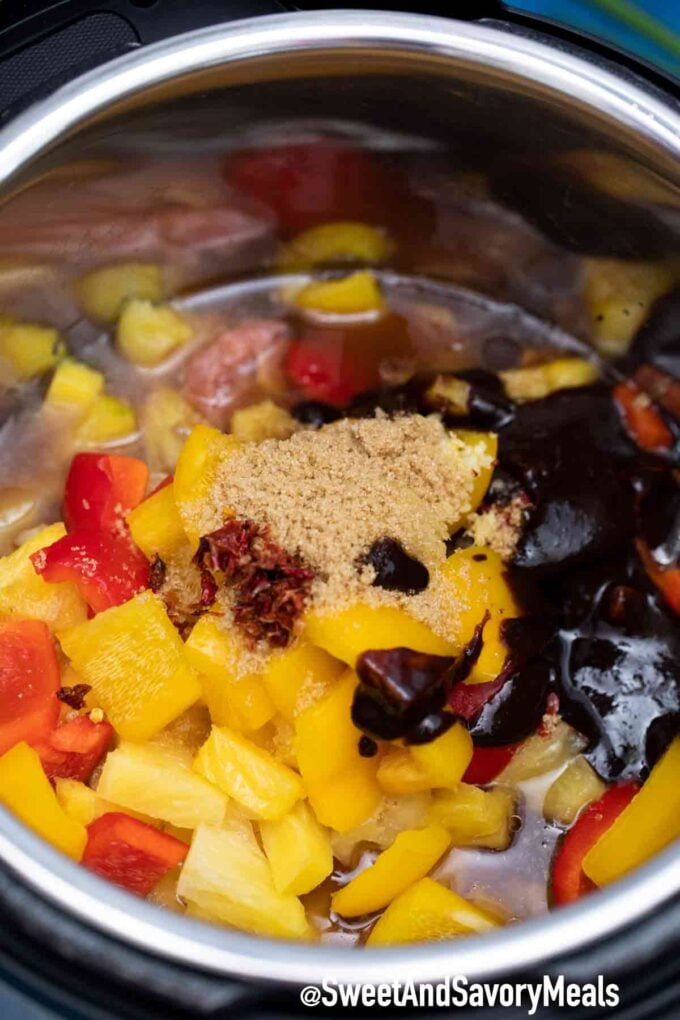 How to make Instant Pot Hawaiian Chicken?
Cut ingredients into chunks. Slice thighs, pineapple, red bell pepper, and yellow bell pepper into 1-inch chunks.
Make instant pot mixture. Combine the chunked ingredients into the pot in the specific following order: soy sauce, lime juice, orange extracts, zest, sesame oil, garlic, ginger, sugar, and hoisin. Then, set the pot to high pressure. Make sure the lid is tightly closed, and leave for 5 minutes. Release thereafter and let it sauté on low pressure.
Make sauce mixture. While the pot is left to sauté, combine cornstarch and orange juice stopping only when there are no lumps visible. Pour it on the pot, stir, and sauté again for at least 3 more minutes.
Garnish and serve. Once the desired thickness of the sauce is achieved, prepare your rice or other preferred sides. Add chopped green onions and sesame seeds for additional flavor. Then, serve.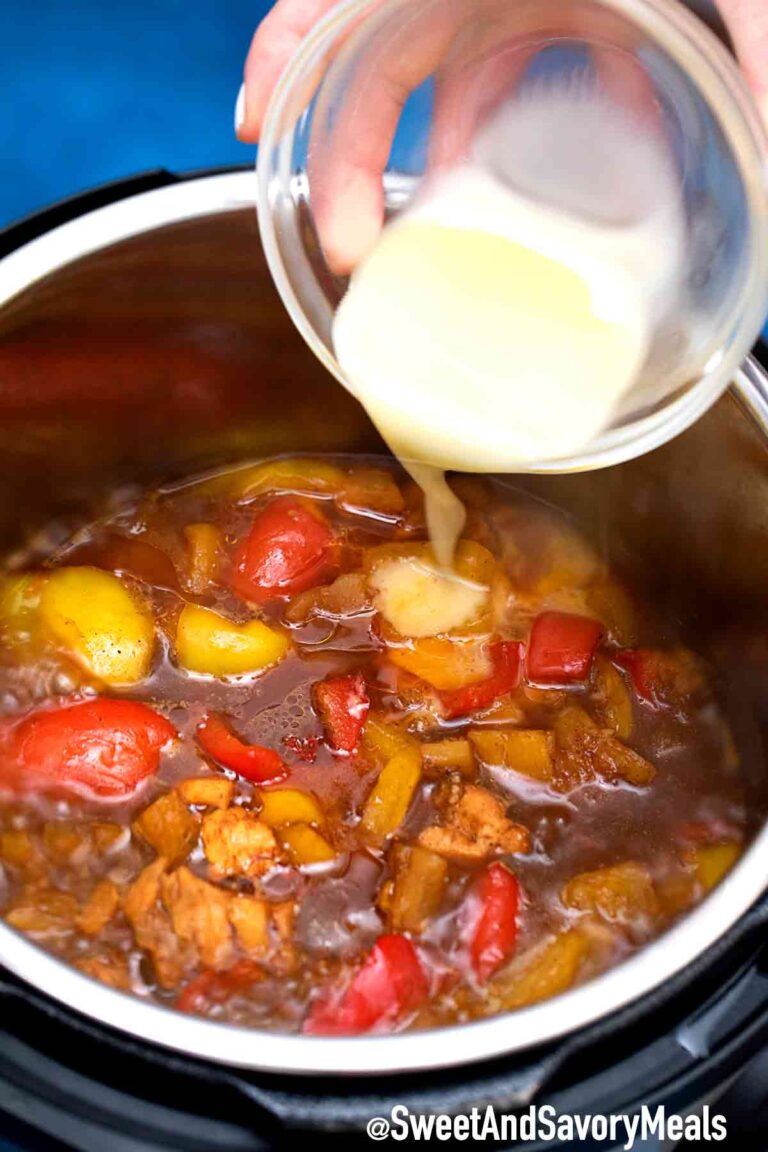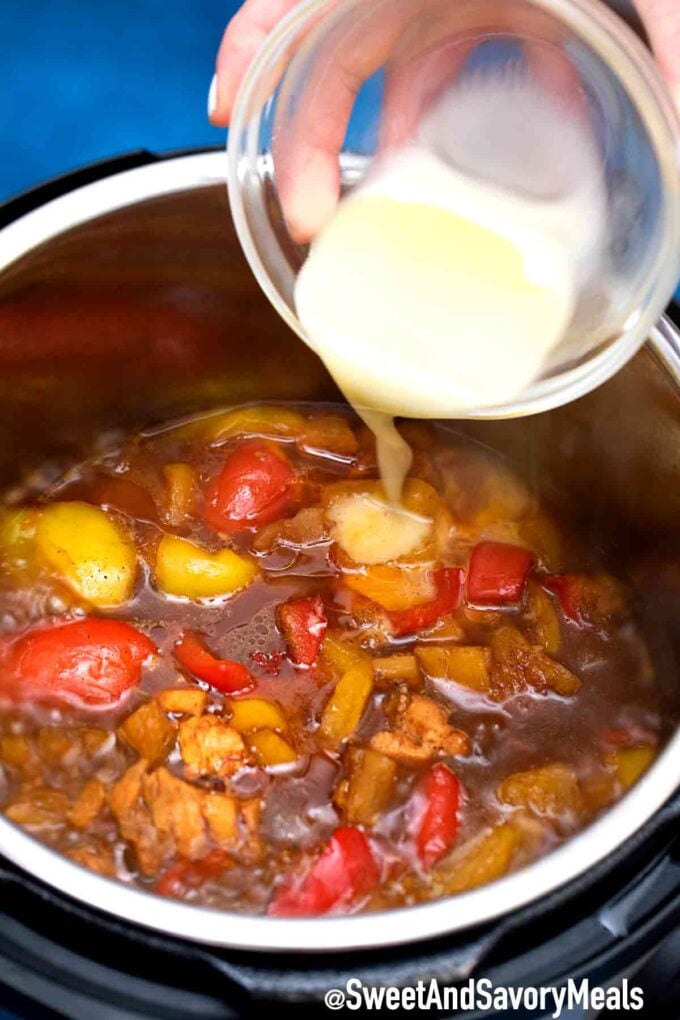 Hawaiian Chicken variations:
Use the oven: Check out my recipe for Baked Hawaiian Chicken for another way to enjoy this dish.
Juice substitutes: If you can't find pineapple or orange juice, you can use apple juice as an alternative.
Add other veggies: Feel free to add other vegetables to it, such as mushrooms, corn, broccoli, etc.
Use other meats: While poultry works well here, swapping the meat is also an option. Turkey, pork, or beef would be another alternative.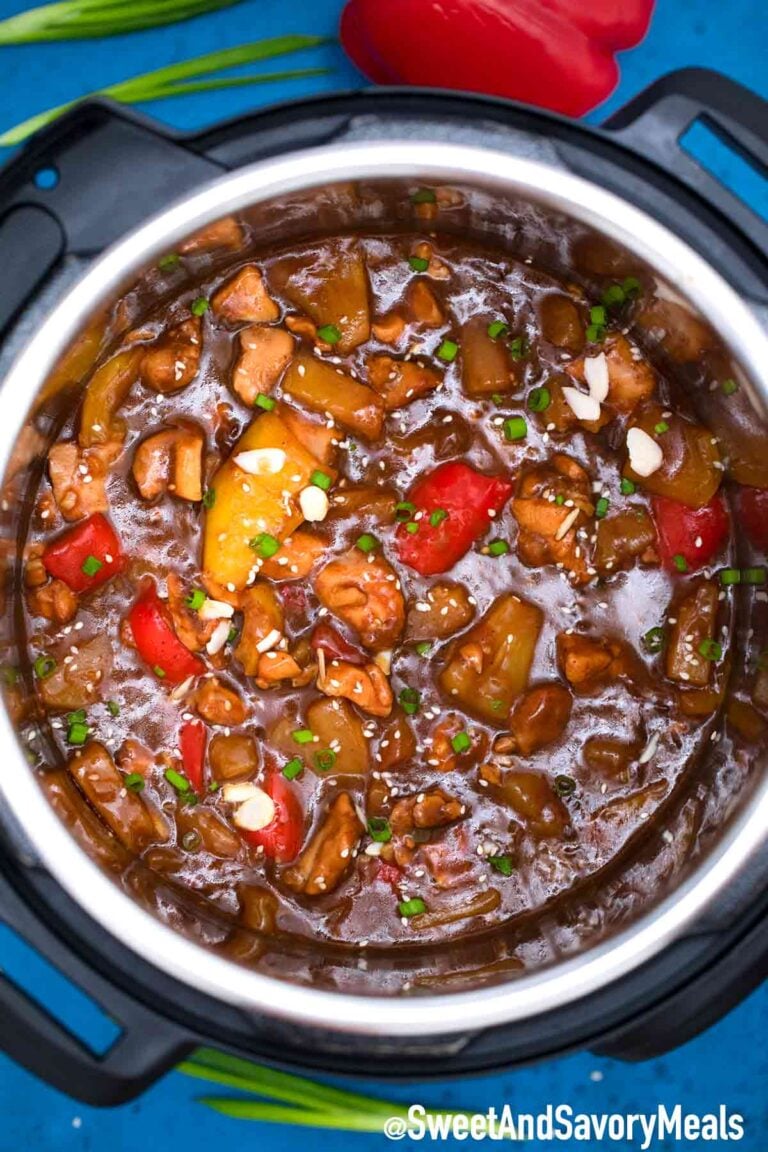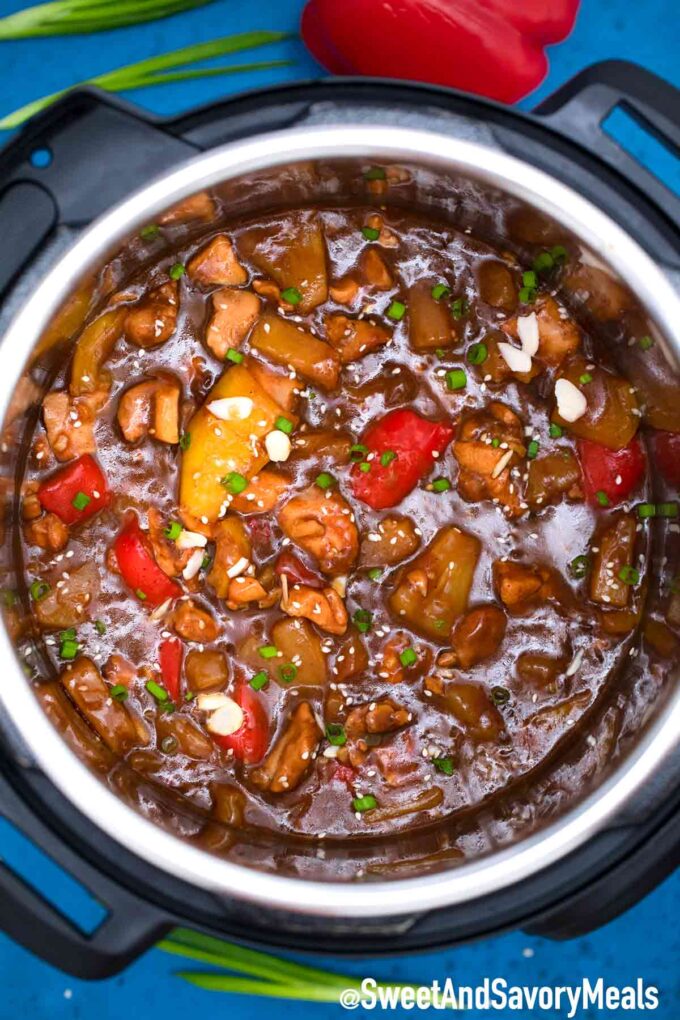 Can I cook chicken with rice in the Instant Pot?
Yes! Simply place a trivet while the meat is cooking at the bottom. Then, add the pot with the washed rice on top of the trivet and cook. This way, you can cook the two together, and have a complete dinner in no time!
Can I use fresh pineapple?
Fresh pineapples are even more preferred as compared to canned ones. They are juicier and healthier which makes them the ultimate choice. But because the fresh ones are not always in season, the canned ones work also great.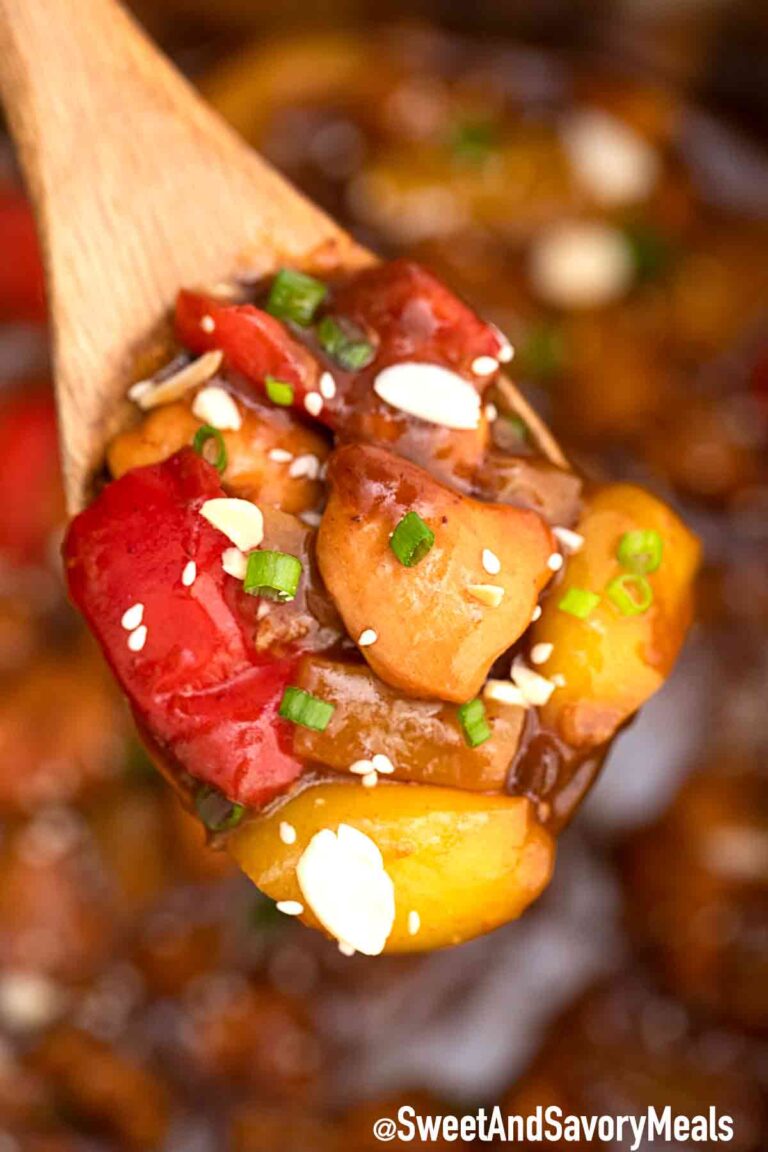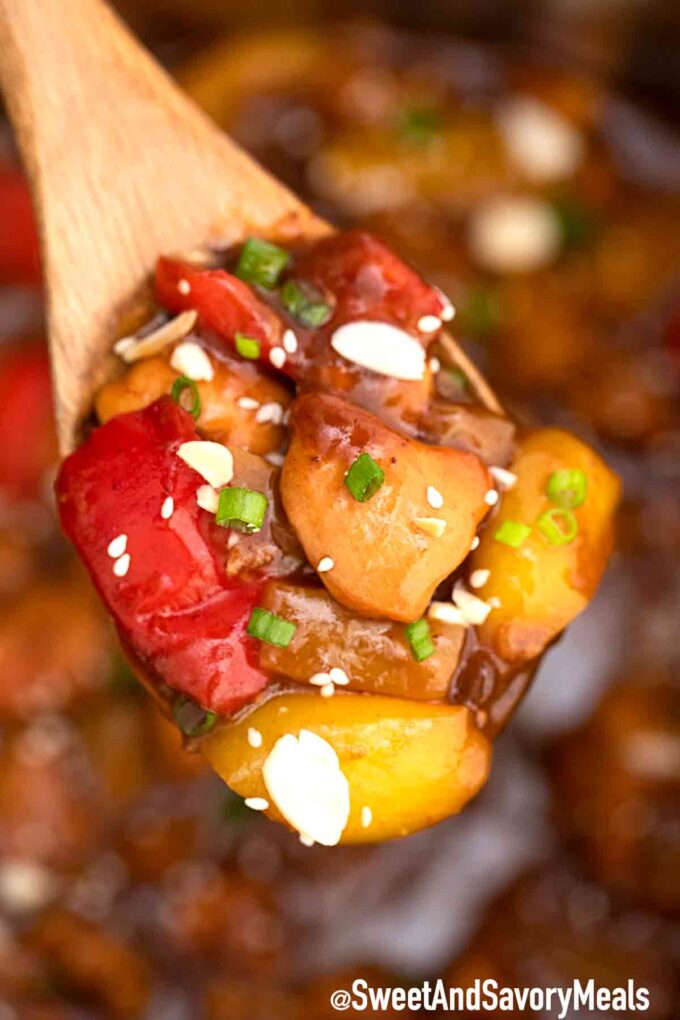 More easy pressure cooker recipes:
Storing Instructions:
Refrigerate: In an airtight container, place the leftover including the sauce, and refrigerate for only up to three days. Consume as soon as possible to maintain flavor.
Freeze: To make it last longer, place the leftover in a freezer bag or a Ziploc. Then, store in the freezer away from other meat especially raw ones. Store for up to 3 months, and reheat prior to serving.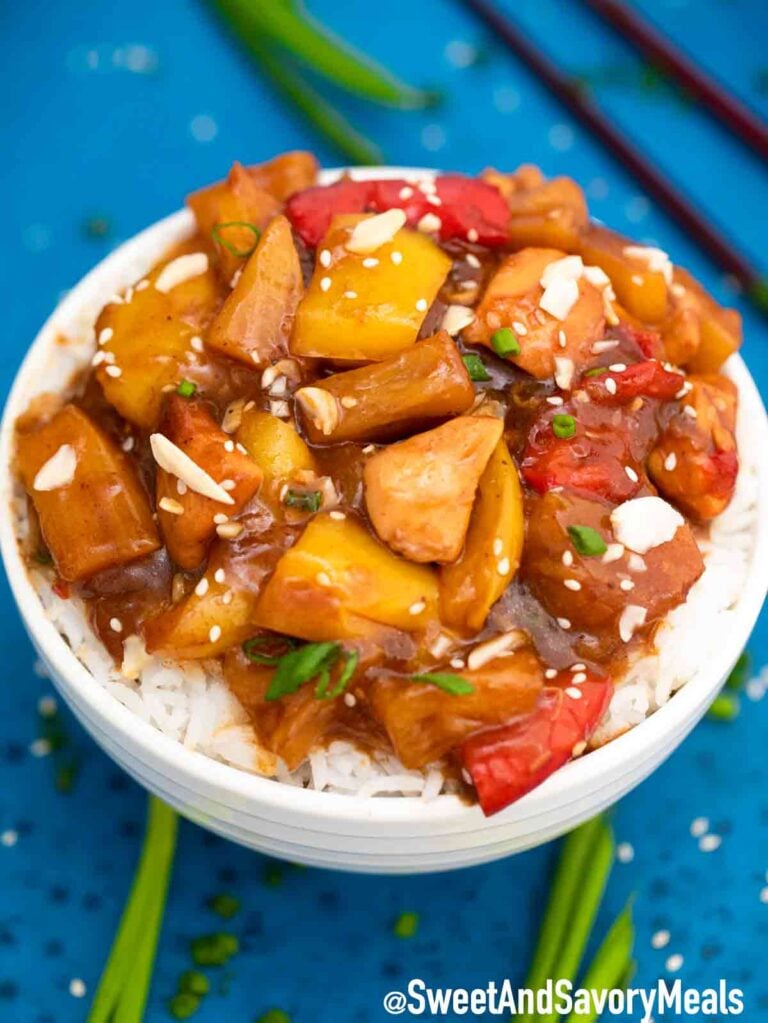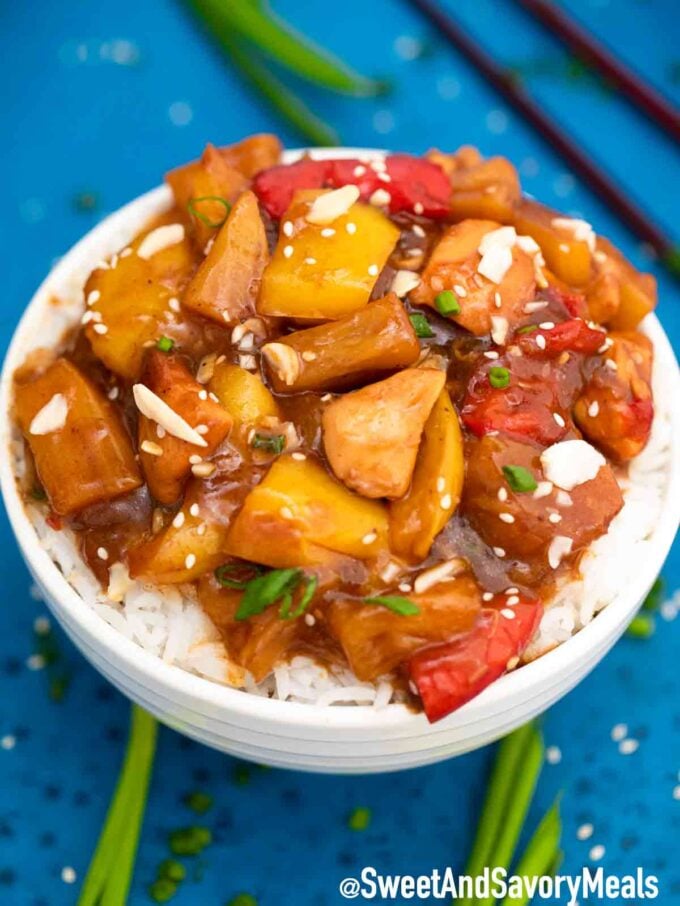 Recipe Tips:
For a spicier kick, add some red pepper flakes in the sauce.
This dish can be also made with other meats, such as beef, pork, or turkey.
Always opt to go for thigh parts since they are juicier. However, if they are not available, the boneless breast is the best alternative.
Tools used:
Save Recipe
Instant Pot Hawaiian Chicken
Instant Pot Hawaiian Chicken is made with tender chicken thighs, pineapple chunks, bell pepper, and all soaked in a sweet and tangy sauce.
Author: Catalina Castravet
Serves: 4 servings
Prep time:

20

minutes
Cook time:

5

minutes
Total time:

30

mins
Ingredients
Dump & Cook:
Cornstarch Slurry:
Garnish:
Nutrition information
Carbohydrates: 67 Protein: 41 Fat: 46 Saturated Fat: 11 Cholesterol: 223 Sodium: 1273 Potassium: 973 Fiber: 4 Sugar: 50 Vitamin A: 1575 Vitamin C: 128 Calcium: 84 Iron: 3 Calories: 738
Save Recipe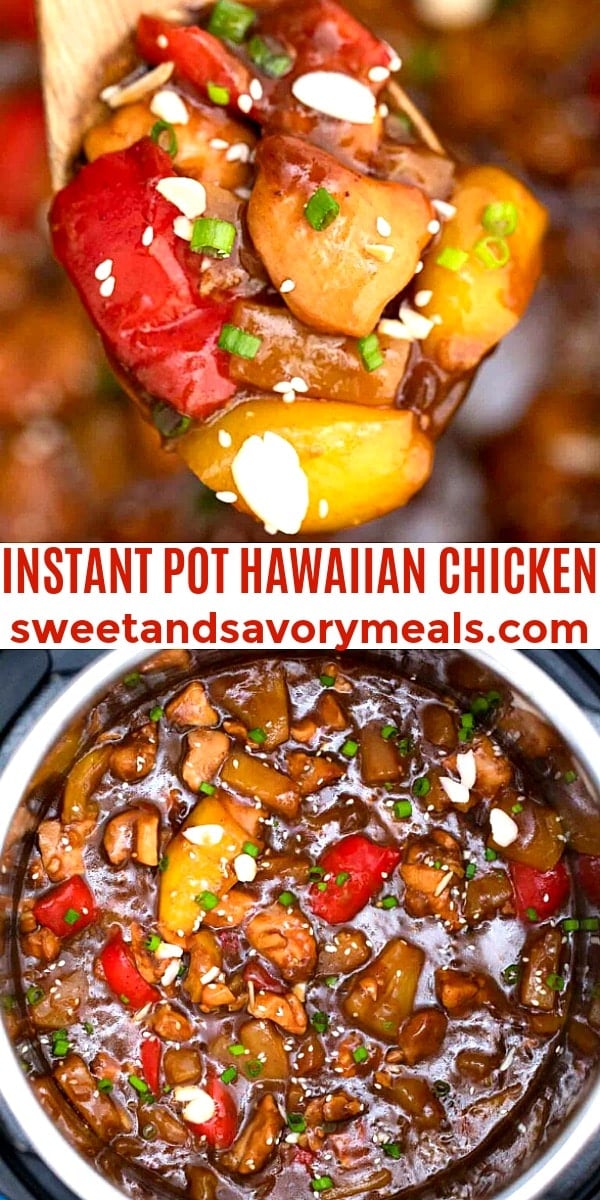 More recipes you might love
Categories: