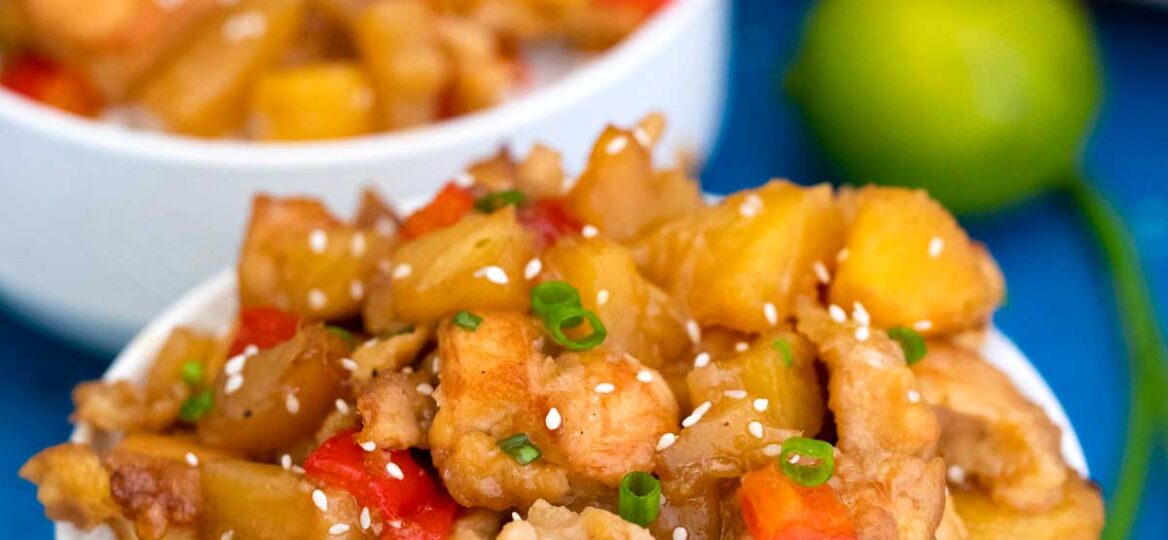 Baked Hawaiian Chicken [Video]
Healthier Hawaiian Chicken made with baked pineapple and bell pepper is light and hearty meal! Full of tropical flavors it's perfectly served over white rice.
Want to throw a beach vacation-themed party? Make sure to celebrate with my recipes for juicy Shrimp Ceviche, a refreshing Frozen Strawberry Daiquiri, and top it off with a sweet chilled Panna Cotta.
Hawaiian Chicken makes for a great main course with its juicy meat and tropical sauce. This traditional recipe is a great example of a sweet and sour dish.
Firstly, the meat which is tossed and marinated in a mixture of fresh pineapple juice is just flawless. I can't seem to get enough of it and that's coming from someone who has tasted a lot of dishes. Also, the sweet and tangy pineapple sauce is a great compliment to the chicken breasts. You will love this recipe, and is so much better than the takeout!
In addition, while I usually cut the meat into bite-sized pieces, you can still choose to cook it using whole parts. Cutting it into tidbits is great when throwing a huge party while using whole parts is perfect for a fancy dinner.
Either way, this Baked Hawaiian Chicken with pineapple recipe will never disappoint you. Transport your friends and family on a trip to tropical beaches with this very straightforward recipe.
How long do you marinate chicken breasts?
It doesn't take much time to fully marinate chicken breasts. When whole, you can let it soak up the marinade mixture for about two hours.
As such, cutting it into tinier pieces or removing the skin makes it even faster to marinade. Therefore, as little as 15 minutes will be enough to properly marinate the chicken.
How do you make Baked Hawaiian Chicken?
Prepare baking pan and oven. Before anything else, make sure to preheat the oven to 325 degrees F. Also, prepare a baking dish and coat it with cooking spray.

Prep the coating. Next, place cornstarch and eggs in separate bowls. Then, whisk the eggs until combined. Cut the meat into bite-sized pieces and season with salt and pepper. Dip the meat in the cornstarch and then the eggs. Make sure to coat evenly.
Cook. Heat a nonstick pan over medium heat. Pour vegetable oil and when properly hot, cook the chicken. Don't place all pieces in one batch. Try to leave some space in between the pieces and cook until golden-brown on all sides.

Combine the sauce ingredients. In another large bowl, combine the following ingredients: pineapple juice, orange juice, lime juice, lime zest, brown sugar, soy sauce, rice vinegar, minced garlic, cornstarch, chopped red bell pepper, and pineapple tidbits.

Bake. Once the meat is done, place it in the prepared baking pan. Pour the sauce evenly and top it with bell peppers and pineapple. Bake for an hour.

Serve. Once done, remove it from the oven and let it cool for 5 minutes. Afterward, serve.
How to make crockpot Hawaiian Chicken?
If you don't have access to an oven, using a slow cooker is the next best thing. Here are the easy recipe steps:
Over medium-high heat, in a large skillet add the sliced chicken breasts. Then, sear until golden brown
Transfer the meat into a slow cooker pot, and add the rest of the ingredients.
Lastly, cover the lid and cook on HIGH for 3-4 hours, or LOW for 7-8 hours. During the last 30 minutes of cooking, simply whisk in the cornstarch mixture, and then cook for additional 30 minutes.
Serve it warm over a bowl of white rice.
Feel free to check the detailed Slow Cooker Hawaiian Chicken recipe here.
What to serve with Hawaiian chicken with pineapple?
Traditionally, this dish is best served with white rice, brown rice, or boiled vegetables. However, the following recipes are also superb to pair it with:
How to store leftovers?
Refrigerate: First, cool leftovers at room temperature. Then, transfer them to an airtight container, and refrigerate them for up to 4 days.
To freeze: Use a freezer-safe container. Then, transfer the dish and ensure it is properly sealed. It can stay frozen for up to 3 months.
Reheat: You can reheat leftovers in the microwave for a few minutes, or pop them in the preheated oven at 350 degrees F, and heat them up till warm.
More delicious chicken recipes:
Want to learn other protein-rich recipes? Take a look at some of my favorite dishes:
Cooking tips:
This recipe calls for baked chicken. However, aside from baking, you can also grill the meat. It makes for a great cookout option. However, you should marinate the meat with the sauce mixture for at least two hours before putting it on the grill.
When cooking in oil, make sure that it is just at least done. You don't have to make it super well done as it will also be roasted in the oven.
Also, you can mix in other veggies. Some great addition would be broccoli, green peas, carrots, etc.
Feel free to use your favorite seasoning instead. Italian seasoning, garlic powder, chili powder are good alternatives.
In addition, you can use fresh or canned pineapple chunks or tidbits.
During busy weekdays, try making this Instant Pot Hawaiian Pineapple Chicken.
Deliciousness to your inbox
Enjoy weekly hand picked recipes and recommendations