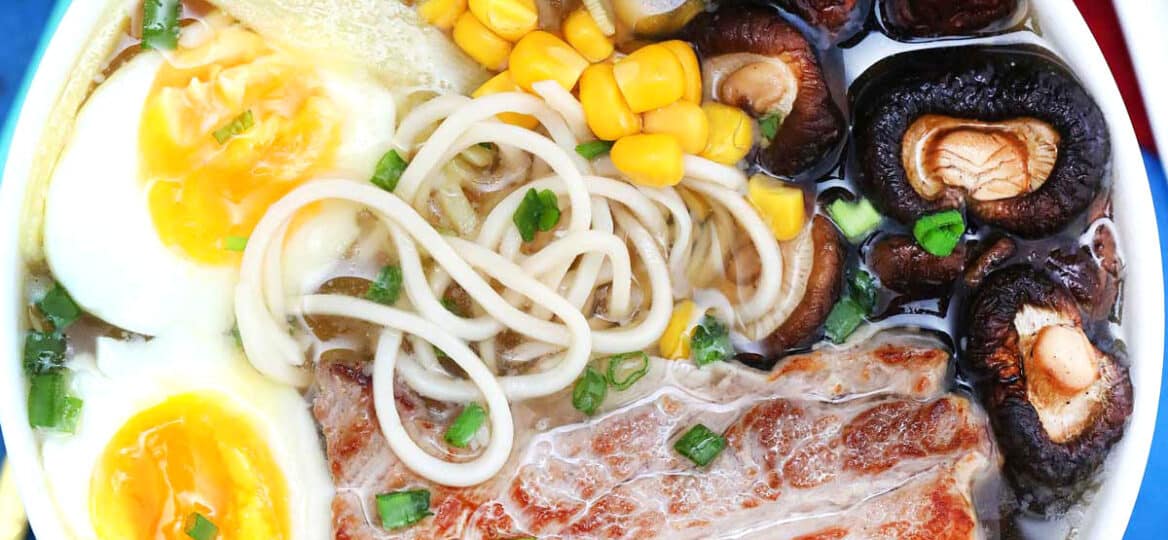 Instant Pot Tonkotsu Ramen with Chashu Pork [Video]
Instant Pot Tonkotsu Ramen has a broth that is bursting with flavors! Served with chashu pork, ramen noodles soft boiled eggs, miso tare, and mushrooms!
Noodle dishes are so comforting that I enjoy them even in the hot months of summer! I love Asian-inspired dishes like this, and these other recipes, too: Yum Yum Sauce, Chicken Katsu with Tonkatsu Sauce, and Korean Fried Chicken!
Pressure Cooker Tonkotsu Ramen
Instant Pot Tonkotsu Ramen has all that you need for a complete meal! It has noodles, protein, and veggies swimming in a rich broth.
The broth comes from extracting flavors by boiling pork, specifically the bones. But this will not take so long because, in this recipe, we are using the handy Instant Pot.
We are also making chashu pork belly from scratch in this recipe. These are super tender, melt-in-your-mouth pieces of meat that add to the heartiness, texture, and flavors of this dish.
And the miso ties everything together so well! Learn this recipe and enjoy Japanese food at home on any day!
What is Tonkotsu Ramen?
It is a noodle dish is famous in Fukuoka and Kyushu, Japan. It has a cloudy broth that is primarily made by boiling pork bones with a little bit of meat on them. The collagen in those bones turns into gelatin through the boiling process.
Why is Instant Pot ramen so good?
Typically, you will not attempt to make this dish from scratch because of the waiting time. It may take you at least 12 hours of giving the bones a rolling boil to get that milky broth.
But if you have an Instant Pot, then make this at home! Here are the reasons why:
It is much faster to boil the bones using a pressure cooker than using other means.
Making it at home using your IP is cheaper.
You get to control what goes into it.
What is Tonkotsu broth made of?
It is made of pork bones stock and aromatics such as garlic, onion, and ginger and garnished with some green onions.
How to make Instant Pot Tonkotsu Ramen?
Prepare the broth.
Soak: Put the bones in a large pot and cover with cold water for 12 hours. Replace the water with boiled water and use the IP to simmer the bones for 10 minutes. Cancel, drain, and then transfer the bones into a bowl of cold water. Remove the fat.
Pressure-cook: Clean the pot and use it again. Cook the aromatics and bones submerged in water on HIGH for 90 minutes followed by a natural pressure release of 20 minutes.
Prepare the toppings.
Sous vide the meat: Vacuum-seal the pork belly and marinade in a resealable bag. Then, cook the meat for 10 to 11 hours at 170 degrees Fahrenheit. Let it cool before slicing.
Make the miso tare: Combine and simmer the ingredients for 5 minutes.
Boil the eggs: Submerge the eggs in water, boil, then put them in cold water to prevent the yolk from setting firmly. Cut in half right before serving with the ramen.
Assemble.
Boil the noodles: Follow the directions in the packaging, usually, this takes about 4 minutes. Cook the mushrooms alongside the noodles to soften them up.
Fry: Lightly fry the chashu pork belly until lightly browned.
Assemble: At the bottom of the bowl, put the miso tare. Pour in the broth and stir. Add the noodles, more broth, and top with the eggs, mushrooms, pork, and green onions.
Best topping for Tonkotsu Ramen:
Here are more suggestions aside from the egg, mushrooms, chashu, and green onions:
bamboo shoots
cabbage
diced onions
nori sheets
pickled ginger
pickled mustard
bean sprouts
boiled spinach
sesame seeds
More Asian Inspired dishes:
How to store it?
You can refrigerate the broth for 3 days in an airtight container or freeze for up to 3 months. You can also freeze the chashu pork belly.
Recipe Tips:
Serve this with dumplings, crispy sides like fried chicken, a light salad, or even white rice!
Giving the aromatics a nice char first before adding them to the water to make the broth develops a deeper flavor.
You can also add pieces of chicken backs and feet to the broth for another flavor dimension.