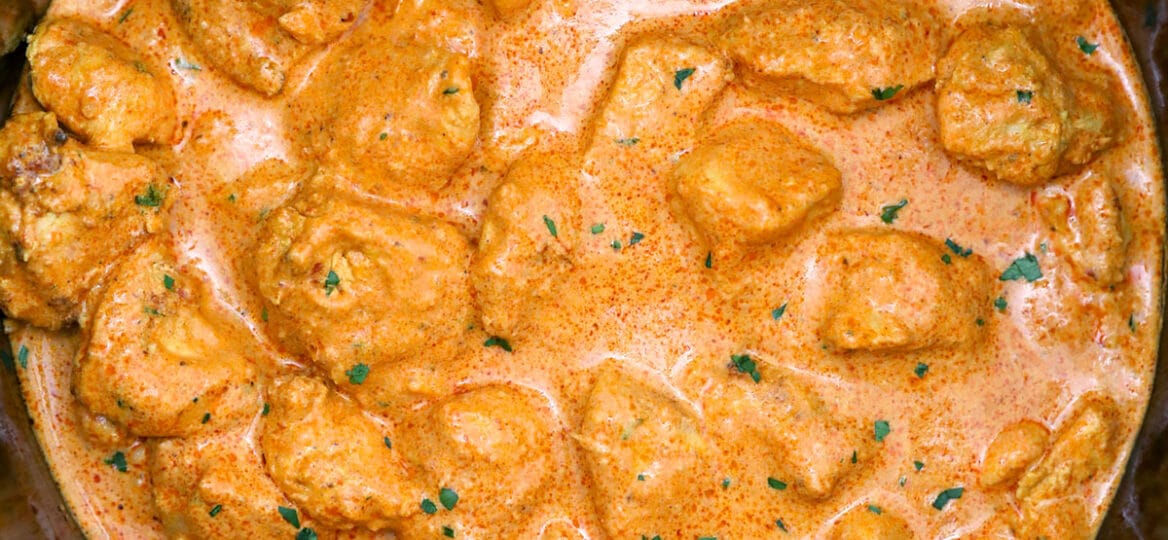 Slow Cooker Butter Chicken [Video]
Slow Cooker Butter Chicken is tender, creamy and full of flavor! It will make your kitchen smell so appetizing for hours on end as it slow cooks!
Cold weather just makes me just stay in, get cozy, and laze around all day! At times like this, my crockpot does all the cooking for me. Here are just some recipes that help me get through days like this: Ham Split Pea Soup, Chicken Tortilla Soup, and Crockpot Stuffing. Try them for yourself!
Crockpot Butter Chicken Recipe
Slow Cooker Butter Chicken has tender white meat drenched in a creamy and flavorful sauce. This crockpot version will take hours to finish and that is exactly what makes this dish so flavorful.
The long cooking time makes all the flavors meld well. This is in addition to the rich combination of spices included in this dish.
I admit that I was not a curry-lover before but when I tried this dish, I never looked back. Rice or naan perfectly balances the richness and I like the kick that the various spices add.
With the help of the sauce, the white meat stays juicy and tender, making this a great dish that you may want to double and keep as a freezer meal. And for the times that you are too busy, simply reheat for a warm meal. It is that convenient!
Why is it called Indian Butter Chicken?
This dish was invented in India, that is why. Leftover chicken was mixed with the sauce resulting in a delicious dish that the whole world will love. And the sauce? It was a tomato-based gravy with butter and cream!
It has a slightly buttery taste and a bit spicy. Although closely related to the Tikka Masala, this dish is milder and is perfect for those who are not into spicy food. Feel free to adjust the proportion of the spices to achieve your preferred taste.
How to Make Slow Cooker Butter Chicken
Marinate: first, start by marinating the chicken in the yogurt sauce.
Sauté: In a skillet, heat some oil and cook the chicken and until brown. You may skip this step if you want but it will give depth to the food. Next, saute the onion, garlic, ginger, and the aromatics.
Combine: Put everything in the crockpot.
Cook: Set it on low for 4 to 6 hours, or on high for a shorter period.
Add the dairy: When nearing the end of the cooking time, open the lid and stir in the heavy cream.
Serve: Garnish with cilantro and then, serve with rice.
Can you add other spices?
Sure! There was no exact recipe when this first introduced. Hence, you may add other spices that you deem fit for the taste. Cardamom? Cinnamon? You name it and experiment. Even the gram masala does not even have a fixed recipe!
Can you make it in advance?
Yes! This makes for a great freezer meal that you can cook ahead. Simply put the meat and the sauce leftovers in the fridge to be consumed later. Be guided with the storage guidelines below.
How to Store Slow Cooker Butter Chicken
Refrigerate: This keeps well in the fridge for several days up to 2 weeks.
Freeze: Keep it in the freezer for about 6 months. Simply cool the dish completely, seal in freezer bags, then, put in the freezer. To reheat, thaw overnight first and heat in a skillet.
Recipe Tips:
You may want to double the recipe for the sauce and store some as leftovers. Enjoy the leftover sauce in a variety of ways including spreading it on bread, topping on pasta, adding in tacos or shawarma, and putting in pizza. Even the chicken can be used as a pizza topping.
Try different parts of the chicken to use such as the thighs and wings which are juicier than breasts.
Replace the cream with coconut milk or Greek yogurt.