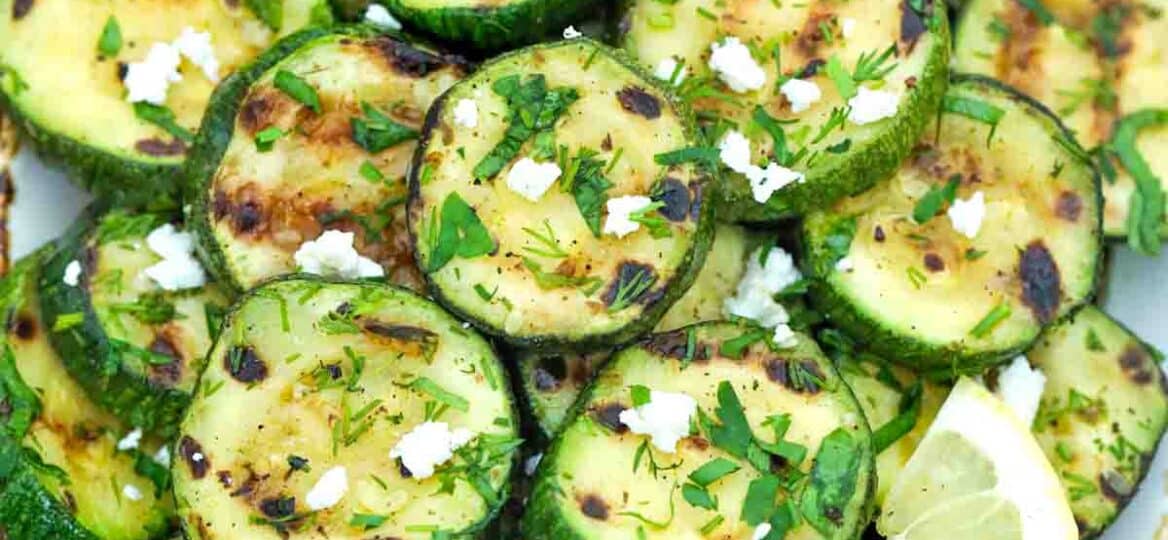 Grilled Zucchini Salad Recipe
Grilled Zucchini Salad is the perfect summer salad, simple to make in minutes, and can be served warm, cold, or at room temperature. Add your favorite dressing, use our lemon dressing for a balanced flavor, or just eat it plain. Grilled zucchini is perfect for dipping too. You can make it any time of the year if you have an indoor grill pan
It was the Italians who first discovered zucchini and many of its delicious uses. Sometime around 1850, the zucchini salad was mentioned in several cookbooks in Italy. However, it was not introduced to the United States until the 1920s when the Italian immigrants showed them the tasty vegetable. Actually, it is a fruit botanically, but we use it as a vegetable.
Although there is nothing much to this recipe, you will be amazed at the robust flavors and how filling it is. That is what makes zucchini such a good diet food. It is full of water, so it fills you up faster. If you are dieting, leave out the cheese or use parmesan cheese instead.
Ingredients needed:
Making this grilled zucchini salad is easy with just a handful of ingredients. After gathering these up, scroll down to our recipe card for the complete instructions and measurements.
Zucchini squash: Sliced into circles.
Minced garlic
Greek extra virgin olive oil
Lemon juice
Organic ground cumin
Ground dried oregano
Packed chopped fresh parsley
Chopped fresh oregano
Fresh dill
Kosher salt
Black pepper
Tzatziki sauce: For drizzling and serving.
Feta or goat cheese: Optional.
How to make grilled zucchini salad from scratch?
Toss in oil and herbs: First, place the sliced zucchini into a large mixing bowl and drizzle olive oil, oregano, and cumin on top. Toss to combine.
Grill the zucchini: Now, heat up your outdoor grill or use an indoor grill pan in the oven. Add zucchini slices and grill zucchini on medium-high heat for four minutes, flipping a few times, until they are cooked and charred.
Toss again: Once all the zucchini is cooked, put them back into the large bowl they were in. Add lemon juice, garlic, salt, and pepper. Add fresh herbs and toss again gently.
Add some cheese: Now, move the grilled zucchini salad to a serving platter and add crumbled feta cheese or crumbled goat cheese on top.
Serve warm: Finally, serve warm with tzatziki sauce or your favorite salad dressing.
Recipe variations:
Another oil: If you do not have (or do not like) olive oil, you can use a different oil like vegetable, sunflower, or avocado oil.
Other herbs and spices: Feel free to add your own favorite herbs and spices like fresh basil, garlic powder, onion powder, and smoked paprika.
Grilled corn salad: Grill a cup of sweet corn in a hot pan and char it well to bring out the flavor. Then add the charred corn to the zucchini salad.
All the veggies: In fact, you can also add your favorite grilled vegetables like cherry tomatoes, yellow summer squash, bell peppers, mushrooms, and carrots. You can add all the fresh produce you like.
Minty zucchini: Toss in a handful of fresh mint leaves for a refreshing mint taste.
Salad dressing: You can use any kind of salad dressing on this grilled zucchini salad. Balsamic vinegar is a nice choice or you can just add some Dijon mustard to the lemon dressing.
Make it a meal: Turn your grilled zucchini salad into a meal by adding meat. Grilled chicken, beef, pork, or turkey would all work great. Or you can use fish or another kind of seafood like shrimp.
How to serve:
You can serve this grilled zucchini salad any time of the year for lunch, dinner, or a snack with or without other dressings or fresh veggies. Check out some of these awesome serving ideas and share some of your own ideas in the comments section below.
Add a pinch of romano or parmesan cheese on top for a richer zucchini salad.
You could also add some quinoa to make this grilled zucchini salad into a zucchini quinoa salad.
Want to add some crunch? Sprinkle in some nuts. Try roasted pecans or toasted pine nuts.
A dash of balsamic vinegar would be a perfect addition to this yummy salad bowl. We have a delicious recipe for the perfect balsamic glaze.
Sprinkle some lemon zest on top for extra tangy lemon flavor.
Make your own homemade tzatziki sauce rather than buying it from a store.
Serve with a small bowl of green olives for those who may want to add them to their salad.
Frequently asked questions
Why should I salt zucchini before grilling?
Zucchini is mostly water (95%), so it can turn to mush if you do not dry it before you cook it. One of the easiest ways to accomplish this is to salt it before grilling. The salt pulls the water out, so they do not fall apart. But you do not need a lot of salt. Just a pinch or two. After, wait about 15 minutes and pat it dry before you toss it on the grill.
Why is my zucchini salad mushy?
As mentioned above, zucchini has 95% water in it. So, if you just slice it thinly and grill it, you may end up with just a little pile of mush. First, cut the slices about 1/3 inch thick. Then, do the salting trick as mentioned above. Pat it dry and cook just until it is charred. Do not overcook it because that can make it mushy too.
Can I fry these in an air fryer?
Using an air fryer to make grilled zucchini salad defeats the purpose of the grill. Unless you have one of those fancy air fryers with the special hot grill option, it is best to use a barbecue grill, or a grill pan in the oven to get the charred look and flavor. Charred zucchini is much tastier than air fried.
What is the difference between a zucchini and a cucumber?
If you have ever accidentally bought a cucumber instead of zucchini from the market, you know that they look very similar. They are both members of the cucurbit family which also includes squash, pumpkin, watermelon, and cantaloupe. However, the zucchini tastes more bitter than a cucumber and is not as crisp. Also, the zucchini has a wooden stem at one end while the cucumber has none.
What are the nutrition facts in this recipe?
This healthy salad only has 344 calories per serving as well as 24 grams of fat, 6 grams saturated fat, 12 mg cholesterol, 24 carbs, 298 mg sodium, and 7 grams of sugar. On the other hand, it also has 10 grams of protein, 600 mg potassium, 5 grams fiber, 1,134 units of vitamin A, 43 mg vitamin C, 90 mg of calcium, and 2 mg iron.
How to store leftovers:
Store: Leftover grilled zucchini salad does not keep as well as most dishes. In fact, it will likely get mushy or soggy after about 24 to 48 hours. Put leftovers in an airtight container in the fridge and eat them within two days.

Freeze: Freezing is not recommended.
Recipes with zucchini:
Recipe tips:
For the best flavor, use fresh lemon juice. Store-bought will work but the taste will suffer.
Be sure to oil the grill grates so the zucchini does not get stuck.
If it is not zucchini season in your area, you can use frozen zucchini. However, fresh zucchini has so much flavor.
Make thick slices of zucchini so it does turn into a soggy grilled zucchini salad.
Grill on a hot pan to sear your zucchini. This will keep the juices inside where they belong. A hot grill also helps cook your zucchini more evenly.
Do not forget to season with salt and pepper before grilling as well.
If you are using an outdoor grill, just cook for three minutes with a charcoal grill or four minutes with a gas grill on medium heat.

Looking for more zucchini recipes? We have all kinds of side dish cuisine on our food blog.
Grilled Zucchini Salad
Ingredients
4

zucchini

about 2 lb - sliced into rounds

3-4

tablespoons

Extra Virgin Olive Oil

1

teaspoon

ground cumin

1/2

teaspoon

ground oregano

1

lemon

juiced

3

cloves

garlic

minced

Salt and pepper

to taste

1

cup

chopped fresh parsle

packed

2

teaspoons

fresh oregano

chopped

2

tablespoons

fresh dill

chopped

Feta or goat cheese

optional

Tzatziki sauce for serving and drizzle
Instructions
First, add the sliced zucchini to a large bowl, drizzle with extra virgin olive oil, and sprinkle with cumin and dried oregano. Toss to combine.

Heat a grill or griddle until hot, add zucchini in batches, do not overcrowd. Grill for 4 minutes, until lightly charred, flipping over a couple of times until cooked through and nicely charred.

Transfer the grilled zucchini back to the bowl and add lemon juice, fresh garlic, salt, and pepper. Toss to combine. Add the fresh herbs and toss again.

Transfer to a serving platter and top with a sprinkle of feta or goat cheese. Serve at room temperature with tzatziki sauce.
Deliciousness to your inbox
Enjoy weekly hand picked recipes and recommendations