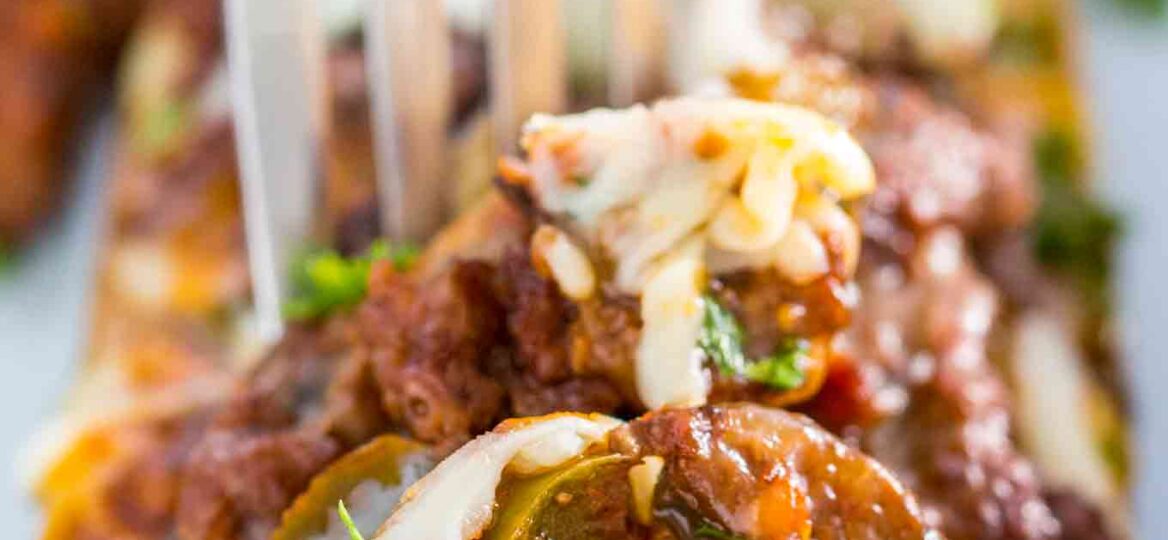 Philly Cheesesteak Stuffed Zucchini Boats [Video]
Philly Cheesesteak Stuffed Zucchini Boats are low carb and a perfectly healthy meal that includes zucchini, ground beef, bell pepper, and cheese. They are very easy to make in just under an hour. The zucchini boats are a healthy alternative to the regular bread-based sandwich.
The great thing about this recipe is the fact that children enjoy and love eating them. Also, it ensures that they are getting some healthy vegetables as well. Similarly, we have some alternative variations of this dish that you might like, such as Taco Boats and the Meatball Zucchini Boats.
Easy Philly Cheesesteak Stuffed Zucchini Boats
Philly Cheesesteak Stuffed Zucchini Boats are very tasty and super easy to make. Everyone loves a good cheesesteak on a sandwich, and most people eat them on a regular basis. How about mixing your favorite sandwich a bit, by also making it healthier and tastier? We present to you the answer with this amazing and healthy meal. They have pretty much the same great and irresistible taste but stuffed in zucchini instead of the bread.
With these stuffed zucchini boats, you can have the meaty, vegetarian, or the low-carb version. The great thing about this recipe is that you can play with some other ingredients to fit your taste. You can enjoy this delicious dish for lunch or dinner with a side dish, or as is.
HOW DO YOU SOFTEN A ZUCCHINI BOAT?
There are two ways in which you could soften the zucchini boat. The first one is to cook them in the oven:
First, heat oven to 400°F. Line cookie sheet with cooking parchment paper.
Rinse the zucchini, and pat dry with a paper towel.
Then, cut them in halves, and place skin down on the cooking sheet.
Drizzle with some olive oil.
Bake for about 15 minutes or until zucchini is tender. Cool slightly.
The second option is to microwave the zucchini:
Rinse the zucchini, and pat dry with a paper towel.
Cut the zucchini in halves, and place skin down on a microwave-safe dish.
Cover the dish with microwave-safe plastic wrap or a lid.
Then, cook them on high for four to 5-6 minutes.
Remove the zucchini bowl from the microwave, and place the steamed zucchini on a plate.
How to stuff zucchini boats?
When you choose the right size zucchini, you should cut them lengthwise. Then, you can use the avocado cutting method, to cut and scoop out the seeds, and some of the flesh.
There should still be enough left for the boat, but the amount that you are going to take away should be enough so that you can stuff it. If you don't like the avocado cutting method, you can just take a spoon, and scoop the seeds out.
At what temperature do you bake the zucchini boats?
It is really important to make sure that you are baking them at the right temperature. This is the only way that you will know that the zucchini is getting cooked through, without burning them to the pan. This is a mistake that many people are making.
So, if you want to make sure that you are baking your zucchini boats correctly, the oven should be preheated to 400°F. If you are setting the temperature lower, the baking time should increase. However, it is not recommended to cook the boats at a higher temperature than 400°F.
Is ground beef healthy?
Ground beef might have some fat in it that won't be as healthy as what you might think. However, if you want a healthier dish, then you should consider using leaner ground beef. That means the ground beef has 20 percent fat and 80 percent lean beef.
Can I substitute ground beef with chicken?
Chicken is a great alternative to many types of meat and will work great in this recipe as well. Using ground chicken for this dish will result in a delicious, low carb meal.
CAN I MAKE A VEGETARIAN OPTION?
Yes, you can easily make the stuffed zucchini boats as a vegetarian option. Simply replace the ground beef or ground chicken with tofu, beans, or your favorite vegetables.
How Long Does Frozen Zucchini last?
You can freeze the Philly Cheesesteak Stuffed Zucchini Boats for up to three months. It doesn't really matter if you are freezing cooked or raw zucchini. There are some people that are saying that raw zucchini won't freeze correctly, but this isn't true.
Also, you just need to make sure that you are freezing it in an airtight container or a zip bag that you can seal the air out. The last tip to remember is that three months is the longest that you can freeze them. The shorter the period, the better the taste will be.
Tips to make Philly Cheesesteak Stuffed Zucchini Boats
Please feel free to watch the recipe video which has a short tutorial on how to prepare this dish.
It is better to use larger zucchini instead of smaller ones for stuffing.
You can replace the provolone cheese with mozzarella cheese, or any of your favorite cheeses.
Also, you can stuff them with fresh or frozen veggies. If you are short on time, frozen veggies are a great option.
Deliciousness to your inbox
Enjoy weekly hand picked recipes and recommendations