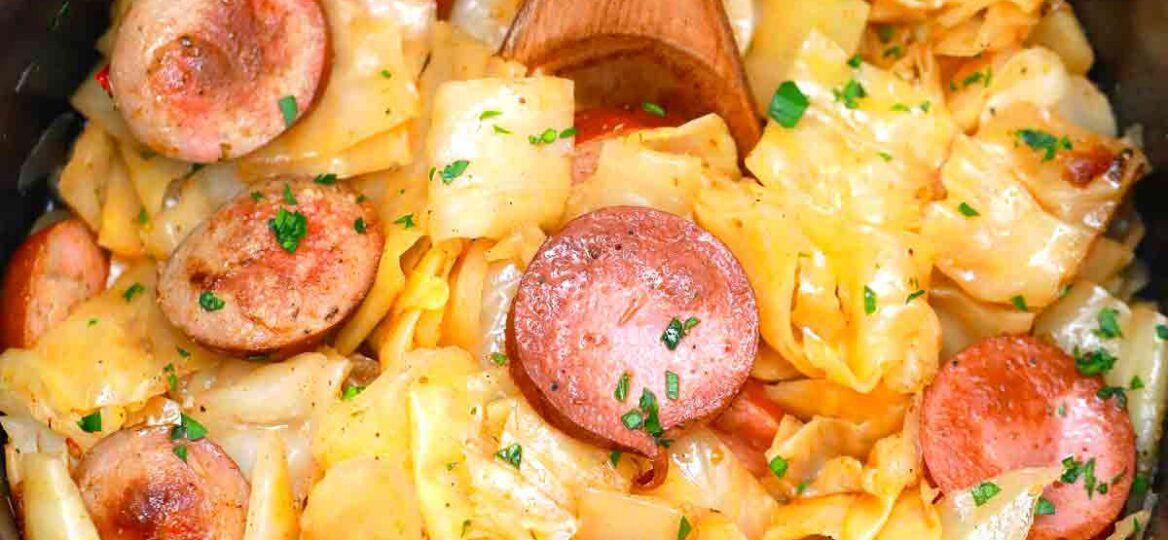 Slow Cooker Cabbage and Sausage [Video]
Slow Cooker Cabbage and Sausage is a fabulous medley of kielbasa, vegetables, and spices brightened up with apple cider vinegar. A satisfying meal on its own, but also perfect with seafood, chicken, pork, and other mains.
We love coming home to crockpot meals. There's nothing like hours of low and slow cooking to make THE BEST Brown Sugar Garlic Chicken, Red Wine Pot Roast, and Swiss Steak!
Crockpot Cabbage and Sausage
Slow Cooker Cabbage and Sausage is a fantastic family meal for busy weeknights. Aside from browning the kielbasa and chopping the veggies, there's not much prep work involved. Dump everything in the pot, set it for 3 hours, and walk away!
While in the slow cooker, the cabbage absorbs all those flavors from the smoked meat, spices, broth, and apple cider vinegar. It holds up really well to that long cooking time. The veggies get perfectly tender, while the sausage retains its meaty bite. By the time it's ready, you have a hearty and healthy dish that took almost no effort to make!
Slow Cooker Cabbage and Sausage Ingredients:
Green cabbage: Pick one with tight leaves, bright green color, and feels heavy for its size.
Sausage: I use smoked polish kielbasa, but feel free to use any kind you prefer.
Olive oil: For browning the meat.
Chicken broth: Canned is fine, but for the best flavor, it's hard to top broth from scratch!
Apple cider vinegar: The acidity balances out this savory dish.
Spices and seasonings: A teaspoon each of dried oregano, garlic powder, smoked paprika, salt, and onion powder. For heat, a little fresh-ground pepper, and chili flakes.
How to make homemade Slow Cooker Cabbage and Sausage?
Prep the vegetable. Core the head by slicing in half, then cutting on either side of the stem in a triangle shape. Afterward, chop into square chunks about an inch thick. Place all of the veggies in your slow cooker.
Sear the kielbasa. Slice into rounds, then cook until brown with caramelized edges. Save the rendered fat.
Assemble. Add all the spices, seasonings, meat, and sausage grease on top of the veggies. Stir well to distribute everything evenly.
Cook. Set for 3 hrs. on high.

Serve. Enjoy hot with chopped parsley on top!
Recipe Variations:
Use other sausages: Aside from kielbasa, other delicious options are Andouille, mild or hot Italian, chorizo, beef, or pork. For a lighter version, try this with chicken or turkey sausage.
Include other veggies: Add some halved baby potatoes, mushrooms, carrot chunks, broccoli, and caramelized onions.
Use other seasonings: Cajun seasoning, Old Bay, or curry powder really bumps up the flavor!
Substitute for apple cider vinegar: Use white wine or lemon juice if you don't have any apple cider vinegar.
Vegetarian: Use vegan sausage and vegetable stock. Add umami with sauteed mushrooms!
Can you make Cabbage and Sausage on the Stovetop?
Yes. Prep the vegetables as the recipe indicates, then brown the kielbasa. Add the chopped veggies to the skillet along with the seasonings. Let it cook until it wilts and gets reduced by half, about 10 mins. Stir in the apple cider vinegar. Continue cooking until the veggies are done. You can also use my recipe for Fried Cabbage and Sausage!
Can you make it in the Instant Pot?
Yes, and it's much faster that way but equally delicious! All the details are in my Instant Pot Cabbage and Sausage recipe, so be sure to check it out.
You'll follow very similar steps— browning the sausage, deglazing the pot, and adding the cabbage and seasonings. Then, cook it on high for 3 minutes before releasing the pressure. So easy!
What to serve with Cabbage and Sausage?
My family loves this on top of brown or white rice! But if you want more protein with your meal, you can't go wrong serving it with Grilled Chicken, Skillet Pork Chops, and Garlic Brown Sugar Glazed Salmon. Asian dishes like Shanghai Angus Steak and Beijing Beef go so well with it, too!
How to store leftovers?
Make sure all the leftovers are completely cool before transferring to a sealed container. In the fridge, this will stay good for up to three days, but try to finish it earlier. Heat it up in the microwave or in the skillet with a little broth.
More cabbage recipes to try:
Recipe tips:
Swirl in some butter just before serving for a richer dish.
You can also use fresh onions and garlic if you prefer. Sauté them after the sausage before adding to the pot.
Don't skip browning the kielbasa. Those caramelized bits are flavor bombs!
Deliciousness to your inbox
Enjoy weekly hand picked recipes and recommendations