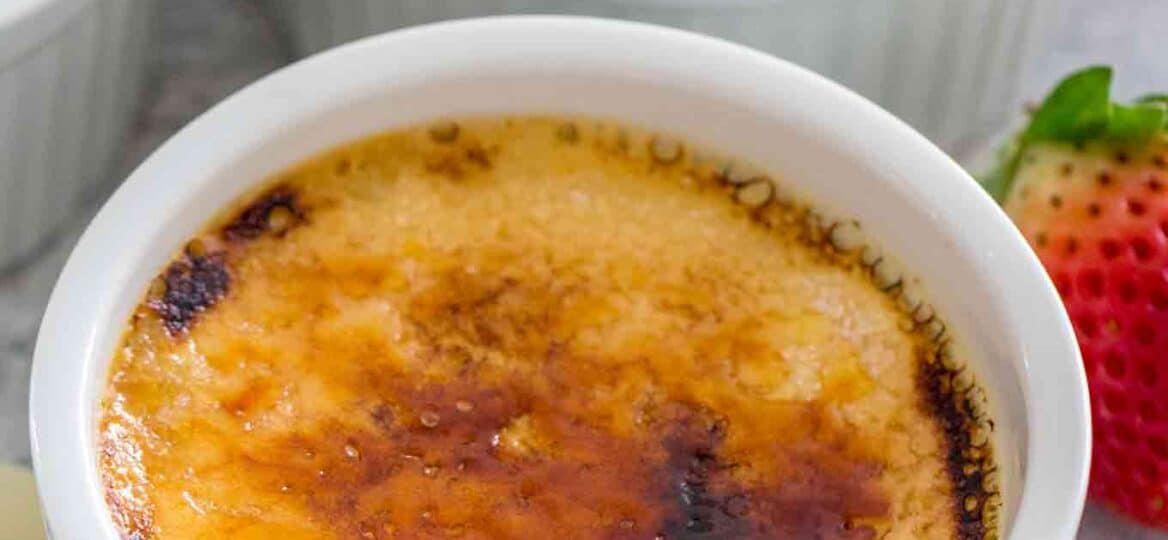 White Chocolate Creme Brulee [VIDEO]
White Chocolate Creme Brûlée is the perfect gluten-free dessert that requires very simple ingredients with impressive results. A show-stopper, with a silky smooth texture for the perfect Valentine's Day treat or any other special occasion.
Easy dessert recipes are at the heart of this blog as we have a major sweet tooth. We strive to make lots of no-bake treats for you to choose from and many delightful cakes with easy to follow directions so you can recreate them.
Easy WHITE CHOCOLATE CREME BRULEE
Creme Brulee is such a tasty treat and so easy to make, once you try it you will make it over and over again. With the perfect texture and richness from the white chocolate, this easy recipe is a fun twist on the classic version.
The end result is a creamy custard, with a slight vanilla flavor, sweet, that pairs well with tart berries. For the optimal results, always serve it chilled, the combo of temperature and textures is irresistible.
WHAT DO YOU NEED TO MAKE this recipe?
You will need only a few simple ingredients to make this dessert:
Egg yolks
Cream
Fine sugar
White Chocolate
Vanilla
Pinch of Salt
WHAT IS CREME BRULEE?
Creme brulee, also known as Trinity cream or burnt cream, is a baked custard dessert. Creamy custard is baked into single-serving sized ramekins, above which is a thin, crispy layer of caramelized sugar. The sugar shell on top is cracked open with the back of a spoon, revealing creamy, cool custard underneath.
While the flavor of classic brulee custard is traditionally vanilla, you can make custard in many different flavors, including chocolate, mint, caramel, and even red velvet. Therefore, in this post, you will learn how to make delicious Chocolate Creme Brulee.
WHAT IS CREME BRULEE SERVED IN?
Brûlée is a very tasty dessert, that is made of baked egg yolk custard. It has a very smooth and creamy texture.
What makes it unique, is the crispy sugar layer that is achieved by sprinkling some sugar and caramelizing it. You can either use a blowtorch or broil to achieve a crispy texture.
This treat is usually baked in individual ramekins and can be made in an array of flavors, like classic, chocolate, or red velvet.
HOW DO YOU SERVE CREME BRULEE
This sweet treat is best enjoyed chilled. After it is baked, make sure you let it cool and after that refrigerate it for at least 2 hours before serving.
The white chocolate custard needs time to settle before it is topped with the caramelized sugar shell.
After you caramelize the sugar on top, let it sit for about 10 minutes. We also enjoy adding some berries and sometimes whipped cream on top.
WHITE CHOCOLATE CREME BRULEE RECIPE TIPS:
Make sure you use room temperature egg yolks, otherwise when you add the cream mixture, it may cook the eggs if the temperature is too different between the two.
Similarly important, use very fine sugar in the custard and also for the topping. Do not add to much sugar on top, add just a thin layer.
Use very high-quality white chocolate as it is the main flavor in this dessert.
Similarly, you can make this recipe with any other chocolate. We love variations made with dark chocolate and golden chocolate.
For extra flavor, add some fresh raspberries to the custard before baking.
HOW TO FREEZE CREME BRULEE?
First, cover each ramekin with plastic wrap and wrap tightly in foil.
Next, place in the freezer for up to one month.
To thaw, remove from freezer, and place in the fridge overnight.
When ready to serve, and the sugar layer and caramelize it.
If you don't own a brûlée torch, you can always just place the ramekins under the broil to get that delicious crispy top that we all love. However, remember to keep a close eye on them, to prevent the sugar from catching fire and burning.